One question that students commonly ask is, "Is proofreading training worth it?"
Yes. Having good proofreading skills will not only help make your texts more engaging and readable, but it'll also make you more valuable to publishers and increase the demand for your freelancing service.
And that's why we've rounded up the nine best free online proofreading courses in 2023 to help you step up your writing career.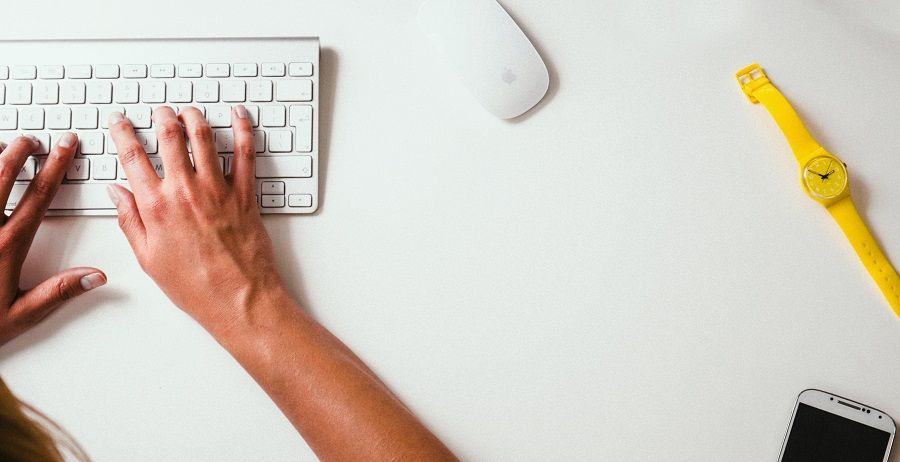 Quickly, the best free proofreading course is Skillshare's Writing Editing Masterclass – Content Editing, Copyediting, and Proofreading. This course covers the common types of editing journalists do, how to fix errors in your writing, and how to use the correct punctuations. Also, the online course is entirely free.
The other top two courses that make into our top 3 recommendations are;
Proofreading Academy: Becoming a Proofreader (Best Value)
The Publishing Training Centre: What is Proofreading? (Best Academic Proofreading Training)
So let's take a deeper dive into what makes these courses stand out. But first, let's know the difference between an editor and a proofreader.
What's The Difference Between A Proofreader and An Editor?
Often, people use the titles' proofreader' and 'editor' interchangeably, and they find it difficult to separate the two from each other.
However, they're two different sets of professionals with different roles.
The primary difference between an editor and a proofreader is that an editor ensures that a content piece adheres to a style guide, is clear and understandable for readers or listeners. Editors also restructure sentences and paragraphs and fact-check the content to ensure no false or misleading information.
On the other hand, a proofreader is the last eye that gets on the content piece before the content is published. Proofreaders also ensure that written or audio content is free of grammar errors, spelling errors, homonym errors, and typographical errors. They also format content, so it looks more presentable.
You can decide to be a general proofreader and work on all types of content pieces, from academic journals to blog posts to website pages to novels, books, and even resumes. Or you may decide to niche down to a field you're highly skilled at, like medical, legal, or technical fields.
Now, where the confusion comes in is that a lot of times, when clients hire writers, editors, or proofreaders, they expect them to have impeccable copy editing and proofreading skills: so they expect you to be a complete package.
So for writers, editors, or proofreaders, having both editing and proofreading skills is a surefire way to increase your value in the market and generate more income.
Let's explore the nine best free proofreading classes you can learn online and what makes them stand out without further ado.
Top 9 Best Online Free Proofreading Courses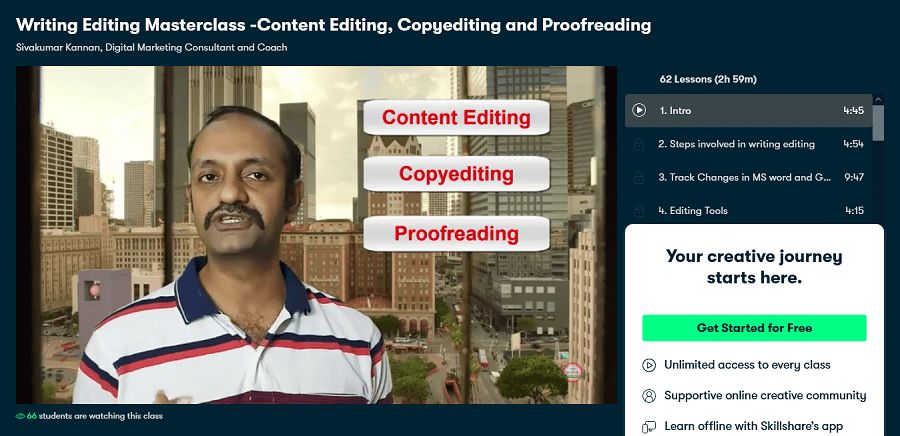 Rating: 153 reviews
Price: Free
Our top pick for the best free online proofreading course is this detailed course from Skillshare.
This course by Sivakumar Kannon (a seasoned digital marketing consultant, content marketer, and agency owner) takes a deep dive into teaching beginner proofreaders proofreading strategies to improve their writing.
A highlight of what you'll learn from this in-depth 3-hour, 62 practical video lessons include;
Journalists of leading publications use the three most common types of editing.
How to fix spelling errors.
The correct usage of punctuations such as comma, hyphens, dashes, quotation marks, question marks, colon, etc.
How to edit content to make it leaner and more engaging.
30+ editing rules and how to tackle homonyms.
There are also a couple of writing assignments, such as editing blog content to ensure students easily grasp all they teach.
And at the end of this Writing Editing Masterclass course, you'll be proficient enough to take up any copy editing and proofreading work.
Plus, your writing skills would have significantly improved, and you'll be structuring and editing either your work or client work with better accuracy and ease.
And the good news is that if you sign up TODAY for this Skillshare course, you will grant a 2-month free trial to learn this editing course and many other training courses on the e-learning platform.
Pros
The class is free for you to learn and improve your English grammar.
The practical course also has downloadable course material and transcripts you can access anytime.
Over 2,600 students have taken this course.
It requires low-time commitment and is excellent for beginners.
You can take this self-paced course from the convenience of your home.
Cons
This course doesn't make you a certified proofreader.
The Writing Editing Masterclass is one of the best online proofreading courses to help writers and freelancers work as editors.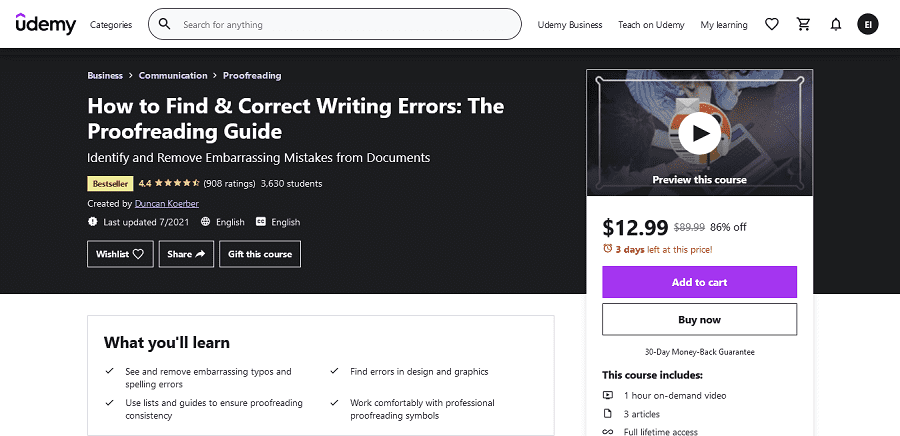 Rating: 4.4/5
Price: $89.99 $12.99
Coming close second on this list is another editing course that self-editing proofreaders will find very valuable.
That's because the course instructor – Duncan Koerber – is a university professor with 12+ years teaching writing and communications courses in Canadian universities. He's also worked as a journalist for several media outlets.
So when you take this course as the other 3,600 students did, you'll be tapping from over 20 years of Duncan's writing, editing and proofreading experience.
A summary of what you'll be learning in this 50-minute 19 lectures online proofreading course is;
The good habits to improve your skills as a proofreader.
Practical proofreading tips and proofreading symbols that only professional proofreaders use.
How to use lists and guides in your proofreading process.
Practical tips for correcting punctuations and writing errors.
And how to format and design your text and content. Plus, you'll learn to fix errors with graphics.
This online video training course is excellent for writers, freelance editors, and proofreaders who want to improve their editing and proofreading skills.
Pros
A university professor teaches an online proofreading course with over 20 years of writing and proofreading experience.
The online training program takes only 50 minutes of your time.
You'll get lifetime access to the course materials.
Significant for beginner proofreaders and experts to improve their proofreading and grammar skills
You'll receive a certificate of completion.
Cons
It focuses primarily on proofreading, not editing.
Despite this proofreading course having to learn by a university professor, there's no barrier to entry. The only requirement is that you have a good grasp of English grammar.
How to Find & Correct Writing Errors is easy to understand, concise, and packed with a lot of very informative content.
The above features make this free proofreading course one of the best proofreaders, editors, and freelancers.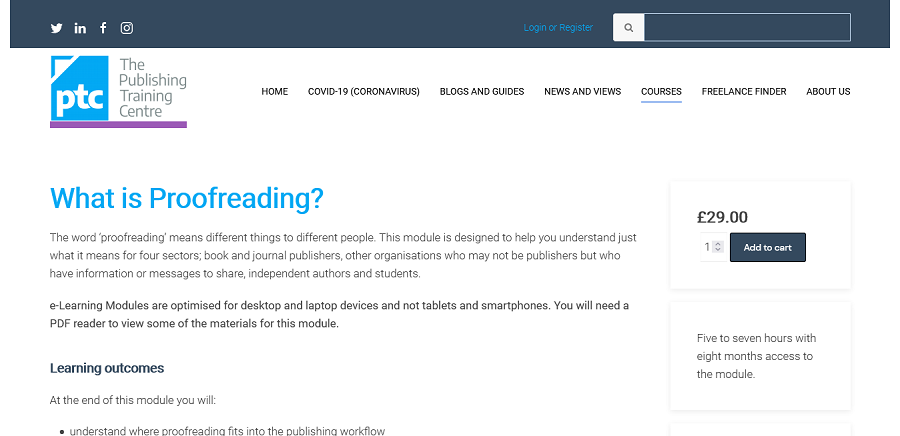 This list won't be complete without this online proofreading course from The Publishing Training Centre.
This intensive entry-level course is excellent for students just starting editing and proofreading. It will take their proofreading and grammar skills from amateur to a more advanced proofreader level.
This editing and proofreading course is split into two sections to help simplify proofreading concepts for the proofreader and improve her writing skills with assignments.
In this 5 – 7-hour proofreading course, you'll be learning how to provide your proofreading service to;
Book and journal publishers.
Students who need help writing and proofreading their essays.
Independent authors.
Businesses not in the publishing industry but that have information to share with their audience.
Students will access this course for eight months after signing up for the platform's training and paying a one-time fee of $34.
You'll also get lots of downloadable materials in this online proofreading and editing course to strengthen your knowledge so you can work as a proofreader at an advanced level. You'll learn most of the thoughts and processes that go into proofreading texts.
We also like that a reputable British proofreading organization delivers the training program. After taking the classes and tests, you'll You will receive an award a certificate of completion.
Pros
This editing course is packed with tips to help proofreaders, editors, and freelancers level up their copy editing and proofreading skills.
The online training program is suitable for beginners to hone their writing skills better and upgrade their understanding of English grammar.
Cons
You'll have to pay a fair but non-refundable price to access this editing course.
Publishing Training Centre is a reputable online proofreading training platform that helps students become expert proofreaders with top-notch training courses.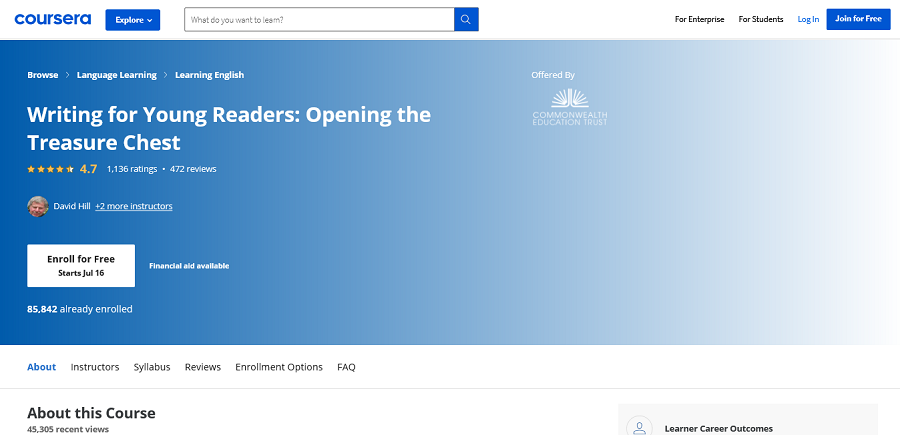 Rating: 4.7/5
Price: Free
Writing for Young Readers is another top-notch course from Coursera (read this best coursera courses).
This course is presented to you by two experienced authors and one doctor – David Hill, Maria Gill, and Alex Alexandrou.
This course is so popular that over 85,000 people have taken the program. So whether you're a student or an aspiring author, you'll be able to write engaging content for young readers.
In this 13-hour online video course that spans four weeks (although the deadline is flexible), you'll learn;
How to cultivate effective writing habits, put yourself into your writing, and find your identity.
The genres that are popular among young readers.
Here's where you'll learn about editing, proofreading, and publishing.
So if you've thought about writing stories for the younger generation, this is where you'll get the chops to do so.
Pros
This free proofreading course is in English and has subtitles in 9 other common languages so you can understand the video content regardless of your first language.
You'll get a shareable certificate upon completion.
38% of the learners pivoted to a new career after taking the lessons.
Cons
It focuses primarily on writing for children.
There's a lot to take home from these proofreading classes to improve your creativity in this detailed program.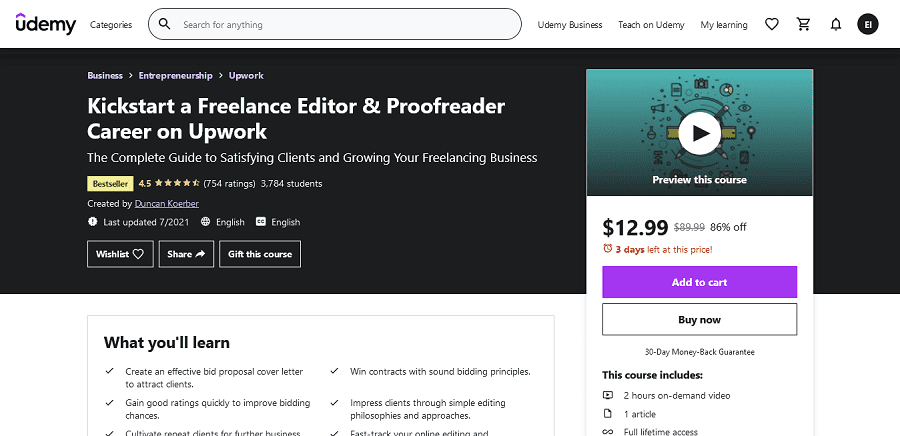 Rating: 4.5/5
Price: $89.99 $12.99
It is a second course by Duncan Koerber that we featured on this list.
He isn't only a university professor and an educator, but he also works as a freelance proofreader on Upwork. And there's no better instructor to teach you the qualities Upwork clients want from their proofreading contractors than someone who's been down there in the trenches.
In the 22 modules spanning 1 hour 30 minutes, you'll learn tips and topics to improve your proofreading skills to land more Upwork clients that'll pay you what you're worth;
How you can write practical bid proposals that'll get clients' attention.
How you can win contracts on Upwork.
How to get good ratings and return clients.
You'll also learn editing philosophies and the editing tools that can make your proofreading flawless. So if you're planning on hunting for gigs on the Upwork platform, this is the best course for you.
Pros
You'll be learning from an experienced Upwork freelancer who's also a university professor.
You'll learn to ply your trade on Upwork to get better-paying clients.
Your business skill in attracting and retaining clients with a professional profile will improve.
The Proofreader Career on Upwork will make you become a more efficient reader and proofreader.
Cons
The course focuses more on the business side of freelance proofreading rather than the grammar aspect.
Getting clients as a freelancer is difficult. And it's one thing to get a client, and it's another to impress them, so they return for your service. So if you're looking to boost your career chances and get more work as a proofreader, this is the proper training for you.
You won't only be skilled at getting jobs on Upwork, but you'll also be able to get various positions on other creative freelance platforms.
You are looking for more ways to market your proofreading services? These courses with printable certificates will show you how.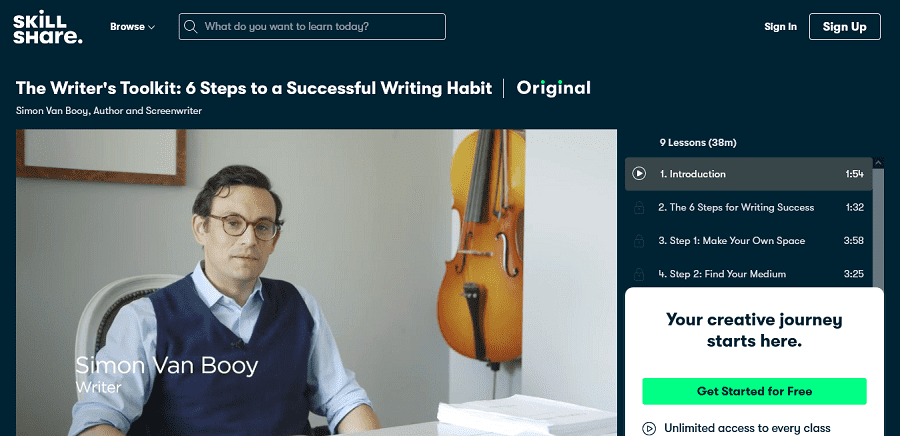 Rating: 3088 reviews
Price: Free
It is another fantastic Skillshare course that teaches students how to cultivate a healthy writing habit.
A healthy writing habit is a great way to increase your productivity, the number of words you write, and your writing skill in general. And proofreading courses like this can help you get there.
The course instructor is Simon Van Booy, a screenwriter and an award-winning author who will take you through the six steps that'll transform your proficiency as an editor and proofreader.
The topics you'll learn from this short 40-minute program that over 15,000 students have taken includes;
How to set your working conditions and stick to the routine.
How to get inspiration from reading other people's works.
How to find the medium that suits you best.
And how to stay inspired by sketching.
These proofreading courses show you a systematic approach to make writing more accessible and a more fun project.
And as an author of 10 best-selling fiction books and a writer for the New York Times and BBC, I don't think there will be a better person to teach you about creative writing than Simon.
It will also help you if you're looking to break into the publishing industry.
Pros
Experts and beginners can take the course.
It's a low-time commitment course.
You'll learn to be more creative and get inspiration from an origin you never thought possible.
It'll teach the habits to make you a successful writer.
Cons
It doesn't dwell much on proofreading and editing.
You can spark your creativity and begin writing incredible stories that your audience will find intriguing.
This short course will show you the way.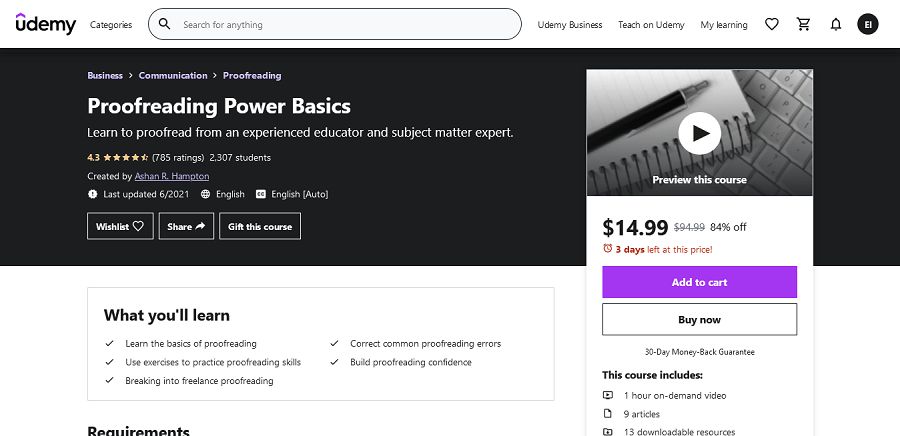 Rating: 4.3/5
Price: $94.99 $14.99
If you're a freelance writer, blogger, editor, content creator, or you work 9 – 5, but you're looking to find work as a proofreader, then this free proofreading course is for you.
The hands-on proofreading classes cover lots of the technicalities proofreaders and editors should be aware of. The course instructor – Ashan Hampton – is a Ph.D. candidate who's both an educator and an editor in her education and training business.
In the 1-hour on-demand video lessons, she covers tips, strategies, and topics to sharpen your proofreading skills and make you highly sought-after. You'll learn;
The fundamentals of proofreading and copy editing.
Proofreading marks, capitalization, and numbers.
The checklist of error hotspots.
All these are split into 23 classes that are easy to understand. There are also lots of quizzes, exercises, and assessments to make you quickly grasp all the information you'll learn.
Pros
This Udemy proofreading class is certificate training.
You'll learn proofreading marks in addition to other courses.
Lots of downloadable resources and lifetime access to the topics so you can easily refresh your memory.
You'll get a 30-day money-back guarantee.
It's a great starting point for copy editors, writers, and proofreaders just starting out freelancing.
Cons
These editing and proofreading courses don't talk about punctuations and homonyms.
However, before you enroll in this course, you should have at least intermediate grammar skills, plus some writing skills.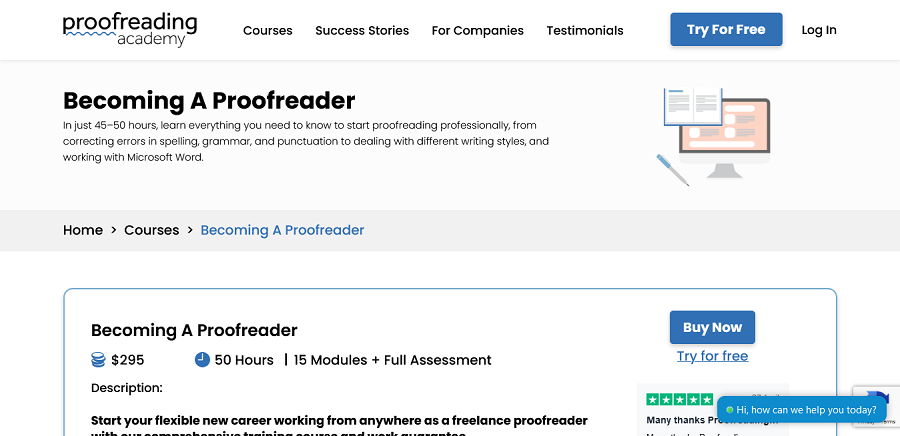 Rating: 4.8/5
Price: $295 (7-day free trial)
Only a few online proofreading courses have topics that talk about style guides, and that's where this program comes in.
In this class, you'll learn academic proofreading so you'll be able to proofread academic journals. You'll also be learning various writing style guides to structure your texts and blog posts as a professional proofreader.
And another important thing you'll learn from this 40-hour editing course is how to use Microsoft Word at an advanced level.
Another thing we love about this 10-module program is that the teaching company guarantees you freelance work. They've got partner companies that'll be needing your proofreading services.
This part-time job will be your final assessment which you'll have to pass. So this course is different in that you won't go about searching for a job. One awaits you the moment you sign up with them.
What a way to kickstart your freelance copy editing and proofreading career without thinking about where your next client will come from.
So whether you're a student, a worker, a stay-at-home parent, or just anyone looking to earn extra income, this course is suitable for you.
Pros
You'll learn to use the cool editing features of MS Word.
You'll immediately go from apprentice to a professional after taking this program.
You'll learn the popular style guides, referencing, and citations, so you'll be able to edit and proofread academic journals professionally.
Cons
It's costly compared to the other proofreading programs.
Becoming a Proofreader from Proofreading Academy can easily be the best online proofreading and copyediting course on this list. However, the hefty price slapped on it (which is worth it, by the way) makes it a deterrent for some students.
You can also take the 34-minute video course on Udemy – Become a Professional Proofreader. It will give you insights into if the system is an excellent fit for the skills you desire to acquire.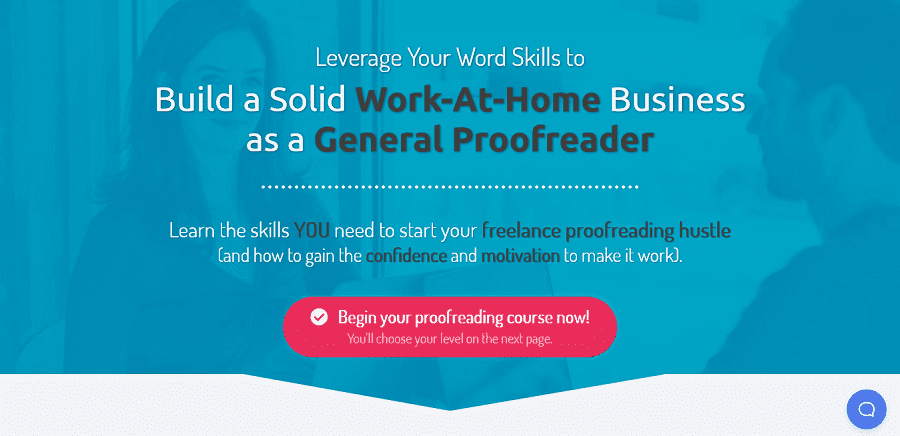 One of the best editing courses on our list is the General Proofreading Theory and Practice from Proofread Anywhere.
Whether you're just starting your editing journey as a freelance writer, copy editor, or proofreader, and you'd love to run your own proofreading business without hassles, this course by Caitlyn Pyle will show you the ropes.
She's an experienced proofreader, former reporter manager, and transcript production, specialist. So you'll be drawing from her wealth of experience to take the next step in your online proofreading career.
It is also one of the most in-depth and extensive courses on this list as it contains 40+ classes and can take from 2 to 4 months to complete. There are also lots of downloadable resources.
The major highlights of this online proofreading class are;
Learning the theory and practice of proofreading novels, textbooks.
How to also proofread blog posts and resumes.
How to market your editing and proofreading services to get repeat clients.
You'll show zero mercy at the end of the course for spelling errors, writing errors, inconsistency in writing, and wrong punctuations. Plus, you'd have learned to make more money from your side hustle or full-time proofreading work.
Pros
You'll learn proofreading tips and techniques to turn your skill into a business.
Turn meh copy into a masterpiece and earn more money.
You'll have access to a lot of case studies, grammar worksheets, and an extensive vocabulary.
A certificate of completion.
Free training before you can take the course.
Learn the online proofreading courses from the comfort of your home or anywhere.
A seasoned proofreader and reporter (Caitlyn Pyle) with lots of experience teaches these online editing courses.
You can also take Caitlyn's transcript proofreading course.
Cons
The training is costly when compared to the other proofreading courses on this list.
You can start generating more money today to turn your side hustle into a full-time venture. This course will show you how to win publishers over and get contracts that are worth your skill.
Bonus: Free Proofreading Software Courses
Udemy: Microsoft Word 2019 Essentials – People mostly do their proofreading using Microsoft Word, so this 3-hour lesson will make you more efficient using the software. Learn it now.
Skillshare: Proofreading Your Articles: tools, tips, and hacks that work – This lesson shows you how to use free software like Grammarly, ProWritingAid, and other tools to make you faster and more efficient. Start learning it now.
FAQs
Do you need qualifications to be a proofreader?
No, you don't need a degree or any special qualifications to be a proofreader. But you'll need to take a proofreading course to be a skilled proofreader. And studying English, journalism, or any humanities courses will make your skill more desirable: However, it's not necessary.
How do you become a certified proofreader?
You can become a certified proofreader by gaining writing and grammar experience. Or you can study English or take courses in journalism or technical writing to sharpen your proofreading skills further.
Then you'll enroll in proofreading classes to earn a certificate of completion. And you'll also have to learn editing and proofreading marks (style guides) to style content and documents based on some existing rules.
And after that, you'll contact the US Proofreader Certification Association to take their test and obtain your proofreader certification.
Is there a proofreading course?
Yes, there are lots of proofreading courses you can learn online to improve your proofreading skills. This article put together a list of the nine best proofreading courses to help you become a proofreader.
Conclusion
A proofreader does more than read people's texts for grammar errors and correct them.
A proofreader ensures that texts have the right cadence and impact so as to achieve their purpose.
This makes proofreading an in-demand skill. Learning a writing course can make you become a better proofreader. Also, you can learn to tell more impactful stories with these storytelling courses.
See also: