The interior design industry is a booming one with the average interior designer earning anywhere around $40,000 to $78,000 yearly. So we can say that being an interior designer is a rewarding and good career for anyone who'd love to get into the creative profession.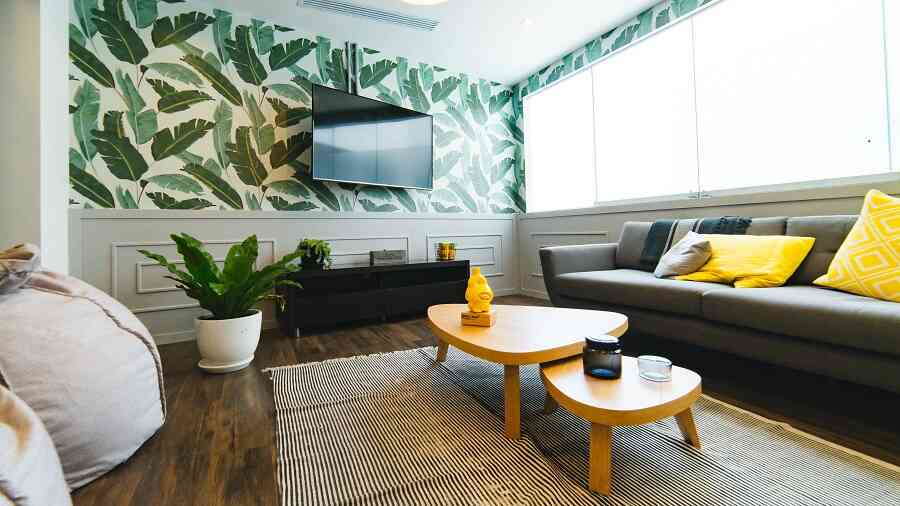 And one easy way to be a part of this creative industry is by taking an online interior design course. They're self-paced and can be taken from the convenience of your couch or anywhere.
You can also tailor your courses to your interest, and some interior design classes offer a certificate of completion.
That said, the best interior design course in 2023 is Interior Design Basics: Simple Steps to Perfect Your Space by Skillshare. It teaches you how to create your unique design style to transform an ordinary-looking home into an extraordinary space. You'll also learn basic design principles and how to work with a color scheme.
So we've put together the 15 best free online interior design courses so you can become an interior designer for free at home.
And whether you're a DIYer or a beginner looking to develop your creative skill to redesign your home, there's a course for you. And if you're an experienced interior designer looking to know more decorative styles and concepts to give you an edge in your career, you'll find a course, too.
Let's dive in.
Best Free Online Interior Design Courses
Here's the list of the top 15 free online interior design courses:
1. Skillshare: Interior Design Basics: Simple Steps to Perfect Your Space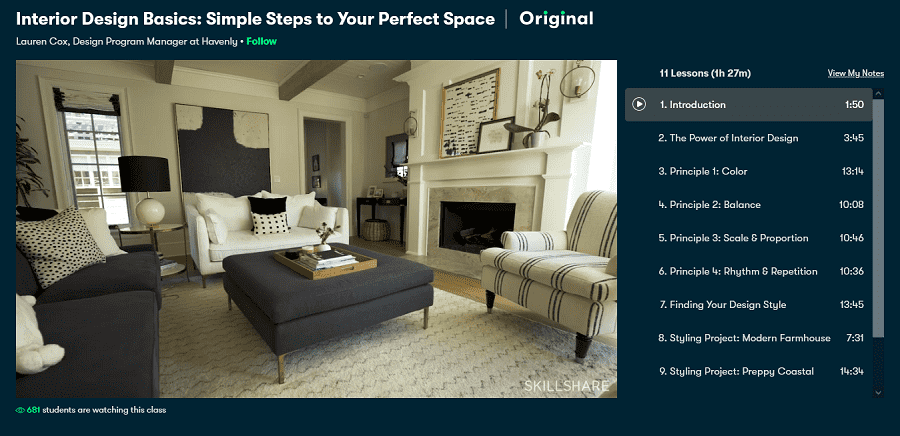 With almost 59,000 students enrolled (and still counting!), this online course from Skillshare is arguably the best free online interior design course.
This e-learning course that's taught by Denver-based Lauren Cox (the design program manager at Havenly) simplifies most of the concepts you need to know to become a pro interior designer.
In the course, she provides answers to the burning and most common interior design questions that experts and beginner interior designers have.
Some of the knowledge you'll gain from the 11 video lessons that last under 90 minutes include:
How to create a unique design style that suits your personality.
The four principles interior designers use in creating beautiful spaces; color, balance, scale, and repetition.
How to transform rooms with a mundane outlook into spaces with more fascinating and intriguing features regardless of your budget.
How to work with colors and lots more!
You won't only be learning how to design, you'll also partake in two hands-on projects to further hone your skills. In the projects, students will work on planning the layout for a modern farmhouse and a coastal home.
This will surely set you on the right foot for your interior design career.
When you take this interior design course, you'll be drawing from a wealth of experience from a lady who's served dozens of clients.
Another reason why Skillshare is a great e-learning platform is that you'll get access to the students' community. Plus free access to 24,000+ courses on the platform for 2 months.
Pros
It's one of the best free online design courses.
You can learn the course at your own pace, anywhere, and anytime (including your laptop and mobile devices).
You'll undertake real-life interior design projects.
You'll learn how to find your unique style and the basic interior design principles.
The courses are short, concise, and simple to understand.
Cons
The lessons are short so you may need to take more courses for more in-depth knowledge.

Are you ready to your interior designing skills to another level while learning from home? Click here to activate your 2-month free trial on Skillshare.
2. Udemy: How to Design A Room in 10 Easy Steps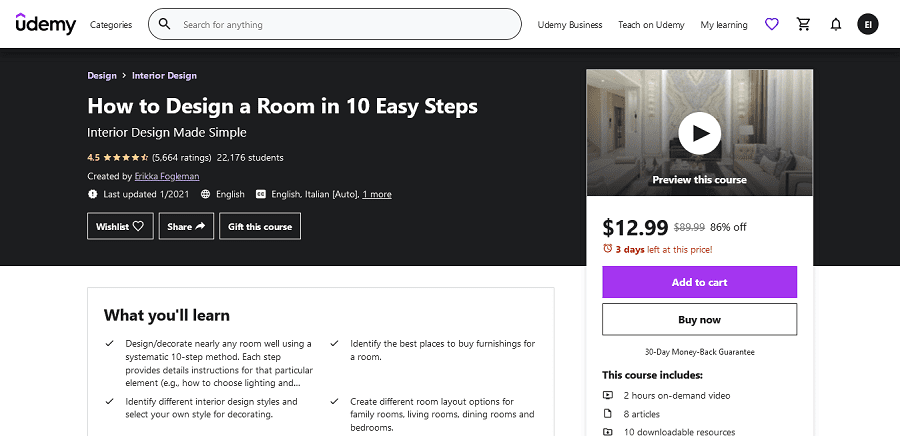 If you're a DIYer who loves aesthetically organizing things in a room or you're a beginner designer, this interior design course is for you. And at the time of writing, 22,000+ students have been enrolled in this online course.
But what we love the most about this Udemy course is that you'll be awarded a certification upon the completion of the program.
The courses are short (8 video content) and take only 1 hour and 12 minutes to complete. And at the end of the classes, you'd have learned a repeatable and systematic approach for designing and redesigning the major rooms in your home.
Some of the concepts you'll learn in this online interior design course include:
5 hacks to transform the appeal of any room.
Space planning: how to measure your room before you start creating that space your heart so desires.
How to develop your unique interior design styles to create the perfect mood for your room with your color choices.
How to accessorize your home and choose the rug that'll pair with your decoration. Then there's furniture design, window, and lighting design.
And how to brighten rooms.
This interior design course from Erikka Foggleman is a complete package.
Although she owns her interior design business, she created this course for beginners who wants to have a career in interior design. It's not to make you a professional interior designer but so you'll be able to design beautiful and functional spaces.
If you'd love to learn more interior design courses from Erikka, you can take other of her interior design courses in the series. The good news is that this is the starting point.
Pros
8 short and concise video lessons with 10 downloadable resources.
You get lifetime access to the design course.
Taught by an experienced interior designer and business owner with over 60,000 students.
The certificate program is backed by a 30-day money-back guarantee.
Cons
The course is for beginners.
It's primarily intended for students to design their living space and those of their friends, but not for commercial application.
Although this online course is backed by a 30-day money-back guarantee (which technically makes it free), I doubt you'll request a refund because of the value-packed video content.
Click here to visit Udemy and start improving your design skills today.
3. Skillshare: Interior Design: Interior Decorate like A Boss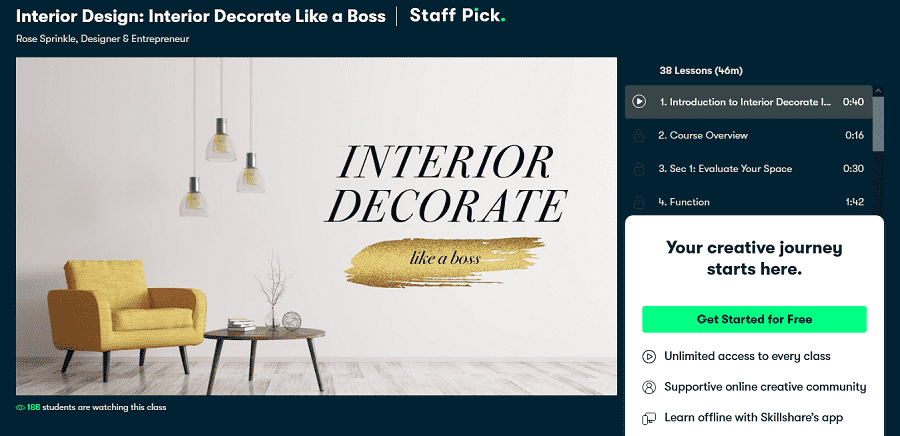 While most other interior design courses teach you about, you know, design, this online course focuses on space and spatial arrangement.
The classes in this course are structured to teach you about arranging objects in a room. So that when you're done taking the program, you'll have good knowledge of the space economy, master various furniture styles, and be able to mount artworks on the wall.
Over 26,000 students have taken these 46-minute 38 video lessons. Some of the knowledge you'll gain from the interior design classes include:
How to choose your color scheme.
Space planning and evaluation: seating arrangement, setting the mood in a room, making the design in a room more functional, and storage.
Interior design principles: scale, balance, contrast, repetition, and variation
Lighting design and natural light effects.
Arranging your furniture and accessorizing your space with plants, wall art, and mirrors, etc.
Working with white and dark rooms.
There are so many self-paced lessons you'll learn from the online classes if you're planning on beginning an interior design career.
The course instructor – Rose Sprinkle – is a top interior designer and entrepreneur that learned her trade from one of the interior designers who designed the home in the Twilight movie.
Skillshare grants free access to new students for 2 months to learn this course and many other interior design courses.
So take advantage of this opportunity to level up your interior design skills.
Pros
The short video content is easy to understand and can be consumed in an hour.
Great e-learning course for beginners taught by an experienced interior decorator.
You'll undertake a few assignments and upload pictures of your projects for other students to see.
And you can also draw inspiration from other students.
Cons
The course is geared to the needs of beginners, so experts will have to try other interior design courses on this list.
This Skillshare course isn't a certification course.
What are you waiting for? Click here to visit Skillshare and start beautifying the spaces in your home.
4. Udemy: Intro to Interior Design Course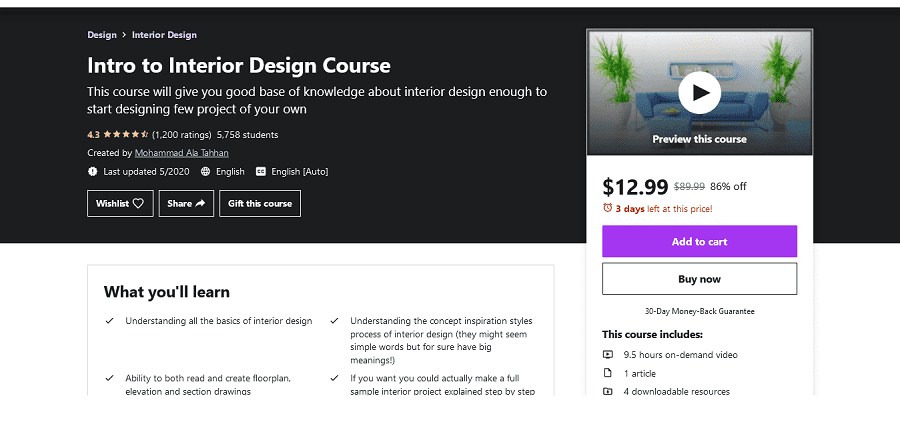 While some classes may be enough for you to gain an insight into the world of interior designing, this introductory course goes a step further.
The 9 hours of extensive video presentations promise to be a really engaging and informative experience. You'll get a sneak peek into using designing tools like CAD.
Other things you'll learn from the 52 modules taught by Mohamad Tahhan (a jack of all trade and interior decorator with 7+ years experience) include:
Interior design basic principles.
Technical drawing with CAD basics and 3D modeling.
Working with floorplans, sketches, presentations, and clients.
Getting a grasp on concepts like inspiration styles, and design topics like elevation, measuring, and scaling.
At the end of the lessons, you'd have gained some knowledge that many interior design graduates didn't get from their education.
Pros
52 lessons, 9.5 hours of video training, and 4 downloadable files.
Certificate of completion.
You'll gain valuable insights into technical drawing basics like CAD and Photoshop.
Cons
There were complaints about the instructor sounding rather monotone and boring.
The instructor could do better by adding more trending styles to the online lessons.

Great course all-round for beginners to mid-level designers to gain valuable insights and have an edge in the design industry.
As with other Udemy courses, this program comes with a 30-day money-back guarantee. Click to visit the course page on Udemy.
5. Skillshare: Interior Design Essentials: Creating A Color Palette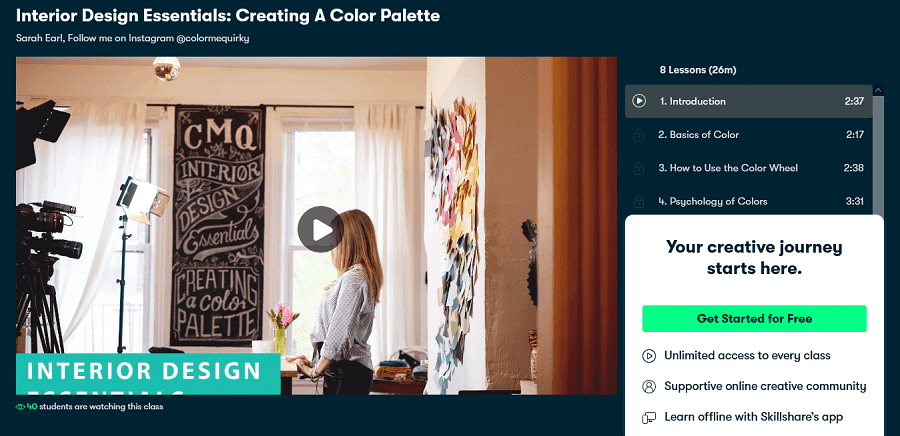 If you're looking to take your color game up another level, this is one of the best courses for you.
This design course is broken into 8 video lectures; all bordering on mastering and effectively using colors to create the effects that your heart so desires.
The content in the 26-minute modules of this short program include:
Introduction to colors and making the right paint color choices from the color wheel.
How to get a color palette from your favorite household items.
These and many other concepts on how to simplify colors to beautify your home you will learn from Sarah Jane – a New York-based interior designer.
And despite this being a short course, you'll also embark on a project before the end of the lessons.
Pros
Great for beginners, DIYers, and experts.
Short and concise courses taught by a very experienced New York designer.
You'll gain insights into pairing all forms of colors.
Cons
Very short training that may lack the knowledge you're looking for if you're a professional.
No certificate will be awarded upon completion.
.
This is arguably the best course to help you transform your home into a colorful space without making a mess of colors.
6. Masterclass: Kelly Wearstler Teaches Interior Design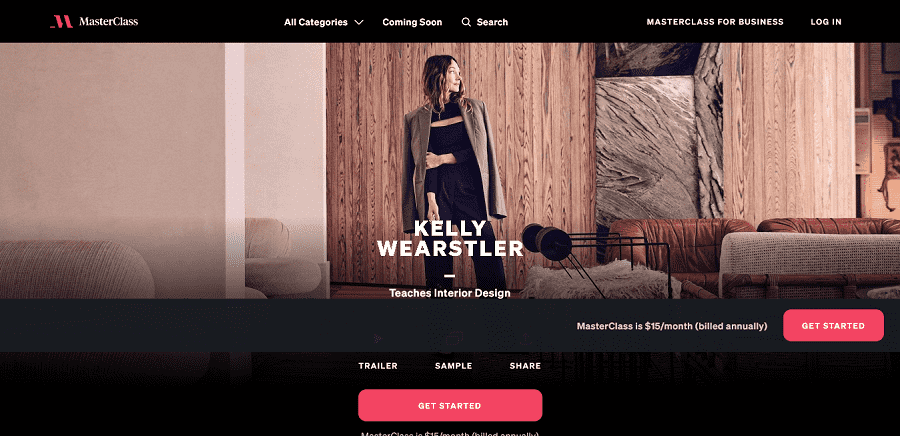 One of the best online course providers is Masterclass and this one from Kelly Wearstler speaks volumes of their quality.
Kelly Wearstler, an award-winning interior designer, puts together a 17-video Masterclass lecture where she imparts students with her experience creating modern designs for American hotels.
In Kelly Wearstler's 2-hour, 23-minute practical interior design Masterclass, you'll learn how to;
Tell stories with your designs.
Creatively turn a space into something fabulous and make it larger.
Choose the right colors, tones, and textures to change the mood of a place.
Create your unique style and be confident.
Work with various design materials plus curate art collections and objects.
You'll also learn how she uses a simple trick called 'vibe trays' to match shades and materials to create the special effects to design laudable spaces.
Pros
Very informative course from a passionate and seasoned designer.
In-depth video lectures with case studies.
Very affordable course with so much value to offer.

Cons
The course is mostly for people with a background in designing interiors.
You'll have to pay to access this training.

Kelly Wearstler's Masterclass is one of the best interior design courses you can get to take your interior design services up a notch.
And you can start learning Masterclass courses for the next 7 days for free. Click to visit the course page.
7. LinkedIn Learning: SketchUp for Architecture Details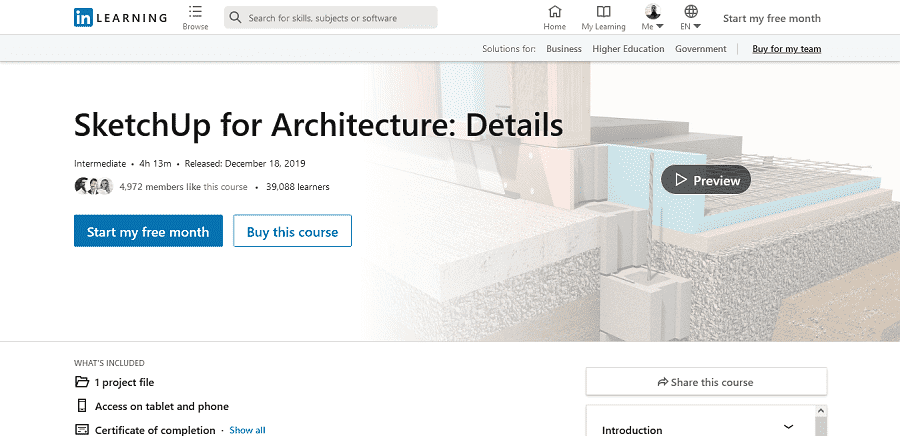 LinkedIn Learning, formerly called Lynda, has got lots of interior design and visualization courses to help you hone your skills and make nooks more functional.
These courses will teach you how to work with Revit, Sketchup, Rhino, and other 3D visualization software for interior decor. And one of such courses we love is "Designing a Tiny House with Sketchup."
The 5.5-hour classes take a dive into showing you the technical aspects of building a small house from the floor right up to the roof. Some of what you'll learn from Paul Smith's classes include:
3D modeling and generating 2D details using LayOut.
Basic visualization techniques
Working with vector lines, and add styling and pattern lines in LayOut.
Combining plans and sections and adding furnishing and texture alignment.
There's a whole lot you'll gain from this online class. And at the end of the day, you'll be comfortable undertaking projects using design tools like SketchUp, Photoshop, etc.
Pros
You're working on a real-life project.
It simplifies the intricacies that go into building and designing homes.
You'll earn a world-recognized shareable badge that you can add to your CV, website, LinkedIn page, or portfolio. It'll serve as your certificate.

Cons
It focuses more on building and decorating or beautifying spaces.

.
Are you an engineer or just a hobbyist DIYer? You'll find these concise video classes extremely valuable.
And if you sign up for LinkedIn Learning today, you'll be able to access hundreds of video lectures free for 1 month. Click here to sign up now.
8. The Interior Design Institute: Interior Design Course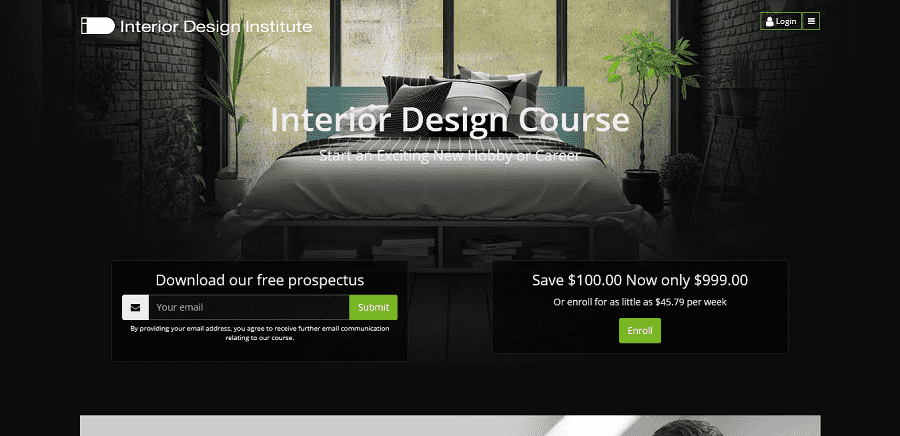 One of the best courses that teach students how to create impeccable interior designs is this one offered by The Interior Design Institute.
This in-depth online program is a 6-month long practical course that thoroughly treats the core aspects of design. It's broken into 12 learning modules with lots of assignments.
Although this program is self-paced, you and the other students will individually have tutors that'll support you in your coursework and provide feedback on your assignments,
Some other perks of this course include:
The program is accredited by multiple recognized organizations.
You'll earn a diploma upon completing the program (more valuable than other certificates).
The classes adequately prepare you for your interior design career.
You'll get the background of how the history of interior designing shapes our present-day creations.
You'll learn to work with furnishing and other materials.
You'll also learn the business aspect of interior designs.
Taking this course is a step in the right direction for your career as an interior decorator.
Pros
You'll be assigned a mentor and earn a diploma upon graduation.
Added to the core of interior designs, it teaches you about designing kitchens and bathrooms.
You'll learn to run your business as an interior designer and communicate with clients.
The Interior Design Institute allows you to pay in installments.
You'll be granted access to their job board and Facebook group.
The 6-month course can be taken for a year.
Cons
The program is expensive.
You must take the course in a year, else it'll expire.
.
If you've got the money to invest in this course, this is undoubtedly the best program for you.
Sign up to begin learning at the Interior Design Institute today.
9. Udemy: How to Work with Interior Design Styles Like a Pro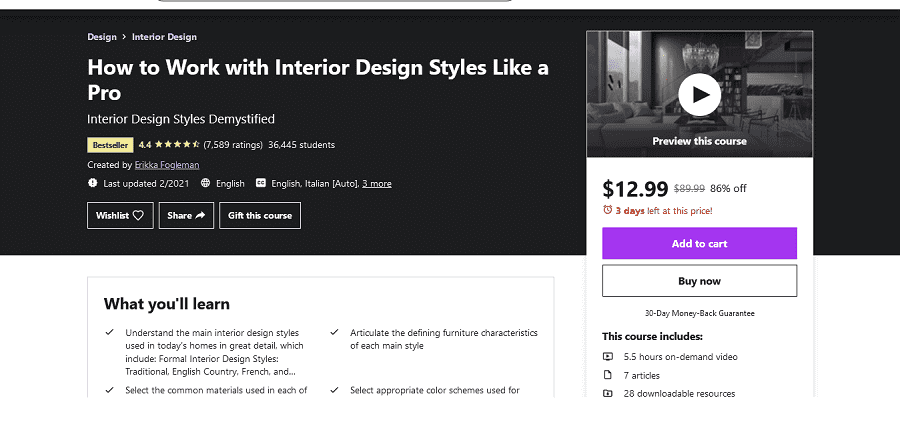 Lost for inspiration for your creative designs and home décor?
This self-paced interior design course explores some of the most popular design styles in the world. Some of the styles this e-learning course covers are Scandinavian, Mediterranean, Modern French, English, Bohemian, Coastal chic, and western styles.
In this 6-hour course, you'll learn to apply these styles to your creations to give your clients' homes a foreign touch.
The other interior design topics this program teaches students include different forms of decoration; Art-Deco, Zen, Mid-century, retro, and industrial decorations. Plus you'll learn the materials used in these styles and how to accessorize.
And there's also working with window treatment, flooring, and color schemes.
Acquiring this knowledge will make you a valuable interior decorator in the design industry. Interestingly, you're also getting a certificate of completion.
Pros
Compared to the valuable video classes you'll get, this e-learning course is affordable.
Teaches a lot of foreign and historical styles to make
you well-versed in the interior design industry.
You'll partake in 2 real-life case studies.
You'll be awarded a certificate upon completion.

Cons
This is not the best course for beginners.
Compared to the other courses, it's quite expensive.
.
Another great course from Erikka Foggleman!
Visit Udemy and begin learning to broaden your horizon as an interior designer.
10. New York School of Interior Design (NYSID): Online Learning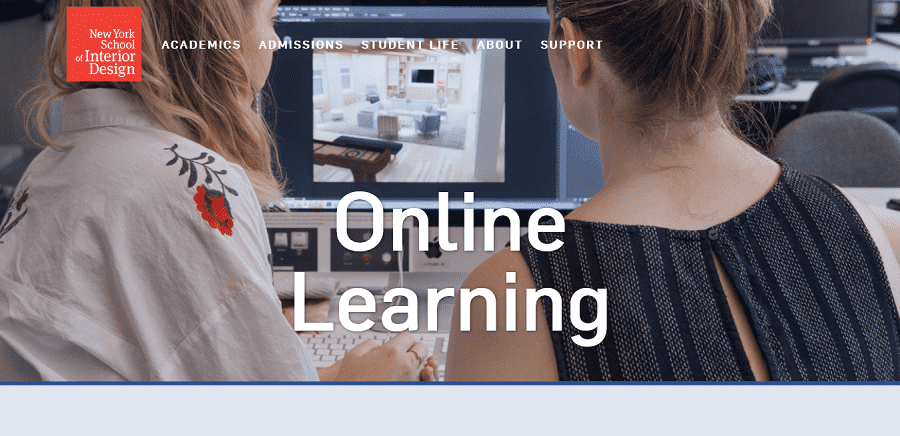 One of the best online interior design courses is the one offered by the New York School of Interior Design. The interior design institute that was established in 1916 aims to deliver quality online learning solutions for creative people interested in a career in interior design.
The major reason this course features in this article is that it's a certification program. But that's not all; their degree programs are accredited by the National Association of Schools of Art and Design. Plus they also offer non-degree programs for people not interested in getting a certification.
Secondly, you can choose to study your desired online interior design course full-time or part-time. The online courses are self-paced: so you can access the course materials from the comfort of your home, a café, or anywhere you see fit.
Another interesting feature of this program is that the professors that teach students in their New York campuses are the same ones that'll teach you in the online space. Plus the assignments you'll get will also be from them, not some random expert interior decorator.
These are the accredited online courses you can take:
Basic Interior Design Certificate Program
Associate in Applied Science in Interior Design
Bachelor of Fine Arts in Interior Design
Master's Degree of Fine Arts in Interior Design
To be eligible to study for an Associate's degree or higher, you'll either have to apply with your portfolio or enroll in the Basic Interior Design Certificate Program.
Some of the knowledge you'll gain from these online interior design courses include:
Historical interior design styles and color theory
How to use interior design software applications: 3D and 2D modeling.
Building codes.
Space planning and how to work with textile materials.
Sustainable interior designs.
This certification course is great for students that want to pursue a career in interior design.
Pros
In-depth online courses leading up to certification.
You'll get lots of real-life projects and assignments to improve your skills.
You can take the flexible self-paced courses on a full-time or part-time basis.

Cons
The course is expensive compared to the other courses.

.
Do you want to build a career in interior design? The Basic Interior Design Certificate Program is a great starting point.
The Best University Online Interior Design Classes
11. New York Institute of Art and Design (NYIAD): Feng Shui Interior Design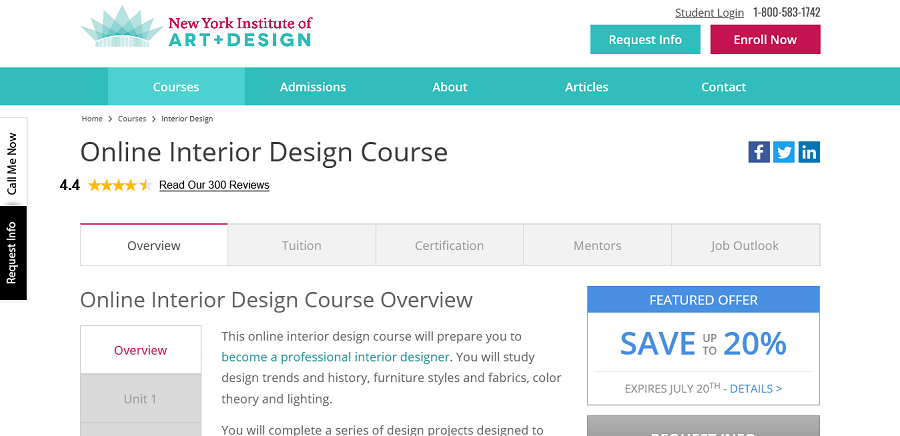 Want to get extensive education in a brick and mortar interior design school with a preference for studying online? NYIAD is one of the best institutes to take self-paced courses.
Aside from you being able to take this 18-month program from home, we love that the Designer Society of America accredited their courses. So you'll get an accredited certificate of completion.
Secondly, you'll be eligible to take the Residential Interior Design Qualification Certification (RIDQC) exam to become a certified residential interior designer.
The course provides you with 13 hours of video instructions, access to the course materials every day, and the student forum to get feedback from other professionals. And you can take the institute's Feng Shui Interior Design courses online after your program.
Pros
You get a certificate of completion from an accredited institute.
Sets you on the path to earn a RIDQC certificate
The 13-hour program can be taken at your convenience.
You can pay in monthly installments.

Cons
The institute doesn't help with job or internship placement.
The student support network is not specific to the course.
.
An extensive course that will take you from novice to professional level in 18 months. Start studying the interior design courses at NYIAD.
12. Harvard University: History of Architecture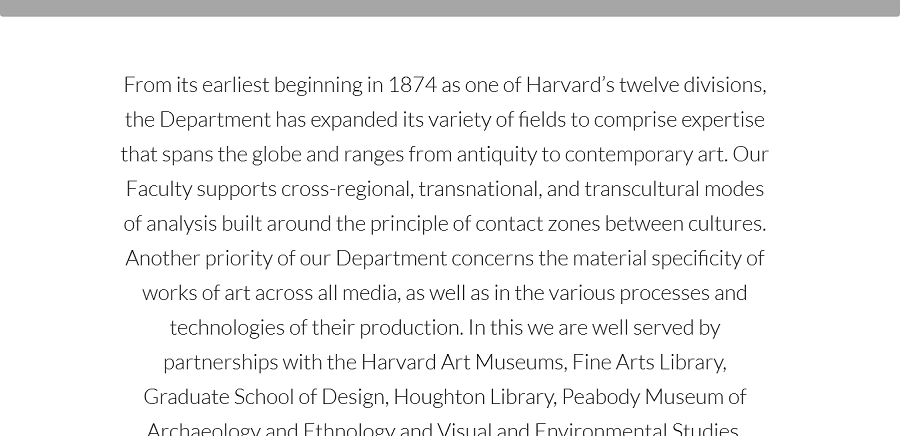 Have you ever wished of getting an education at Harvard? Here's your opportunity to do so.
The History of Architecture is one of the free courses you can study at Harvard. And the good thing is that you don't have to set foot at the university. You can take this 10-week online architecture course at home.
Some of what you'll learn include:
The principles of architecture and modeling.
Perspective drawing and other technical aspects of architecture.
The history of architecture and debunking old traditions.
There are also other free design courses you can take at Harvard. So avail yourself of this opportunity and sign up for Harvard's free programs today.
13. Chatham University: Master of Science in Interior Architecture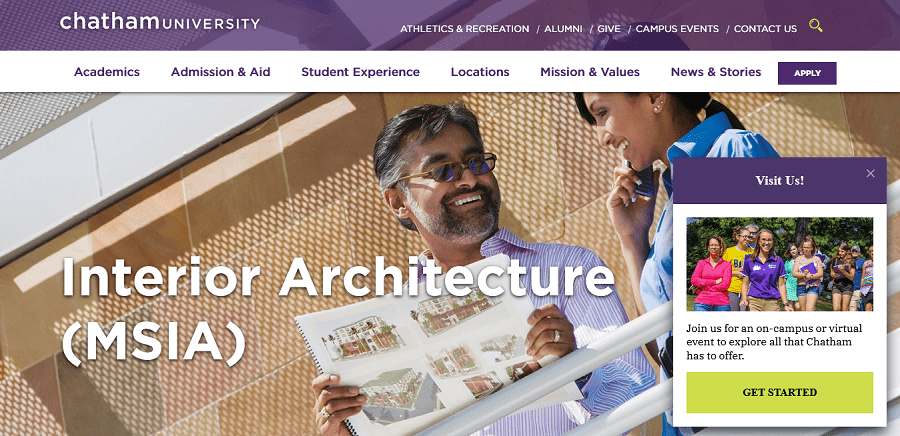 Beginner interior design graduates, this course is not for you.
This course is meant to strengthen your knowledge and skill, not to give you a foundation. And it's mostly research-based. So you'll mostly be doing research work to discover innovative interior design techniques.
It'll take you a year to undertake this program and you'll be awarded a certificate upon completion.
Pros
It's a certificate course.
The in-depth program is mostly research-based.
Turn your interest into your profession. Start studying today.
14. UC Berkeley Extension: Certificate Program in Interior Design and Interior Architecture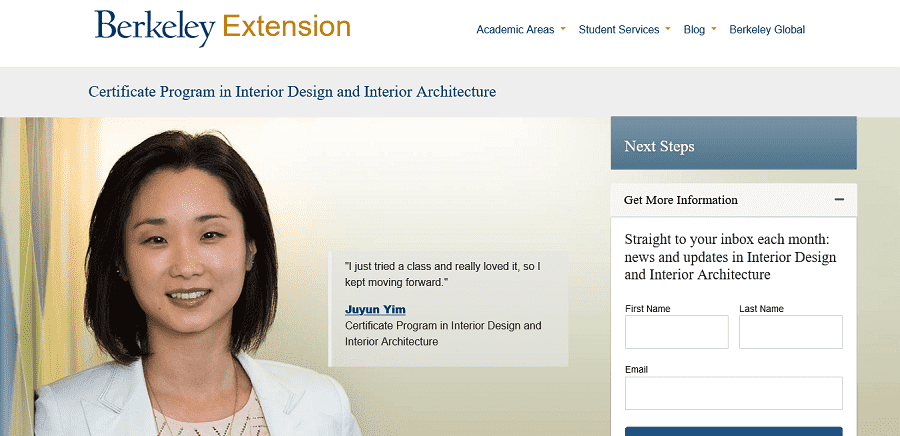 This is another interior design course offered by UC Berkeley.
The program is geared to teaching students how to design beautiful and functional spaces. This is an in-depth course that's spread across 21 classes. And you'll be awarded a certificate at the end of the program.
Here's the course content:
Design principles and theory.
Designing with CAD and design communication.
Space planning and sustainability principles.
This is a great place to start your interior decoration education. However, there are some aspects of this course that we don't like.
First, the basic requirement before you can apply to the program is a bachelor's degree. Secondly, the online interior design course is expensive as you'll have to pay the registration fee and tuition, buy textbooks and other costly materials.
Pros
In-depth course with extensive content.
Certificate course.
Sign up to start learning now.
15. UCLA: Interior Design: Foundation Level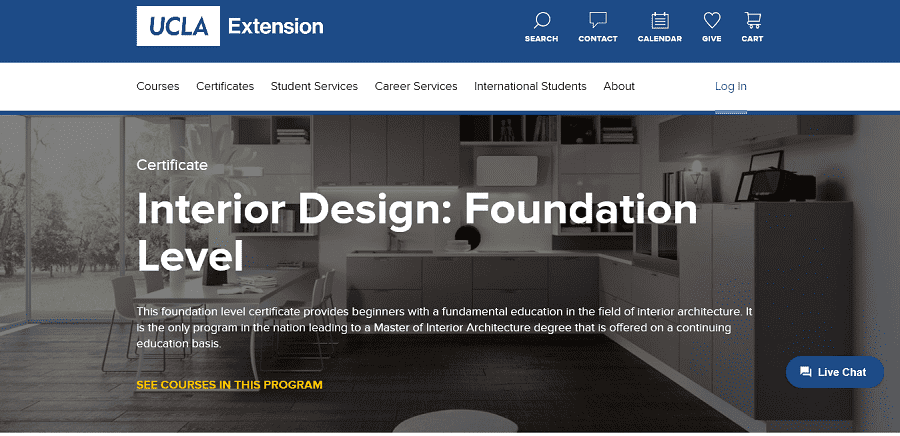 The foundation level course is another impressive university program that's available online for students
The certification program has 16 core courses and 2 electives.
In this program, you'll learn digital presentation skills, design communication, lighting communication, the history of environmental arts, and lots more.
You'll finish this self-paced course in one and a half years. And you can choose to study it as a part-time program or a full-time one.
Pros
You'll be studying a certificate course in one of the best institutions.
UCLA is a world-renowned university with a great track record. So getting an education here is sure to boost your career chances.
Start your interior design course now.
FAQ's
How long does it take to become an interior designer?
The time it'll take you to become an interior designer depends on the platform or route. You'll first have to take a diploma or certification course which should take around 1- 2 years. Then you'll need another 2 years of design experience to be eligible for the license exam.
So it could take 4 years to become a certified interior designer. But if you take the bachelor's degree route (which is usually 4 years), it'll be a combined 6 years.
How do you become a certified interior designer?
To become a licensed or certified interior designer, you'll first have to take an interior design course and earn a certificate. Then you'll gain professional experience as an interior designer to qualify for the certification exam. After that, you can apply for and pass the interior design certification exam to become a licensed designer.
Related: