If there's a silver lining to the pandemic, it's that it has advanced online learning (e-learning) and made more free online courses with printable certificates available to everyone.
So instead of spending all your free time binging Netflix and playing games, you can learn a free online business course, and acquire a new skill to help you grow your business, advance your career, or transition to a new industry.
And what's more, is that we've taken the pain to comb every online resource to only bring you the best free online courses with certificates of completion.
So here are the 25 best free online business courses with printable certificates to give you the sales, marketing, and technical skills to grow your brand or help you get that promotion at work.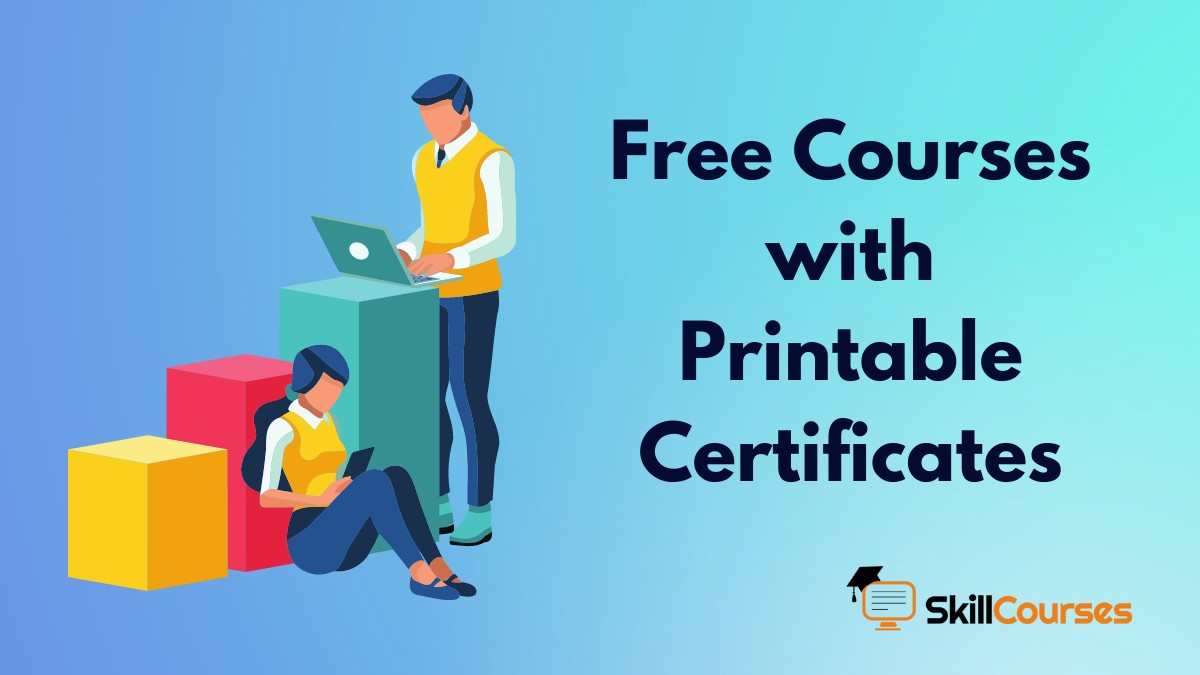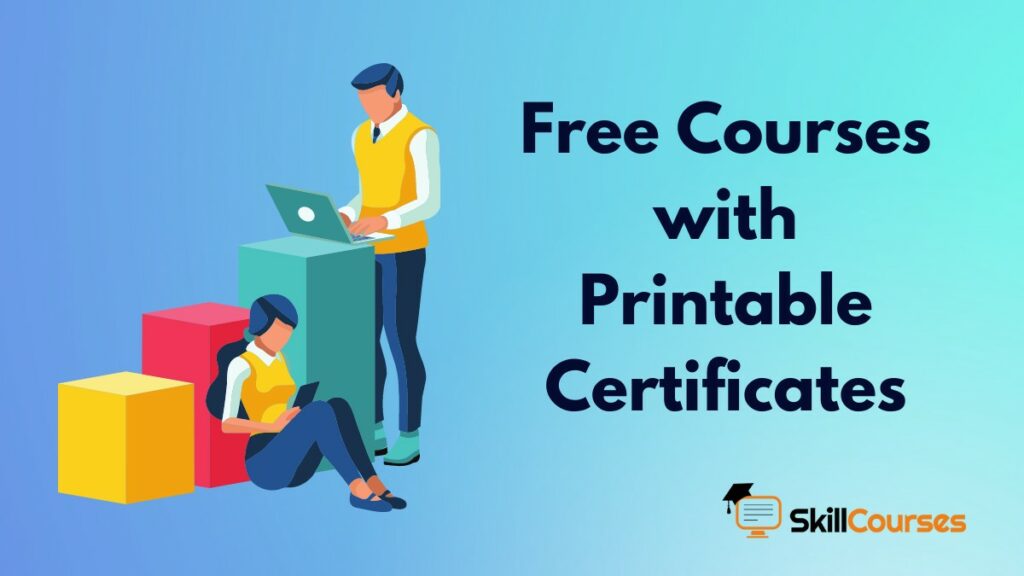 Best Free Online Courses with Printable Certificates
Free Online Digital Marketing Courses
Free Programming and Web Development Courses
Free Online E-commerce Courses   
Free Online management courses
Free Photography and Graphics Design Courses
Free Online Digital Marketing Courses
Running a business and scaling it is not a walk in the park. You've got to learn brand awareness, lead generation, and sales.
That means learning a range of digital marketing courses like content marketing, social media marketing, email marketing, search marketing, analytics, and sales: the list seems endless.
Luckily, there's a world of free digital marketing certification courses with video lectures waiting for you to explore.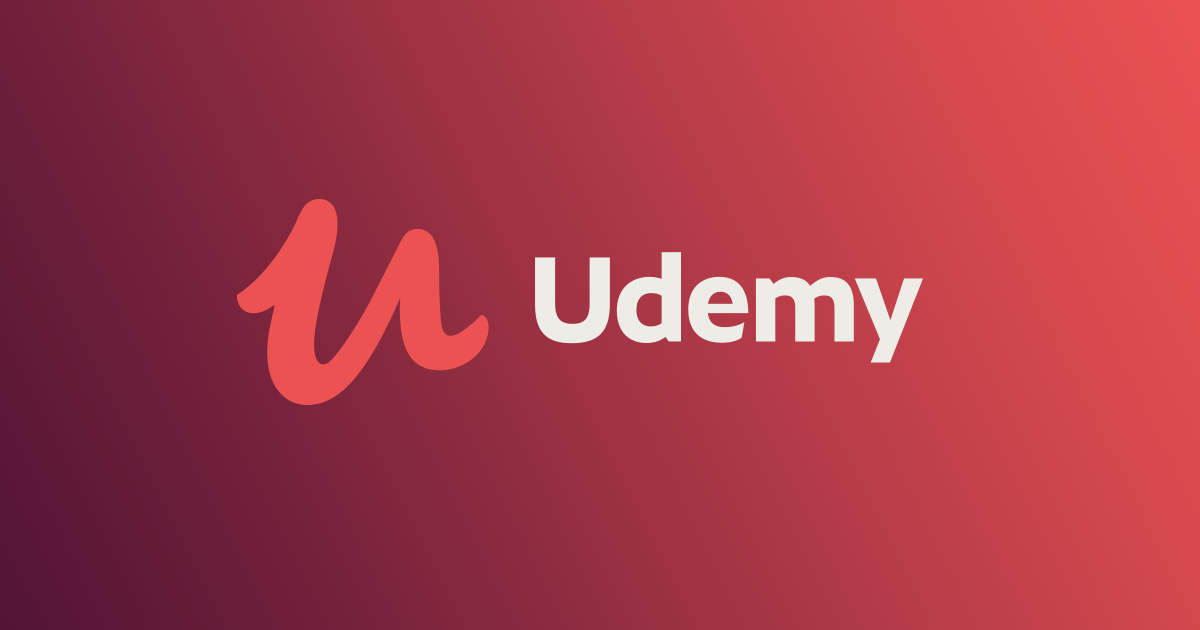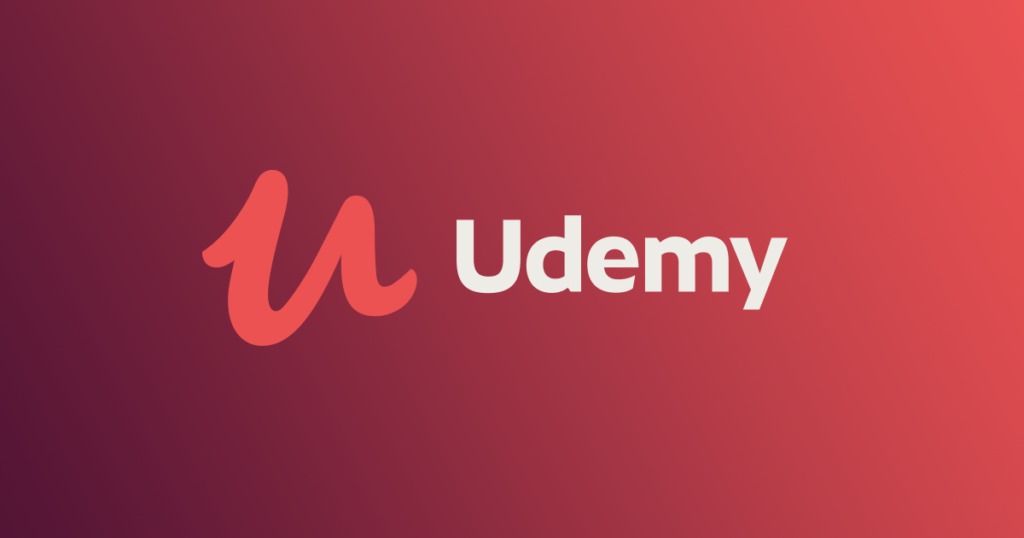 Udemy is an online course provider that belongs to a network called MOOCs (Mobile Open Online Courses).
Many of their instructors have been vetted as they're industry experts and coaches in various niches. So you can rest assured you'll be getting some of the best free online courses with certificates.
Although Udemy mainly has paid premium courses (that are affordable), they've also got free digital marketing courses and issue downloadable certificates that you can print out.
With Udemy, you'll learn how;
to build an online business from the scratch.
to become a successful affiliate marketer.
to create and optimize your Google Adwords campaign.
Since millions of students have taken their courses, it might be safe to say they're among the best online education platforms in the world.
Some of the quality courses available on the e-learning platform certifications include web design, content marketing, etc.
Head to Udemy and take one of the free courses if you'd like to earn a higher salary or become a certified digital marketer. They also offer massive discounts on their paid courses.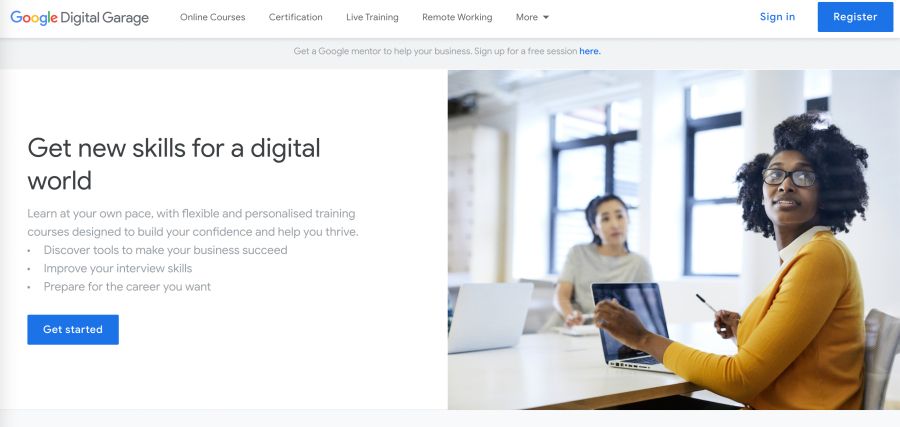 Google Digital Garage is Google's owned e-learning site: a library of digital marketing courses to help everyone grow their businesses and advance their careers.
And if you're looking for some of the best free online courses with certificates out there, you can start learning any of Google's 151 free courses (some are in collaboration with other e-learning platforms) that are based on insights gotten from search and advertising.
If you're a beginner, you can easily learn everything you need to start a business or seek employment anywhere. While experts can pick modules and acquire the knowledge that they're interested in.
In Google's digital marketing course, you won't only get a printable certificate to add to your resume and LinkedIn profile, you'll also learn how to;
analyze user data and turn it into actionable insights.
create a business strategy and improve your marketing efforts.
grow brand awareness and get more customers by creating and distributing quality content
optimize your web pages and create better user experiences.
nurture and retain more customers with email marketing.
Some of Google Digital Garage's other free online courses available are online advertising; understanding customer needs and online behavior; customer segmentation and prospecting, social psychology, and marketing in a digital world.
3. Lynda/LinkedIn Learning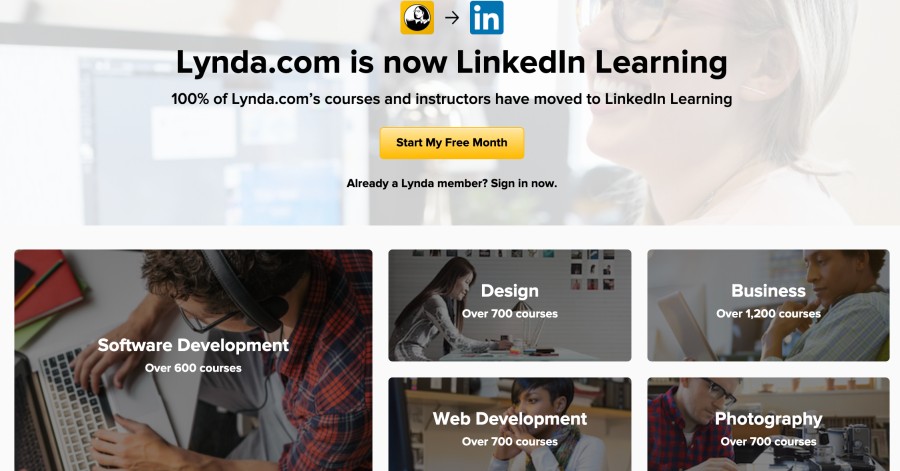 Lynda (now LinkedIn Learning) has been around since 1995, making them a veteran in the online learning business.
They've got a robust library of virtually every business course you can think of.
And their instructors boast pedigrees of being top university professors, CEOs, and business advisors to fortune 500 companies.
So when it comes to e-learning, LinkedIn Learning has got some of the best free online courses with certificates that'll boost your career prospects or make you a successful business owner should you decide to start one.
However, the courses are free for a month.
You'll learn;
online marketing techniques to build successful online marketing campaigns for all digital channels.
to track, analyze, and report traffic data and marketing goals.
to nurture and convert prospects and email and newsletter marketing.
to strategize and optimize your social networking channels for improved engagement.
Their free digital marketing courses include social media marketing, content strategy, digital advertising, SEO (search engine optimization), etc.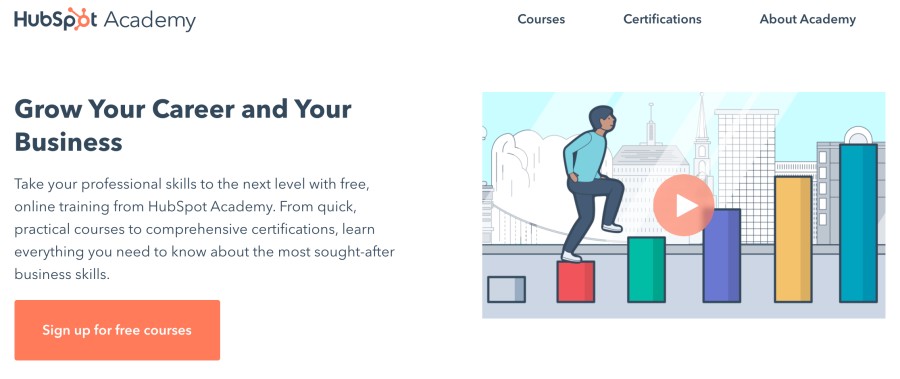 This list won't be complete without Hubspot. Their instructors are industry experts in the digital marketing space.
With the SaaS brand's CRM (customer relationship management) tool, you don't just get all the knowledge you need to start a business, you also get all the tools to grow your brand (whether as a sole proprietor or a team). So you'll be getting free online courses with printable certificates.
Some of their online learning courses are content marketing, inbound marketing, social media marketing, SEO, etc.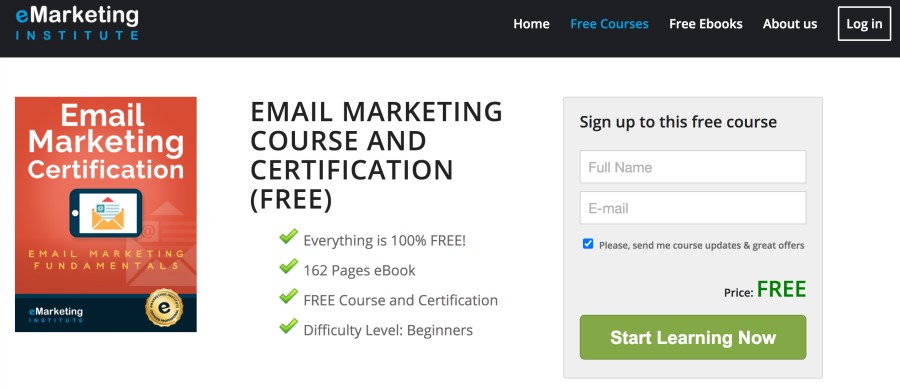 With email marketing boasting a return on investment (ROI) of $42 for every $1 you spend, an email marketing certification is a must-have.
And eMarketing Institute does a great job of teaching you everything you need to know to have successful email outreach.
In their free email marketing course, you'll learn how to write persuasive and compelling email copy, build, and segment an email list. You'll also learn about email deliverability, A/B tests for email marketing campaigns, and email analytics.
And one thing that makes their free course stand out is that you'll be awarded a printable certificate upon completion.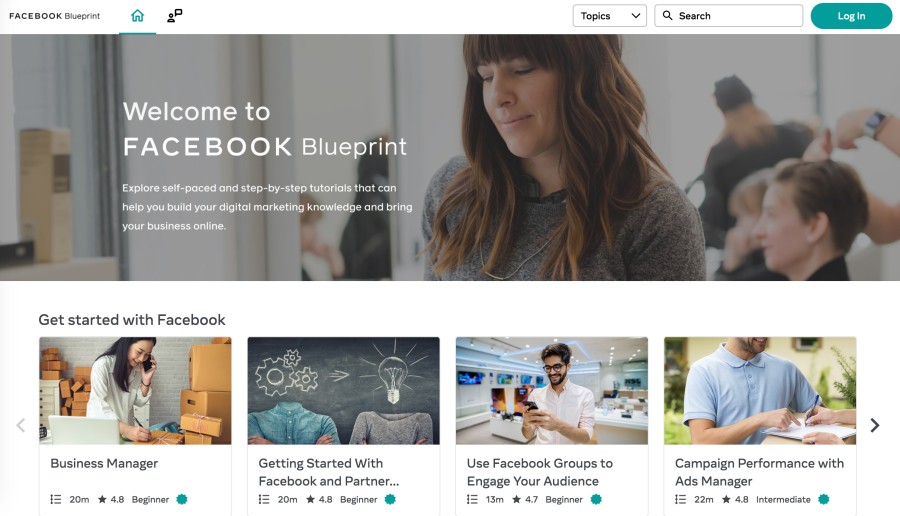 Getting started with marketing on Facebook? This is the best place to acquire all the knowledge to promote your products and services on the social network.
Facebook Blueprint is the Facebook-owned platform that teaches you everything you need to know to market your products and close sales successfully with Facebook apps.
A couple of things you can learn on this e-learning platform are;
setting up Facebook pages, ad manager, and ad campaigns.
engaging your followers with Facebook groups and creating content that appeals to the social media's users.
branding and audience targeting.
closing more sales and dealing with billing, payment, and taxes.
And you won't only learn about Facebook (the world's largest social network), you'll also be taught how to use Instagram, and Messenger for your business.
And when you're done, you'll be required to take an exam before you can get your free printable certificate.
So whether you're marketing your products or services for the first time or you're having issues creating ads that are compliant with Facebook policies, explore Facebook Blueprint to find all the free digital marketing courses and resources you need.
Free Online Programming and Web Development Courses
IT professionals are highly sought-after in every industry; this makes a career in tech a very rewarding one. And the need for their services will continue to rise.
In May 2016, the median salary for tech jobs was $82,860, compared to the median annual wage of $37,040 for other jobs.
So if you consider yourself a problem solver and would love to learn to code, solve programming problems, and build tools to make people's lives better, then take advantage of these best free programming online certification courses to build your IT skills.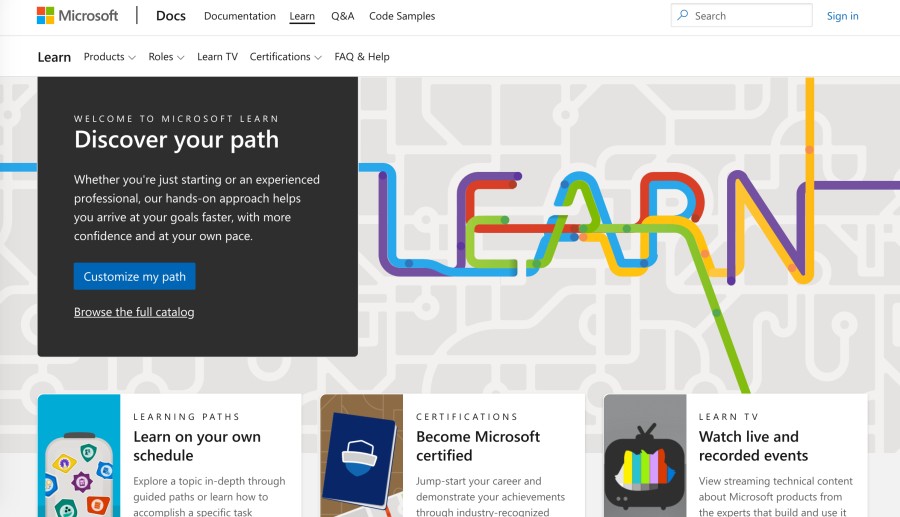 As a tech giant with many complex digital products, they offer free online courses to help people learn machine learning, language learning. They also provide top-quality courses to help businesses better understand the usage of their products like Azure.
You can also learn to be a data analyst with their analytics course.
And if you'd love to learn programming with GitHub, then Microsoft Learn is one of the best free online platforms for you to do so (even if you're a beginner).
You don't only acquire the knowledge; they reward you with a digital certificate that can be printed (who doesn't need such a reward after working with complex codes?).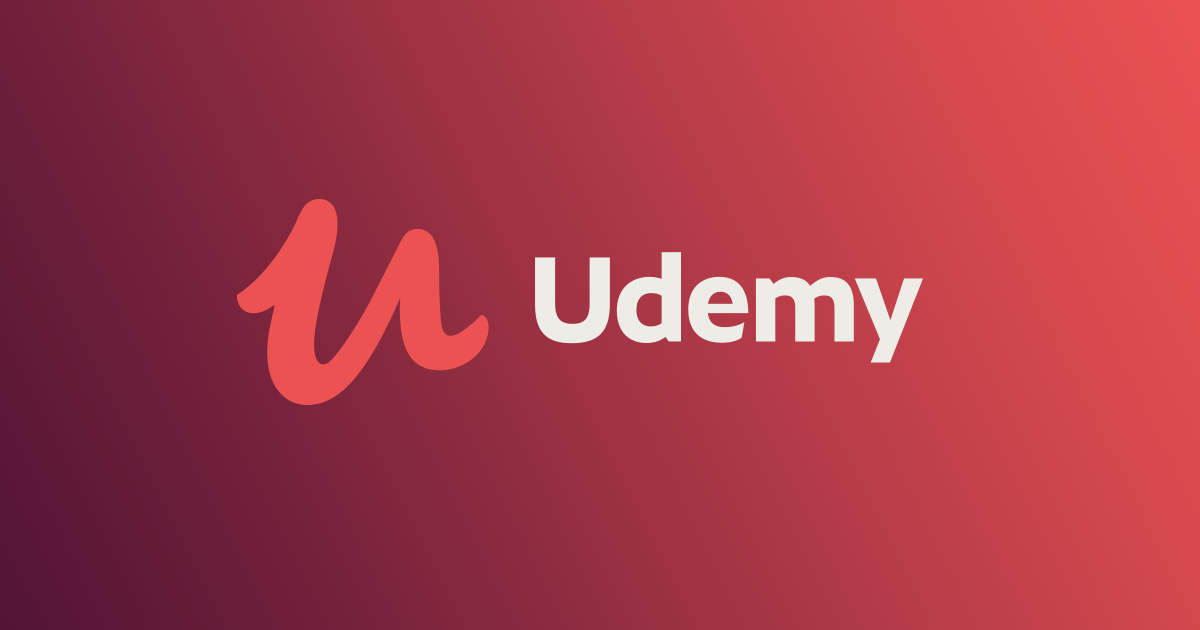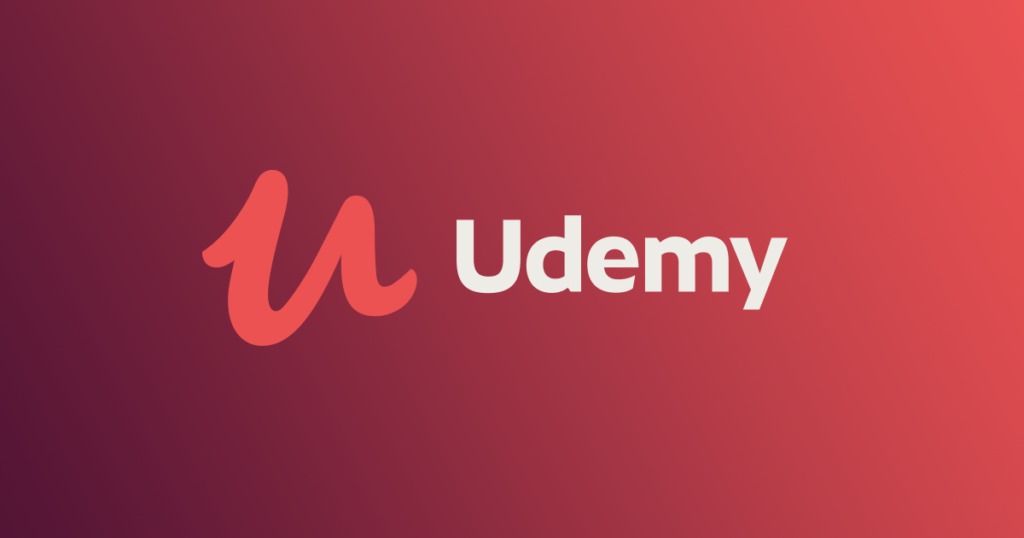 With 35 million students in January 2020, Udemy has definitely got to be one of the best e-learning platforms.
Whether you're a beginner who has never written a line of code before or an expert software developer, Udemy takes the right online learning approach to suit your needs.
What's more, is that they've got lots of free tech-related courses with printable certificates to help you grow your business or advance your career. The classes are taught by seasoned professionals and coaches from all works of life.
To make the courses more comprehensive, the instructors go in-depth into the course materials and teach them in ways that you'll understand better than watching YouTube videos.
Some of their most popular courses are Blockchain, Python, Mobile Development. HTML, AWS, Data Science.
Check out their website, and begin learning the free certified course of your choice.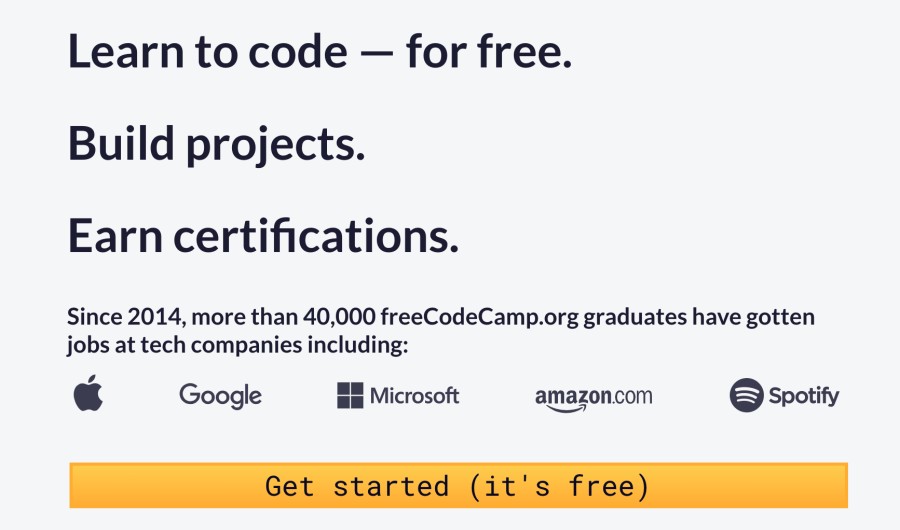 Founded in 2014, Free Code Camp is a non-profit organization that's made online learning of computer science completely free.
You'll also get free certifications for all the courses you take. The idea is for you to help other non-profit organizations code (even though you can use their certifications to advance your career).
And because the founder–Quincy Larson–had problems learning to code as a beginner, the e-learning platform takes a beginner-first approach in making their interactive lessons very easy.
Some of their free courses are machine learning with Python, responsive web design, APIs, algorithms, cybersecurity, data structures, and quality assurance.
Looking for the best free online courses with printable certificates in computer science, look no further.
Coursera is an online course provider–MOOC (Mobile Open Online Courses)–that's partnered with 200+universities and organizations to bring you professional free programming courses.
Because their free courses are top-quality and delivered by universities, you'll have to pay to get your certificate.
Then why is Coursera on my list of free certification courses?
Coursera knows how much you'd love to advance your career; so they provide financial aid to students like you. All you have to do is apply for the funding.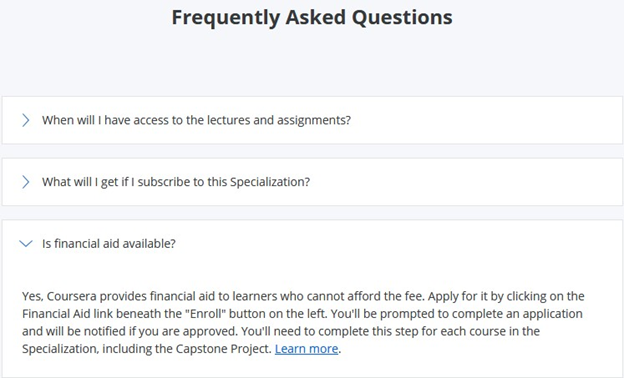 Some of their best free programming courses include web development, algorithms, Python, and machine learning.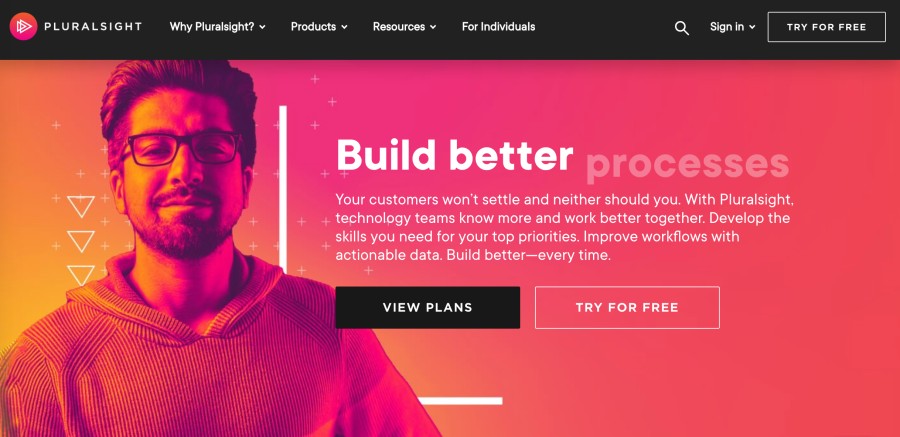 Pluralsight is one of the best online education platforms out there.
So whether you're launching or advancing your career in programming, Pluralsight has got just the right and best courses for you. Their lessons are taught by instructors from Google, Microsoft, and Oracle, and many other top tech companies in the world.
However, you can access all their free premium courses with certificates for 10 days only. And if you decide to take their paid courses afterward, their prices justify the quality of the courses.
Some of their top free courses include Python, artificial intelligence, Oracle, Java, C#, machine learning, and software development.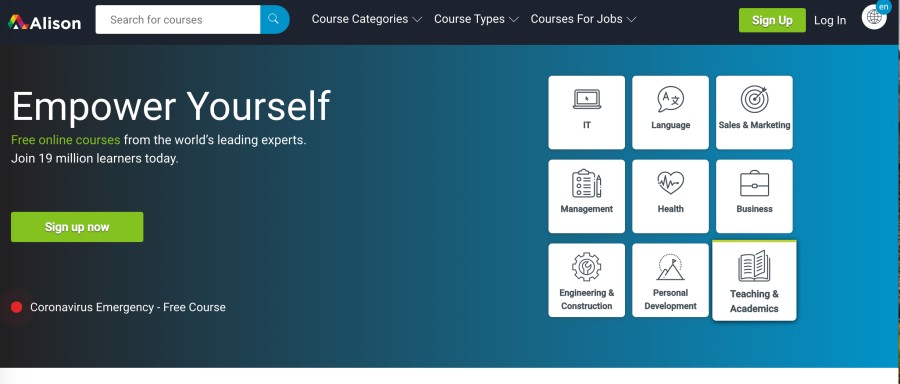 With 13 million learners and over 1000 courses, Alison is a robust library of top-quality online courses for people interested in programming.
Like edX, the course provider hosts free online IT training courses from all over the internet. Some of their tech courses are short ones, and the others are more in-depth diploma courses.
Some of their free courses with certifications include CompTIA A+, CompTIA Cloud+, digital security, computer networking, app development for iPhone, and Python.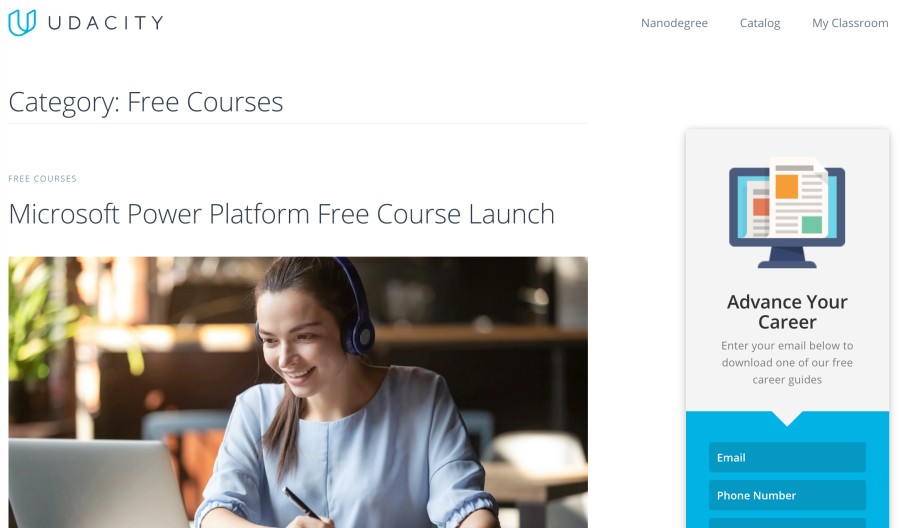 Udacity is a great online learning platform for self-paced learners.
However, most of their free tech courses aren't standalone courses: they lead up to more advanced and in-depth paid courses.
But you can have access to some of their free courses with printable certificates in machine learning, A/B testing, Python, and AI.
Here are other notable free programming and web development courses platforms:
Google Digital Garage
Google Digital Garage is an e-learning platform for programmers, marketers, etc. They've got really comprehensive tech-related courses like Big Data, Machine Learning, Google Cloud, Python, AI, internet security. However, either most of the free courses don't come with a certificate or you'll have to pay to get the certificate.         
If you're a total stranger to coding, Codecademy's free online classes will take you through the coding basics you need to know to get started.
However, they don't give out certificates for this course. You'll have to buy one of their premium courses to get certified.
Free Online E-commerce Courses
I don't think we'd be completely wrong if we both agreed that e-commerce is the hottest trend right now.
According to OptinMonster, 93.5% of internet users have purchased online, and NASDAQ predicts that by 2040, 95% of all purchases will be made online.
These show that e-commerce is big and it's only going to get bigger.
So here are the best free e-commerce courses with printable certificates you can learn today if you're looking to earn a side income with e-commerce or you'd like to acquire more sales and marketing skills to drive more traffic to your online store.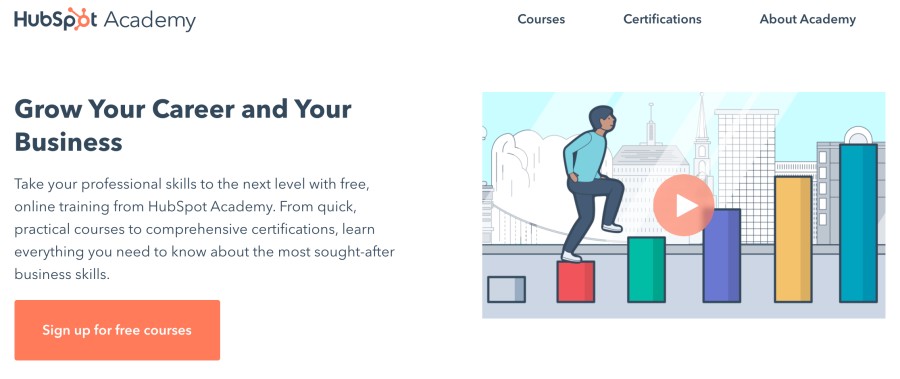 Are you new to e-commerce?
Hubspot is definitely the place to begin. They're a SaaS brand that has developed a CRM to help marketers and business owners easily market and sell their products and services.
And so they market their products by offering premium online courses for free. And their courses come with certifications.
And if you'd also love to take other free online courses with certificates in digital marketing and sales, you can find such courses in their library.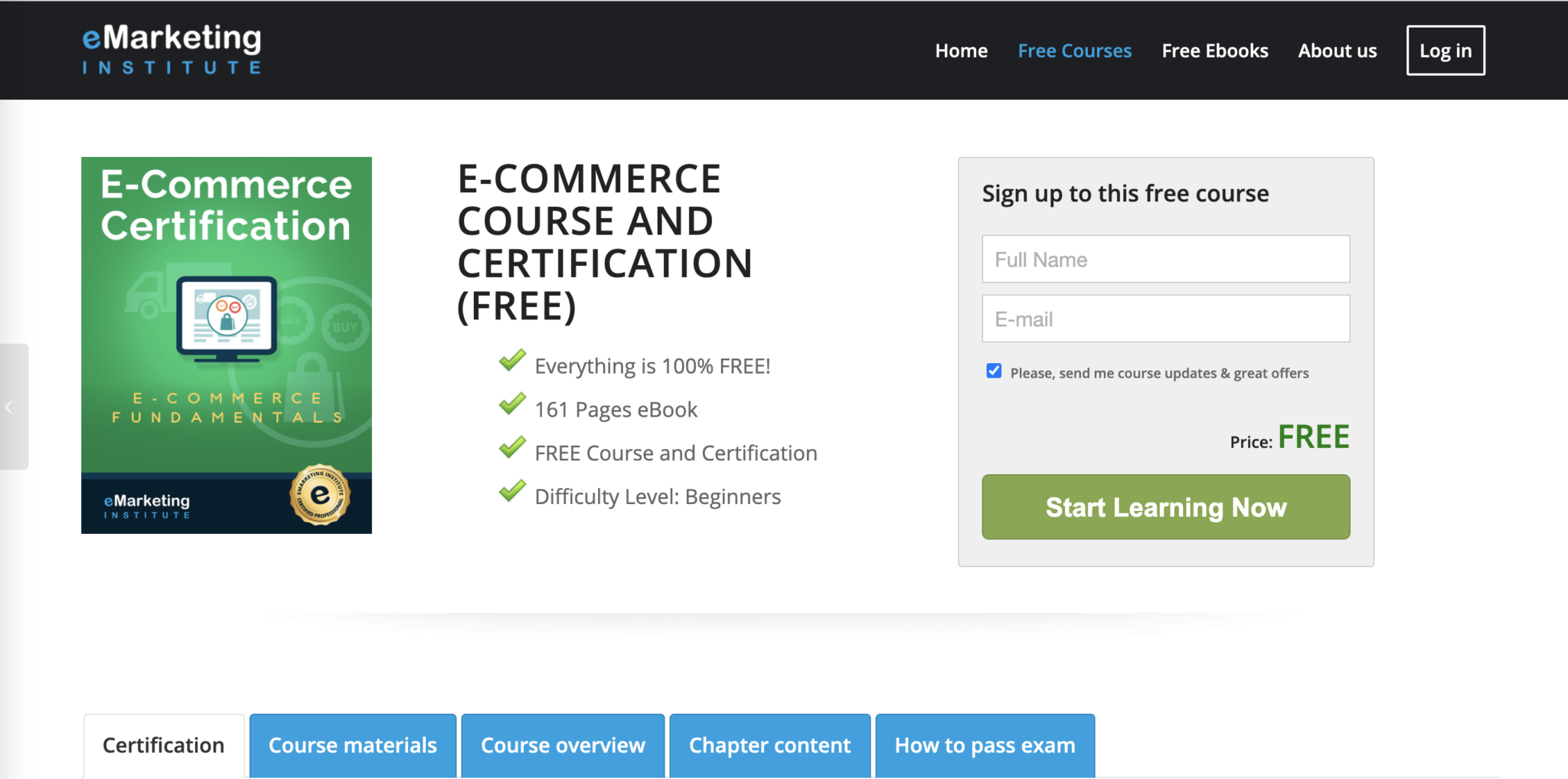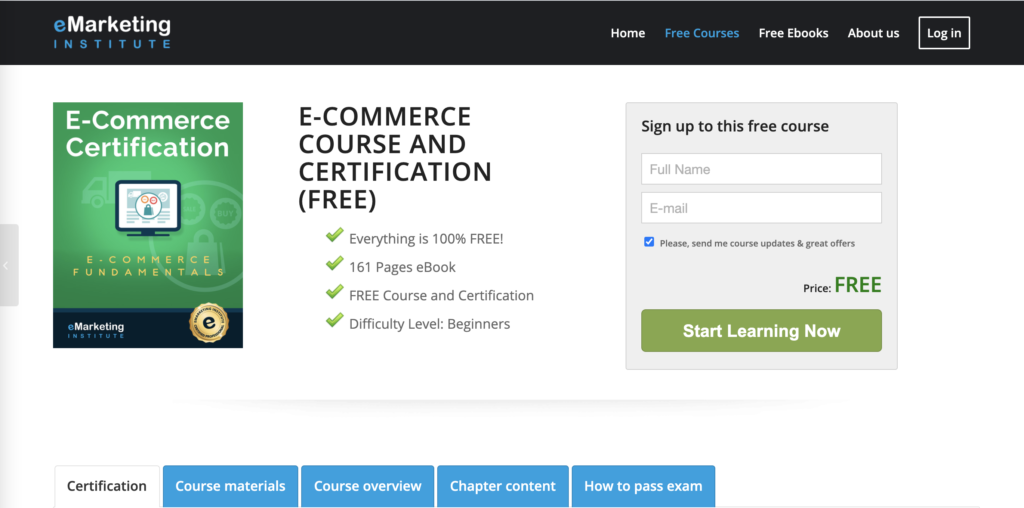 One of the best free e-commerce courses you can take is the one offered by eMarketing Institute.
The program has been structured into modules in such a way as to take you from beginner to expert in no time. Like you Hubspot, you also get free resources like e-books that you can refer back to anytime.
And another thing that makes their free course worth taking is that their printable certificate is free.
And not only will you be able to learn about e-commerce, but they've also got free certification courses for social media marketing, email marketing, online marketing, and search engine marketing, etc.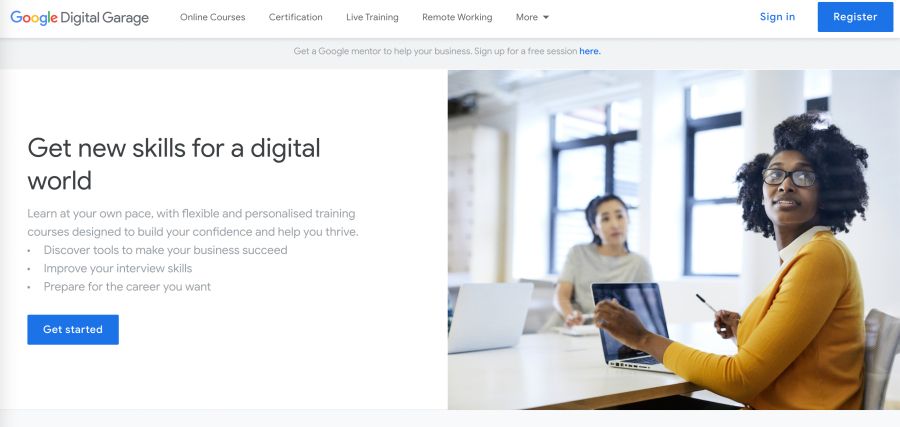 If there's anything you'd love to learn about marketing and growing an online presence, Google Digital Garage is the perfect place to begin.
Google Digital Garage is Google's online learning platform. With their 'Get a Business Online,' you'll learn;
How to how to build an online presence
How to set up an online store
And how to develop an online marketing strategy
You'll also learn search engine optimization (SEO) and how to use Google Analytics to make data-driven business decisions.
The online course is completely free, and you'll also get a free printable certificate upon completion of the course.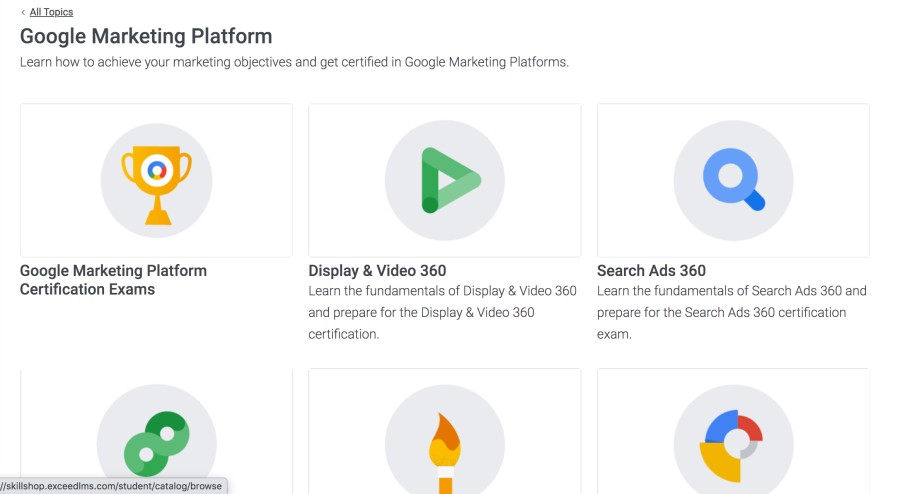 Google Marketing Platform is an advertising and analytics platform that helps small business owners and marketing teams get better results from their marketing.
The idea of this platform is so you can track metrics that matter to your online shop, make more informed decisions, and improve sales for your online store.
And Google Marketing Platform has a couple of e-Commerce online courses to help your team better understand search and run more effective and measurable e-Commerce campaigns.
This free online course also comes with a printable certification.
Unfortunately, this course advanced and isn't for beginners. You must have had some form of e-Commerce experience and also a marketing team of around 5 people.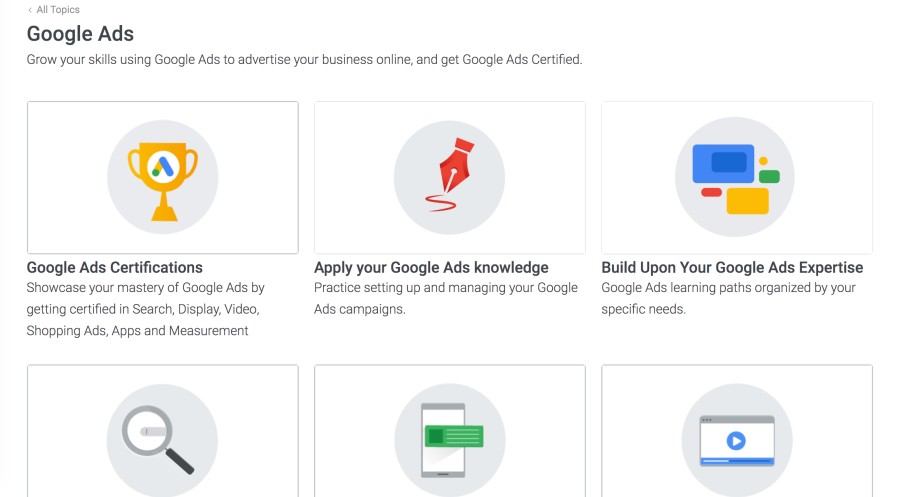 Do you know how you're going to scale your sales if you're already making money from your online store? You got it right! Of course, advertising is the best route to take.
With Google Ads free online e-Commerce courses, you'll learn how to get more visibility and attract more customers to your online shop.
Courses available include Google search ads, display ads, video ads, and shopping ads to increase your online shop's conversions. And you'll learn to track and measure your digital ads.
And you'll be awarded a free certificate at the end of the program.
Other notable mentions are;
If you'd love to learn how to automate your e-Commerce emails, write effective email copy, choose an email service provider, and deal with cart abandonment, Shopify's free email marketing course will get you started.
But the free online course doesn't come with a certificate.
Not sure what products to sell or what platform to sell your products on? SkillShare's free e-Commerce course will guide you all the way so you make no mistakes.
You'll also learn how to identify your competitors in your niche and how to map out a content marketing strategy to be a successful e-commerce brand.  
Free Online Management Courses
Enrolling in a management course is a great and very important step to building a successful business.
But the problem is, having an MBA or a diploma in management is super expensive and takes time to get.
But who says you need a diploma or an MBA when you can study free online courses with printable certificates.
So if you've set your sights on becoming a manager soon or you'd like to improve your business and decision-making skills, here are the best free online management certificate courses you can take.
Brentwood Open Learning College is one of the UK's premier online and distance learning course providers.
They've got top management courses you can study without paying a dime whatsoever. And you'll get a free certificate upon completion of the course.
Their courses are very flexible, have no deadlines, and surprisingly, they don't conduct any exams. With these free e-learning courses, you'll not only learn business management, but also office administration and leadership.
So here are some of the best free online courses with printable certificates BOLC offers.
Business management course
Hotel management course
Supply management course
Construction management course
Human resources management course
Project management course
Customer service course and a host of others.
Check out their website today and pick any of these free online courses of your choice and start learning.
NOTE: All the certifications/accreditations in this article can be used to boost your qualifications and CV.
As opposed to applying for a university MBA with your BSc certificate and/or experience, there are no requirements when studying any of Oxford Home Study's free online courses.
So you know, this distance learning course provider is not affiliated with Oxford University.
And like Brentwood Open Learning College, their online courses are delivered by leading academic instructors and experienced professionals.
You also get a certificate of completion after taking their free courses. And you don't have to have a prior degree or experience when you want to become a certified manager with OHSC.
With Oxford Home Study's 46 free distance learning certificate courses, you can never run out of course options to expand your skills.
Some of their best free online courses with printable certificates are.
Risk management course
Leadership and management course
Profit and loss account course
Facilities management course
Hotel management course
Travel and tourism course
Digital marketing and social media marketing courses
Life coaching courses and lots more.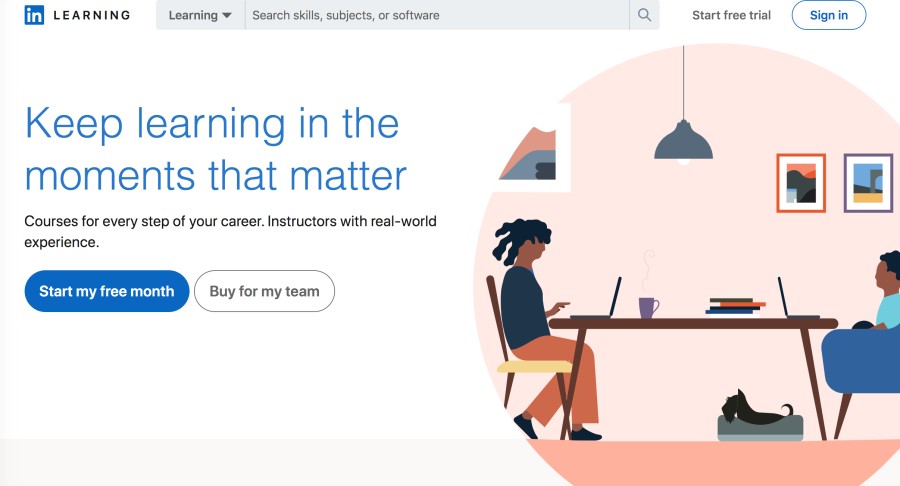 LinkedIn Learning boasts seasoned instructors with real-world experience, and we have no right to not believe that claim.
With over 15,000 courses, LinkedIn Learning has got virtually every course to help you excel personally, professionally, and in your business.
You also earn a printable certificate of completion after taking their free courses (which are free for only a month).
Some of their best free online leadership and management courses include;
Management foundations
Strategic thinking (offered by almost a million students)
Time management
Project management foundations
Communication and improving your listening skills
Working with difficult people
Other notable mentions include: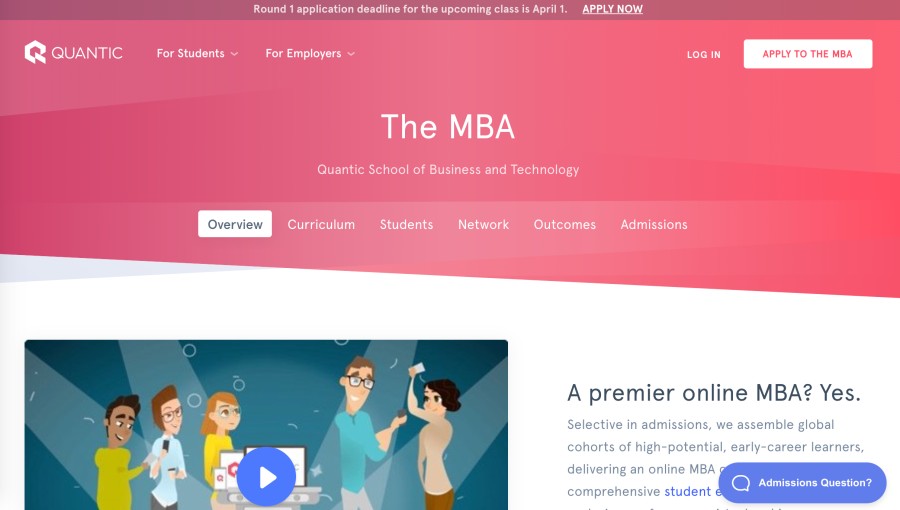 A reported 66% of Quantic students said they got promoted within 6 months of taking this course.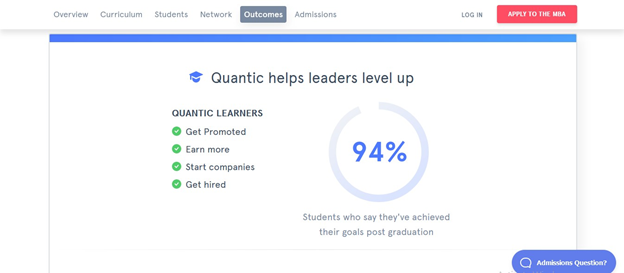 That probably makes Quantic MBA the best free online business management course on this list.
You" be taught by professors and industry professionals using case studies.
However, the course is extremely competitive as it's meant for early-career professionals with leadership potential. Your academic qualifications and career achievements will be considered before you can be admitted into this course.
But when you're accepted, you'll most likely have a lucrative career ahead of you because you'll become a member of their network.
And they've got professionals looking for talents and that will be willing to pay them to hire you.
Free Online Photography and Design Courses
Whether you own a personal blog or sell physical products, photography and graphic design are amazing skills to have.
And unlike back in the days when you needed a Canon camera to become a photographer, clear HD images can now be taken with your phone and edited to boost its appearance.
However, you still need to learn some hacks to get the best out of your photographs.
And if you'd love to pick up a career as a graphics designer, you can now learn how to design top-quality graphics without using complex software.
So here are the best free photography and design courses. Unfortunately, you won't earn a certificate of completion.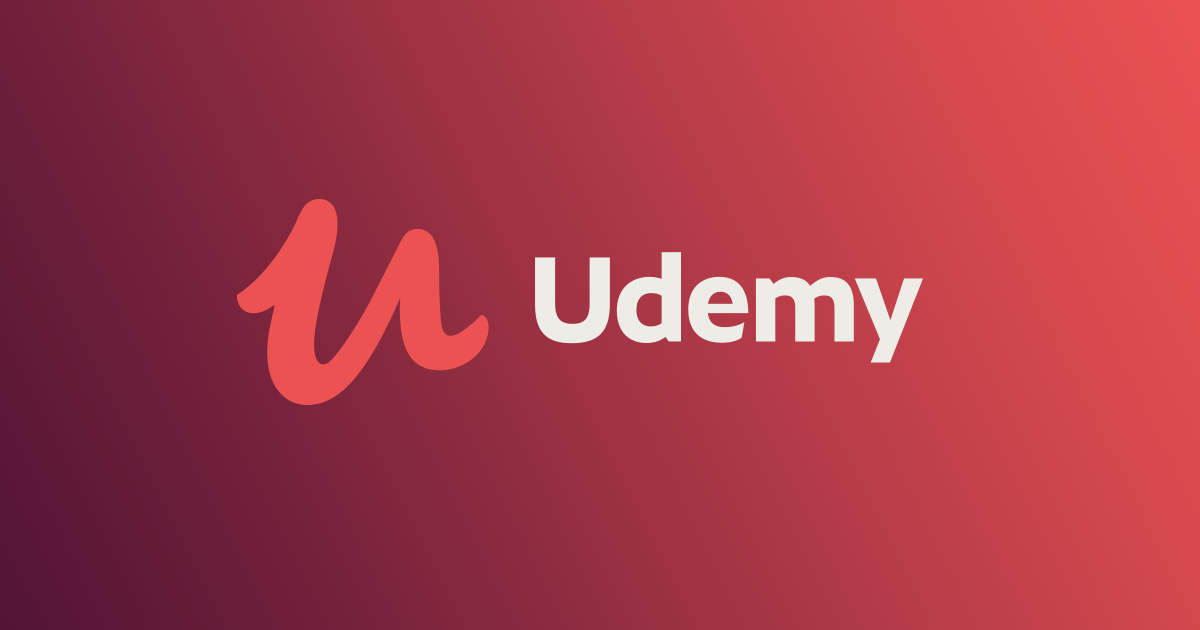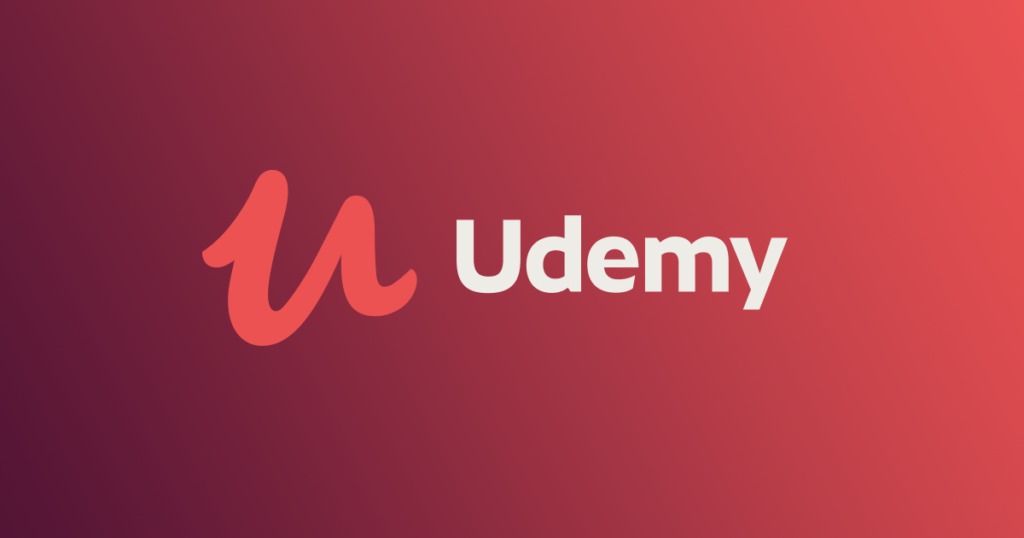 If you're new to photography and would love to become a highly sought-after photographer, Udemy's free online photography courses are just for you.
A couple of things you'll learn from Udemy's free online courses are;
The basics like how your camera works and how to set up your AF (Auto Focus) mode and resolutions.
How to take fantastic pictures with your DSLR (Digital single-lens reflex) camera in manual mode instead of auto.
How to be more confident shooting with a DSLR.
How to shoot on green screen and use PhotoKey software.
How to take back creative control from your camera and master Exposure.
And there's more. And if you'd like to acquire advanced photography skills, you can buy one of their paid courses and also get certified.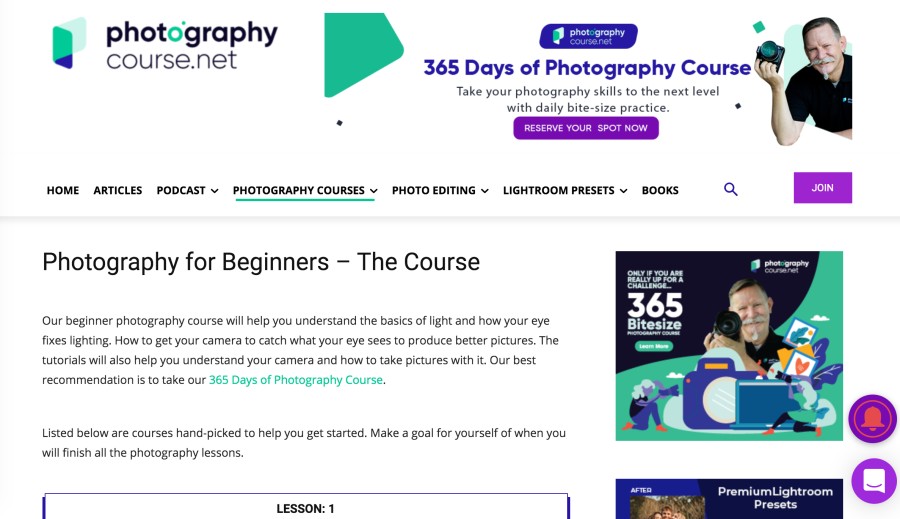 Need a free online digital photography class? PhotographyCourse will get you started.
So whether you're a beginner or you've got experience taking pictures, they've got photography courses for all levels. But only their beginner course is free for you to take.
Some of the things you'll learn with their free course are;
Setting up your camera.
Understanding Exposure and the Exposure Triangle.
Aperture, shutter speed, and ISO.
Understanding color in photography.
Compositional rules in photography.
Understanding white balance.
And the 6 types of lenses and what to do with them.
With these video courses, soon you'll be taking stunning photos. But if you'd love to get certified, you can take this affordable Udemy's beginner paid photography course.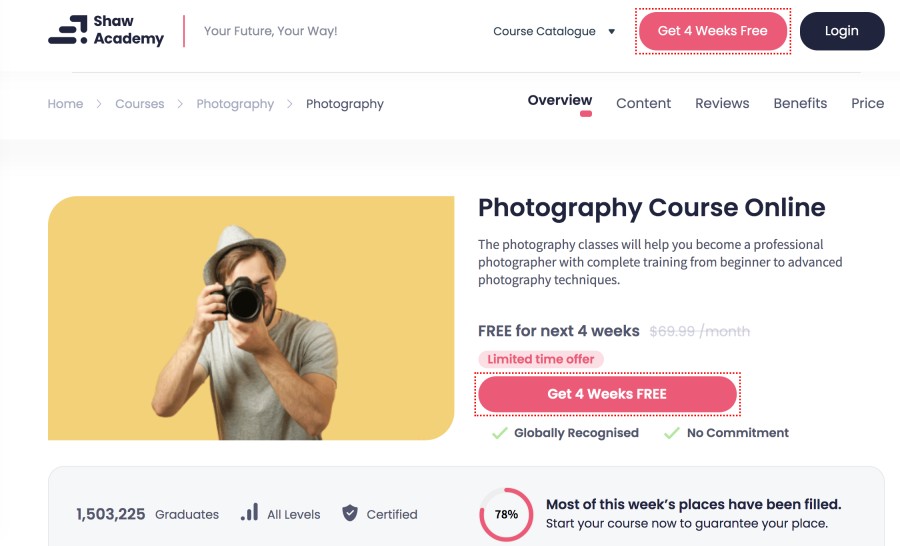 If you'd love to learn photography for commercial purposes, then, you should consider Shaw Academy's free photography courses.
When you sign up with the course provider, you'll be eligible to take any of their courses for free within the next 28 days.
And should you decide to take their photography classes, you'll learn;
How to take stunning photos with both an iPhone and an Android phone (including in low light and nighttime situations) and creatively edit them with mobile photo editing apps.
How to create a narrative, shoot videos (even in low light), and the importance of sound.
Camera basics, composition, aperture, shutter speeds, good exposure, and manual mode to take control of your camera.
There are other free video courses like Adobe Lightroom and Online Photoshop to improve your editing and design skills.
Visit their website and choose from their rich library e-learning courses.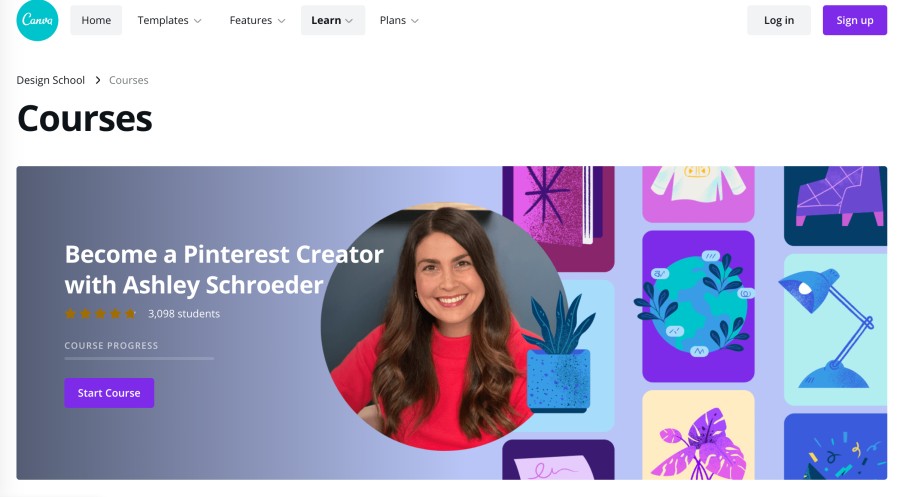 Canva Design School is an e-learning platform that teaches Canva users the best ways to use the software.
Some of the free online design courses you'll learn are;
Branding: you'll be taught what branding is, how to choose the right fonts and colors, how to style your imagery, and mind your tone.
Graphic Design Basics: you'll be taught how to think like a professional designer, Moodboard magic, design to communicate, and ace alignment, etc.
Social media mastery: you'll learn how to define your style, make it visual, and create beautiful and appealing content that'll educate, inspire and entertain your audience.
So this free design course won't only teach how to be a designer, you'll also learn how to market your brand and products on social media.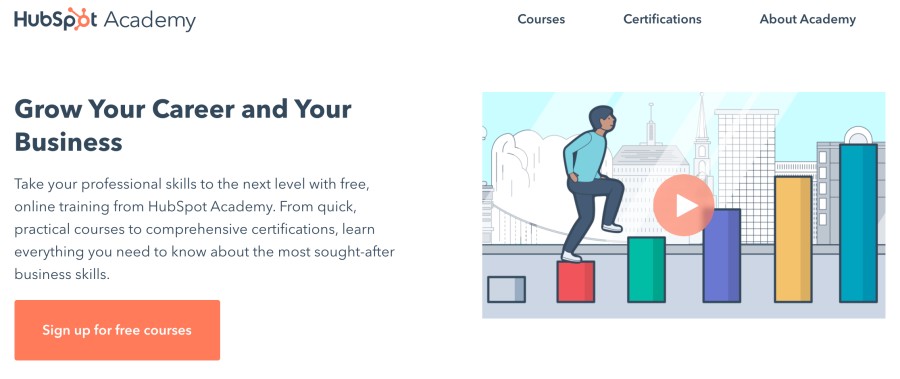 Hubspot's free graphic design online course has been designed to teach you the fundamentals of graphic design, how to create a brand style guide for your business, and how to create simple graphics for free.
Conclusion
While the main problem with taking an online course is the absence of personal contact as in traditional education, e-learning takes 40 – 60% less time to complete. And it's been shown to boost retention by 25 – 60 %.
These course providers have made it super easy for you to acquire a new skill with an online certificate completely free. The only investment required is your time.
So what are you waiting for?
Quickly advance your career or gain the knowledge to be a successful business owner by studying any of these top-quality free online courses with printable certificates.
And if you think we missed any free online business course that students can take without paying a fee, kindly let us know in the comment section.
Related: