Are you just starting out blogging? Or do you desire to write more persuasive marketing copy, impactful business letters, or engaging books?
If yes, then taking an online writing course designed for beginners is the right path to follow. And that's why we've put together the 13 best online free writing courses for beginners (and all levels).
Let's improve your writing skills.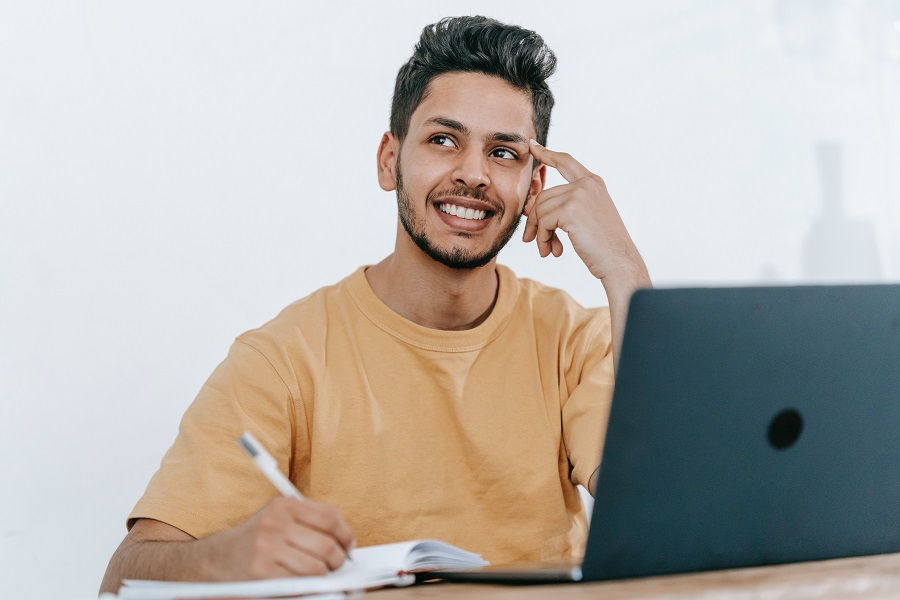 Best Free Writing Courses Beginners Can Learn Online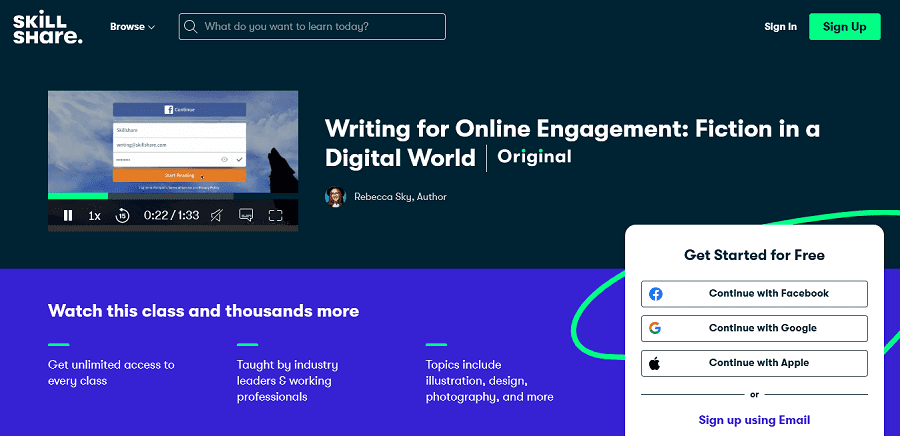 Now, if you're a beginner who's interested in fiction writing, there's no better way to kickstart your writing journey than taking a free online writing course.
But don't think because this course is free, it lacks content.
The instructor of this course is Rebecca Sky. She's worked with some of the world's top companies, including Microsoft, Paramount, Sony, Lay's, and Kraft. She specializes in writing YA fiction, and she's an accomplished author at that.
In the 11 lessons spanning 1 hour 8 minutes, Rebecca takes her students through several writing classes to help them;
Understand how writers can write in the digital age.
Grasp writing for an audience and grow a community.
Know how to get into writing serialized fiction.
Merchandise their stories.
You'll also get marketing tips to promote your brand and become a successful writer.
And if you've been writing fiction without achieving the success you deserve, you can also take the course.
Bloggers and other creative writers can also study her innovative strategies for producing successful books and building an online community of enthusiastic readers.
Another exciting thing about this course is that it's free for students to learn on Skillshare. For 30 days, you can take this and other writing courses.
Pros
Outstanding online writing course for beginners and experienced creative writers.
Free for students interested in learning to write fiction.
An established and published author taught me.
It teaches you how to grow a community of raving fans and market your work.
Requires little time commitment.
Teaches you self-publishing
Contains interesting projects.
Cons
The classes are designed for only fiction writers.
It doesn't issue a certificate of completion.
In all, this is our pick for the best free online writing course in 2023. The free online writing courses help you improve your skills, and they guide you on how you can be a successful writer.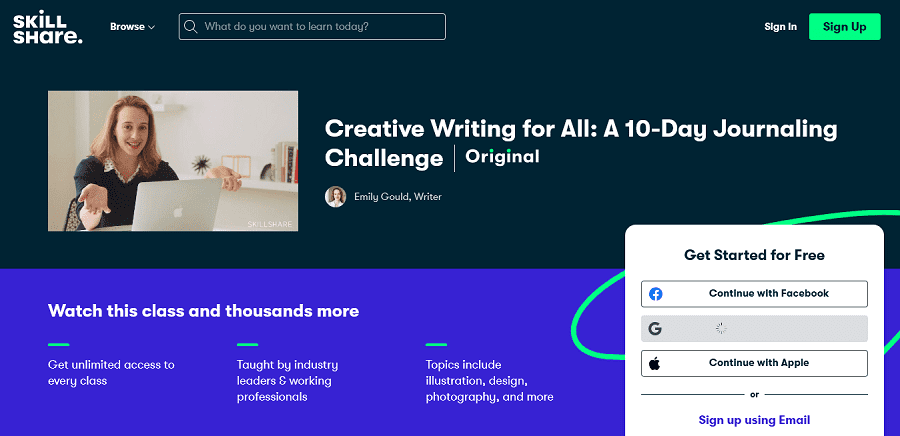 Many writers struggle to write down their ideas. And this is where classes like this 10-day challenge can help.
First, it helps you overcome writer's block to get the job done. Second, writing requires consistency and discipline. And this course will take you through some strategies to help you write down your thoughts.
The instructor of this course is Emily Gould, an established author and a co-owner of Emily Books (a bestselling indie project).
Her approach is to use creative writing prompts to nudge her writing mojo. And in 6 short video content that lasts only 26 minutes, she'll help you;
Develop your skills in writing personal essays.
Become more creative by writing for 10 minutes daily and using the creative writing prompt "Today, I noticed…").
Get more actionable steps to improve your productivity.
Write a personal short story in 10 days.
And at the end of the challenge, you'd have produced words you're happy about and learned a simple technique to commit to writing. And as with other Skillshare courses, you can take this course by activating the platform's 1-month free trial.
Pros
Get actionable steps to be a more productive writer
Probably the best free online writing course for beginners.
Gain access to downloadable course materials.
You can share your work with other students and get their feedback.
Cons
It is not a certification course.
It doesn't teach you about becoming a better writer.
If you're enthusiastic about fiction and nonfiction writing but find yourself procrastinating or dragging your heels, this course is for you.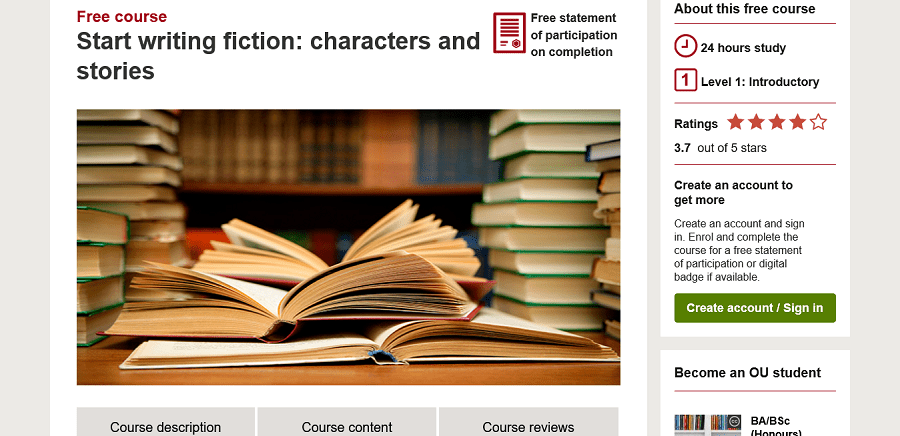 If fiction writing is a genre you're passionate about, then you'll love this course hosted on Open University.
In the in-depth online writing courses, the instructors will walk you through a series of topics to teach you how to develop ideas and characters for your story.
This course will also train students to have healthy habits like keeping a journal and show you ways to turn past or present events into a plot.
Several established writers teach different topics so you can understand them better. However, one notable instructor is Dr. Derek Neale – one of the Open University's senior lecturers in Creative Writing. He's also an award-winning novelist and short story author.
Together with the other writers, they'll engage you in video lessons for 8 weeks and teach you;
Introduction to fiction writing.
How to start your writing journey, adopt a journaling habit.
Develop your characters
To create your own space, pick ideas, and learn from other writers.
To research, develop a plot, and adopt a notebook habit.
To edit and criticize your work.
It is one of the best free online writing courses for fiction writers as it contains more information than you can get from most other courses on this list.
Pros
Established writers teach these writing classes.
You'll understand character development.
It's free for students to take online writing courses at Open University.
It contains extensive topics to make you a great fiction writer.
Students will develop ideas, research topics, structure a plot, write, and self-edit their work.
The writing classes are in-depth and take around 8 weeks to complete.
Cons
It is an introductory course.
Requires a high commitment level.
This course is one of the best free online writing courses for beginners or students looking to kickstart their writing careers in writing fiction.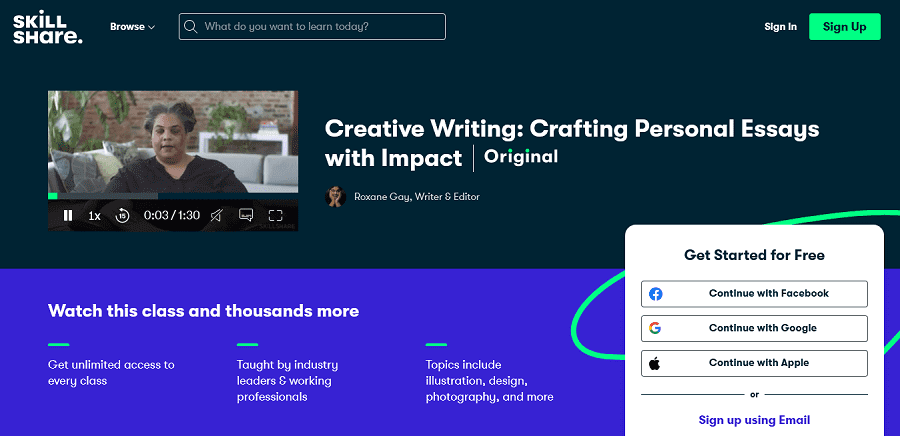 Have you got a personal story to share but don't know how to make it impactful? Have you thought about writing a story that people can learn from and make a difference in their lives?
If yes, then this is the online writing course for you.
Your instructor for this class is Roxanne Gay, a professor, editor, and New York Times, bestselling author. In this course, you'll develop the skills for first-rate personal essay writing. The instructors will also walk you through the stages, from developing ideas to the final manuscript.
In eight lessons spanning 1 hour, Roxanne will teach you how to;
Connect with your audience using your texts.
Find your purpose for writing your story.
Search inward to bring out those personal memories truly you'll love to write about.
Research to make your story watertight.
Avoid mistakes that'll undermine your work.
You'll also get tips to revise your essay writing for publishing. The good news is that Skillshare offers you the opportunity to be a great writer with its 1-month free trial.
Pros
Great course for beginners and all study levels.
A New York Times bestselling author teaches this course.
You'll learn to edit your work for publishing.
You'll get insights on how to write words that appeal to various audiences.
A good number of downloadable resources and course materials.
You'll get to practice writing essays while receiving feedback on your work.
Cons
It's not a certification course.
The short course may not contain the information an experienced writer seeks.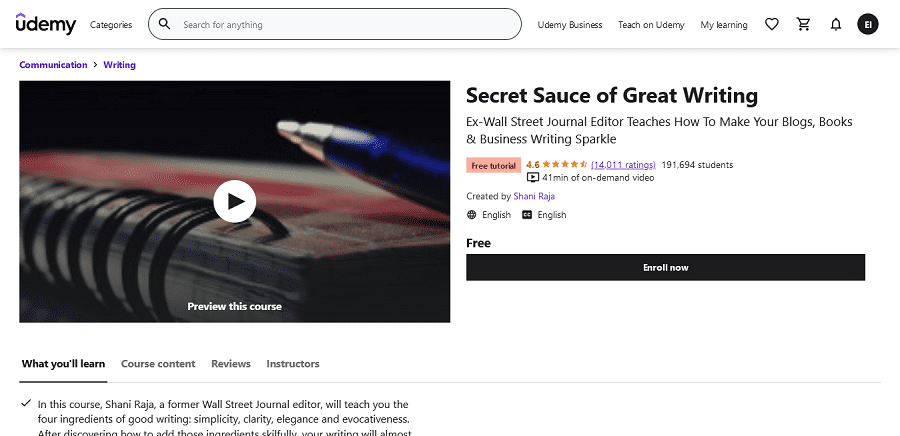 Many writers struggle because they don't know what makes excellent writing that people love and enjoy reading.
The thought process and techniques that go into creative writing are pretty complex; however, this course distills the ingredients of good writing.
The instructor of this writing course is Shani Raja. He's a former Wall Street Journal editor who's also written and edited for other top companies and publications such as Microsoft, PwC, Financial Times, Bloomberg News, etc.
With that wealth of experience, there's no better person to give you writing classes than Shani. According to him, the four main ingredients for writing great content and stories are;
Simplicity
Clarity
Elegance
And evocativeness.
So in the 45-minute course, Shani promises not to show you writing tips but a system that'll change the way you write marketing copy. You'll see how to apply these in your writing so you can;
Create more engaging and exceptional content or exciting books.
Spot weaknesses in your writing and improve them.
Write more compelling and persuasive emails and sales copy.
Create an impression on HR managers with your cover letter.
The good thing is that the creative writing courses aren't only for those interested in writing books. You can take the course if you own a blog or desire to improve your writing skills.
Interestingly, this is one of the best free online writing courses. But this course is designed mainly for experienced writers and journalists, not beginners.
Pros
Best for intermediate to more experienced writers.
Full lifetime access to course materials.
You'll learn to write more stylish and exceptional content, whether it's fiction, blogs, poetry, marketing copy, etc.
You'll get a certificate of completion.
A very experienced instructor that's written and edited for some of the top companies in the world.
Cons
It isn't the best free online writing course for beginners.
The course is not so comprehensive.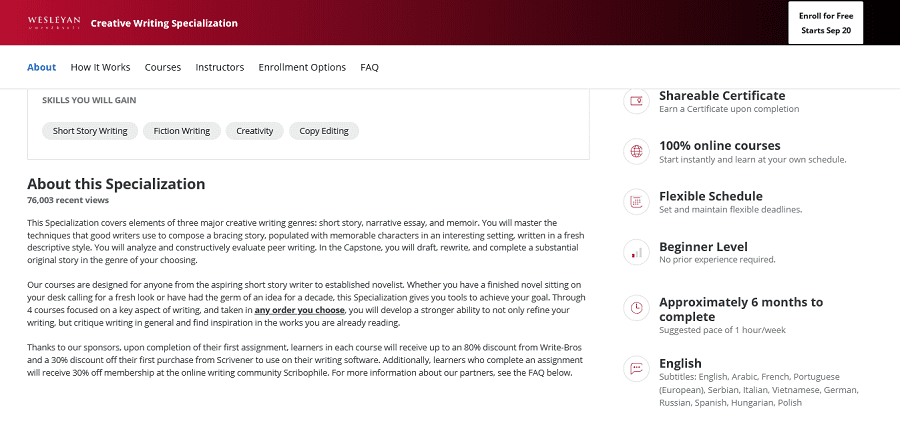 If you've dreamt of being the author of a short story, an essay, or a nonfiction book like a memoir, this in-depth specialization course is for you.
The creative writing class is offered by Wesleyan University and taught via Coursera. And since it's a specialization rather than a standalone course, it contains four lessons that four visiting instructors teach from Wesleyan University.
The four modules include;
The craft of plot: Here, you'll learn to develop a scheme that'll arouse readers' interest in your short story. Plus, you'll learn to draft an outline that'll connect the beginning to the middle and the end.
The craft of character: Here, students will learn to relate experiences from their real lives to develop characters. This way, they can easily create characters with feelings, behavior, and habits to make their story interesting.
The craft of setting and description: Writers will learn exercises and research to develop realistic and fantastical scenes. It is so they can make their audience read and picture the writer's imagination.
The craft of style: The course lecturers will teach you to develop your unique voice using metaphors and imagery. You'll also learn to make your short story clearer, and you'll acquire the revision skills needed to finish off a good story.
You'll also get lots of practice assignments to help you brush up your writing skills.
Pros
It is a free online writing course.
The in-depth courses are safe-paced and take around 3 – 6 months to complete.
Earn a shareable certificate.
You'll get feedback on your assignments.
There are subtitles in 12 languages, including English.
You don't need to meet any requirements to take this program.
Cons
The time commitment is high
You'll have to pay the get the certificate.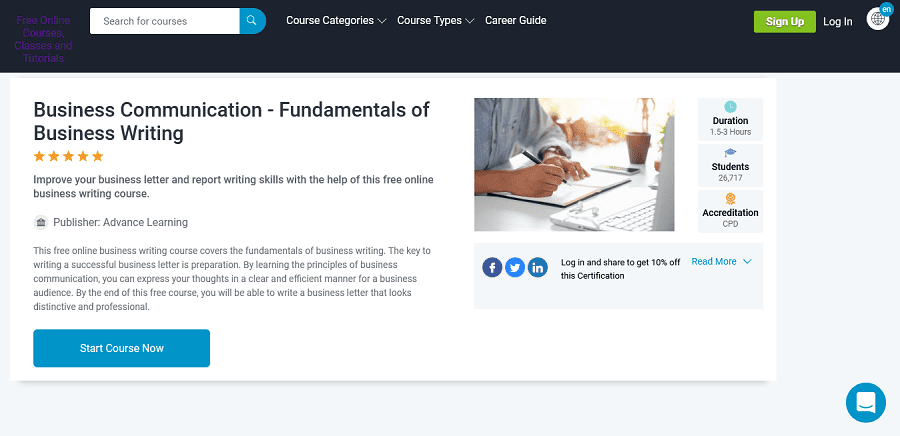 If you'd love to express yourself clearly and efficiently to your employees, bosses, and clients, this online writing course on Alison has got you.
This program will train you to write the kind of cover letter that'll impact your prospective employer. It'll also help you write better and more professional business letters, proposals, and reports.
In 3 hours, the expert instructors will guide you through;
Understanding the how, why, what, who, where, and when of business writing.
Learn how to plan and write a business document.
You adopt a writing style that'll make your business letter easy to understand, persuasive, compelling, and memorable.
I am writing more valuable reports.
The structure you can use to write texts in your business communication.
At the end of the course, you'll earn a certificate of completion from this free course. However, you'll have to pay a fee to get your certificate. But you can get discounts on the certificates, so it's worth it.
Pros
This lesson will help you understand the legal implications of business writing.
Write better reports, cover letters, and other business documents.
Course assessment leading to certification.
Professional instructors teach this writing class.
Cons
You'll have to pay to get certified.
The course is for beginners to intermediate-level students.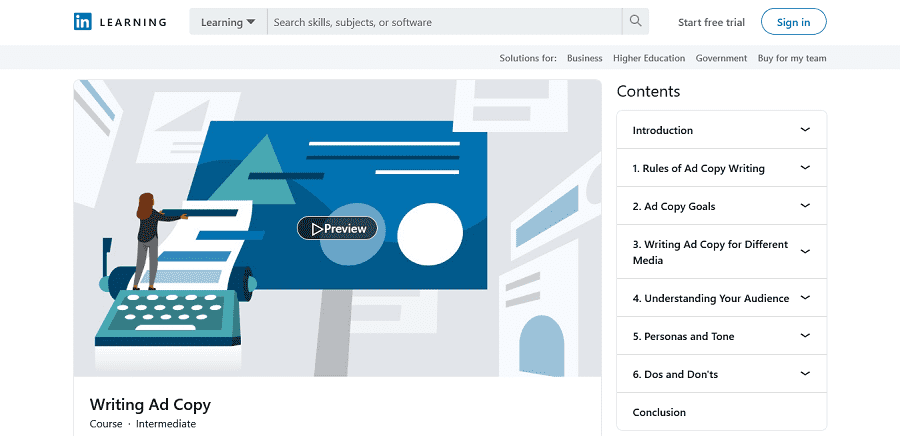 If you have poor conversions from your social media advertising, there's a possibility the problem is not with your strategy.
It's likely the problem lies with your ad copy. The good news is that this course is aimed at helping you write effective ad copy that will increase not only your clicks, traffic, and engagement but also your conversions and sales.
And there's no other person more qualified to teach this online writing course than a seasoned marketer. The instructor of this course is Mike Duquet, a growth and conversion optimization strategist at Hootsuite.
In this course, Mike takes you through a range of topics to help you understand how ads work on different platforms and how to convert your clicks to sales.
Here's an overview of the topics and content of this 1-hour course;
Introduction to crafting your message and picking the right tone of voice.
The psychological triggers that increase conversion.
Rules for writing ad copy for your website, email, direct mail, and social media.
Designing your customer persona
How to set your copy goals and achieve them
How to write effective headlines and call to action.
And at the end of the courses, you'd have learned the triggers that encourage online buyers to buy products and services. And your copywriting game would have changed for the better.
We're excited to announce that you can take this course for free on LinkedIn Learning as they're offering students a 1-month free trial.
Pros
Teaches learners how to increase conversion by generating the right ideas to write effective ad copy.
Free training program for you to take.
You'll get a recognized certification.
You'll be adept at writing marketing copy for the web, emails, social media, and direct mail.
A marketing director with lots of copywriting experience teaches this course.
Requires a minimal time commitment.
Improve your advertising and copywriting skills
Cons
Only teaches students how to write copy that drives sales; doesn't teach you to become a better writer of other prose.
The short courses are not so in-depth, so you'll probably need more courses to expand your knowledge.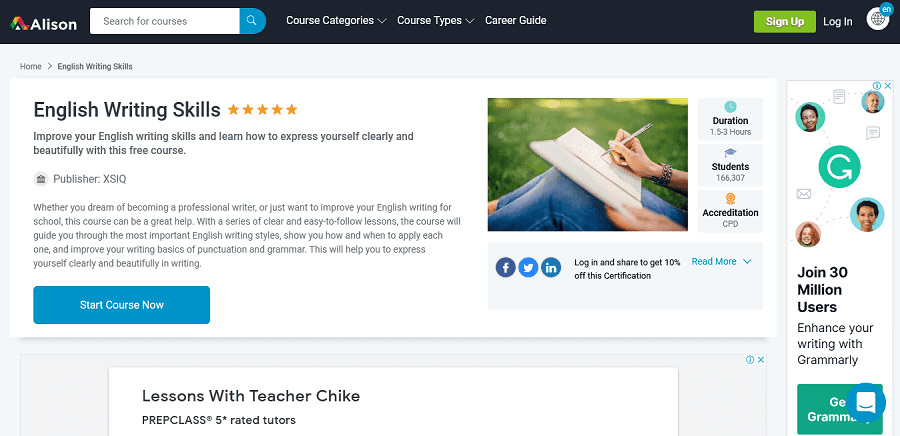 If you desire to become a better writer who is versatile in writing in several English writing styles, then Alison's English Writing Skills course is for you.
This writing course will guide you on passing your message across regardless of the type of audience you're writing for. And at the end of the classes, you'll be confident in your writing skills.
In this under 3-hour course, the top-class instructors will teach you how to;
Write engaging content in different types of writing styles; comedy, science fiction, opinionative, thriller, descriptive, poetry, suspense, etc.
Combine various writing styles into a story.
Write engaging pieces for your ideal audience.
Identify the kind and situation of your audience.
So whether you're interested in learning more about poetry or Sci-Fi, there will be a module (or two) that'll interest you. You'll also get a couple of assessments to help you fast-track your learning and writing process.
The good news is that this course is one of the best free online writing courses you can take.
Pros
Structured for almost all skill levels.
Requires minimal time commitment – 3 hours.
Seasoned professionals teach this course.
You'll get a free certificate of completion.
Cons
Doesn't teach the classes in-depth.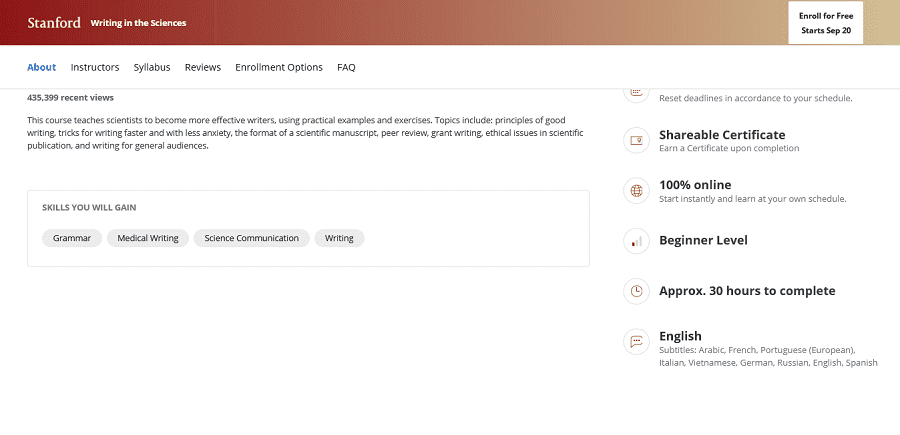 Now, if you're a scientist who does a lot of research, you may not be interested in fiction and nonfiction writing. And that's where this class offered by Stanford University via Coursera can help.
Here, this online writing course takes a deep dive into medical writing and other science fields to help you put your research work into proper writing.
The instructor of the writing courses is Dr. Kristin Sainani, an associate Professor in Health Research and Policy. And through lots of video lessons, she'll guide you through a range of topics to make your scientific writing more effective and impactful.
In 30 hours of on-demand, Kristin will walk you through;
The introduction and key principles to effective scientific writing.
Getting a grasp of English grammar; writing with active verbs, using strong verbs, the right punctuations, and making your writing follow a logical structure.
Tips to make you more organized and ease your writing process.
Formatting tables and writing sections for discussion.
How to avoid plagiarism and attend/host interviews.
Each section has got practice writing assignments to make you quickly grasp the concepts. And you'll also learn peer review and grant writing.
But what we love about this Coursera course is that it's one of the best free online writing courses for students and lecturers.
Pros
The in-depth classes are free for interested students
The writing course is easy to understand and created for beginners.
Coursera issues shareable certificates.
The online writing courses are self-paced.
It's subtitled in English and 8 other languages.
Cons
Compared to the other online writing courses on this list, this class requires more time commitment.
It's only for science writing, and not for other writing styles.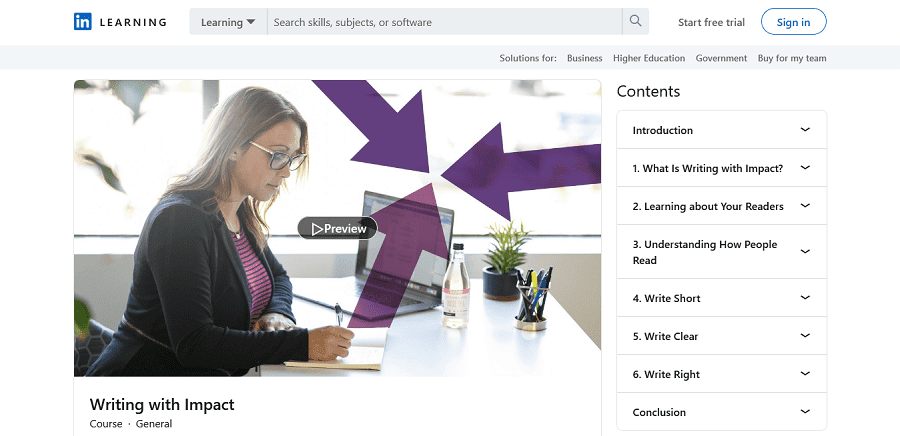 The basis of writing impactful prose, poetry, or scientific manuscripts lies in how well your content suits the purpose of your words. And that's what you'll learn in this LinkedIn Learning online writing course.
The instructor – Tom Geller – will introduce you to concepts that'll make your writing more appealing to your readers regardless of the genre you're writing for.
And why should you care about the instructor? He's a seasoned communicator and trainer who has worked with Apple, Association or Computing Machinery, Nature.com, etc. So, when it comes to writing and evoking a reaction from an audience, Tom is pretty good at it.
In 1 hour, he'll show you how to;
Shorten your sentences and paragraphs, making them easier to read.
Understand your readers and know what they want.
Write with purpose by finding your reasons.
Pick the most impactful words that will pair well with your reasons.
Choose the tone of voice that'll resonate with your audience.
And use appropriate grammar and sentence structure to make your content crisp to read.
There are lots of chapter quizzes to make you quickly grasp the concept of writing shorter and clearer. And interestingly, you can activate your free trial on the LinkedIn Learning platform and take this online writing course for free.
Pros
You'll learn how to find your purpose and write more impactful prose regardless of your genre.
The instructor has over 20 years of experience as a communicator and trainer.
This is a certification course.
A good number of chapter quizzes to fast-track your learning process.
Minimal time commitment.
The units you'll get from this class qualify you for continuing education.
Cons
The course is mostly for beginners.
The class is not so in-depth.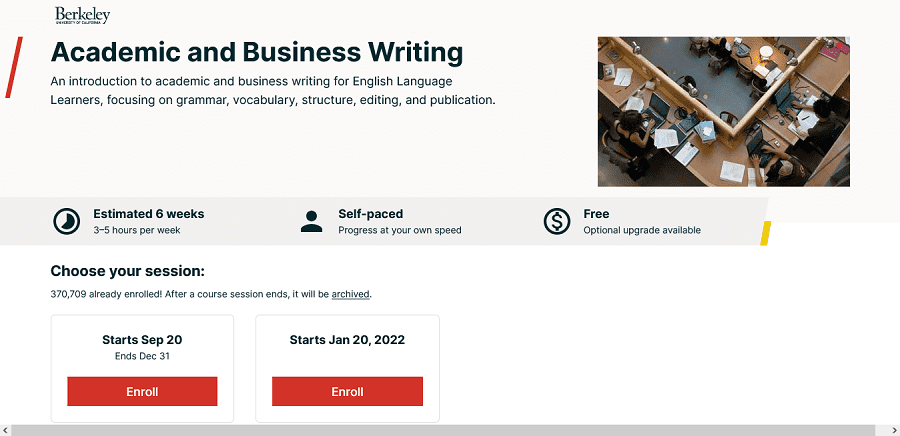 University programs tend to be more in-depth than other MOOC courses: so let's explore this writing class for English language learners.
This program takes an easy approach to teaching students the English language to be beneficial to them in their academics and writing careers.
In this course, students will be taught English grammar and vocabulary that'll help improve their business communication skills. There will also be topics and classes that will center on grasping structuring texts and editing.
In this 5-week online writing class, the College Writing Programs director, Maggie Sokolik, will help you improve your business and academic writing by;
Acquainting you with different writing styles – whether for business or academic purposes.
Teaching you how to improve your diction and tone to enhance your communication skills.
Showing you how to develop an essay.
Teaching you how to edit, proofread, and revise your words.
A couple of chapter quizzes, readings, essays, and writing assignments encourage you to hone your writing skills.
Pros
There are lots of writing programs on edX, but this one from the University of California is one of the bests.
It's free to take this training program.
Recognized certificate upon completion (paid).
Self-paced class offered by a reputable university.
The university programs director teaches this course.
Lots of downloadable course materials.
The assignments and exams are graded.
Cons
Requires a high level of commitment compared to most of the other free online writing courses on this list.
You'll have to pay to get the certificate.
If you desire a recognized certification from one of the most reputable universities, this one from the University of California will make a great choice.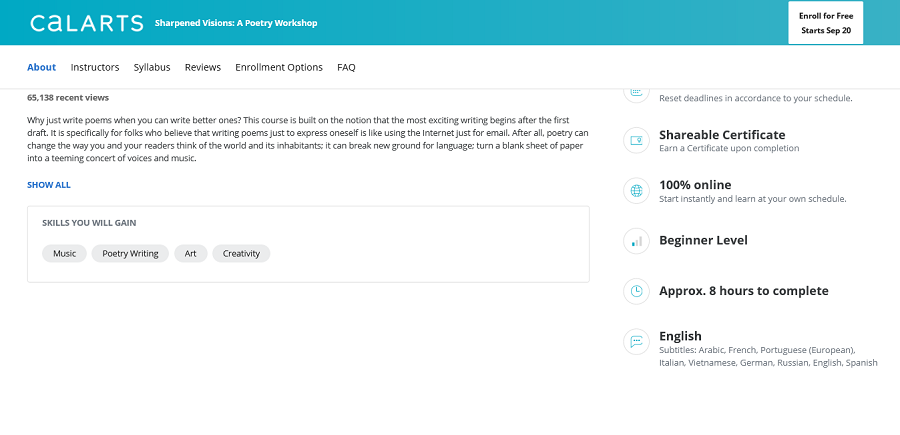 If you're looking for a dedicated poetry course to help you express your thoughts better, you've got that in this program created by CalArts.
In this course taught by Douglass Kearny (an assistant professor in creative writing), you'll study a couple of contemporary poets and try your hands on a few practice assignments.
The training will last for 6 weeks, and the instructor will engage you with the following topics;
The importance of line breaks in poetry and how to do it.
Using abstractions and images to create more empathetic moods and relationships.
How to use metaphors and other elements to create more poetic effects in your writing.
The different types of rhymes and how to apply them in your writing.
Each module has quizzes to help you brush up on your knowledge and skill. And it's free to enroll in this course.
Pros
This is a free course that'll teach you poetry in-depth.
It's great for beginners.
It's taught by a top-class instructor and offered by a reputable college.
It's a certification course.
Cons
You'll need to pay to get the shareable certificate.
You can only access the peer-reviewed aspect of the class.
FAQs
How can I improve my writing skills online for free?
You can improve your writing skills by taking courses on the internet. There are lots of free courses you can take on Skillshare, Udemy, and LinkedIn Learning. There are also paid courses with more in-depth topics and content, but taking the free programs is a great way to improve your writing skills.
After taking an online writing course or more, you can begin writing and editing your words with tools such as Microsoft Word, Grammarly, Hemingway App, Pro Writing Aid, thesaurus, Readability-Score.com, etc.
Can I teach myself creative writing?
Yes, you can learn to write creatively and improve your creative writing skills. And these tips will help you develop your creative writing skills;
Take one of the best creative writing classes on the internet (check the above-listed courses).
Read the books or works of some of the best authors that you love their writing style.
Keep a journal. Describe the places you visited and activities you partook in vividly.
Write a personal essay or memoir or a story of someone (a friend, relative, or neighbor) close to you.
Create a story using the snowflake method. In the snowflake method, you come up with a summary or big picture for your story and begin adding more elements as you develop the story.
Leave your writing for a while. Go outdoors or do something else. You may get inspiration from engaging in other activities.
Connect with other writers (experienced and amateur).
Engage in freewriting. Freewriting is when you write without following an outline, structure, or editing your text. Just write as the random thoughts come in without refining them. The unrefined text may not make much sense but this can help you be more creative in the long run.
Conclusion
Writing can be a rewarding career because you have the skill to express your thoughts clearly.
There are rewarding careers worth checking out: data entry clerk, AutoCAD professional. Here are more free courses to help you become a professional. Plus you can take Coursera courses for free by using this guide.
And even if you're not interested in a writing career, an online writing course can help you write more impactful letters, emails, and sales texts.
Related: