You can now take online martial arts classes at home and at your own pace and schedule. But while you may not get the same immersive experience as the in-person lessons, these courses will give you the exhilarating experience of training in a dojo. Some will also award you a certificate of completion.
Although martial arts is a combat sport, it's more than just the fighting styles you see in many Asian movies.
It's a collection of sports that teaches you self-defense and how to improve your self-confidence, fitness levels, and mental health.
Taking studio classes can be very expensive, or you may not have the time to do so. Here we'll see the 12 best martial arts training and courses to help you become a pro martial artist.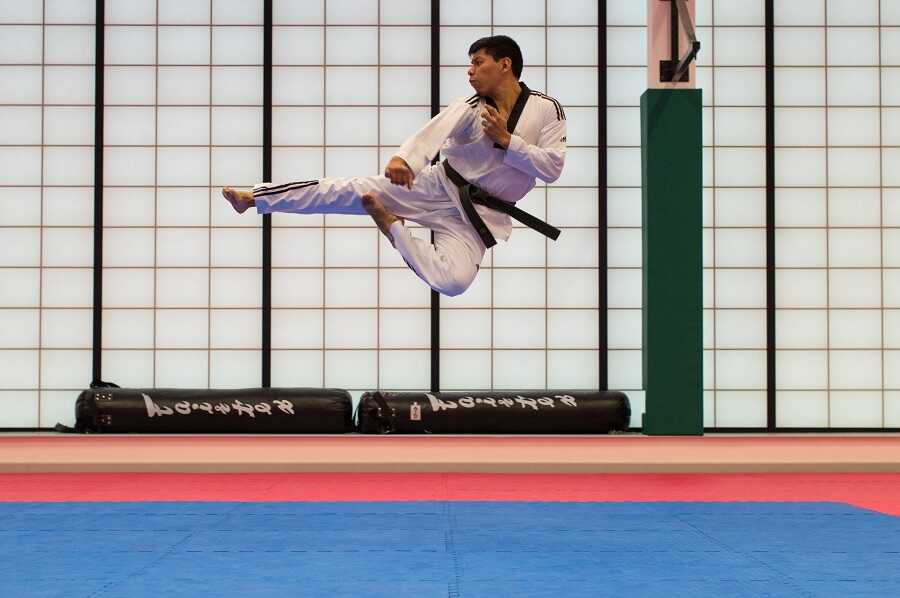 Best Online Martial Arts Classes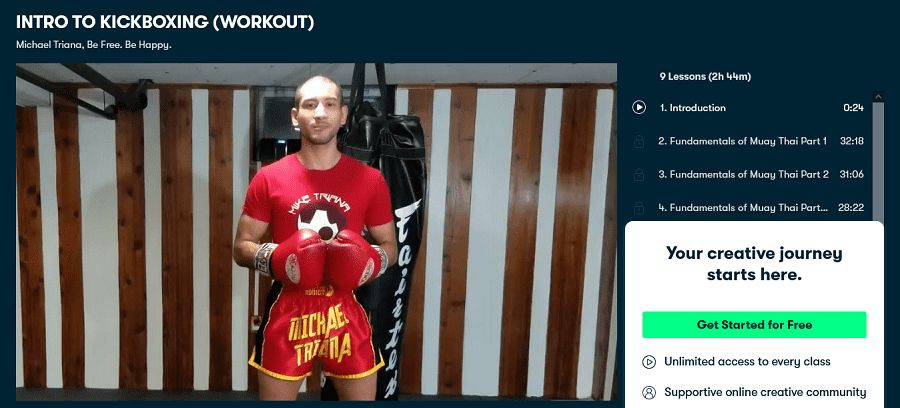 If you're interested in learning Muay Thai, this course from Skillshare is probably the best place to start.
This course taught by Michael Triana, a champion kickboxer and instructor known for her prowess in the ring, will introduce you to several workouts to guide you to be a skilled kickboxer.
These martial arts courses will boost your fitness and stamina.
Some of the lessons you'll learn in this 3-hour video martial arts course include;
It emphasizes repetition, posture, punching, kicking, and striking as the basic mechanics of Muay Thai.
Self-defense techniques.
Cardio workouts and strength conditioning.
You will not just learn basic techniques. Instead, you'll be able to take part in Muay Thai competitions.
We love this martial arts program because after training if you send Michael clips of your progress, he will continue to mentor you and offer you detailed instructor feedback. However, you'll have to follow him on Facebook.
Despite all the value, you can get from learning this course, and the program is FREE on Skillshare.
Pros
It is one of the best online martial arts courses for beginners and experts.
Free training taught by an experienced instructor and Muay Thai competitor.
A repeatable 9-module short course that you can take in less than 3 hours.
Cons
It's not a certification course.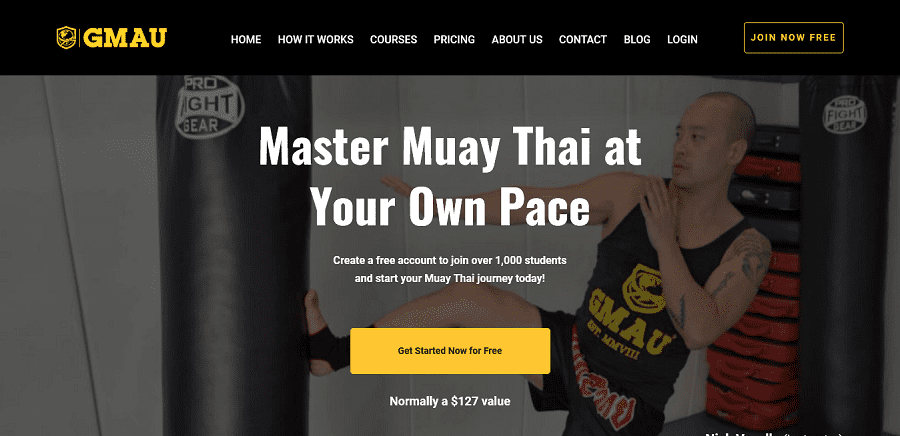 Whether you want to learn self-defense, gain muscle mass, or just lose calories, this Muay Thai kickboxing will take your martial arts skills from beginner to advanced level.
This course taught by professional martial art instructor Nick Vasallo on the GMAU platform will teach concepts such as conditioning and stretching. You'll also learn technique training, warm-ups, and drills to make you a better karate fighter.
We like how Nick challenges his students and doesn't withhold his expert instructor feedback from them.
Even though you'll be learning martial arts at home via the GMAU platform, you'll have an immersive dojo experience.
Pros
It is one of the best Muay Thai certification training to help you attain a black belt.
Learn martial arts in HD at home.
A martial arts program for all levels.
Earn an internationally recognized rank at an affordable price.
Cons
Relatively expensive compared to the other courses.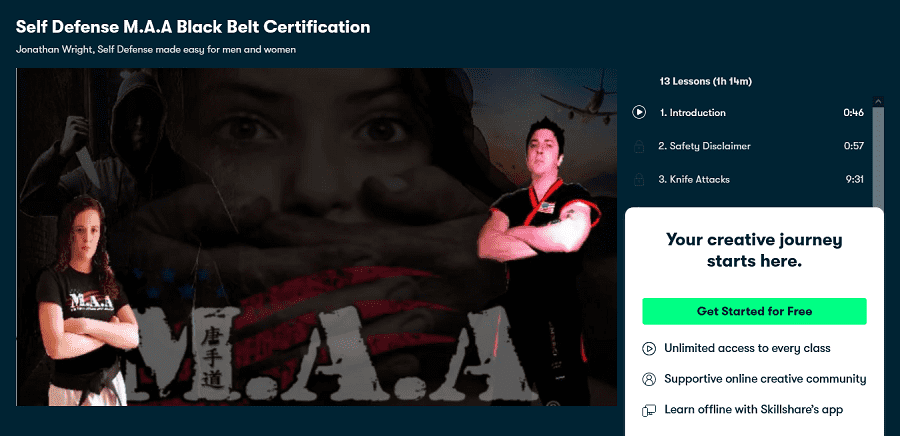 One of the reasons this course features on the list of the best martial arts courses is because it's very detailed.
The martial art coach – Jonathan Wright – who served in the U.S. Navy, breaks down the training programs into ten sections where you'll learn;
Karate and Brazilian Jiu-jitsu basics
How to defend and fight back in real-life situations such as in an airplane or knife and gun attacks.
The best takedowns and striking locations.
We love that these videos will set you on the path to earning a black belt certification. And you can take the course for free.
Pros
Blue and black belt holder instructor in multiple martial arts disciplines.
Easy-to-follow classes.
It is one of the best martial arts courses to offer you real-life experience.
Learn karate and Brazilian Jiu-Jitsu at home or anywhere.
Cons
Mainly for the intermediate to the advanced martial artist.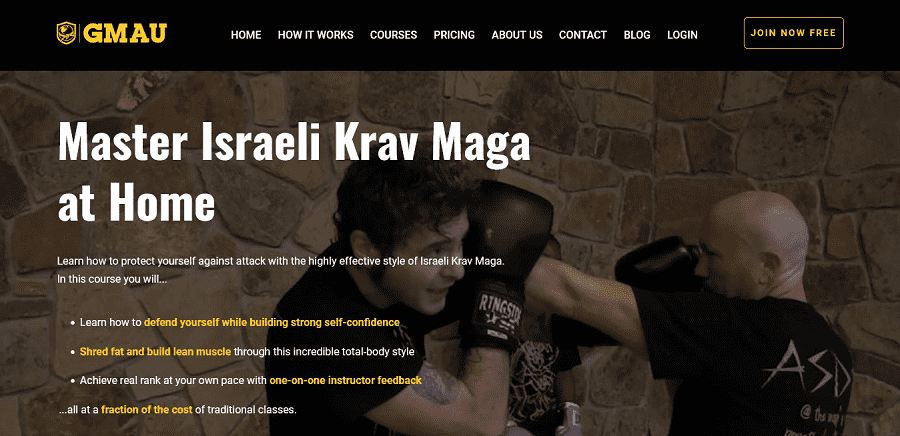 One of the best online karate classes you can learn at home is the Krav Maga developed by the Israeli Defense Ministry.
It's an all-encompassing program that combines techniques from boxing, wrestling, karate, aikido, and judo to teach you self-defense.
In this 20+ hour Krav Maga class, several martial arts instructors will take you through 50+ follow-along sessions to teach you;
A total-body style workout to burn fat and build lean muscle.
Learn how to build strong self-confidence and defend yourself.
Self-defense techniques, control maneuvers, and fighting using knives, guns, and blunt weapons.
Self-awareness, posture, and takedowns.
This GMAU online program also gives you the feeling of being in a studio while practicing at home at your own pace.
Pros
Earn actual rank certification in this easy-to-use online learning platform.
Get a black belt instructor to help you develop personally.
Money-back guarantee.
The beginner training is free with downloadable resources.
Cons
Relatively expensive online training.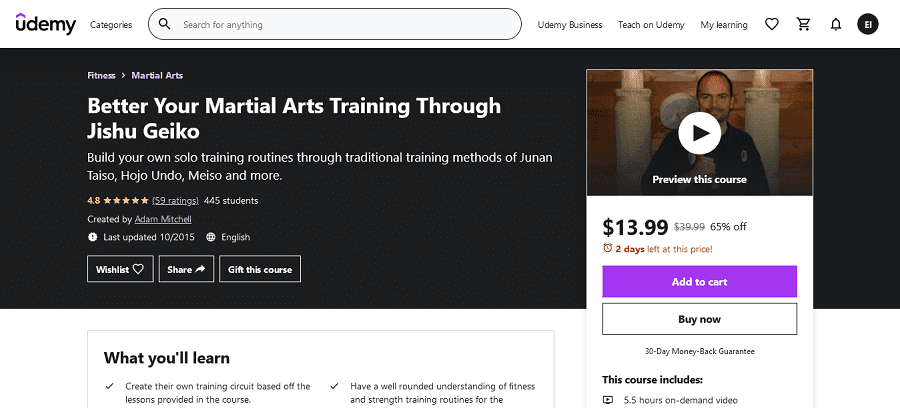 If you're a professional looking to improve your skills, the lessons you'll learn from this course will aid your development in becoming a better martial artist.
Each class goal is to help you develop your mind and body through traditional training methods such as Junan Taiso, Meiso, Okinawan Kiko, Hojo, Kungfu, Karate, Makiwara, etc.
The content of the 5.5-hour on-demand video lessons training by an expert instructor, Adam Mitchell, focuses on;
Drills to incorporate into your training.
Meditation exercises to help students achieve their training goals.
Fitness workouts to help students increase their stamina, etc.
At the end of the lessons, you'll be able to create your self-practice using the methodology and insights from this program.
Pros
It is best for experts wanting to learn Jishu Geiko.
Advanced training to teach professionals and students how to design their solo practice.
Lifetime access to course materials.
It's an expert instructor who's an author and owns a martial arts school.
Certification course.
Cons
For students just learning martial arts, this is not advisable.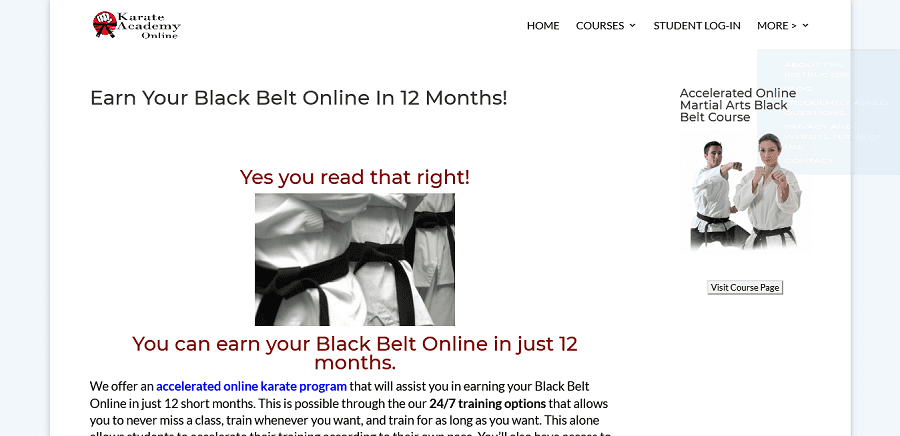 If you've already got some martial arts skills and you're looking to upgrade to the black belt level, this Accelerated Black Belt Course will provide you with the most comprehensive programs.
Expert instructor Sensei Mark Roscoe teaches karate classes to aid physical, mental, and spiritual development.
Some of the key takeaways you'll learn from these karate lessons include;
Introduction to martial arts training at home.
Learn to perform the front snap kick.
Learn to develop mental concentration, focus, and self-discipline.
Learn how to develop front punch and high blocks.
Access to an online belt test at the end of the karate classes.
However, to gain access to the Karate Academy Online written and video courses, you'll have to pay a monthly fee of $67 for 12 months. But you'll be able to cancel your subscription within the first 30 days if you're not satisfied.
Pros
Comprehensive black belt course from an award-winning instructor – Sensei Mark Roscoe
30-day money-back guarantee.
Engaging in on-demand video lessons.
Cons
Quite expensive.
Online classes take 10 – 12 months to complete.
You need high-level self-discipline to commit to weekly training.
Not a beginner program.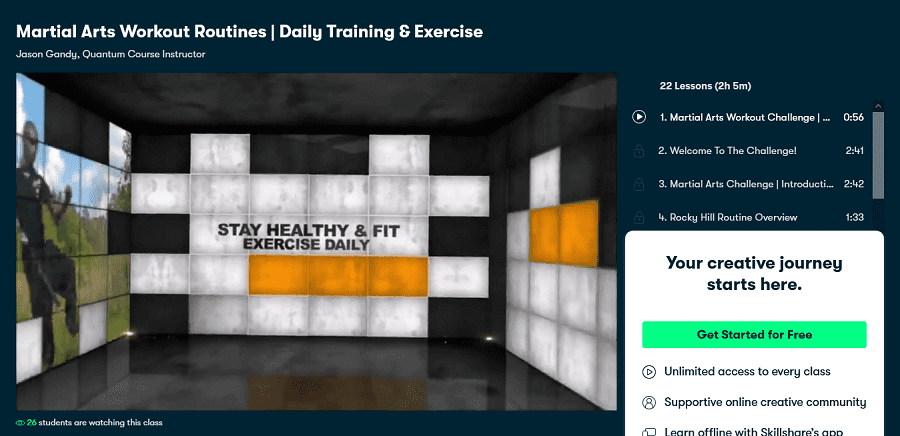 If you're looking for training that requires a minimal time commitment, this Martial Arts Workout Routines from Skillshare will interest you.
It takes only 10 minutes of your day, and it'll help you improve your fitness level and martial arts skills in easy and little steps.
The 2-hour class taught by expert Quantum course instructor, Jason Gandy, covers Rocky Hill, Flower Patch, Juniper Bushes, Hidden Lake, and Fallen Tree routines.
This program will work on your mental health and well-being holistically, helping you develop your mind and improve your stamina, and flexibility.
Another perk of this training is that it's free on Skillshare, and it's for both beginners and professionals.
Pros
Cons
The class isn't great for experts.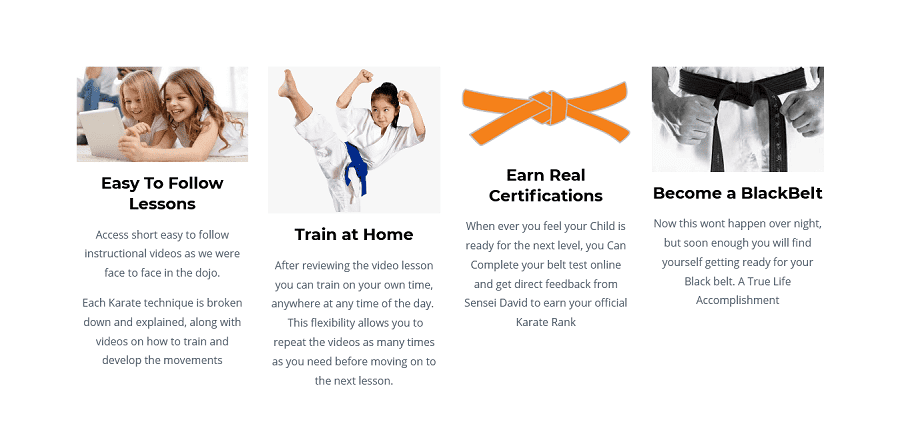 Karate lessons help you improve your self-confidence and fitness, and it develops your mind.
It also makes the exercises great for kids. And the best-structured program designed for kids is this Karate Home Study Program from Karate Lessons Online.
The good thing is that your kids can take these courses at home.
No one but Sensei David teaches the short video courses through Karate Lessons' online dojo. And each karate technique focuses on helping your kids stay in shape, become more self-confident (to stand up to bullies), and defend themselves against attacks.
Your kids will also get personal feedback from Sensei David. And students can take an online belt test after the home study course.
Another sweet part of taking this self-paced course is that parents don't have to pay a dime for their kids. The instructional videos are completely FREE.
Pros
Short videos that are easy for kids to understand.
Students can take classes at home at their desired pace.
As kids progress through each rank, they learn more karate lessons to become more self-confident and defend themselves against attacks.
Cons
The martial arts courses are for kids, not adults.
It can't compare the belt test to in-person training.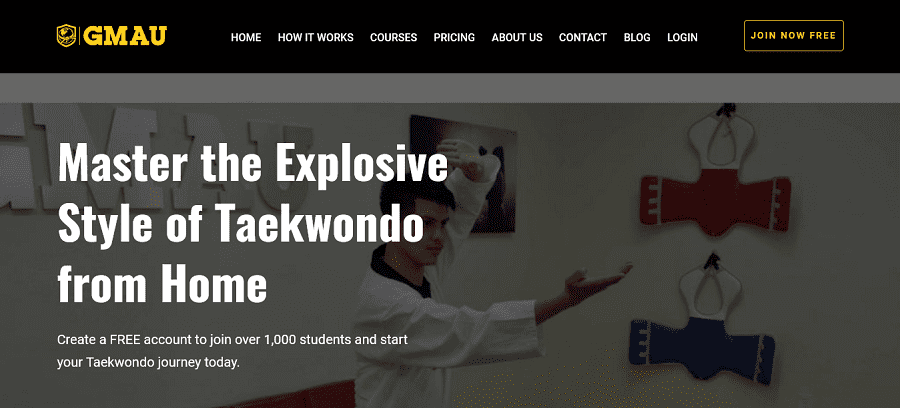 If you're looking to improve your flexibility so you can have smooth and quick reflexes, then taekwondo is one of the best courses for you.
GMAU offers this course through their online platform, and Adam Gerrald shows you self-defense methods to protect yourself;
Learn the various kicks, blocks, and stances.
Sparring methods.
And there are many other tutorials you can learn in these classes from Global Martial Arts University. And although this is an online martial arts course, Adam Gerrald will make you feel like you know at a studio. Plus, it also makes for an exciting hobby.
Pros
It is a beginner course.
One of the best courses for learning taekwondo.
Very immersive experience.
Cons
Quite expensive.
Not ideal for more advanced martial artists.
If you're just starting out learning martial arts, this is the right course for you.
Here, you'll learn martial arts acrobatics basics to perform impressive and powerful flips and kicks from the instructor, Thomas Inauen. He is a personal fitness trainer and the founder of Tomtricks, a martial arts acrobatics training center where he's trained, 6000+ students.
In this 2-hour course, you'll learn the following training tips from the on-demand online training videos;
Flips and kicks: outside and inside crescent, tornado, side to side aerial, butterfly kicks, etc.
Exercises to warm up your body parts to avoid sustaining injuries.
Tricking and how to perform tricks combos
How to be very flexible when executing basic kicks.
If you're a beginner quickly looking to take your martial skills to an advanced level – from white belt to black belt – this is the best training for you.
We also love that while you'll be training at home, the instructor will make you immerse yourself in the experience of being in a dojo.
And it comes with a certificate of completion like other Udemy courses.
Pros
Great beginner martial arts video lessons.
You can offer the classes from the comfort of your home and at your pace.
Lifetime access to the training and its downloadable resources.
Certification course you can take on a mobile device.
The instructor is a professional athlete who's taught thousands of students.
Cons
Beginners will benefit from the martial arts training.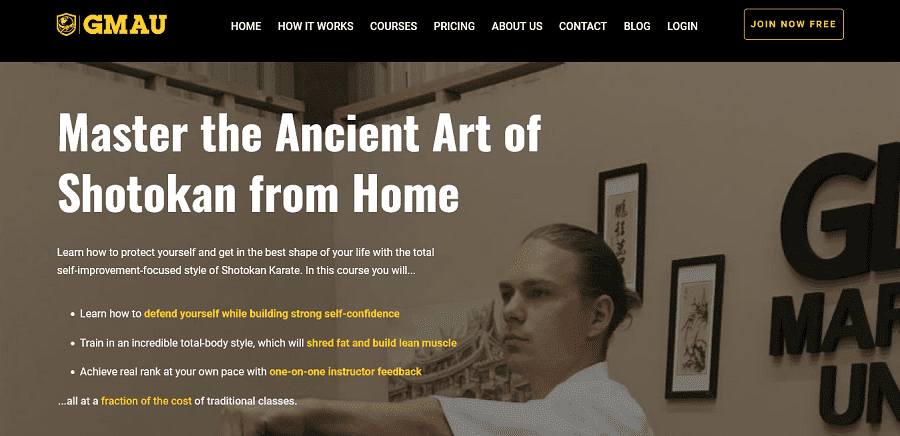 The Shotokan Karate Stance course is a martial arts training to help white belt students improve their confidence and stance.
It's a beginner course taught by Sensei Michael that'll show students how to;
Strengthen their legs to improve their stances.
Perform various stances such as Zenkutsu-Dachi, Kiba-Dachi, and Kokutsu-Dachi.
Various warms-ups and drills to help beginners advance their skills.
The karate technique in this Shotokan Karate class is also suitable for intermediate-level martial artists to refresh their knowledge of the basics. And you'll also get instructor feedback to encourage you as you progress.
Pros
You'll get access to a 35-minute introductory course.
It's a beginner course that focuses primarily on improving stance.
The Shotokan Karate class will help you strengthen your legs.
Cons
It's not a comprehensive course that teaches other martial arts disciplines.
It's not ideal for intermediate and advanced learners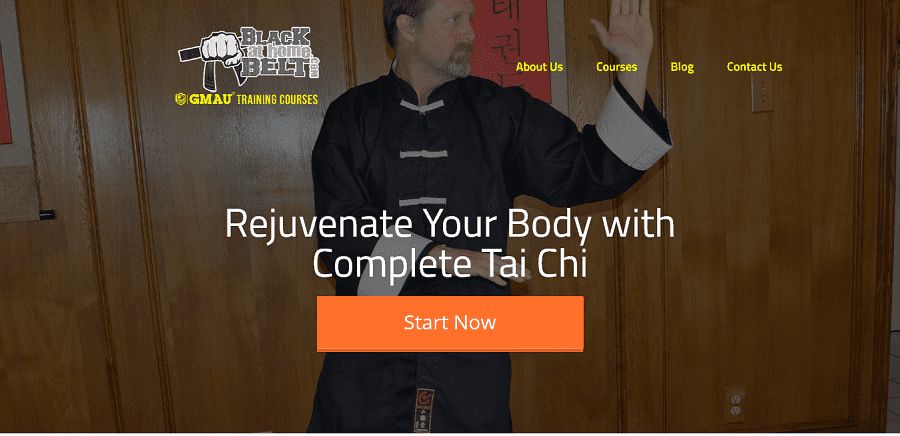 If you're a lover of Jackie Chan and Jet Li, and you love to fight like them, then this Tai Chi training will set you on the right foot.
Tai Chi is a prevalent Chinese martial art discipline, and it combines meditation, self-defense training, and Yin and Yang for a total body and mind workout.
This 6.5-hour home study martial art course that's taught by Tai Chi Master Jon Hodge will guide you;
Introduction and background of Tai Chi.
The 5 power principles, 5 technical flowing elements, and the spiritual aspect of Tai Chi.
Exercises, workouts, and meditation techniques to improve your mental health and overall health.
We also like that you can access the classes by downloading them if you want to stream them online.
Pros
The class is ideal for beginners.
It's taught by an expert Tai Chi instructor.
The Black Belt at Home platform organized the courses in a building block model.
You'll get a home study manual.
Cons
It's pretty expensive.
Not ideal for expert martial artists.
Visit Blackbeltathome.com
What Are The Best Online Martial Arts Classes to Learn at Home?
Cardio Kickboxing
While traditional kickboxing classes include sparring, cardio kickboxing training doesn't have this.
Another factor that makes cardio kickboxing an excellent training for learning martial arts at home is that it's not as exerting as kickboxing.
So you can quickly learn this sport on your own. This program is for enthusiasts interested in cardio workouts and burning lots of calories.
Tai Chi
Another online martial arts program that's easy to learn at home is Tai Chi. It focuses on self-practice and doesn't involve sparring.
So if you're looking to learn martial arts at home, you can take some of the Tai Chi classes we'll show you in this article.
General Self-defense
One of the reasons we love self-defense courses is that they're easy to learn online, even without a partner.
They help you practice techniques to protect yourself from attackers when faced with such situations. One of the most popular self-defense martial arts training is Krav Maga (In a bit, we'll show you where you can learn it).
It is a tremendous online martial arts course, but it can prove harmful when used against untrained people. So be careful!
FAQs
Can I Learn Martial Arts Online?
Yes, you can learn martial arts like karate online at home.
There are many online courses you can start learning today to become a martial artist. The martial art instructors are mostly black belt holders and have taught thousands of students.
However, if you desire to become a boxer or an elite MMA fighter, learning martial arts at home may not be the best option. You'll understand better and faster by training with a sparring partner and an expert coach who will offer you insights and feedback.
What Is The Best Karate Learning App?
The 7 best Android karate learning apps that you can download on Google Playstore to help you improve your fitness level, mind, and self-defense include;
Fighting Fitness Trainer by Martial Arts Academy (Android)
Taekwondo Training (Android)
Muay Thai Fitness (Android)
Martial Arts – Advanced Techniques (Android)
Kickboxing – Fitness and Self Defense (Android)
Martial Arts – Training and Workouts (Android)
You can download these martial arts apps on Google Play and AppStore for free.
Can I earn a black belt online?
Yeah, you can. Some martial arts courses like the ones offered by Karate Academy and Global Martial Arts University provide you the opportunity to earn a black belt online at your own pace.
What is the best way to learn karate online?
The best way to learn karate online is by taking martial arts courses taught by expert instructors. The online karate classes and coach give you the immersive experience of learning one-on-one in a dojo or studio.
Conclusion
Learning martial arts goes beyond practicing self-defense and fighting. It improves your self-confidence and mental health.
Feel free to take any of the listed courses. But if selecting one is a problem, you can start with Intro to Kickboxing on Skillshare. The course also helps to improve your fitness level.
Read also: