Dancing is an excellent exercise for reducing stress and staying in good shape. Also, taking dance classes can help improve your confidence in social gatherings like parties and clubs.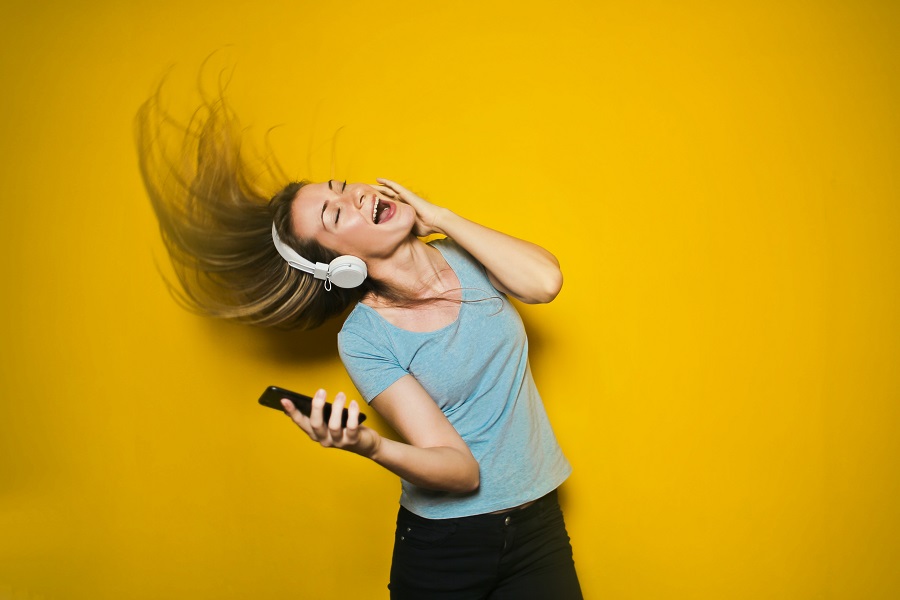 So if you're looking for ways to learn hip hop, belly dancing, tap dance, and other dance styles, we've compiled the 10 best free dance classes online for you.
So let's put on our dancing shoes and learn how to move our bodies rhythmically.
Best Free Online Dance Classes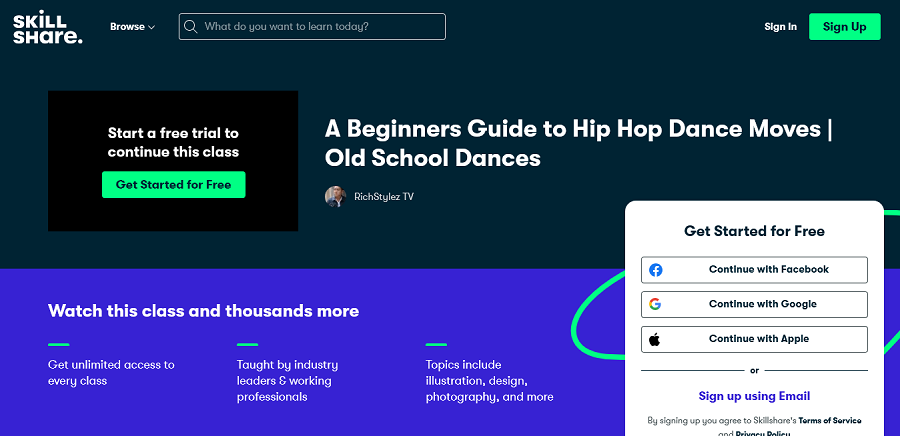 If you love clubbing and partying but lack confidence in your dance moves, then this online dance class from Skillshare will help you get your groove on.
Richstylez, a dance instructor with over 13 years of dancing experience, teaches dance tutorials. He's performed worldwide with several bands and has been featured in several movies and TV shows.
In the 29 dance classes, which you can complete in just 2 hours, Richstylez will take you through different hip-hop dance styles and techniques, including;
Foundational hip-hop movement – Back, bounce, circle, forward, and hip circle grooves.
Arsenal moves – like full-body moves (robocop, smurf, Charleston, full-body speed control), lower body moves (Roger Rabbit, shamrock, grape vine), and upper body moves (botting, isolations).
You'll learn all these from the comfort of your home without visiting dance studios. You'll also learn how to inject your style and personality into your hip-hop dance (even as a beginner).
Overall, this is a great course, and Richstylez is the best dance teacher to show you the ropes as he's a dance instructor and student.
Another exciting feature of the course is that it's free to take these online dance classes on Skillshare. When you sign up, you'll get a 2-month free trial to access other dance lessons.
Pros
Best online dance classes for absolute beginners and all levels.
Free for students interested in learning about the hip-hop movement.
Requires little time commitment – 2 hours.
An experienced instructor will teach you to dance hip-hop styles.
A fun class project in that you can record and share your dance moves with the class.
Cons
No certificate of completion.
The dance classes may not be great for advanced dancers.
This Skillshare course is one of the best online dance classes to make you confident when displaying your club dance steps at a party.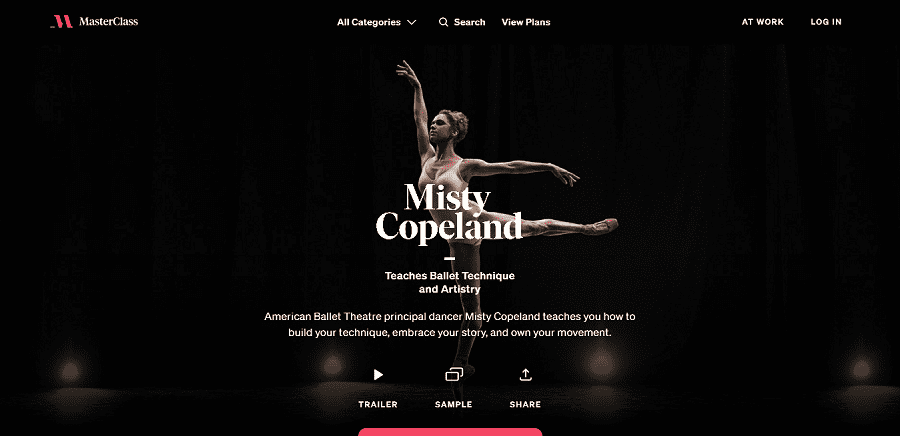 If you're a fan of ballet looking for the best ballet classes, look no further than this one hosted on Masterclass.
The ballet teacher is Misty Copeland. Misty is one of the most sought-after ballet dancers in the world. She's also the first African American female dancer to be promoted to principal dancer at the American Ballet Theatre.
In Misty's online dance Masterclass, you'll learn;
How to build strength to improve the quality of your movement.
Various barre techniques: plies and tendus, temps lie, and ronds de jambe.
Placement principles and how to prepare for jumps and larger moves like an arabesque.
The online dance class takes under 2 hours to complete and will teach you what you need to know to excel as a ballet dancer in 17 video lessons.
Misty will also show you ways to deal with demanding choreographers, and you can thrive in the very tasking genre of ballet dancing.
Pros
Downloadable resources for offline practice.
Little time commitment: under 2 hours.
Engaging online classes taught by a principal dancer at the American Ballet Theatre.
You'll learn various barre techniques and how to prepare yourself for the big moves and jumps.
Cons
It's a paid course.
You won't get a certificate of completion.
The ballet classes may not be comprehensive enough for professional dancers.
It is one of the best online dance classes for lovers of ballet, especially beginners. Professional dancers can also learn a few things from the dance class, as it's taught by Misty – one of the best ballet dancers on the planet.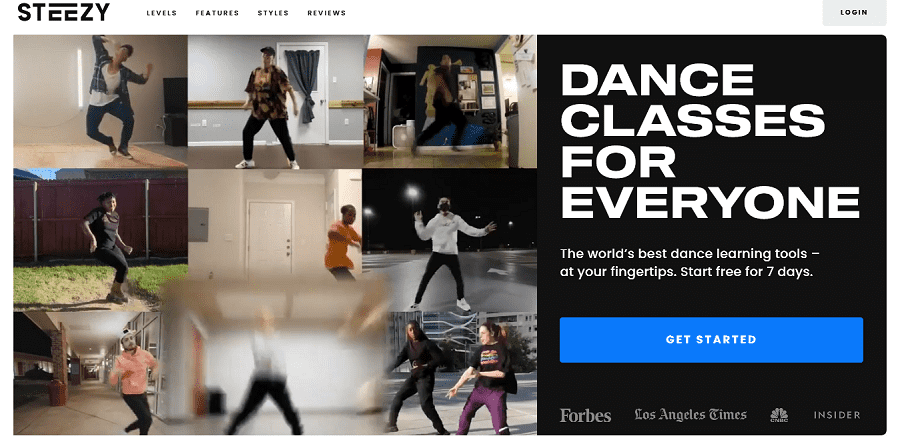 Steezy Studio is one of the best online platforms for learning the best dance moves.
Here you'll have access to loads of urban dance-style fitness classes. Steezy also has an app that you can use to learn and have a fantastic dance experience on the go.
And whether you're an experienced choreographer or a beginner, there's a class for everyone on Steezy. The dance teachers are reputable choreographers, and they'll teach you dance genres ranging from hip hop to urban dance, breakdance to heel-style dances, pop, house, etc.
Some reputable names include Krump world champion, Sherwin Salonga, Jade Soul, Kiira Harper, and Boogie Frantick.
The unlimited classes offered by the Steezy platform will expose you to dancing to popular music videos. All you have to do is pay a small subscription fee.
We also like the fact that you have total control over the learning process. You can also learn to dance at your own pace, choose your desired video speed to capture the most difficult stunts, loop the moves to understand steps that are too fast.
And you can choose the angle that best works for you to get the ultimate viewing experience.
Pros
Access to 900+ videos.
Learn from the best dance instructors in the world.
Great for all experience levels.
Mobile app for a seamless dance experience.
Learn choreography steps from different angles.
Cons
Paid course.
No live dance classes; only pre-recorded videos.
If there's a trending TikTok dance you'll love to learn, or you're passionate about improving your skills, Steegy is the right place to learn those moves.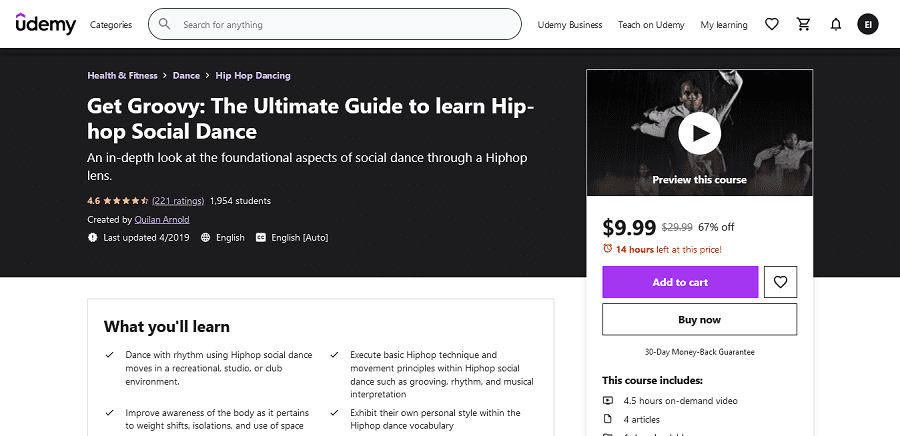 If you're fond of going to social gatherings, but you feel your dance skills aren't up to par, then these online classes packaged here are for you.
The course contains 32 instructional videos, and the dance teacher is Quilan Arnold. Quilan is a performer, dancer, teacher, and scholar who has dedicated a significant part of his life to learning and researching about dance and teaching his students all he's learned.
He's performed his unique euro-afro technical hybrid style of dancing all over America and internationally.
In the 4.5 hours of on-demand video lessons, you'll learn:
How to dance social hip-hop moves in dance studios and clubs.
Apply certain hip-hop techniques such as up, down, bounce, rock, and drop grooves.
How to interpret music and move your body to a rhythm.
How to shift your weight and use space to create different moves for a freestyle.
Be more confident and incorporate your personal style into your hip-hop dance routines.
With this step-by-step guide, you'll embody rhythm and overcome your insecurities to get groovy, indeed.
Added to these, participating in the online dance classes will make you healthier as they feel like taking fitness classes.
One thing we love about this course is that you'll earn a certificate of completion. You'll also get full lifetime access to the class.
Pros
Great for all student levels.
Certification course.
Improves your dancing skills and helps you build your confidence on the dance floor.
The in-depth video lessons require a short time commitment.
There are fitness classes to help you stay healthy.
An experienced instructor teaches online dance lessons.
Lifetime access to the course.
Downloadable course material.
Cons
It is one of the best online dance classes on Udemy (read this best free udemy courses) for beginners and professional dancers to learn hip-hop movements from a trained teacher and researcher.
If you're looking for some exciting activities to spice up your life, here are the Most Popular Common Hobbies in the World.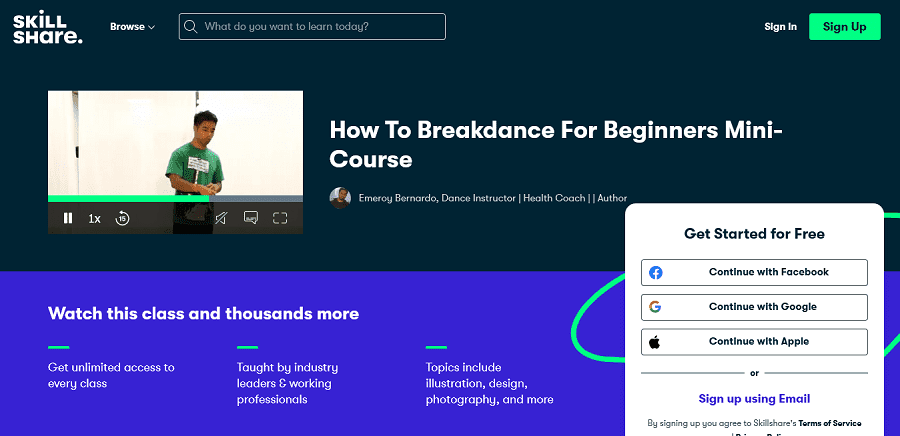 Although How to Breakdance for Beginners is concise training, it's one of the best free online dance classes for anyone interested in learning to breakdance.
Your instructor – Emeroy Bernardo – is a professional dancer and performer who has been teaching dance classes since 2014. He's performed with several international companies and won various dance competitions.
And having taught hundreds of students, he's the right guy to take you from a poor dancer to a skilled dancer.
Some of the training you'll get from Emeroy's online lessons include;
How to prepare your body with warm-up moves.
Dance techniques like the groove, Indian step, kick and twist, coffee grind/sweep, and footwork combination, etc.
Steps from beginner to advanced B-boying moves.
The online dance classes are self-paced, and you can learn them from the comfort of your home.
Surprisingly, all the students that gave reviews for this course agreed that it passed their expectations. So you'll be getting lots of value from learning this B-boying (Breakdancing) class.
Pros
One of the best free dance classes for beginners.
Great for learning breakdance moves.
An experienced instructor teaches this course.
You can find video tutorials on other dance steps on Skillshare for free.
Cons
It's not a certification course.
Might not be a great course for advanced dancers.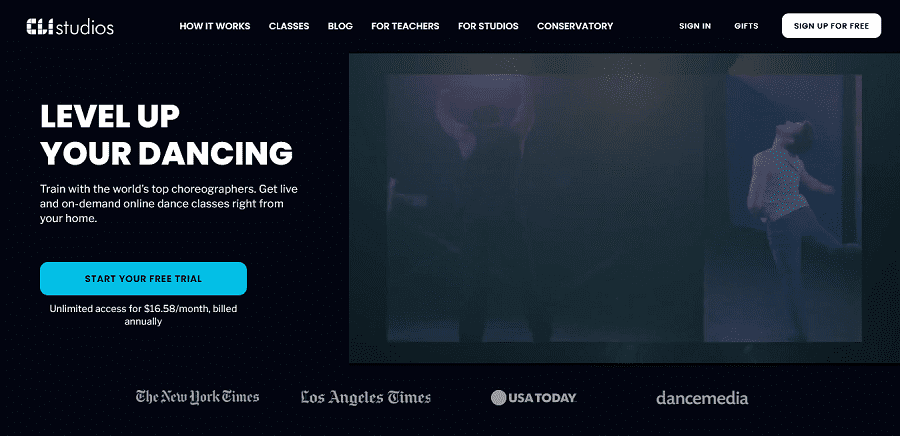 If you're a lover of classical dance and all forms of dance moves, CLI studios will be an excellent place for you to learn choreography and hone your skill.
The founders of CLI Studios are all top choreographers and performers; tWitch, Teddy Forance, and Allison Holker. And they've brought their expertise into helping people like you ignite your passion for dancing.
CLI Studios is an online dance platform with all the types of dance training you're looking for.
You can find video tutorials in dance categories ranging from hip hop, lyrical, modern, contemporary, musical theatre, jazz-funk, ballet, tap dance, etc. they have a whopping 1000+ on-demand online dance classes.
Another exciting feature about learning with CLI studios is that the platform offers some of the best online dance classes for all levels. So whether you're a beginner, intermediate, or advanced learner, there's a dance class for you.
And not only adults can learn choreography using the platform, kids from 8 years up and above and teenagers. There are weekly live classes on Zoom that you can participate in.
You can take advantage of CLI Studio's 7-day free trial and begin learning all forms of dance styles.
Pros
Learn at your own pace in your own home.
World-class choreography instructors to help you improve your technique.
The dance routines are flexible and structured to fit your schedule.
The platform holds live classes weekly.
There are cardio dance classes and fitness classes.
You'll get personalized feedback for your development.
Thousands of online dance classes for all levels and ages.
Cons
It's a paid course.
You have to pay for the 1-year subscription; the monthly payment is not allowed.
If you're passionate about dancing and would love to improve your dance moves, this is one of the best courses for you.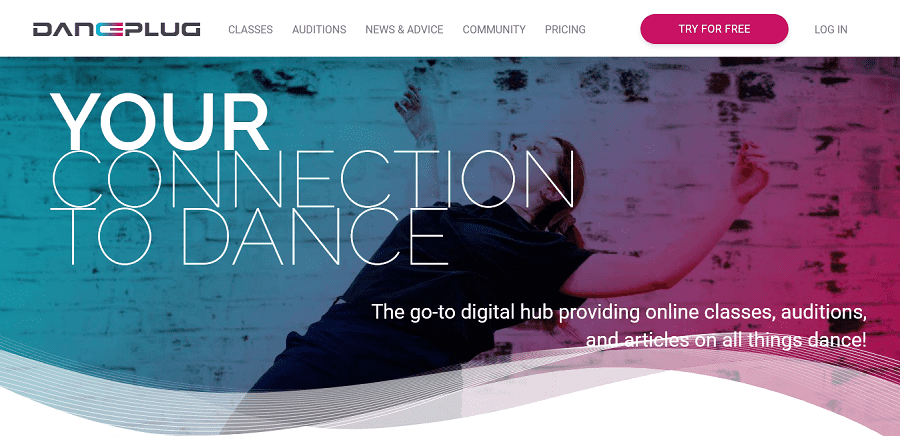 Dance Plug is another excellent platform like CLI Studios for dancers, enthusiasts, or learners to learn how to dance online.
They have some of the best dance classes as world-renowned dance teachers deliver their training. And as with other online dance classes on this list, you don't have to visit dance studios to learn dancing; learn at your own pace in whatever space you see fit.
You can learn a range of dance genres using music videos. Also, you can learn hip hop dance, ballet, Bollywood, contemporary, jazz, jazz-funk, musical theatre, lyrical, conditioning, house, and tap dance. All these genres are spread across over 600 classes.
Another exciting feature of using the Dance Plug platform is finding the latest dance auditions and jobs across America and Europe. And taking one of their dance courses may give you an edge.
Their instructors are also reputable dancers. Some of them studied choreography in the American Ballroom Theatre.
Some have also been involved in the production of music videos, toured with A-list musicians, starred in the commercials of some of the biggest companies, and performed across America, Europe, Australia, and in performing arts institutions.
When you become a member of the Dance Plug platform, you'll be given a 7-day free trial to choose a class plan and take their courses.
Pros
The platform adds new tutorials every week.
Learn different dance styles from expert instructors.
They have dance classes for all levels: basic, beginner, intermediate and advanced.
7-day free trial.
There are fitness classes to help you stay healthy.
600+ dance classes, with new videos added weekly.
Cons
A perk of learning dance courses through the Dance Plug platform is watching the videos in slow motion. You can also mirror a section and choose different viewing angles.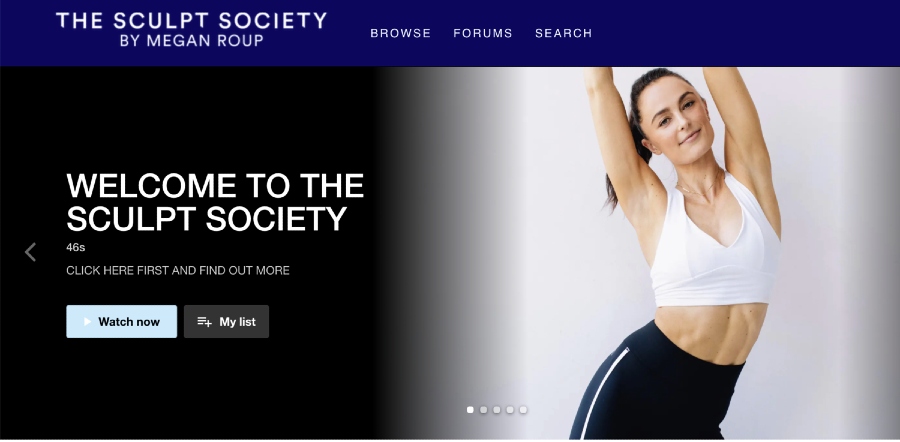 If you desire to lose weight, get a leaner and more sculpted figure, and have lots of fun while doing it, then The Sculpt Society is for you.
The Sculpt Society is your go-to platform for cardio dance classes. The venue is so popular that fashion influencers, supermodels, and celebrities are frequent members of the community.
The instructor is Megan Roup who's a celebrity trainer and a former Brooklyn Nets dancer. And she has a significant following on social media, and while she claims her training is the number 1 sculpt and dance cardio workout online, her app is the number 1 fitness app.
When you join the platform, you'll have access to over 400 on-demand fitness classes. And regardless of whether you're a beginner or an experienced fitness enthusiast, there's a class for you.
You can follow The Sculpt Society on social media to join her Instagram live classes. Her online dance classes promise to help you with the proper technique to strengthen and lengthen your body in 4 weeks.
While some of her students visit her studio, you can take the workout classes online from the comfort of your home or anywhere with the app. The workouts can take anywhere from 5 minutes to 50 minutes.
And the great news is that you can have a 7-day free trial access to her dance and workout classes.
Pros
A celebrity trainer teaches online workout classes.
The number 1 sculpt and cardio workout app.
400+ dance and workout classes.
Get a leaner and stronger body in 4 weeks.
7-day free trial to access the classes.
Both beginners and experienced fitness enthusiasts can take the training.
Live workout classes every week.
Learn from the comfort of your home.
Opportunity to join one of the largest fitness communities.
Cons
You can only access the full training by doing a paid subscription.
If you've always wanted to look great, have a stunning figure, and be confident in your looks, The Sculpt Society is one of the best communities to achieve your body goals.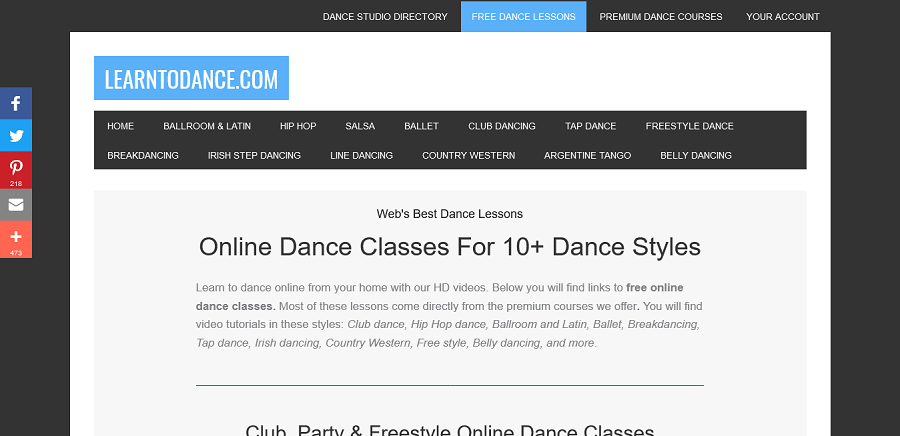 If you're a parent who's got a kid dancer at home, brain breaks like dancing can be good for their bodies and stressed minds.
Also, introducing your child to Learn to Dance will mark a significant step in helping the child improve their dancing steps. The platform claims to host the web's best dance lessons. And they've got over 10 free online dance classes that are extracted from their premium dance tutorials.
Some of these dance classes are great for school-aged kids, while others are inappropriate as they teach sexy dance moves.
Some of their free virtual dance classes include;
Free style online dance lessons – Your kids will learn freestyle dancing which is fun dancing for social functions. Plus they'll learn to incorporate their unique styles.
Ballroom & Latin dancing lessons – these ballroom and Latin dance classes will teach you and your partner 8 kinds of dances that you and your partner can dance together.
Break dance video lessons – this style will teach your kids break dance steps to participate in competitions in schools and other dance events.
Irish step online dance lessons – Irish dancing is a form of dance that involves quick foot and leg movements while keeping the upper body still.
Belly dance lessons – The instructors at Learn to Dance will teach you belly dance which acts as toning exercises for getting in good shape. You'll learn ancient dancing techniques for moving your hips, stomach, and general body.
These are only a few of the free courses available to you on the Learn to Dance platform.
If you're starting dancing, this is a great place to start as these are just mini dances courses extracted from premium paid courses.
You can learn various dance steps for all social functions in engaging video tutorials instead of learning just one.
Pros
Free online dance classes for all levels.
Great for parents and school-aged kids to learn a new dance style.
Minimal time requirement.
Learn several dance genres from hip-hop, free style, salsa to line dancing and Irish step dancing, etc.
Cons
The video tutorials are introductory courses to their paid premium courses.
The video lessons are not comprehensive as they're bits from premium courses.
The online dance classes are designed for beginners.
Some of the dance classes are inappropriate for school-aged kids.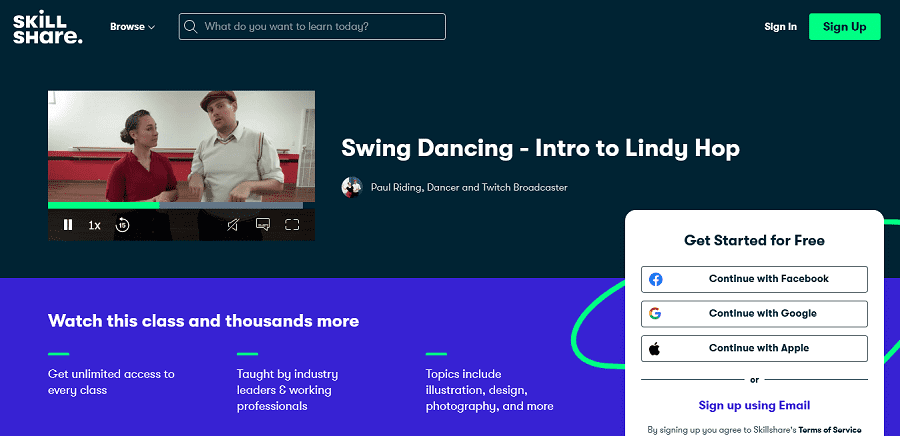 If you're a lover of contemporary dance styles and history, you may want to learn to dance Lindy Hop.
Lindy Hop is an old dance style that was popular in the 1940s in New York. It's a swing dance where people dance to jazz music. And this dance class is one of the best online dance classes for couples to bond more with each other.
The dance teacher – Paul Riding – is passionate about teaching swing dance (Lindy Hop, in particular). And he quit his full-time job to dedicate himself to teaching and helping his students learn and enjoy the art of dancing.
Some of the lessons you'll gain from this Paul's Lindy Hop 34-minute online classes include;
How to connect with your partner.
The steps and patterns of swing dance.
Dance steps like the promenade, swingout, swingout from open, and the Lindy circle, etc.
The 13 dance lessons are very engaging. Although swing dancing is a fun way of bonding with your partner, it's not as easy as it looks.
But when you learn Lindy Hop and dance it in a ballroom, both you and your partner will look unique as it's a dance style that's not practiced by many.
There's also a dance project that you can do and send your recording to the instructor.
Although this is a beginner course, you can follow Paul on Twitch and join his live dance classes.
Pros
A very engaging and fun way to learn Lindy hop dance.
Very short time commitment
The lessons are free virtual dance classes.
Taught by a passionate and experienced tutor.
Potential to join Paul's live classes.
Cons
It's a paid course.
Experienced dancers may not get value from this course.
If you're a lover of history, vintage or contemporary dance, these free online video tutorials are for you.
Some Other Notable Mentions of Best Free Dance Classes Online Are:
Go Noodle is a YouTube channel for parents seeking brain breaks for their kids. You can find a guided dancing playlist of 60+ videos.
However, Go Noodle's YouTube channel is not only for kids to have brain breaks. It also helps families exercise together.
The Ballet Spot is a great platform dedicated to teaching ballet dancers and enthusiasts the proper technique for dancing ballet. You can learn all forms of ballet dance, from Broadway ballet to cardio ballet.
Although they have studios based in New York City and Los Angeles, you can take their classes from the comfort of your home. You can also participate in their daily interactive live stream sessions.
The SPAC Learning Library is another website dedicated to giving dance tutorials to kids. They also have a YouTube channel, but the best viewing experience is on their website.
They have professional instructors who are members of the New York City Ballet to guide your kids in their journeys.
Can you learn dancing online?
Yes, you can learn dance online. However, to be able to learn to dance online, you must be disciplined and dedicated. It is because the dance classes are self-paced.
But if you lack the discipline to learn how to dance online, you can take classes offered by experienced teachers in dance studios.
Are virtual dance classes worth it?
Yes, virtual dance classes are worth taking. First, virtual dance classes are cheaper than in-person dance classes. And there are no commutes to the studio.
Second, virtual dance classes now have forums and projects that are designed to foster community and connectivity. Third, a virtual course offers you the flexibility to learn how to dance on your schedule.
What are the 5 foundational dance styles of hip hop?
The 5 foundational dance styles of hip hop are breaking and rocking, popping, locking (Campbelllocking), boogaloo, and social party dances.
While the 5 foundational elements of hip hop include: DJing (aural), Breakdancing (physical), MCing (oral), Knowledge (mental), and Graffiti (visual).
What are the 6 basic dance movements in hip hop dancing?
The 6 basic dance movements in hip hop dancing are step pattern, style, footwork, lead & follow, timing, and continuity.
Conclusion
Dancing is a great way of relieving stress. So we've given you a handful of online dance courses to help you get your groove on.
If you're also interested in learning how to sing, check out the best singing classes to help you sing like a star.
And here are other interesting hobbies you can have fun with in your free time.
Related: