You probably know that MOOCs (Massive Open Online Courses), like Coursera, allow you to take some courses for free. But what you may not know is that you can get free Coursera courses too (not all are free, though).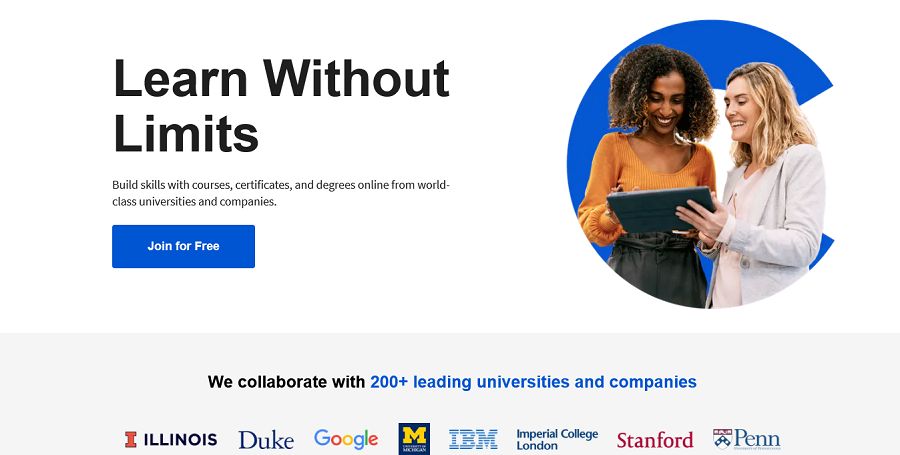 In this article, I'll show you how you can get Coursera certificate courses. And yes, without paying a fee. This also holds for Professional Certificate and Specialization courses.
Without further ado, let's have some background knowledge about learning on the Coursera e-learning platform.
Background Knowledge Before You Enroll Free Coursera Courses
Here are some things you should know before you try to take a Coursera course for free.
First, not all courses on Coursera are free. Secondly, not all free courses issue certificates. For online courses that don't provide certificates, simply click on 'Full Course, No Certificate'.
Another thing worth knowing is that the Audit link is not available for Professional Certificate, MasterTrack, or Specialization courses. However, there's a workaround, and I'll show you that shortly.
Even though we're going to show you how to get a Coursera certificate for free, some courses are only available to paid subscribers. That means, there's no Audit link and you'll have to pay for a certificate.
But don't panic: For such courses, Coursera offers financial aid to support your online education.
What Does It Mean to Audit Coursera Courses?
To audit a course means to allow students to take classes and complete a course without grading them, offering them credit, or assessing their performance for the course, according to Wikipedia.
Lots of the online courses on Coursera are paid courses. However, Coursera offers its users access to lessons from some of its courses for free. These courses are called Audit courses.
This is a great opportunity for you to acquire the skill you want from a top-rated educational institution or global organization without paying a dime.
You can access hours of engaging and informative educational Coursera videos, course materials, and courses for free.
All you've got to do is to look for the Audit option when you're presented with the pop-up to start your Coursera free trial. Easy Peasy! Although, I'll explain that in detail below.
Now let's look at the complete steps to get a Coursera certificate for free (including Specialization courses).
How to Get Coursera Certificate for Free
Step 1: Create a free account on the Coursera website
You weren't planning on taking Coursera courses without signing up, were you?
So, the first step to take courses for free courses on the Coursera e-learning platform – coursera.org – is to sign up for a free account.
All you've got to do is, input your basic details such as your name, best working email address, and password.
And you've also got options to create a free Coursera account using your Google, Facebook, or Apple accounts (for Mac users).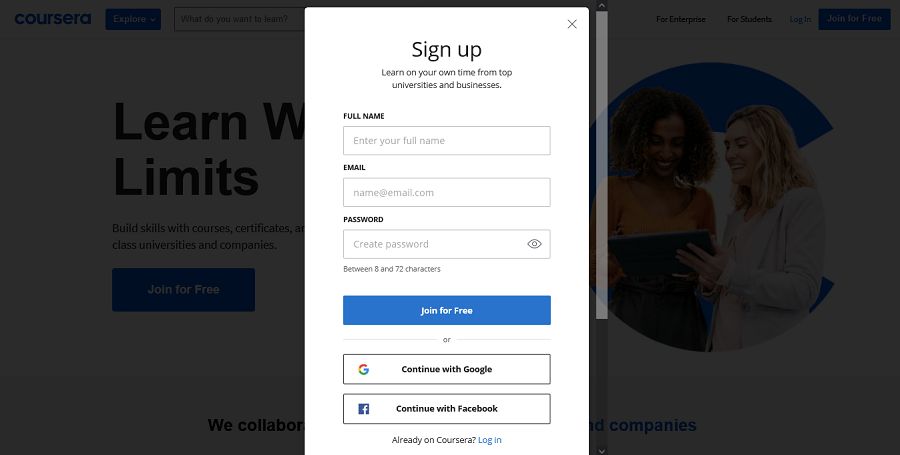 This step shouldn't take more than 20 to 45 seconds. When you're done with that, it's time to begin your online education on Coursera.
Step 2: Search for your preferred course on Coursera
With thousands of online courses and videos, Coursera is one of the world's largest MOOCs (Massive Open Online Courses) providers.
The good thing is, it's super easy to search for the Coursera courses of your choice. Simply enter keywords related to your desired course in the search bar, and voila, dozens of course options will show up for your search.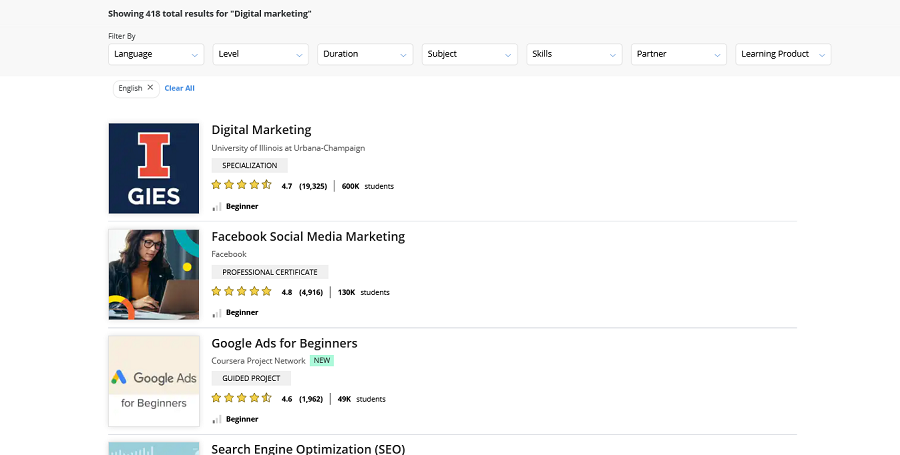 Here, we searched for 'Digital marketing' and it returned a whopping 418 online courses (only English Language courses) from various organizations and institutions of higher education.
Right beside the featured courses on Coursera is brief information that highlights the following:
The offering institution or organization
The course skill level
Course rating and reviews
Number of students that have taken each course
And the learning product (Course, Specialization, Professional Certificate, or Guided Project)
You've got the option to enroll for free in the Coursera courses designated 'Course', 'Specialization', or 'Professional Certificate'. More on the last two in a bit.
Step 3: Select your preferred course and click "Enroll For Free"
After browsing through the various online courses from the results, it's time to stick with one.
Select the ones (maybe 2 or 3) that appeal to you the most and click through to their course pages to get more information and explore their course content.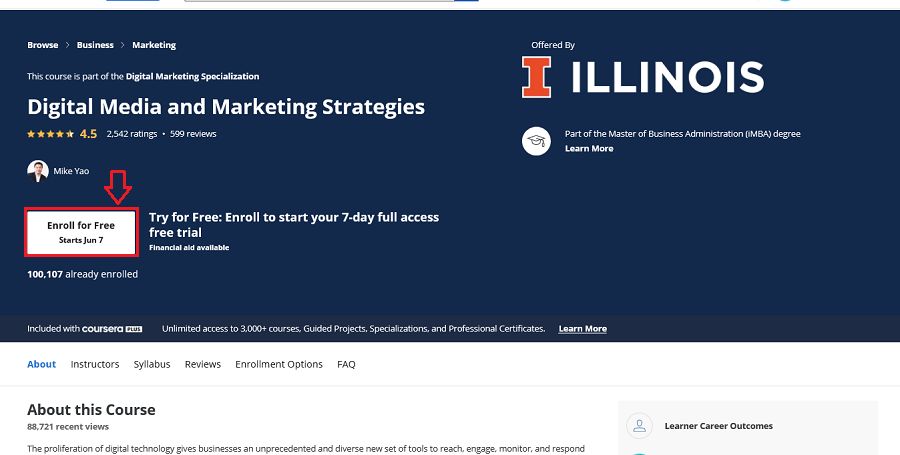 When you're satisfied with one, click 'Enroll for Free'. In our case, we chose 'Digital Media and Marketing Strategies' offered by the University of Illinois.
Step 4: Click 'Audit the course'
Next up after clicking the enroll button, a 7-day free trial pop-up telling you about the perks of subscribing to Coursera (including gaining access to Specialization courses) will appear.
After glancing through the text, you'll find an Audit link at the bottom right which says, 'Audit the course'. Click the link and move to the next stage.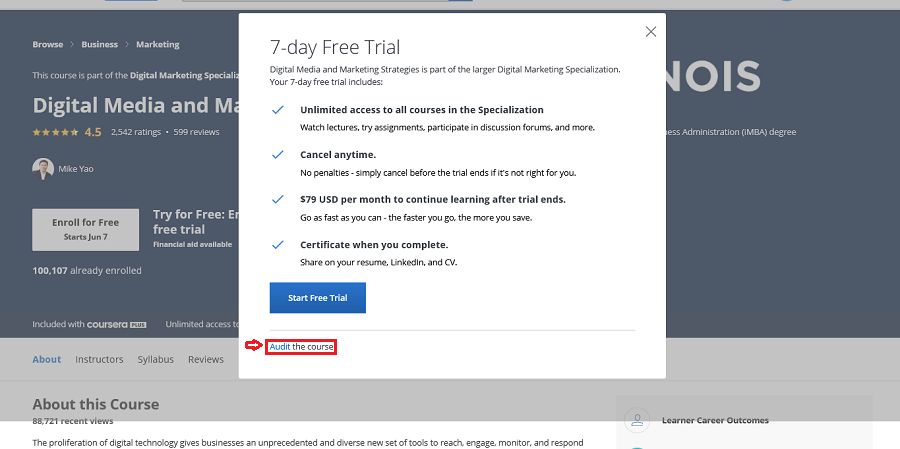 Keep in mind that Coursera is constantly tweaking its website's UI to improve its customers' user experience. So if you're wondering where the Audit option is right now, the 'Audit the course' link is directly underneath the 'Start Free Trial' button.
At some other time, it could be somewhere else. And at some point, they may change the text. So be on the lookout for such subtle changes.
Step 5: Click 'Start' to begin your Coursera course
After selecting the Audit option rather than the 'Start Free Trial', the next page leads to the course page where you can officially begin learning for your free certificate.
This page shows you a bio of the course instructor and the option to set goals to track your progress.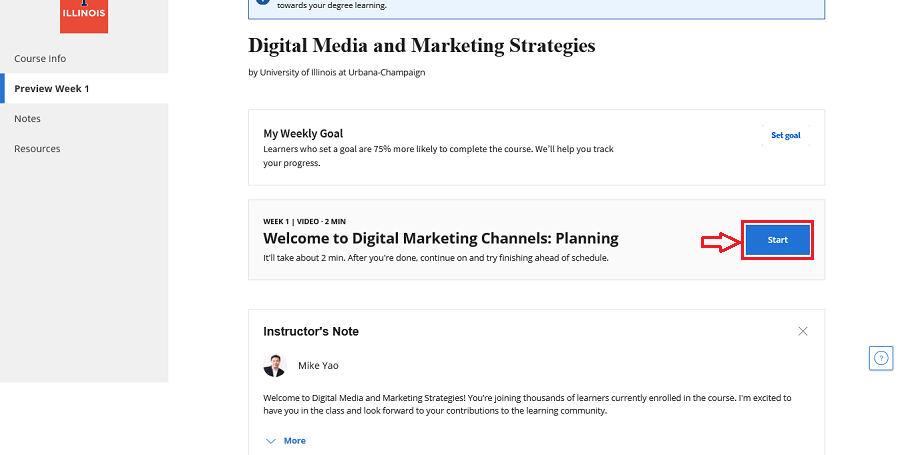 But most importantly, you can click 'Start' to begin watching the course videos and learning from the comfort of your home.
Step 6: You're in! Begin learning your free Coursera course
If you've gone through all the stages as outlined, you should now be in a Welcome screen like this.
You've now got access to the videos, course material, discussion forum, and all content for free.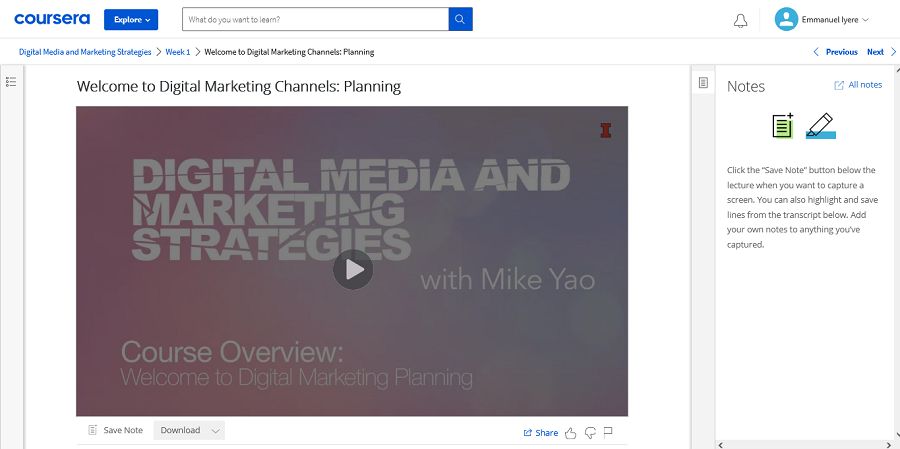 However, the deal-breaker is that in Audit mode, you can't take Coursera assessment tests and get a certificate for free. The options available to you include;
Learn the course content and apply the skills you've gained.
Apply for financial aid or a scholarship to receive your certificate.
Pay for a certificate after taking the course.
If your aim of learning is only to gain knowledge, the first option may be the best choice for you. In your résumé, you may as well state that you took the lessons.
But if yours is for career advancement, paying for the certificate may be the best choice.
How to Get Coursera Certificate for Free (Professional Certificate and Specialization Courses)
True, you can't learn Coursera Specialization courses for free on the Specialization page, but we found a way you can enroll for free.
Step 1: Pick your desired course and click the enroll button
Now, I'm assuming you've gone through the previous steps 1 and 2.
After you've searched for the course you'd love to learn as in step 2 above, you're going to pick a course labeled 'Specialization' or 'Professional Certificate' e-learning product.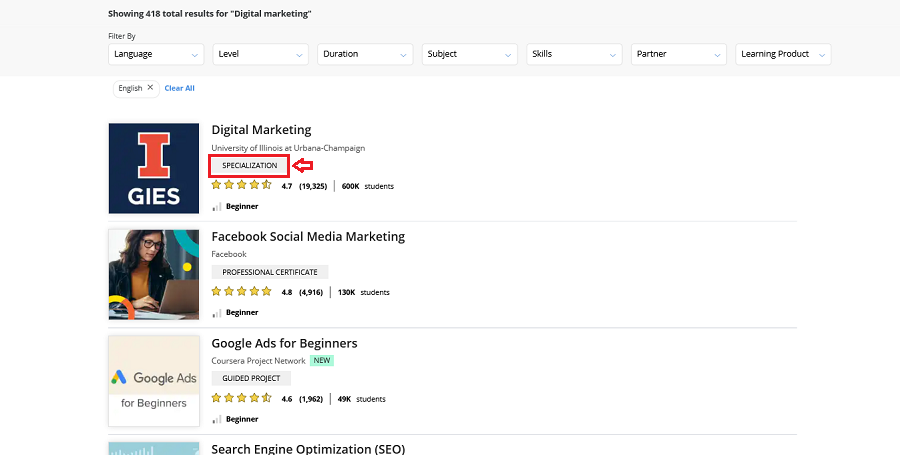 After picking a Coursera course, you'll be directed to the Specialization page where you can click 'Enroll For Free'.
However, when you try to enroll for the Specialization course on Coursera, you'll notice something different from the previous method. A pop-up with a 7-day free trial appears, albeit, without an Audit link.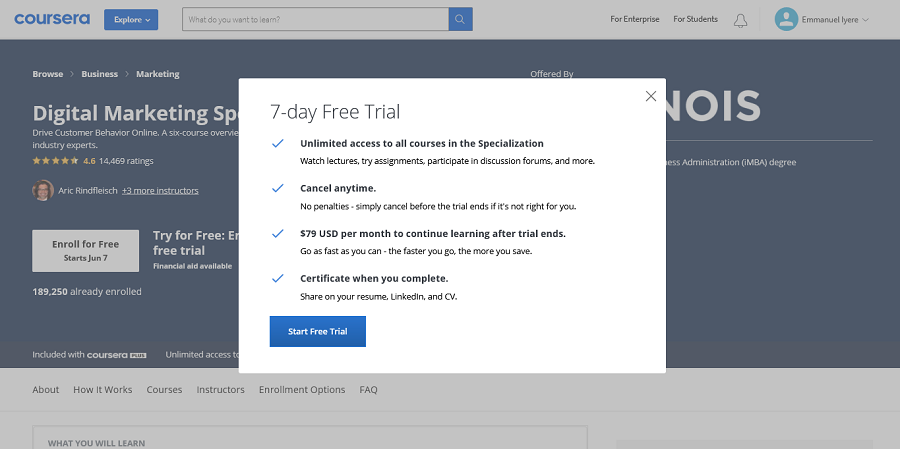 While activating the free trial is great and can ensure you get a certificate, you may want to save it for later.
Since this doesn't show the audit link on the Coursera e-learning course page, this is what we'll do instead. Read on.
Step 2: Click on the 'Courses' section
You'll have to close the pop-up and locate the Specialization 'Courses' tab. Once you're here, you'll see all the individual Coursera courses that make up the Specialization course.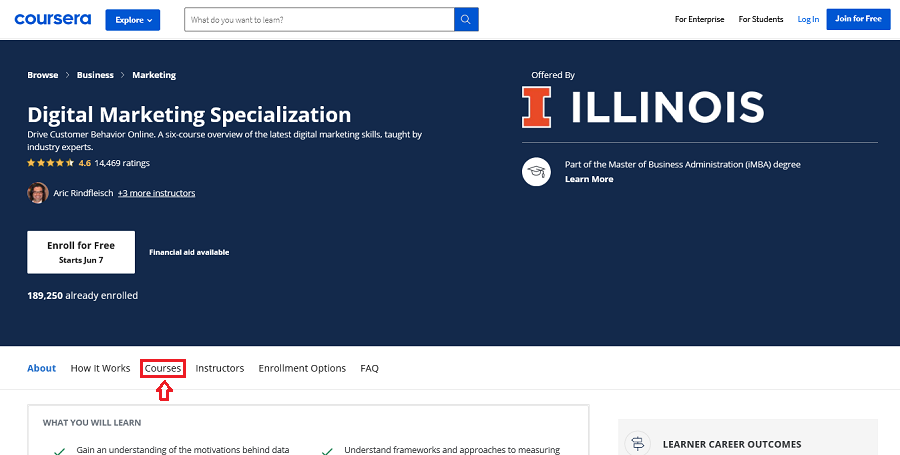 Here, we can audit the courses, and this is how we'll go about it. Click on the individual courses to go to their course pages.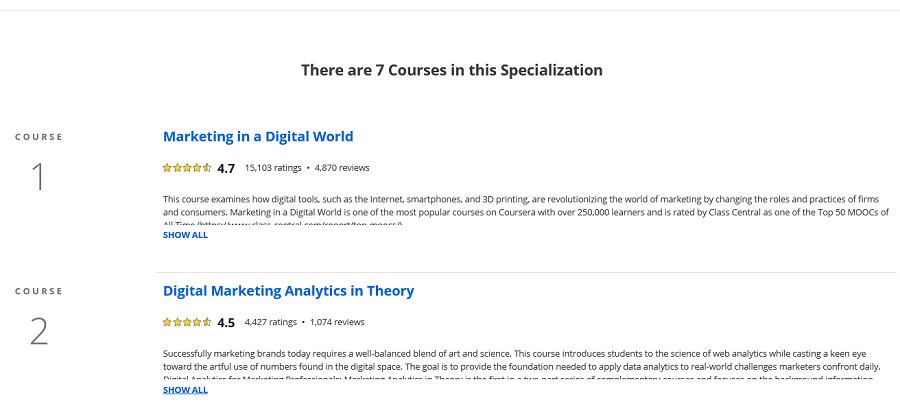 Sometimes, the Specialization course page may list the individual courses without adding their links. To get access to these courses, you'll have to copy and paste each course name in the Coursera search bar.
Step 3: Click the 'Enroll For Free' button
When you're on the course pages, click the enroll course button, and the 7-day free trial pop-up will also appear. But this time, you can find the Audit link on the pop-up.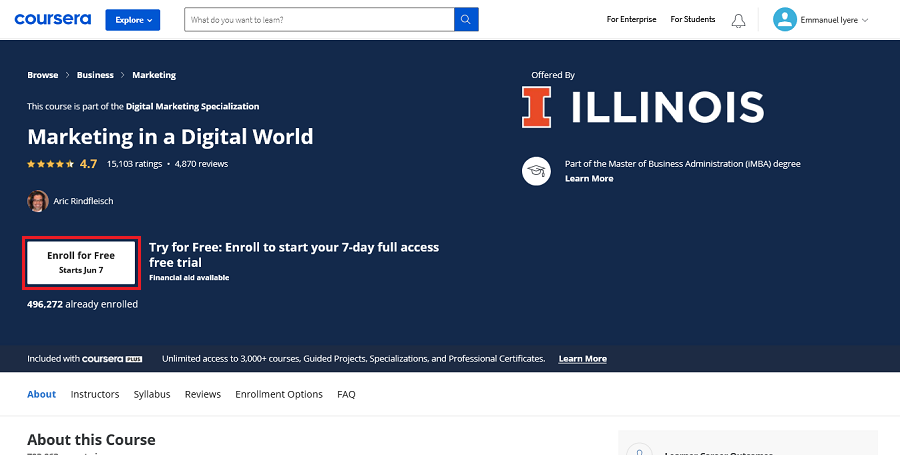 Sometimes, you may not find the Audit link because a course or some of the courses are part of multiple Professional Certificates or Specialization courses.
In this case, you'll find a 'Next' button. Click it or change the program using the drop-down arrow. This will lead you to the next screen with the Audit link.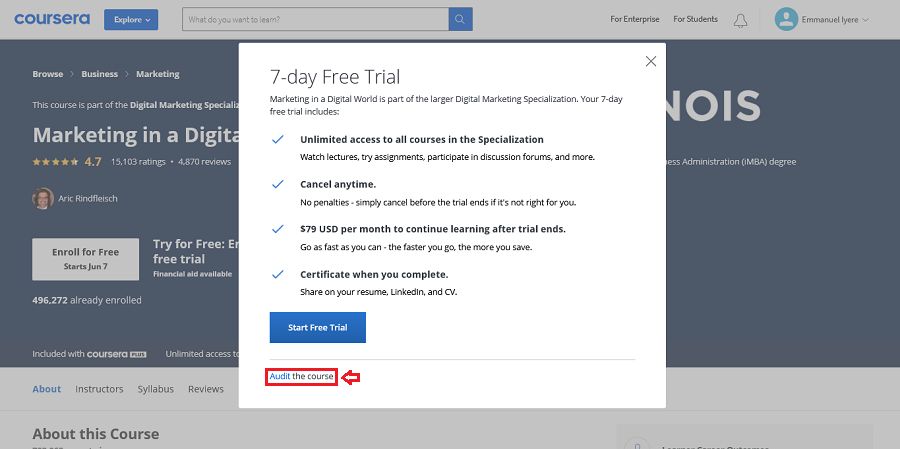 After that, the rest is pretty straightforward. Simply follow steps 5 and 6 from the previous method to begin your free e-learning journey on Coursera.
How Do I Get My Coursera Certificate for Free?
Coursera offers quite a several courses for free on its e-learning platform; however, these don't issue you certificates of completion.
But the courses that offer certificates are paid courses. And Coursera subscriptions tend to be quite expensive. So the only way to get a paid Coursera course certificate for free is to apply for financial aid.
After clicking on your preferred online course as outlined above, you're going to click on 'Financial aid available' instead of enrolling for the course.
Then you'll be directed to the course page where you can accept the terms and conditions.
Afterward, you'll be required to fill out a data form that includes your employment history, employment status, educational background, why you are applying for the aid, and how it can help you, etc.
That's all!
There's no better exciting way to advance your skills and career than taking free courses from online learning platforms. You learn at your own pace and convenience, and you can even take multiple courses at a time.
But for most of these platforms, it's super difficult to take their premium courses. And this is where e-learning platforms like Coursera have an edge. Here, you've got free access to thousands of the best courses you can ever find.
Grab this opportunity today, and I hope you've learned everything you need to know about learning a free certificate course on the Coursera e-learning platform.
Sign up or log in to Coursera today.
Also, keep a close eye on the platform as they usually make some of their free certificates available to their users.
FAQs
What Is Coursera Plus?
Coursera Plus is an initiative by no other than Coursera to grant you access to various courses (over 3000 courses). These courses include 90% of all courses on Coursera.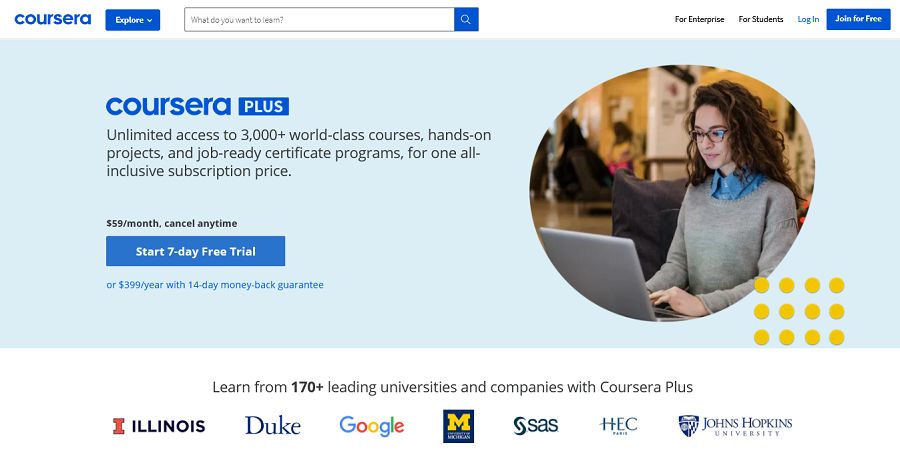 The catch is that you'll pay $399 once to unlock these courses for 12 months.
While that price might seem like a lot, it's a great option if you're going to take up to 5 Coursera courses (considering the average price for a Coursera course is $79).
Coursera Plus allows you to take assessment tests and be awarded a certificate for several standalone courses, Professional Certificates, or Specialization courses.
However, you can't get Degree and MasterTrack certificates using Coursera Plus. And if you're not cool with this model, you can request a refund within 14 days.
What are 'Full Course, No Certificate' courses?
These are free individual courses that you can take that are without certificates. They appear in a pop-up on the course pages when you click to enroll for them.
The good thing is that these courses are graded as you can freely take assessment tests.
This is a great way to advance your career for free without getting certified.
Is paying for Coursera worth it?
The short answer is a resounding yes!
Coursera is one of the world's largest Mass Open Online Courses providers. They partner with some of the world's best institutions of higher learning such as Stanford, Princeton, Johns Hopkins, HEC Paris, etc.
Coursera also partners with global leading organizations like Google, IBM, and PwC to offer you courses taught by experienced professionals and industry experts.
So when you pay for a Coursera course, you're making a very wise investment in your future, business, and career.
Can I audit any course on Coursera?
You can audit some courses on Coursera but not all. Auditing a course gives you access to videos, course materials, forums, and other content (without the assessment tests, instructor feedback, and certificates).
Some courses can only be taken after paying a monthly subscription fee. For these, you won't find the Audit link. However, many other courses provide you with the Audit option to take your desired course for free.
If you're looking for how to take a Specialization for free, refer above to 'How to Get Coursera Course for Free (Professional Certificate and Specialization Courses).
How do I get my Coursera certificate?
These are the steps to take to get your Coursera certification.
Course certificates on Coursera are paid for. So while enrolling for a course, you'll have to pay for it.
Since the certificates are awarded by the issuing institutions, you'll have to verify your name. Sometimes you'll be requested to provide a valid ID.
You'll have to either pass all your assignments or achieve the minimum score required.
In the case of taking a Coursera course using the Audit link, you can upgrade to the paid program (anytime during or after the course) before you can get your certification. Then you can unlock and take the assignments and coursework that were locked.
After paying the fee, you have 180 days (around 6 months) to earn your certificate. If you haven't earned your certificate within this duration, your payment will expire and you'll have to pay again to get the certificate.
When you've met the above criteria, you can either print or download your certificate. You can also show your prospective employers by sharing it on your LinkedIn profile, CV, or resume, etc. Keep in mind that Coursera does not issue physical certificates.
Do I have to pay for each course on Coursera?
Not really.
You can choose to pay a monthly subscription fee or a one-off payment to get your certificate on Coursera. You can also take free Audit courses.
How much do Coursera courses cost?
The price for certificate courses on the e-learning platform varies.
For standalone courses, you'll be required to pay around $29 to $100. And for Specialization, you'll have to pay between $39 to $89 subscription fee per month.
That said, the fee for Coursera Plus is a one-off payment of $399 for 12 months.
What are Coursera Specialization courses?
Coursera Specialization courses are a collection of individual courses bordering on the same topic. You can expect to take around 3 to 10 individual courses in one Specialization.
Conclusion
Taking free online courses is a great step to advancing your career. And Coursera offers some of the best certification courses.
If you're looking for courses to help you grow your business, check out this free certification courses article.
Related: