Becoming a data entry professional is one of those jobs that doesn't necessarily require formal education or years of experience. All you need is the right information and an experienced teacher.
Hence, a great step to kickstarting a career in data entry is by taking online data entry courses.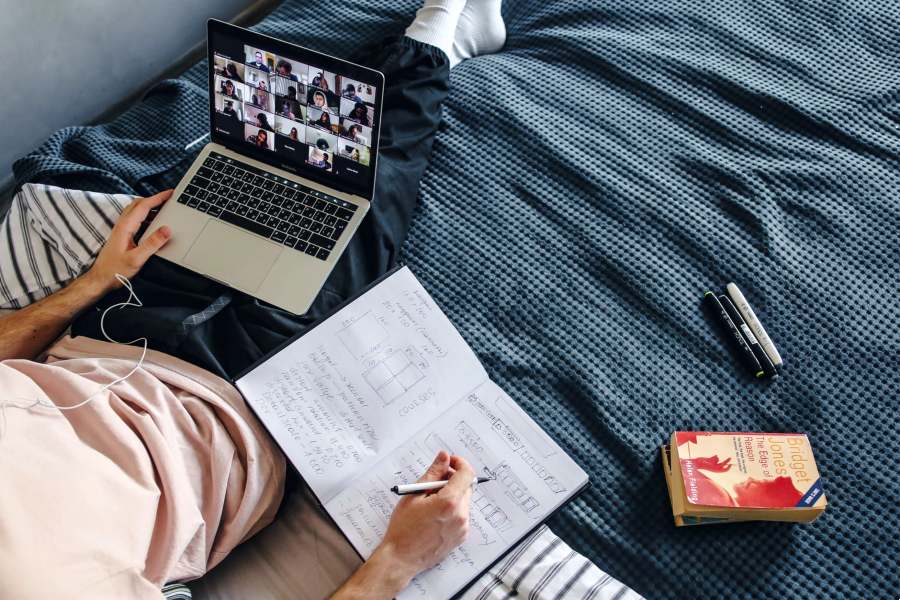 The valuable information and education that you'll get from these courses will serve you all through your freelancing journey and boost your employability to get better-paying jobs.
With adequate training, you could start off as a freelancer and work for clients or work in a team of other data entry professionals to gain the experience you need to advance on your own freelancing journey.
We've done the search for you. This article covers 11 of the best free Data entry courses and tutorials that you can enroll for online and get certified.
Best Free Online Data Entry Training Courses & Certificates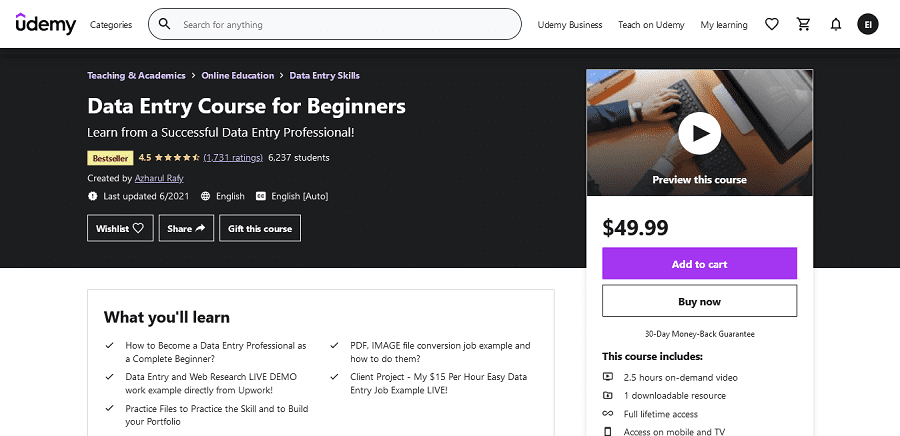 Course rating: 4.5/5
Price: Free
First on this list of best online data entry courses is this straight-to-the-point course on Udemy.
Your instructor is Azharul Rafy, a successful data entry professional. If you're just starting your freelancing journey, this is one of the best data entry classes that'll prepare you to become an expert data entry operator.
In this 2.5-hour on-demand video lesson, the instructor shares the basics of data entry and different types of entry projects you can get on major freelance marketplaces:
How you can become a data entry professional if you're a beginner.
Practice files on data entry projects and web research live demo work.
You don't have to worry about the price as this course is free. It's also one of the best courses more experienced data entry professionals can take.
He also shares some examples of live demo data entry jobs and how to tackle them with the students.
Pros
This is a free beginner course.
Lifetime access to PDF files and other resources.
Live demo job/work examples.
You'll be issued a certificate upon completion.
Cons
It's not designed for experts.
It's not so in-depth.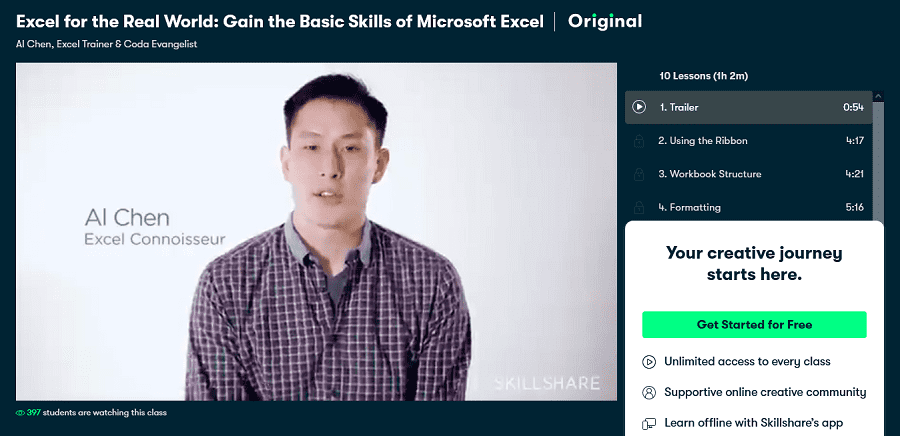 Price: Free
Next on our list of the best data entry classes is this training designed to teach students how to handle real-life business and processing problems with MS Excel.
This program's data entry courses do more than provide you with the basics. At the end of this course, you'll be armed with the tips and tricks that'll distinguish you as an expert and enable you to handle tasks more efficiently.
The instructor for this Excel course is AI Chen; the expert founder of KeyCuts (an Excel training and consulting company for Fortune 500 companies).
In this first part of the series, he provides basic education on Excel and practical ways of using the software to handle your data entry jobs;
How to use ribbon.
How to structure and format your workbook.
Writing formulas and shortcuts.
In this course that spans 1 hour, 2 minutes, the instructor will engage you with 37 mini-projects to help you grasp the concepts very fast.
Pros
It covers the Excel basics and how to use special functions.
You can learn for free.
Good for both newbies and advanced learners.
Cons:
It's a very short training that doesn't go in-depth.
3. Skillshare: Microsoft Excel Essentials: Level 2 – For Intermediate/Advanced Students- from user to Super User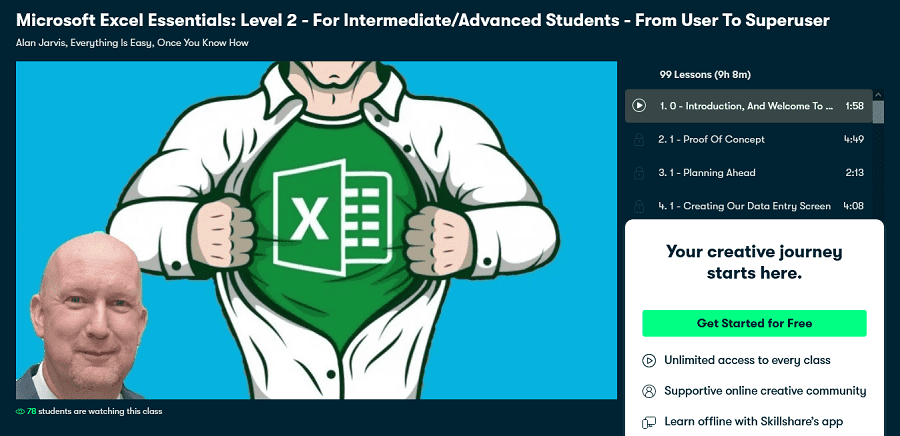 Price: Free
Data entry is more than just typing and entering data into spreadsheets.
This comprehensive course that takes 9 hours will upgrade your skill so you'll be more proficient in using the software. The video courses are taught by Alan Jarvis (an experienced former senior manager in many blue chip and Times Top 100 Companies).
And it's perfect for anyone who is ready to take on more professional data entry tasks.
Throughout the 10-hour course, you'll get expert insights and learn;
conditional formatting.
how to build strings and create VLOOKUP.
how to deal with inconsistencies in data entry.
Simple and nested logical testing and how to build a fully functional complex relational database.
how to create macros and use them to automate your work.
Excel's indirect function and many more.
Students will work on a couple of real-life projects and be provided a hands-on guide by Alan. And at the end of the program, you'll be fully equipped to get a data entry job.
Pros
Comprehensive pro class
Free course.
Cons
Not the best course for those just starting out.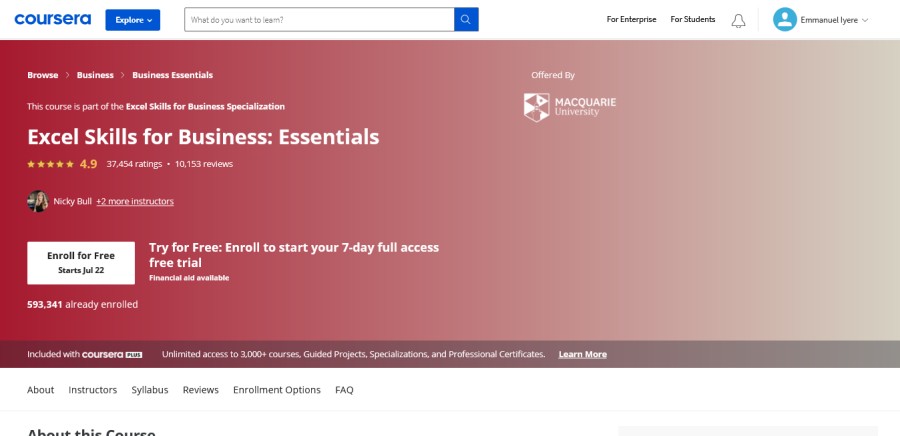 Course Rating: 4.9/5
Price: Free
Microsoft Excel has become an indispensable spreadsheet software used by various companies in processing and managing data.
Most employers now include proficiency in using this software as an employment criterion.
So this Coursera's Excel Skills for Business Essentials is perfect for you if you're looking to become a data entry specialist/freelancer. Experts can also take this Excel data entry course to boost their career chances and earn a better salary.
Within 6 weeks of expert training, students of this class will be able to develop hands-on Excel skills that they can apply to solve a range of business problems.
In this course taught by a team of experts at Macquarie University, Sydney, Australia, you'll learn;
How to perform calculations in Excel Spreadsheet.
How to format and work with data so you can present information in charts.
You'll also tackle some hands-on assessments and quizzes. Plus you'll be able to navigate the MS Excel user interface, solve basic calculations, format spreadsheets professionally, and create data visualizations with charts and graphs.
Pros
This course is offered free of charge.
It contains comprehensive lectures on the use of Excel with practice assignments.
A certificate is issued on completion.
You can learn at your own pace.
Cons
The class is mostly structured for beginners.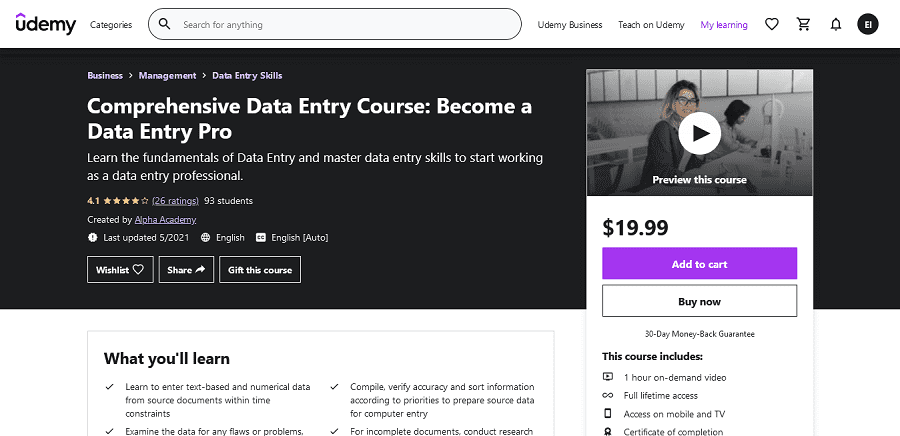 Course rating: 4.1/5
Price: $19.99
If you're looking for an all-in-one course that'll bring you up to speed on all relating to data entry, here's one of the best courses for you.
The video courses won't only teach you about data entry, they'll also help you improve your typing skills. In the 1 hour-long on-demand video course offered by Alpha Academy, you'll learn;
Data entry administration.
Excel basics, how to create data forms, and statistical charts.
How to improve your typing speed.
And the tools you'll need to manage data.
This masterclass isn't only designed for students and trainee data entry administrators, professionals, graduates, and job seekers can also take the online training, too.
Pros
This data entry course is great for beginners.
Provides information about relevant data entry software.
Lifetime access.
Certificate issued upon completion.
Cons
After interviewing for a data entry role at a company, here's how you follow up with your prospective employer to ensure you get the job.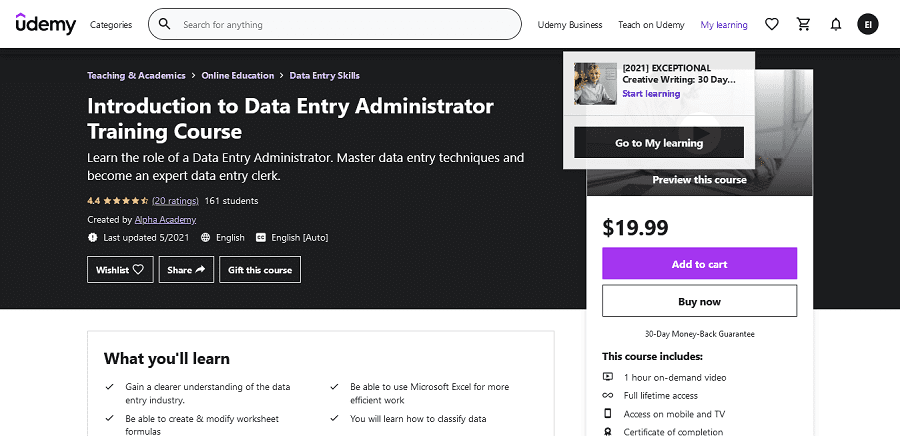 Price: $19.99
If you are interested in the role of a data entry administrator or simply seeking more data entry jobs, this is the data entry certificate course for you.
In this 1-hour-long training, you'll be able to get a clearer understanding of what it takes to become an efficient data entry administrator and manager.
You'll also learn how to use popular data entry software and apply different techniques to tackle real-world challenges.
Other things you'll learn include;
Rules and guidelines to follow especially when working for clients.
Different data types and how to use Excel Flash fill and Auto-fill.
Classes on statistics packages such as R, SAS, SPSS.
At the end of the video courses, you'll be adept at reviewing deficiencies and errors, compiling and verifying the accuracy of the information, and more.
Pros
This is fitting training for beginners.
Provides information about relevant software used to work for clients.
Full lifetime access.
Certificate issued upon completion.
Cons
This is a paid course
Only relevant for beginners
Once you've completed this course, your transition into the data entry field will be easier and you'll be equipped with in-demand skills.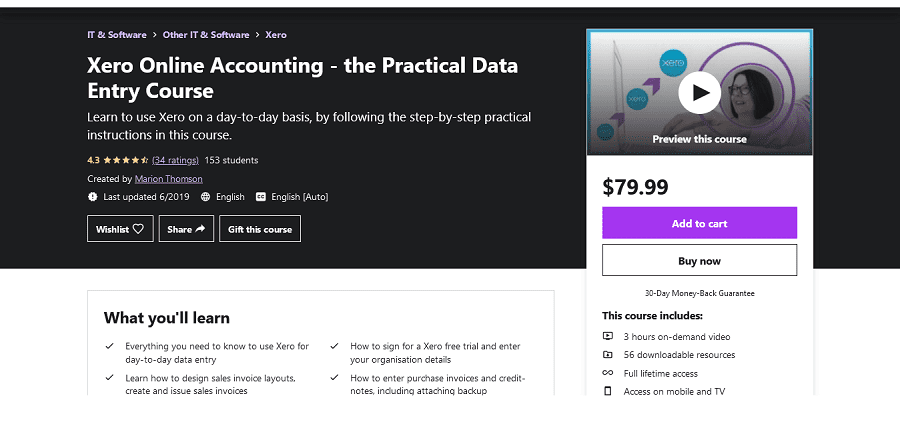 Course rating: 4.3/5
Price: $79.99
Xero is online accounting software used by experts and businesses. The course content provides detailed background on how to use the software.
You'll be learning all about the fundamental concepts of Xero, how to understand data entry features that come with it, and the basic concepts involved in designing sales invoice layouts.
In this 3-hour on-demand video course taught by Marian Thomson, a certified Xero guide and accountant, you'll learn.
Designing basics and how to create and issue sales invoices.
How to enter purchase invoices, credit notes, and how to run reports.
How to import bank statements and reconcile transactions.
At the end of the program, you'll be awarded a certificate of completion.
Pros
It's great for anyone interested in accounting.
Tips and tricks for using Xero
Provides information about relevant software use to work for clients
Lifetime access
Certificate issued upon completion
Cons
This is a paid course
Only relevant to accounting and finance fields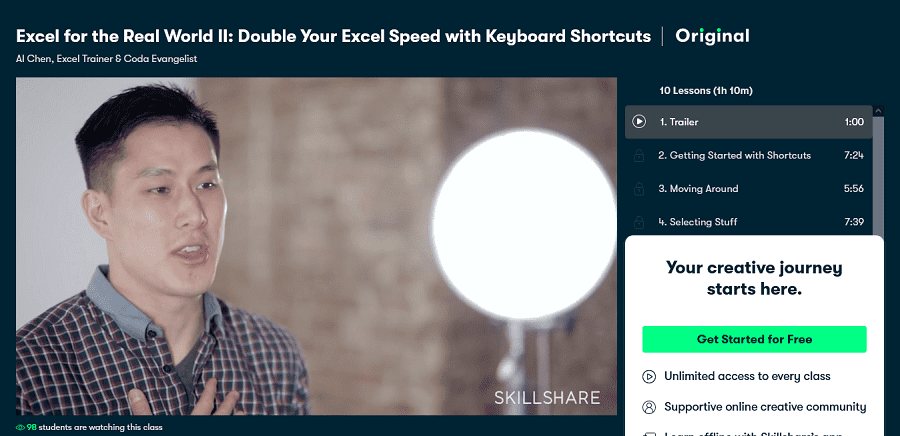 Price: Free
After completing Excel for the real world I class (our second training course on this list), this is the next best-recommended data entry class.
In these lessons, AI Chen takes it up a notch and sets you up for Excel mastery with the use of keyboard shortcuts to speed up your workflow.
Here's what you should expect in the concise 1-hour lessons;
How to use Excel shortcuts to make your work faster.
How to navigate the Excel user interface and implement special functions for better efficiency.
In this free training, you'll embark on 4 projects to help you hone your skill.
Pros
It covers the basics of Excel shortcuts and how to use special functions.
Good for both newbies and advanced learners.
Cons
It mostly deals with shortcuts and doesn't cover other areas.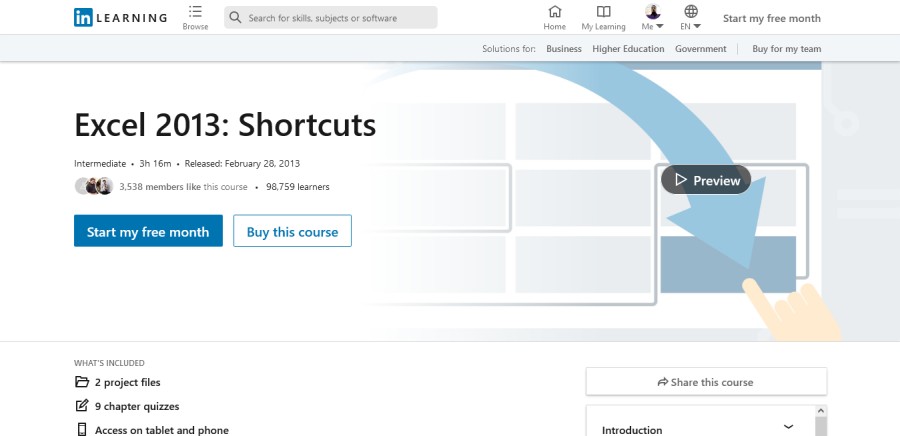 Here's another shortcut data entry course that is designed to help you build up your skills. You'll learn to use shortcuts for better efficiency and accuracy, especially when handling computer databases.
In 3 hours of expert education, Curt Frye teaches over 65 tips and tricks to enable you to take your MS Excel skills to the next level.
You'll learn how to;
Use various shortcuts in MS Excel.
Control navigate the program's interface.
Organize data, manage workbooks, worksheets, and a data series.
Work with dates and times plus create some formulae and present your work using charts and graphs.
The instructor of this intermediate-level excel course has authored over 40 books including Microsoft Excel 2019. And he'll grill you on the most important shortcuts you need to know to begin applying to more advanced data entry jobs.
Pros
You'll learn shortcuts that will enable you to work faster and more efficiently with clients.
The training is free.
Cons
Emphasis is majorly placed on shortcuts in Excel.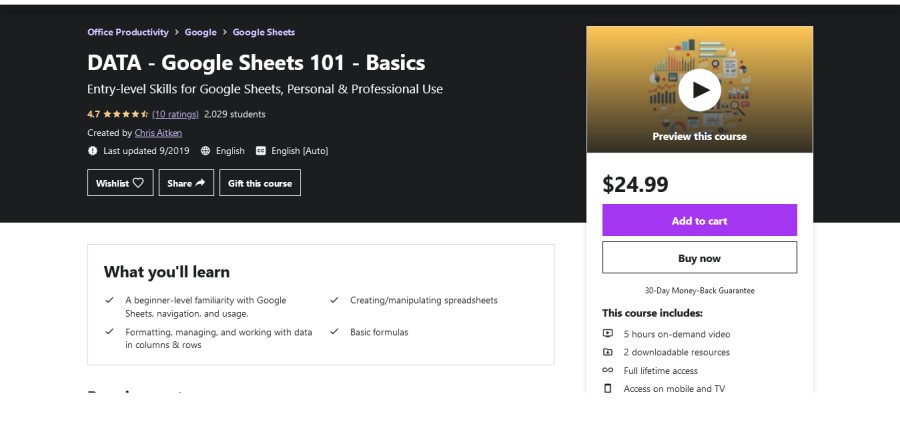 Course Rating: 4.7/5
Price: $24.99
Google Sheets is another spreadsheet software that is quickly gaining popularity. If you're yet to learn how to use this software for data entry and processing, you should enroll in this training now.
This data entry course is taught by Chris Aitken, and it's a 5-hour long introduction to the use of Google Sheets.
Here's what you should expect;
Data entry basics.
How to perform cell referencing, handle error messages, and other functions on Google sheets.
This guided program will give you the most important education you need to work with Google sheets.
Pros
Fit for a beginner
Lifetime access
Downloadable resources and practice files
Certificate of completion
Cons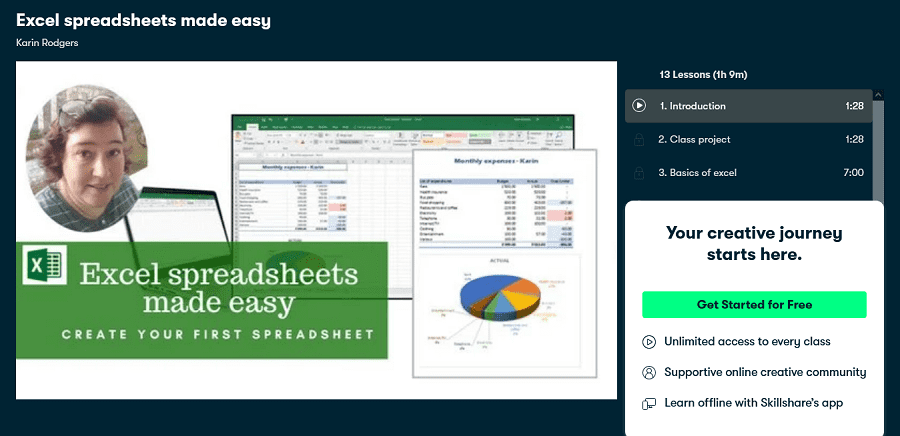 Price: Free
Are you thinking that Microsoft Excel might be too advanced for you? This is another excellent beginner Excel course that can help you get started.
Karin Rodgers, an experienced freelancer, and computer teacher handle this course, and she's trained over 500 students to use this spreadsheet program.
The data entry course runs for one hour and covers the basics of using Excel spreadsheets including how to create spreadsheets, how to enter and manipulate data, how to work with formulas, and visualize data for comparison and presentations.
You'll learn;
Microsoft Excel Basics.
Typing to improve your typing skills.
Conditional formatting in Excel and performing calculations.
How to use charts.
This beginner training will help you grasp the basics of Excel and simplify the concepts of working with the software.
Pros:
Easy to follow classes
You can learn with Skillshare membership
Cons:
After the trial period, you'll have to pay for skillshare membership
FAQ's
What training is needed for data entry?
A high school diploma is the minimum qualification needed to begin a career as a data entry clerk. However, to improve your skills and advance your career as a more skilled data entry professional, you'll need to pursue a Bachelor's or an associate degree.
Then you'll need to gain 2 years of data entry or office experience working with Microsoft Office apps or similar software.
Do online data entry jobs really pay?
Yeah, online data entry is a good career and a great source of income when you have the right skills. According to Flexjobs, you can earn around $10 – $17 an hour doing online data entry. The average pay stands at $12.92 per hour.
How can I get an online data entry job?
You can get online data entry jobs by searching freelance job sites such as Fiverr, Upwork, Freelancer, Clickworker, and Flexjobs.
How can I become a freelance data entry clerk?
To become a freelance data professional, you'll need to take some online courses (or a diploma offered by colleges or other institutions) and improve your typing skills.
After pursuing your certification training, you'll gain the necessary data entry experience as clients will most likely be willing to hire professionals with a bit of experience. Then you can include your skills and training in your resume and begin applying to data entry positions.
Wrapping Up
You can already tell that you can become a data entry operator without going through the rigors of obtaining a regular university education.
So long as you've got an internet connection and a computer, you can join other students and learn any of these courses at your own pace and from any location in the world.
Therefore, our top picks for the best online data entry courses are those offered by Skillshare. These online courses are cost-effective plus they're taught by seasoned professionals who are willing to impact all their knowledge on their students.
And if you find working with MS Excel and other spreadsheet software as difficult, these courses will simplify the concepts to make it seem like you're working with Microsoft Word.
See also: