Online transcription is one of those exciting jobs you can work from home or anywhere.
It requires minimal investment and time commitment, and there's almost no barrier to entry.

So if you're searching for the best online transcription courses you can study online, we've curated the 8 best for you. These courses will help you develop your skill, show you the tools you need, and teach you how to get clients/companies that'll pay you top dollar.
Let's dive in.
Best Paid & Free Transcription Classes Online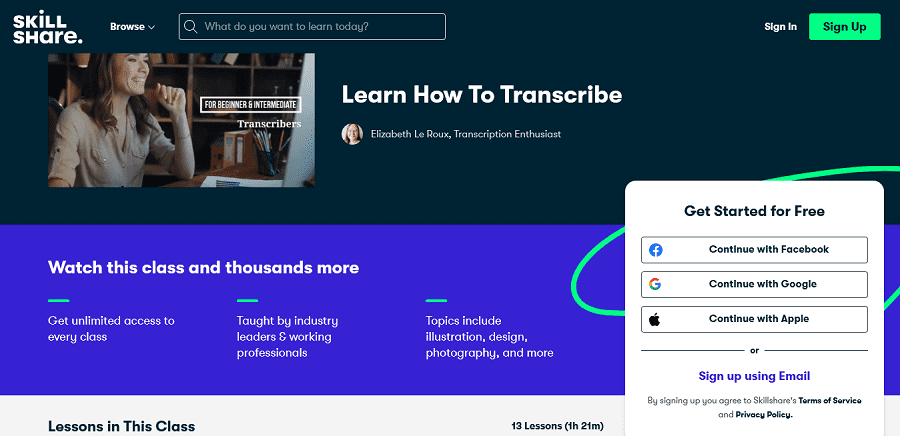 Rating: N/A
This SkillShare course will set you on the right foot for a stellar transcription career if you're just starting as a transcriber.
In this online transcription course taught by Elizabeth Le Roux, beginner students won't only learn transcription techniques but also know where and how to get online transcription jobs.
At the end of the 1-hour 21-minute video lessons, beginners and intermediate students will gain the following knowledge:
The in-demand skills to make you a successful transcriptionist.
How to be more accurate in your transcription.
How to better listen and understand audio files.
The transcription tools you need.
Common homophones that may confuse you.
Speaker labeling, spelling, and transcription formatting.
But that's not all.
You will learn advanced topics that border on notation tags and how to conduct research. You'll also get valuable information on differentiating verbatim and non-verbatim transcription.
And what's more? Students can learn this training course for free on SkillShare.
Pros
Great for beginners to intermediate-level transcribers.

It contains advanced courses to help you improve your skills.

It teaches you how to find transcription work.

A seasoned transcriptionist teaches this training program.

Practice tests to help you hone your skill.

The transcription courses require little time investment (under 90 minutes).

Access to the transcription student community.
Cons
This course doesn't issue a certificate of completion.
Activate the FREE 30-day trial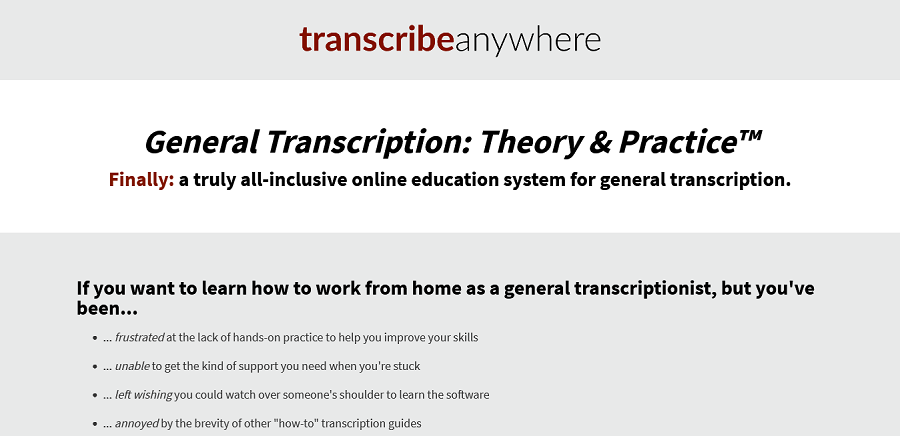 Rating: N/A
If you're looking for an in-depth and extensive transcription course, that'll take you from being a beginner to a pro transcriptionist, you may end your search now.
This General Transcription course from Transcribe Anywhere is an all-inclusive training program that'll equip you with the skills and tools you need to run your transcription business successfully.
The course instructor is Janet Shaughnessy, and she's been running her own transcription business – Zoom Transcription Services – for over 10 years.
In the well-structured tutorials that span 2 – 4 months, she walks her students through the following to take them from beginners to experts:
Learn grammar and punctuation basics.
How to work faster using text expanders.
Their 7-level practice system to be a better transcriber.
How to get higher-paying transcription work as an independent contractor.
How you can find the best deals on transcription equipment.
And there are even more perks to enrolling in the General Transcription Theory & Practice course.
First, you'll gain direct access to the instructor and other experts in the transcription field. Second, you will grant lifetime access to their student support forum on Facebook. Through these, you'll get feedback on your work and develop faster as a transcriptionist.
There are also lots of downloadable resources. And what's more.
You'll gain lifetime access to the course material and its updates. And more importantly, you'll learn to market your transcription skills and services to increase your earnings.
It is probably the best transcription certification course you can invest your money in. However, it comes at a hefty price.
Pros
In-depth training that requires 2- 4 months commitment.

Transcription courses are self-paced.

Great for beginners and intermediate-level transcriptionists.

Lifetime access to the premium content and Facebook student support group.

Direct access to the instructor and other experts.




You'll earn a certificate of completion.

You'll learn to get big companies to offer your transcription services to.
Cons
Costly course when comparing the other classes.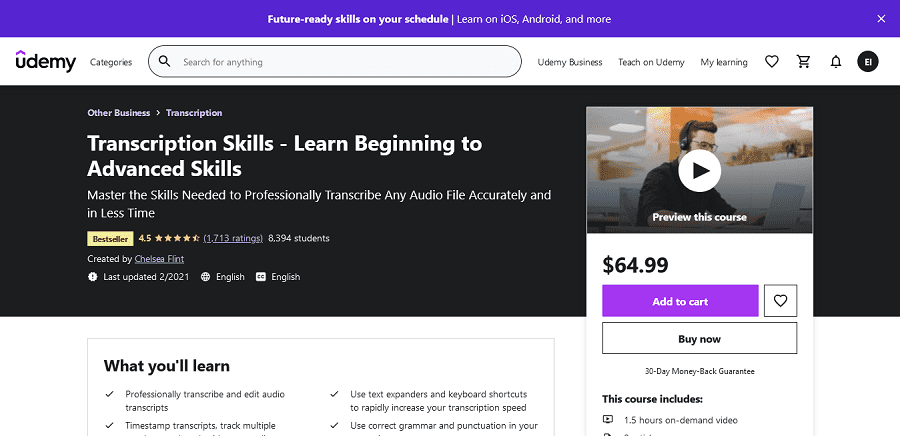 Rating: 4.5/5
This training program will expand your knowledge if you're a beginner transcriptionist who's gotten your transcription career off the ground.
In this comprehensive course, you'll learn to transcribe audio files more efficiently and accurately speed professionally. So, online transcription courses are best for students that want to take their transcription business to the next level.
In the 1.5-hour class, Chelsea Flint will guide you to master the skills and techniques you need to offer your transcription services to top companies. She's a professional transcriptionist with a wealth of experience transcribing for Verbal Ink and KMS Transcription Services.
Some of the information you'll take away from the online transcription courses include:
Mastery of grammar and punctuation for typing and proofreading transcripts flawlessly.
How to use audio players like Express Scribe to transcribe audio content faster.
Use shortcuts, text expanders, and hotkeys to improve your productivity.
How to clean up audio files that are difficult to listen to.
Advanced transcription techniques for transcribing audio clips with more than two speakers.
And at the end of the transcription courses, you'll gain experience by working on a couple of practice tests. Another perk of this course is that it's a transcription certification course.
Pros
The tutorials are great for beginners and intermediate students.

You'll gain full lifetime access.

Downloadable course materials.

Educators teach by a professional transcriptionist that has worked for some top companies.

The transcriptions courses require a minimal time commitment.

You'll learn how to proofread and fix grammar and punctuation errors.

30-day money-back guarantee.
Cons
The course isn't for experienced transcriptionists

Not so comprehensive.
You can draw from Chelsea's extensive experience and kickstart your online transcription career today. The good thing is that this course comes at a very affordable price.
4. SkillShare: Transcription and Captioning Masterclass | Master Video Captions and Subtitles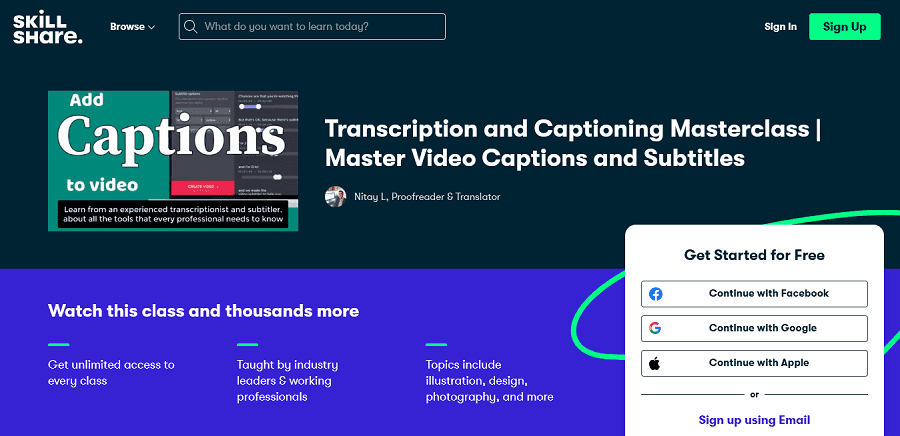 Rating: N/A
It is one of the best transcription courses if you're interested in learning about tools to facilitate your transcription process.
You'll study how to write and edit transcripts for video content in these video lessons. And considering many companies and brands are creating lots of marketing video content on YouTube for their audiences, you'll have an in-demand skill.
A snippet of the knowledge you'll learn from Nitay (an UpWork freelance translator, proofreader, and transcriptionist) includes:
How to silent background noises.
Use autocorrect software to clean up your work.
You are engaging in practice activities to hone your skill.
Top paid and free tools to help you in your tasks.
You'll also know ways to land gigs on online marketplaces like Upwork. At the end of the training, you should be able to get better-paying gigs both online and offline.
Pros
Learn the best tools (both paid and free) to make you a better transcriber.

Short time commitment – 2 hours.

Free online transcription course.

Hands-on study projects with actionable steps.

Great for beginners.

Learn from a professional transcriptionist and proofreader.
Cons
Not a certification course.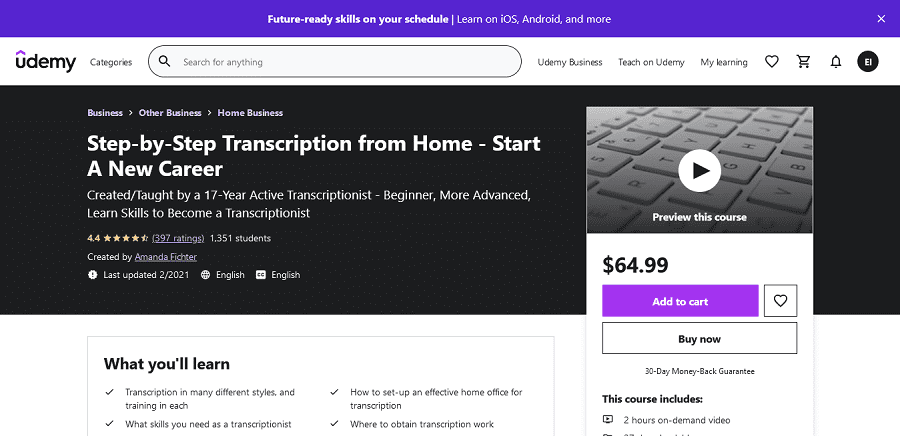 Rating: 4.6/5
It is another concise training on Udemy geared toward helping beginners garner all the information and knowledge they need to become experts.
There's no barrier to entry: all you need is your will to learn.
So if you feel you need a career change and transcription seems fun, this might be the best online transcription class for you.
Amanda Fichter, a transcriptionist with over 17 years of experience, will teach you most of the things she's learned in her journey to help you have a successful career.
In the 2-hour course, you'll learn:
How to work using several transcription styles.
The in-demand skills you need to be a successful transcriptionist.
How to set up your home office and look professional.
How to get big clients.
There are lots of downloadable resources.
The good thing about this course is that not only learners can take this course; more experienced transcribers can also learn it to pitch their services to well-paying clients.
Pros
Earn a certificate of completion

Concise and comprehensive tutorials.

Full lifetime access.

Very affordable.

Gain knowledge to turn your side hustle into a full-time job.

30-day money-back guarantee.
Cons
Monetary investment.

Teaches mainly the business side of transcribing.




 
While general transcriptionists will significantly benefit from this course, those who want to specialize in the medical and legal fields can take this Step-by-Step Transcription training, too.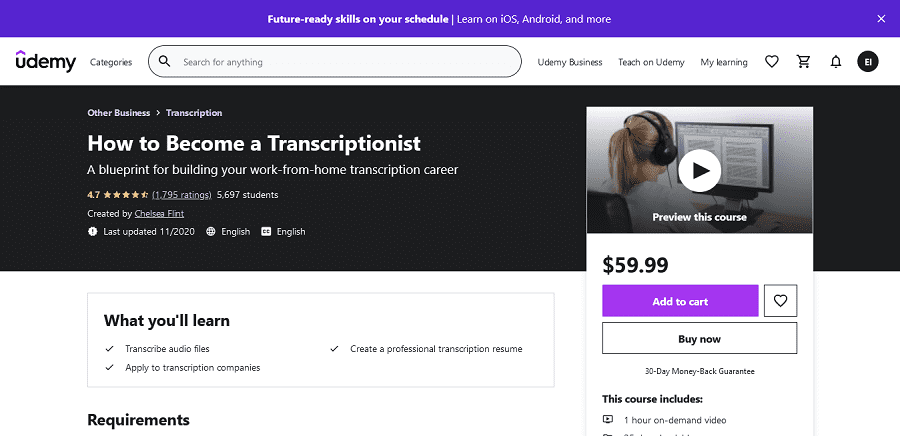 Rating: 4.7/5
It is the second online transcription course by Chelsea Flint on this list. And it's also one of the best courses to teach learners how to earn money as transcriptionists.
In the concise 1-hour course, Chelsea will lecture you on how to:
Improve your grammar, punctuation, and typing skills to transcribe better.
Use Express Scribe to work with audio content.
Create text expanders in your word processing software for smoother transcriptions.
Enhance your career and avoid low-paying jobs.
Finally, get better-paying work transcribing audio clips.
Being in the trenches herself, Chelsea promises to help you quickly build your skills to surpass the problematic beginning parts of transcribing.
And at the end of the classes, you'll know how to create a resume to position yourself as a professional transcriptionist and get a job at a transcription company.
Pros
Study to use word processing software at an advanced level.

Transcribe better with Express Scribe.

Certificate of completion.

Full lifetime access to course material and video lessons.

Draw from Chelsea's wealth of experience.

Learn to make money online from home.

30-day money-back guarantee.
Cons
It's a paid course.

Doesn't go in-depth like some other tutorials on this list.




 
Beginning your career in the transcription field can be very challenging. But this training promises to help you cut out most of the problematic parts and have a seamless transition to becoming a paid transcriptionist.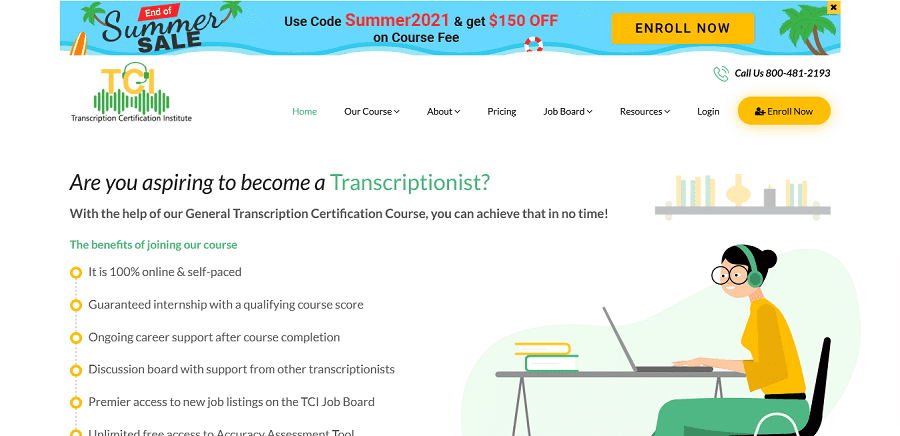 Rating: 4.6/5
With the General Transcription Course from TCI, becoming a professional transcriptionist hasn't been easier.
It is because you'll learn from a group of seasoned experts with significant experience as transcriptionists. The General Transcription certification course will teach you all the skills you need to go from beginner to expert in speed time.
You'll also access premium course materials and quizzes to help you grasp all the knowledge you seek.
In 3 weeks, your instructor will show you how to:
Transcribe using good grammar.
Fix spelling and punctuation errors.
Improve your listening and comprehension skills to transcribe with zero to minimize errors.
Improve your typing skills to work faster.
Take on challenging tasks like transcribing difficult-to-understand accents and audio files with multiple speakers.
These will help students improve their computer skills and make transcriptionists more proficient.
That said, what we love the most about this transcription training course is that students qualify for an internship with a transcription company after the program.
It will give you more experience and more confidence in your ability.
Pros
The classes are structured for beginner to intermediate-level students.

In-depth transcription tutorials.

Chance to get an internship at a transcription company upon course completion.

Access to the TCI job board.

Boost your resume with a certificate of completion.

Kickstart your freelance transcription business.
Cons
It is one of the most expensive courses on this list.

It takes longer to complete than the more concise Udemy can SkillShare courses.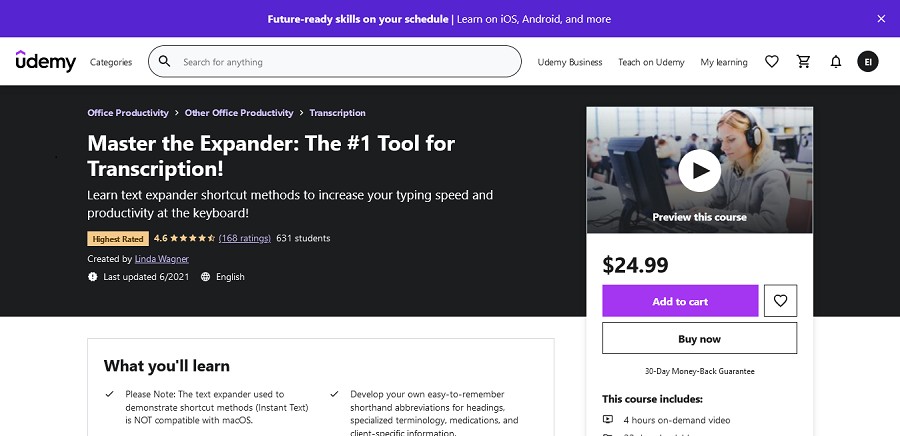 Rating: 4.6/5
This course is for you if you're already an experienced transcriber and would love to transition to writing medical transcripts.
Also, this is one of the highest-rated transcription courses on Udemy.
The instructor of this course is Linda Wagner. She runs her own transcription business and has worked as an education assistant fixing grammar and punctuation errors.
And from her experience, you'll learn the following in 4 hours:
The three primary keys to becoming a successful transcriber
How to be more productive using text expander.
How to create glossaries for different clients.
How to work more efficiently with voice entries.
You'll hardly get a course of this kind. Unfortunately, you need to have some experience before taking this course, and you may have difficulty grasping the advanced concepts.
And even if you're writing for the legal niche, you'll find this class more valuable.
Pros
Gain advanced knowledge to improve your skill.

In-depth content with a short time commitment.

Learn to become a niche (medical or legal) transcriber.

An experienced tutor teaches this course.

Certificate of completion.

Access to course content and materials for life.

30-day money-back guarantee.
Cons
Not fit for newbies.

Not a free course.
If you're looking to improve your skills to increase your income, you'll find investing in these classes worth your while.
FAQs
How Much Do Transcriptionists Get Paid?
The average median salary for transcriptionists is between $15.22 and $16.33 per hour, according to PayScale. But if you're a beginner transcriber, you can expect to earn around $10 to $12 (or even less) as a general transcriptionist. The top general transcriptionists get paid $25 to $30 per hour.
Legal transcriptionists get paid $17 on average, while beginner medical transcriptionists earn $24.
How Much Does a Transcription Course Cost?
You may have to pay around $2,500 to $12,000 to be awarded a medical transcriptionist certificate. It is for students willing to take the course in a technical or community college. This price doesn't include the cost of transcription equipment and software.
However, there are free and cheaper online options like those offered by Skillshare, Udemy, Transcription Certification Institute, etc.
Can You Become a Medical Transcriptionist Without Training?
To become a medical transcriptionist, you don't need a certification or special training or requirements. The basic training you need is your high school diploma. But earning a Certified Medical Transcriptionist (CMT) credential or other activity can boost your career chances and make you more suitable for the job.
What Is the Best Free Transcription Software?
The 7 best free transcription software for transcribing speech to text include;
Is Temi.com Free?
No, Temi isn't free. It's a paid transcription app and service. However, it's free to transcribe your first file, provided the content isn't more than 45 minutes.
After the first audio file, it'll cost you $0.25 per audio minute to use the service.
Conclusion
As a transcriber, you'll be saddled with converting difficult accents into clean transcripts, ensuring readers get quality speech-to-text content.
While this may be difficult at first, you'll soon get the hang of it with more work.
Check out the best online writing courses if you're also interested in writing more impactful stories, articles, letters, and business content.
Related: