For many people, learning a new language is a big challenge, and for many more, it's like a mystery teaching a language–like ASL–where you don't say a word.
However, it's fun taking courses from the best online ASL classes. Plus, it's got lots of benefits that might interest you;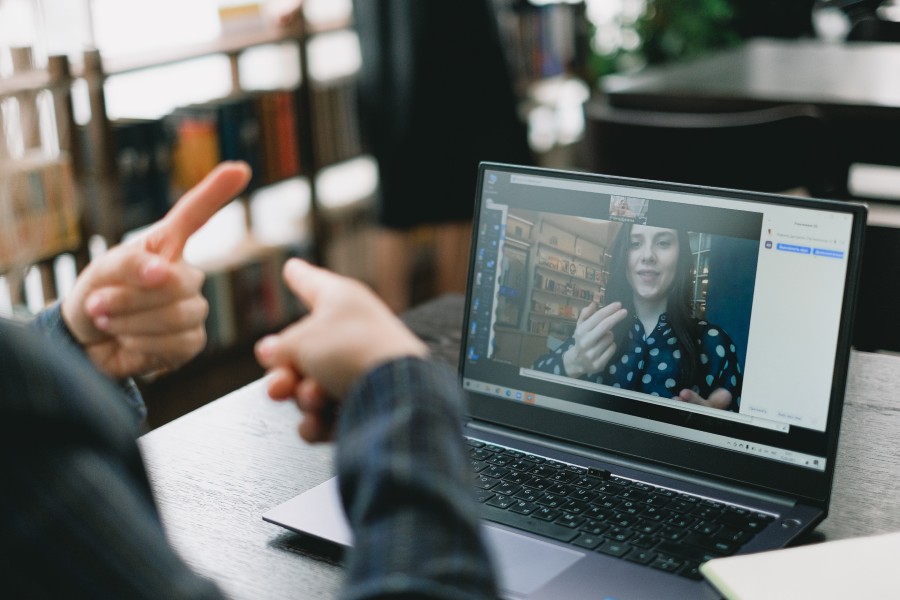 According to the Bureau of Labor Statistics, employment for translators and interpreters will increase by 20% by 2029. So it is quite a lucrative career as you can find a job as a translator, interpreter, or instructor at schools, government establishments, and several places.
It improves your creative ability, concentration ability, and spatial awareness.
Most importantly, it will help you communicate effectively with people with one form of hearing loss or the other.
Is it Possible to Learn ASL Online?
Yes, it's possible! Lots of people are learning ASL online daily. And it's not difficult to learn. The classes are engaging, and the instructors have structured the courses in ways you can easily understand.
You will also perform lots of practice and exercises to help you get to grips with the nuance of the language.
All you've got to do is get a comfortable place and devote some minutes or hours a day to listen carefully and follow the teacher's instructions.
How Long Does it Take to Learn ASL Fluently?
Some people are good at learning new languages, others not so much. So I'll say it depends on your personality and how much time you're willing to dedicate to learning ASL.
And American Sign Language is similar to learning other verbal languages as you'll soon see that ASL has got its alphabets, grammar, and culture. There is also regional slang.
So the best way to learn this course and quickly speak it fluently is by consuming any content you can find on ASL: which is pretty much the same with learning other languages and new activities.
So it can take a couple of years and constant practice to be master ASL and be able to speak it fluently.
Now let's dive into the ten best online American Sign Language (ASL) Courses.
Best Online ASL Classes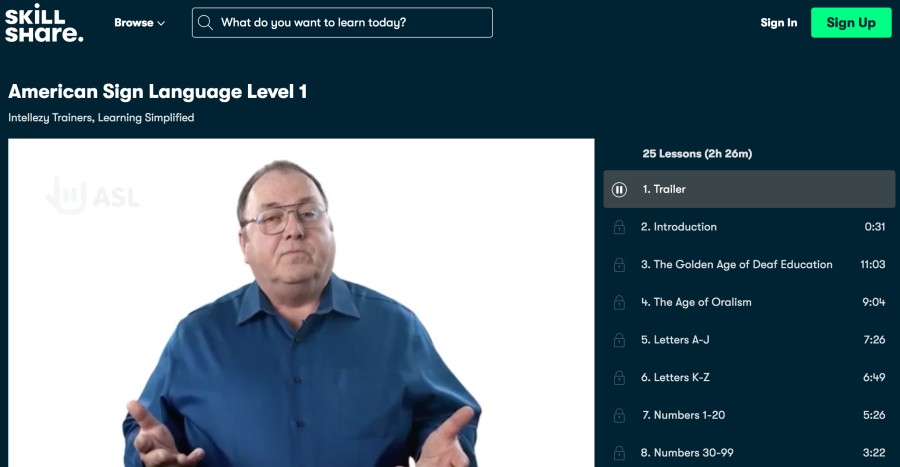 Price: Free
Before you can be truly motivated to start ASL lessons, you might need to know a brief history of how such languages and courses began.
It is one of the best online American Sign Language courses that focus on deaf studies and goes over and beyond to teach you how to tell stories with clarity.
Interestingly, this is only a beginner and intermediate level ASL course. It is one of several excellent courses from Intellezy Trainers, and its 23 modules last only 2 hours 30 minutes.
Some of the meat of this course are;
Alphabet sign letters and fingerspelling.
Colors, animals, food and drinks, and family signs.
Storytelling and how to demonstrate stories in ASL with clarity.
In addition, you will be given materials and printable resources to practice your newly-learned vocabulary and sentences in this language. It is so you can determine your level of improvement and engagement with this ASL course.
You'll also be able to express your feelings with sign language and understand the feelings of deaf people through their signs. And more interestingly, you'll be able to access this course for free by using our link: you'll get a 2-month free trial.

Price: $19.9
If you're getting started learning ASL, then this is one of the best American Sign Language classes for you.
Why?
Because you taught this course with beginners in mind who want to learn basic ASL skills to communicate with people with any degree of hearing loss.
The course features 14 engaging video lessons and takes around 2 hours to complete.
Some of the things you'll learn from this online ASL course include;
Fingerspelling.
How to count numbers (from 1 – 10).
How to greet deaf people and introduce yourself.
Deaf world culture.
This online ASL course will teach you and others interested in knowing more about the deaf community how to get the attention of deaf people and communicate effectively (but at a basic level). And after this sign language learning, you'll be granted a certificate of completion.
The video instruction courses have been taught to help you practice everything you have learned and retain your knowledge: a common problem for people learning sign language.
Pros
  Suitable for beginners learning sign language to have a solid foundation.
  Top rated.
  Rich and engaging content.
  Lifetime access to course materials.
  You can quickly learn ASL within a short time.
Cons
  It is made for beginners.
  You'll have to pay to learn (low price, though).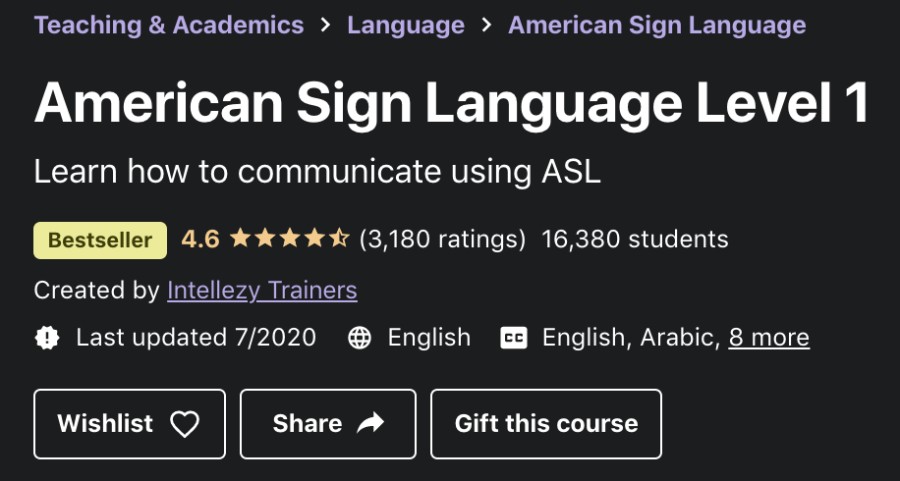 Price: $49.99
Are you an ASL student with a basic knowledge of American Sign Language and would like to take things up a notch? Then this Udemy's ASL online class is suitable for you.
This series of sign language classes will solidify your ASL foundational knowledge for intermediate sign language learning.
The sign language classes feature several on-demand videos and take 2.5 hours to complete.
This self-paced ASL lesson will teach you;
Fingerspelling.
To understand the ASL alphabets.
Animal, number, and family signs (counting from 1 – 99).
Food and drinks; verbs and nouns; and sentences.
Another interesting about this online training is that. You'll be able to express emotions with sign language and will be awarded a certificate, too.
It is an excellent course for beginners who want to advance their ASL skills and communication prowess with and hard of hearing.
Pros
  Suitable for intermediate-level ASL learners.
  It's a certification program.
  Rich and engaging content.
  Bestseller on Udemy (great value for your money).
  Lifetime access to training.
  Quick learning as it's taught in a short time
Cons
  Paid course (low price compared to the value).
  No captions, so it's difficult for deaf learners to access.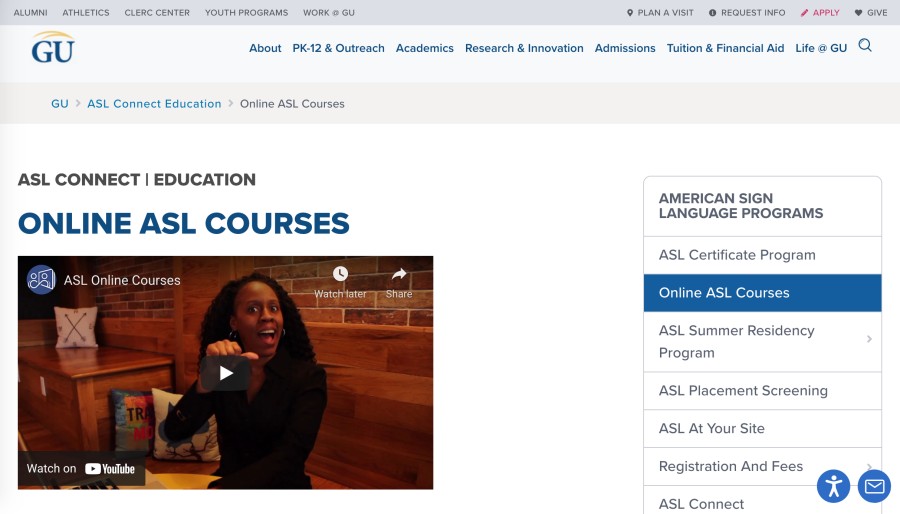 Price: Free & paid
If I compare ASL courses to cars, the ones taught by Gallaudet University will be a Ferrari (or Rolls Royce).
Gallaudet University is the first University to teach deaf and hard-of-hearing individuals. So the course curriculums are structured mainly for hard-of-hearing users: although, they also teach hearing students.
Interestingly, this University has got free introductory ASL courses. Their courses, however, are mostly paid and priced at the high end of the pyramid (hence the Ferrari label).
If you prefer having an academic structure and immersing yourself in the deaf community, then Gallaudet has got the best online ASL classes for you.
They've got four modules, and here's what you'll learn;
ASL 1 – Introduction to ASL and insights into the deaf culture.
ASL 2 – Classifiers, spatial referencing, how to represent plural signs, and use pronouns.
ASL 3 – Learning ASL vocabulary and grammar to create dialogues, short stories, and narratives.
ASL 4 – More vocabulary and grammar to describe situations, discuss objects, etc.
The fingerspelling and communication with visual gestures you'll learn from the ASL professionals will set you on the right footing to get employment as an ASL professional.
They offer a range of bilingual deaf courses and courses that encourage diversity.
While their beginner classes are free, fingerspelling courses cost around $317. And some other special topics cost about $950.
Pros
  Best online courses.
  Rich and engaging content.
  You'll get direct contact with the deaf community.
  Academic setup
Cons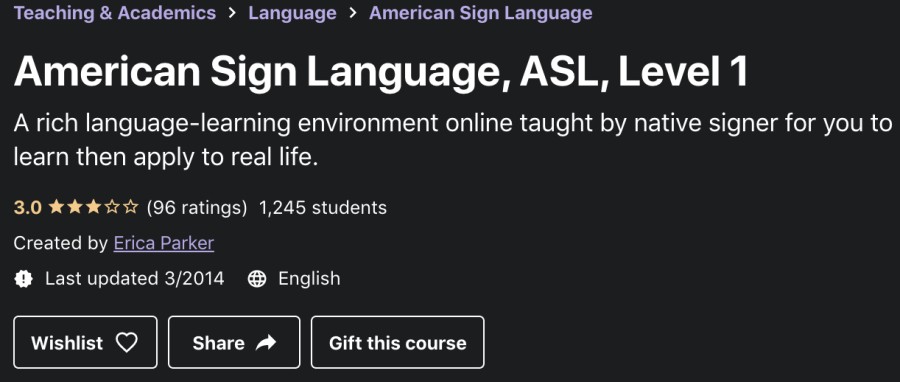 Price: $39.99
It is one of the best online sign language courses, not confused with the second training on this list.
The reasons are that these ASL course videos have captions for immersive learning. And secondly, it only takes 30 minutes to complete the tutorial. While you won't become a pro from taking this course, you'll quickly get to grips with what ASL is all about, and this can be a motivator to learn more.
This course will teach you to be aware of your body when making signs. You'll also be acquainted with the deaf culture, grammar, and vocabulary.
Some of the things you'll learn include;
Fingerspelling.
How to introduce yourself and reply yes/no questions.
Verbs, colors, and clothing signs.
This ASL instruction program has got lots of engaging quizzes and will award you a certificate of completion.
Pros
  A concise online training that you can learn in one go.
  Lots of engaging quizzes.
  Lifetimes access to course materials.
  Certification training.
Cons
  Training for beginners: so you can't become a very skilled ASL learner.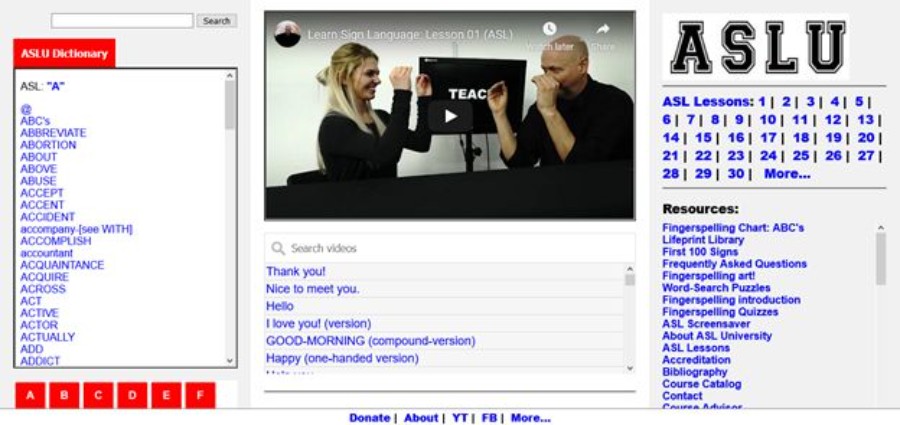 Price: Free & paid
What other way to learn a program designed for deaf individuals than by learning from a deaf person?
In 1997, Dr. Bill Vicars, a deaf man (and an associate professor at California State University, Sacramento), launched ASLU to help people (with a family member with any hearing loss) learn sign language.
This platform is more like a resource center where teachers and learners can get free online ASL knowledge to boost their teaching and learning.
The silent video lessons are engaging and take around 25 – 45 minutes to complete.
If you're getting started learning ASL online, this is one of the best ASL classes for beginners as there are lots of practice assignments, and you'll expand your vocabulary and learn the common 100 signs used between parents and children.
The resources are free to use and download, but prices for instructor-guided ASL online courses start at $483 each.
Pros
  Free downloadable resources.
  They are taught by an experienced deaf associate professor.
  Good for beginners
Cons
  There's no audio.
  If you're interested in learning American Sign Language better, you'll be required to pay.
  The site is old and not so interactive (so you can't track your progress).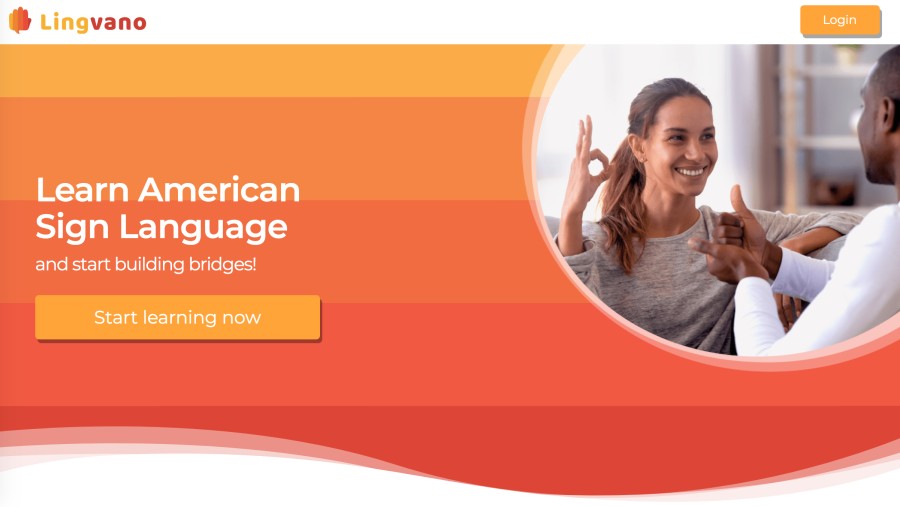 Price: $17 per month
Are you looking for an interactive site where you can learn ASL and put your skills to practice simultaneously? Then Lingvano is a platform you need to be on.
The video lessons are very engaging, and you'll get to watch someone sign to learn new words. And as you watch the person, the site has a feature that will enable your camera to create an image of you on your screen. It is so you can protect yourself perform the signs along with the instructor.
Isn't that interesting?
The e-learning platform has got a free lesson. However, to access the top features and learn ASL more in-depth, you'll have to buy the premium plan.
In this ASL course, you'll learn numbers and time, facial expressions, ASL history, and a lot more. This training also features quiz-style questions to help you better understand ASL concepts.
Pros
  Very engaging classes.
  You'll get to see how you're performing as you make signs in real-time.
Cons
  The course is only available as a web app. But the Android and iOS versions are under development.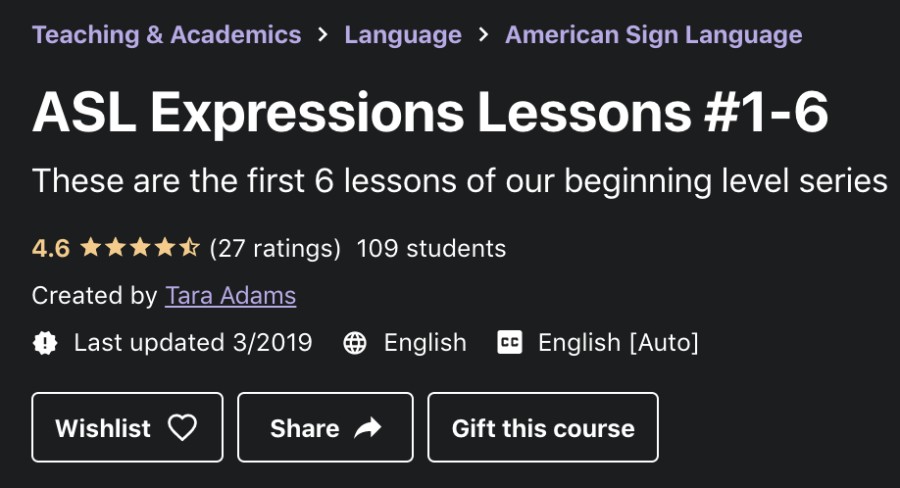 Pricing: $39.99
It is a time-friendly ASL course as you can learn it in about an hour and a half.
Despite its short length, there's a world of knowledge you can get from this impactful course. This American Sign Language online course features seven lessons and downloadable resources, and after the period, you'll be able to communicate in ASL on a fundamental level.
Some of what this online training has to offer are;
Fingerspelling alphabets.
20 – 30 new vocabulary in each class.
Deaf culture, practice sentences, and grammar.
Introduction and replying to questions during conversations.
Like all the Udemy courses featured in this guide, this course also awards learners certificates.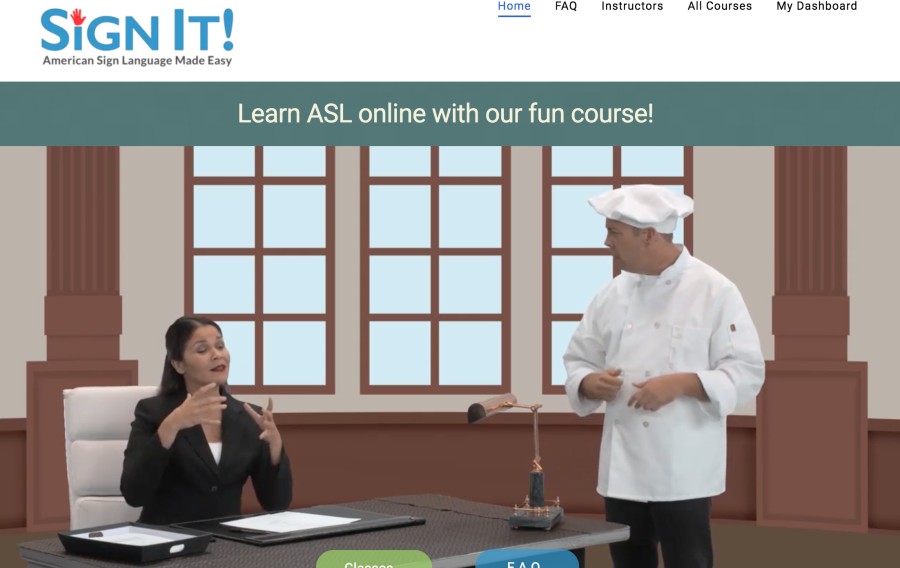 Price: Starts at $49.99
It is also another very engaging American Sign Language.
Each lesson features short storylines that are developed based on a theme. The stories are acted out like TV shows: but they're acted in sign language.
It's an exciting experience. And this ASL course has got more dedicated teaching sections and quizzes to help you better understand the story you just watched.
There is also much exciting content in this ASL training, like interviews and special guest appearances.
Families with a child younger than 36 months who's deaf or hard of hearing can apply here to learn to Sign ASL for free. Otherwise, you'll have to pay to take their sign language courses.
Some of the things you'll learn in this ASL course are;
The nuances of the American Sign Language. It's like learning how different people make signs for the same objects or terms (the equivalent of learning to understand different accents).
ASL indexing.
ASL gloss and non-manual markers.
There are 15 courses in total, which take around 45 – 60 minutes to complete a lesson. And it will cost you $119.99 to buy this, but when you do, you'll have lifetime access to the video lessons and ASL dictionary on the site.
They've also got a cheaper option where you can buy just five lessons for $49.99, whichever suits your budget.
Pros
  Best online ASL classes for families that have a young member with a degree of hearing loss.
  Engaging lessons and practice activities.
  You'll learn to pick up on 'ASL accents'.
Cons
  Quite expensive compared to other ASL courses on the list.

Price: Free & paid
As the name implies, users will partake in live training sessions when taking this ASL program. This online training is unique and different from others on this list of best online ASL courses.
But that doesn't mean a strict time factor will bind you.
No! There are multiple sessions held in a day, so you'll have the flexibility of choosing the window that best suits you.
The good thing about this program is that you'll get instant feedback and corrections from the course instructor as you practice your signs live. There's no better way to improve your skill than this approach.
Some of the things you'll learn in this training are;
Fingerspelling.
ASL vocabulary for beginners.
25 must-know signs and introduction to deaf culture.
How to communicate with signs when you dine out or go shopping.
This course has got that personable touch and is especially good for people that prefer learning in classroom-like conditions.
With Takelessons Live, you can attend a class for free, and if you love the experience and approach, you can decide to pay their $15.00 fee per lesson. What's more is that you can request a refund if you're not cool with the tutorials, and you'll get your 100% refund.
Conclusion
So there you have it: the best sign language online tutorials.
One final thing to consider before choosing a course is if its content appeals to your learning style.
Read our articles about: