Whether you enjoy singing as a hobby or professional, getting the proper online singing lessons that'll suit your needs is very important for your development.
There are a lot of courses available that promise to make you a great singer but fail to deliver. So in this article, I've listed the best paid and free online singing lessons that will help you hone and develop your singing skill.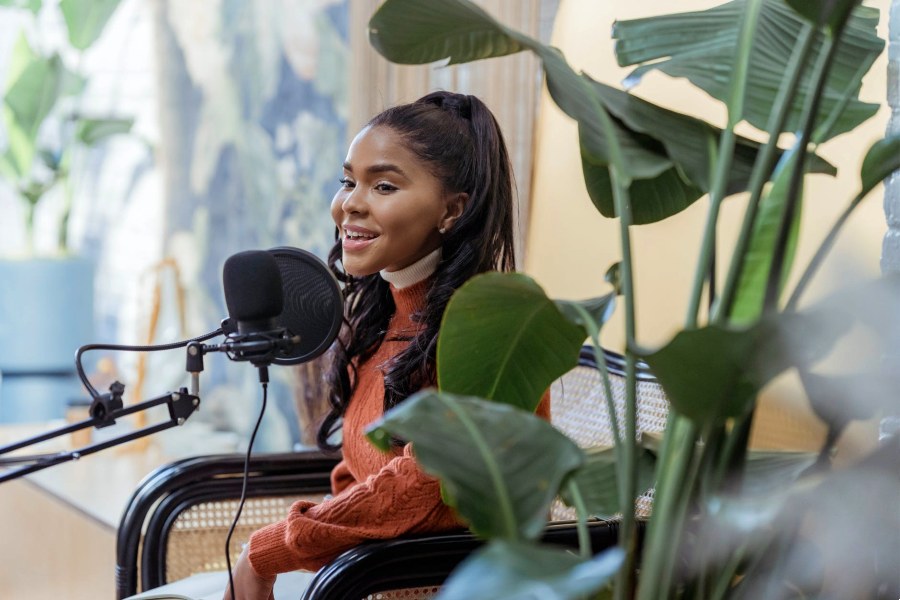 Best Online Singing Lessons and Classes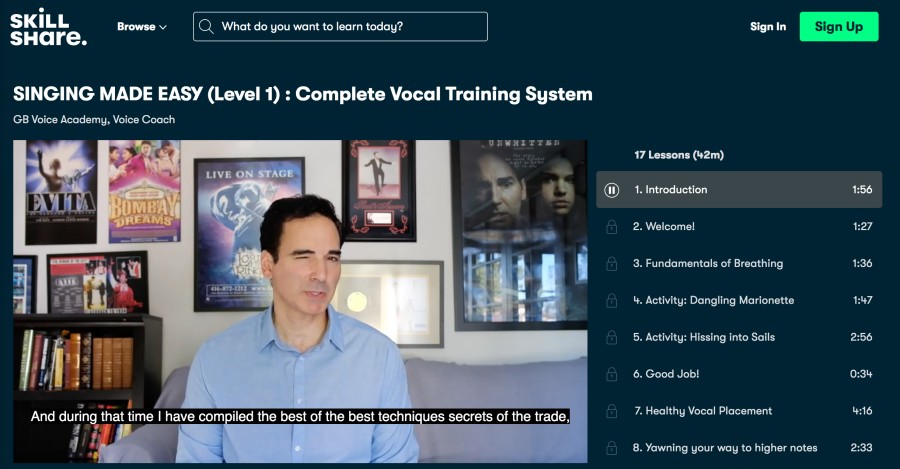 Price: Free
Whether your singing goals are voice improvement to become a better singer or singing for self-gratification, SkillShare's online singing lessons will surely help you get your singing skills up.
The 17 high-quality singing classes will take you through the basics and teach you techniques to improve your vocal range and singing voice.
The course instructor, who has over 20 years of singing and acting experience as a Broadway actor and has won several awards, will show you techniques to find your singing mojo.
So if you've also got ambitions of becoming a Broadway star someday, here are a few things you'll learn from Gabriel's singing classes;
You are breathing exercises to grasp the fundamentals of breath control.
Learn how to sing high notes, staccato, and legato.
They were singing placement of AEIOU and hissing scales.
And a lot more other techniques for your advanced vocal training.
What's more, you can access this tutorial completely free as SkillShare is offering its users a 2-month free trial on their platform.
Sadly, this offer won't be available for long.
Pros
Free when you use our link.
It is one of the best singing courses for all skill levels.
A professional teacher who enjoys answering students' questions and seeing their progress
Cons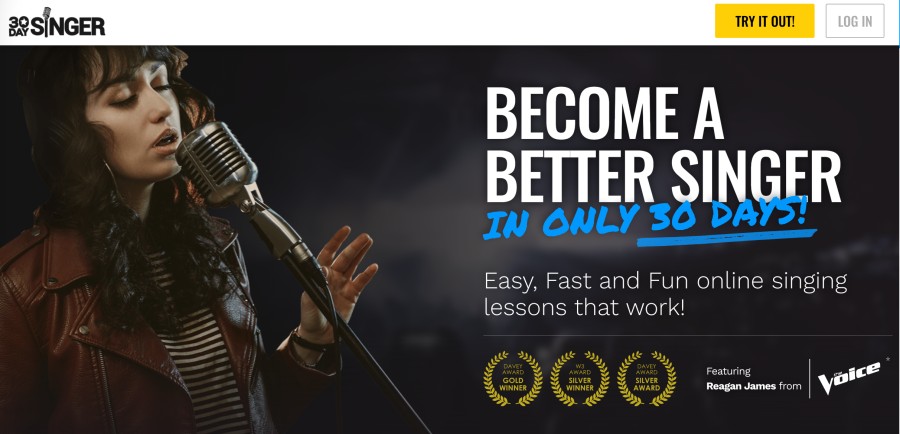 Price: Free
Now, if you consider yourself a not-so-good singer and would love to see improvement in your singing voice, 30 Day Singer is one of the best online singing lessons for you.
This top-notch singing class will take you from a complete beginner or intermediate singer to a natural singer in 30 days. The 30 Day Singer concept takes a systematic approach to deliver their classes in that you'll learn one new lesson every day.
What an excellent way to learn how to sing! And when you're done with the first set of classes, you can either stop taking their courses or move on to more advanced techniques.
And with the results their singing program has produced, you will notice some improvements in your vocal skills. But that's if you follow through with their singing lessons.
This 30-Day Singer program teaches by some of the world's top artists and award winners, so their online singing lessons are not for beginners: singers of all levels can take their courses to improve their singing voice. With their classes, you'll develop a better vocal power and extend your vocal range.
There's also a lesson in performance class to build your confidence.
Some of the things you'll learn in their singing classes are;
How to improve your vocal tone and imitate the vocal styles of famous musicians.
Classic singing techniques and other basic singing techniques to build a strong foundation for your singing career.
We are using vibration to harmonize with other singers.
Runs, embellishments, pitch, and intonation.
And for you folks seeking free online singing lessons, you're in luck. 30 Day Singer offers a 14-day free trial to first-time students who would like to explore their classes.
Despite the 30-day duration of this vocal training, 30 Day Singer courses are self-paced and cover everything you need to be a singing sensation and performer.
Looking for a smooth journey from beginner to stardom, these video lessons are a great starting point!
Their vocal training is entirely risk-free as they also offer a 30-day money-back guarantee if you're not impressed with the results.
Pros
The self-paced tutorial that's good for all skill levels.
Go from meh to excellent voice in 30 days.
Free 14-day free trial.
Money-back guarantee.
They are designed for fast results.
Award-winning lesson teachers
Cons
No one-time payment plan. Instead, you'll pay for the monthly or yearly subscription.
Expensive program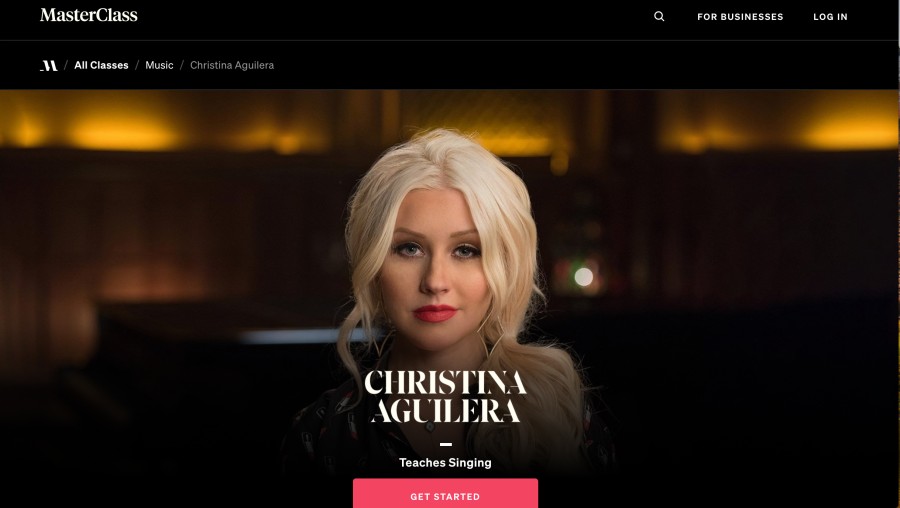 Price: $15 monthly subscription
I don't think I'll be wrong to assume we all know Christina Aguilera.
But what most of us don't know about her is that she's got a vocal training course where she teaches students to be great artists like her. And if you're a fan of this amazing songstress who boasts 6 Grammy awards, she might just be your next singing teacher.
You'll need to join her Masterclass to learn this online singing lesson as the Course is only exclusive to Masterclass users. You won't only get A-list singing lessons; she'll share her journey, some of her inspirations, and personal experiences as a singer.
The vocal class, which will span six (6) weeks and last for 3.5 hours, consists of 23 video lessons, and it promises to be a real eye-opener. Some of what you'll learn in the online singing lessons are;
Voice range, vocal placement, and maintaining a good posture.
Performance: how to connect with your audience emotionally, project your voice, and play songs according to beats, tempo, and rhythm.
How to warm up and protect your voice, and play with others.
After taking Christina Aguilera's Masterclass, you would have learned the creativity and inspiration behind some of her biggest hits, breath control, and other techniques in singing.
And there's also how to perform live and use studio microphones: all in this online singing masterclass.
Beginners, this can be a great beginning. And if you're a pro singer, you'll learn what you need to become a star from this Masterclass.
Pros
Lots of engaging videos and resources to guide you.
Range finder tool to help you track your vocal range.
You'll learn how to sing from a world-renowned superstar.
Owned superstar.
Cons
Mainly for beginners, but singers with experience can benefit a lot from the Masterclass.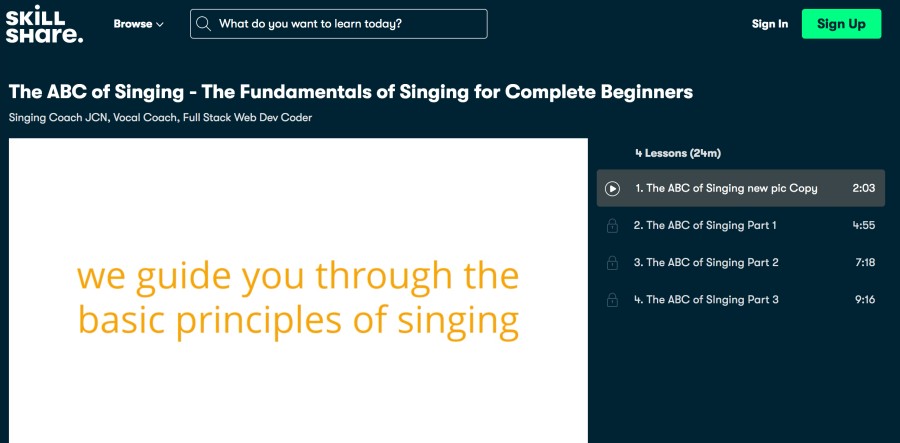 Price: Free
If your bathroom singing voice sounds a lot like Michael Jackson's, but you mostly feel disappointed when you listen to your recording, maybe it's time you learned the fundamentals of singing.
This SkillShare's singing training was specially created with beginners in mind and will teach you;
Learn how to align your body to sing better.
Learn how to connect your core muscles when singing.
Practice breathing techniques for abdominal and diaphragmatic singing.
When you finish with all the practice songs and lessons, you'll be able to sing and make heads turn. And today might be your lucky day as you can take this online singing course completely free of cost by activating your 2-month free trial with our link.
Pros
It's a popular course among beginner students.
Free singing class.
It teaches you all you need to be a good singer in a short period.
Cons
Aimed at beginners, so you might want to pick other courses on the list for advanced singers.
Price: $67 for digital download OR $299.95 for physical product
If you're looking for free singing courses with top-class teachers, then look no further. Designed for all skill levels, Singorama has got everything you'll want in a singing class.
The comprehensive voice lessons put together by Melanie Alexander (one of Australia's top vocal coaches) feature a mix of advanced teaching techniques using audio and workbooks for your utmost understanding. There are no videos in the online singing lessons, but it's an indeed engaging one.
If you'd love to improve your voice with a practice song, you'll have more than enough in the 28 audio lessons packed with lots of vocal exercises and training sections.
Some of the things you'll benefit from learning from this Course by Melanie Alexander;
How to develop strength and projection skills.
How to train your ears and voice to master the perfect pitch and bridge vocalization.
How to transition from head voice to chest voice and develop vocal agility.
The singing lessons teachers teach so that with 15 minutes of practice daily, you'll learn everything people learn from private teachers. You'll learn warm-ups, pitch, and how to balance your tone.
Added to the online training you'll get, you'll get lots of bonus materials and recording suite software to practice pitch control.
And you'll be able to take Singorama's 5-day mini-course to determine if the online singing lessons will be great for you. And you also get a 60-day money-back guarantee if you're not satisfied with their Course.
Pros
Great value for your money.
60-day money-back guarantee.
Singing tools, PDFs, and other resources to perfect your skill
Cons
Incredible online singing lessons, but there are more comprehensive courses on this list.
There's no easy payment plan.
The videos are for people that are ready to take their singing game to the next level. Click to study it now.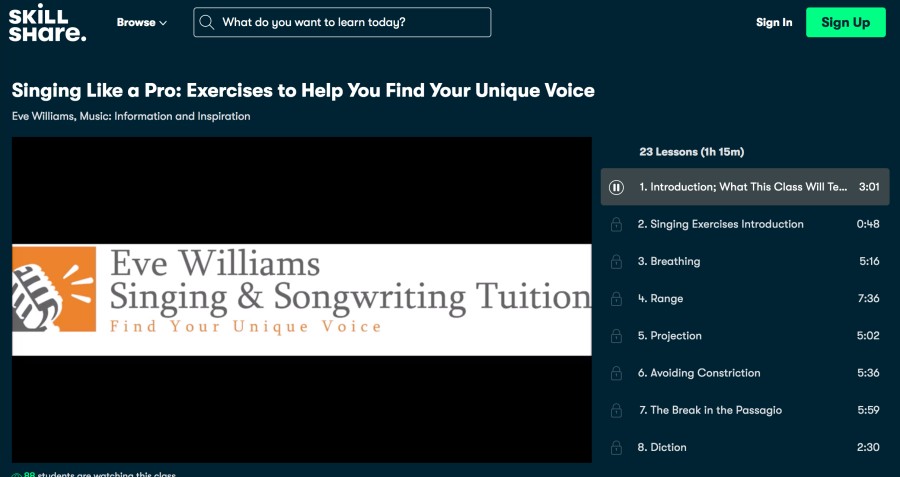 Price: Free
These online singing lessons feature 23 video lessons expertly taught by an excellent voice instructor to help you train both your voice and ear. And the classes you'll be engaged with are for all levels.
Your first project will be to sing along a karaoke video. And after that, you'll move on to singing more complex songs. You'll also learn;
To project your voice.
I am breathing range and diction.
The proper posture, and the avoidance of constriction to maintain an excellent vocal pitch.
You'll also learn singing concepts like falsetto, sob, twang, how to belt when singing, and how to sing opera songs.
Pros
Three supplementary resources.
Comprehensive lessons and interesting class project
Learn various song concepts.
Cons
While this review is relatively short, this is one value-driven Course that can help you hone your skill to reach your true potential. Get started with this online singing lesson now.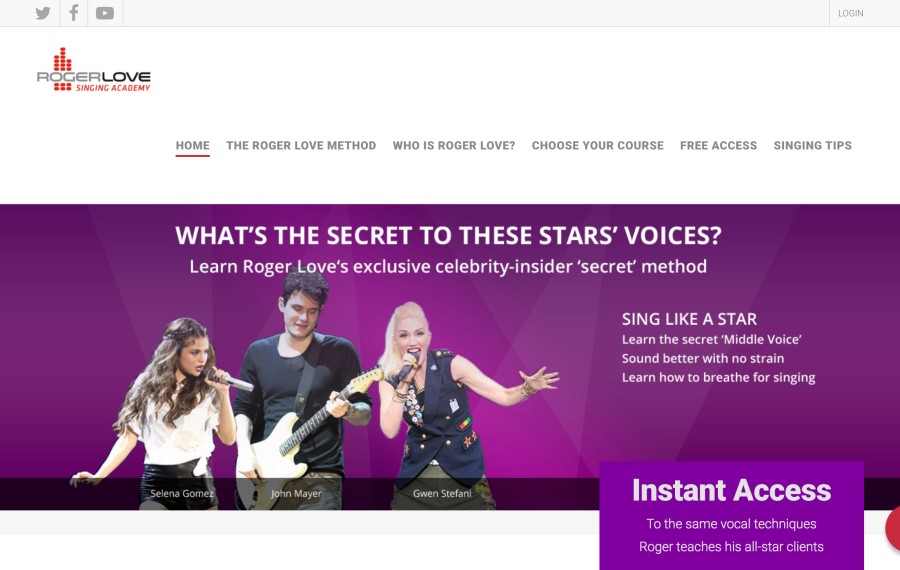 Price: Starts at $197
If you thought musical artists became superstars entirely because of their talent, you better think twice.
Successful musicians are products of top singing teachers like Roger Love. Though you might not have heard of him, he's worked with and helped top musicians like Selena Gomez, Eminem, Gwen Stefani, and Jennifer Lawrence, among other Hollywood celebrities.
Roger is the kind of instructor that assists students in their music career by training them to find and understand their voice types, tone, and singing capacity.
Another great thing about his singing lessons is that you can take his online courses at whatever skill level you're at.
In this 14-week singing boot camp that spreads across three parts, you'll get hundreds of video lessons and will take place by the hand of Roger himself.
You'll get the same training that pivoted the careers of singing sensations and acquire the knowledge that makes these A-list musicians stand out.
This Course is an all-around good course for people that want to their singing career seriously. However, we've got our reservations due to the hefty price slapped on this Course.
You can get the first Course at $197, the second at $297, while the last Course costs $597. While that sounds like a lot, if you consider the pedigree of celebs he's worked with and the value you'll be getting from his online singing courses, you'll be confident, that this will be money put to excellent and impactful use.
Pros
A top-rated music teacher.
You'll learn the top stuff musicians are made of.
The videos are for all singing levels.
You'll understand yourself better and get structured lessons to maximize your gifts.
Cons
Check Course on Roger LoveSinging Academy
Still not sure this Course is right for you? Get started with the free lessons today and pay if you're convinced the program is right for you.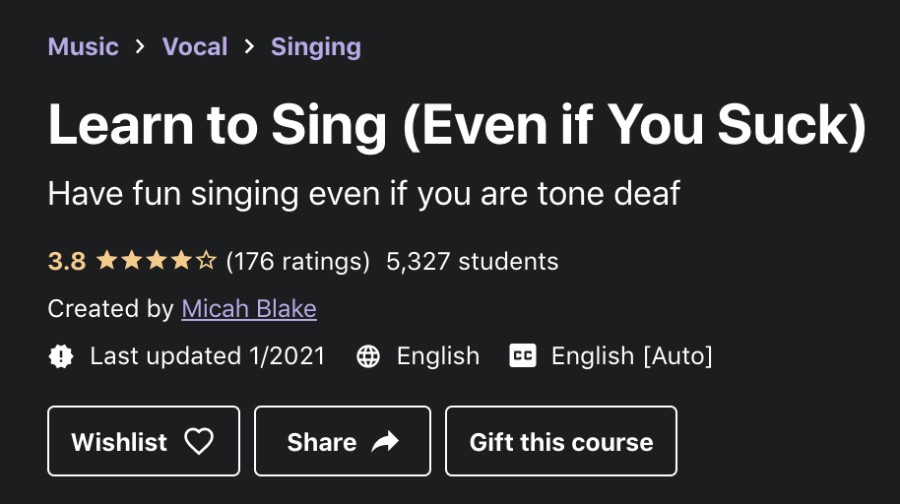 Price: $99
If you're already a good singer, the name of this Course might not appeal to you. But if you're terrible at singing, it will strike a chord with you.
So if you're looking to gain a new skill as a singer, this beginner course that promises to make you a prolific singer is one you should take.
You'll perform vocal exercises that will teach you to find your tone, range, and rhythm. You'll also learn pitch matching.
Other things you'll learn from this Course that will improve your singing include.
The technical aspect of growing your vocal range.
How to prepare yourself with warm-ups and breathing exercises before a song.
How to better understand and control your voice.
Plus, how to sing triads, octaves, and solfeggios.
Another exciting feature that makes this Course one of the best online singing lessons is that this is one of the few singing courses that issue a certificate of completion.
In the 2 hours 30 minutes lessons, there are also a couple of practice songs to help you hone your shiny new skill.
Pros
Certificate of completion.
Lifetime access to course materials.
Suitable for all singing levels but primarily geared toward helping beginners.
Cons
Beginners will particularly benefit from taking voice lessons.
So go right here and take this singing course to perfect your skills and become a pro singer.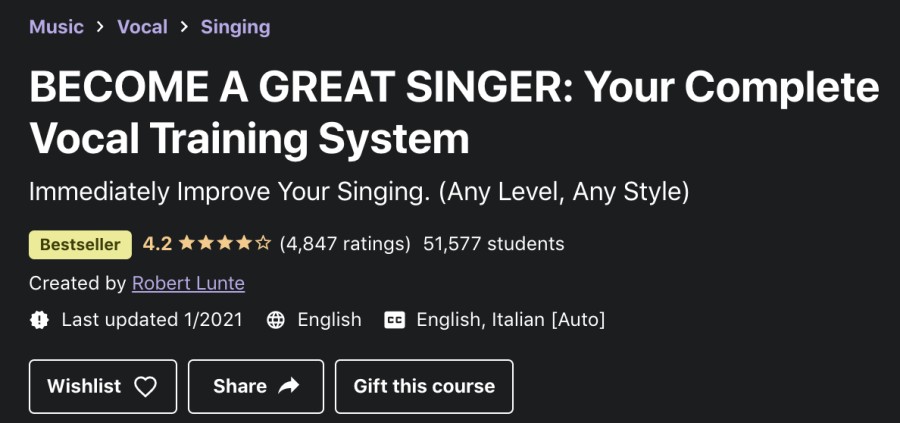 Price: $129
One outstanding attribute of this skills program is the flexible lessons that afford you the luxury of learning at your schedule.
If you can spare between 30 minutes and 2 hours for 2 – 6 days a week for practice, this Course has been planned out in a way that can take you from the level of being a singing hobbyist to becoming a great singer.
This online class is taught by Robert Lunte (an internationally recognized voice trainer) is a top-rated course that over 35,000 students have taken. Robert's Course is so extensive and comprehensive that it features 175 online video classes and 80+ downloadable resources.
You can rest assured you'll get more than great value for your money.
A sneak peek at what these online singing lessons offer are;
A free 120-page eBook.
Several vocal effects like vibrato, vowel modification, sobbing, voice distortion, and many more.
Microphone ergonomics, how to sing in cry vocal mode, and belt in the head voice.
How to increase vocal range and not choke or squeeze when singing on high notes.
How to bridge registers.
And if you're wondering about the practice exercises, there are 53 vocal workouts: some of which you'll watch Robert perform by himself.
In these 22.5 hours of classwork, you're going to uncover the solutions to many problems you were having with singing that's been preventing you from reaching greater heights. And you'll be awarded a certificate for all your efforts and time.
Pros
Certificate of completion.
Popular Course taught by a seasoned music coach.
Comprehensive and extensive program.
Great value for your money.
Cons
Quite expensive compared to the other courses.
If you're looking for in-depth lessons that will cover topics much other online singing training doesn't cover, then take this excellent Course by Udemy.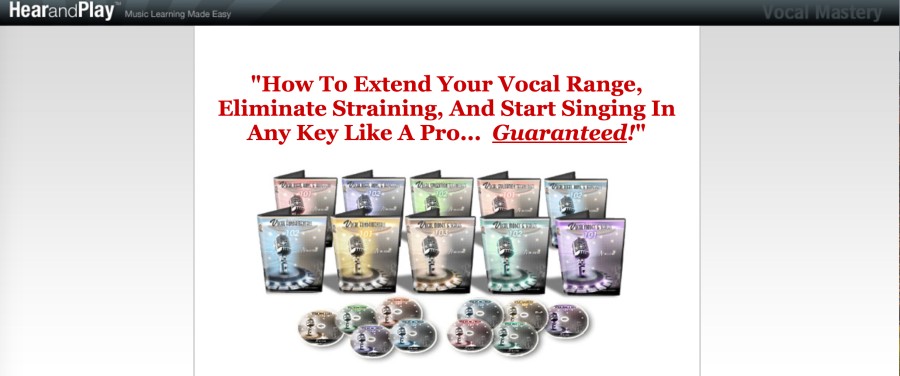 Price: $50
Whether you're a novice or an experienced singer, you'll find Hear and Play's singing courses quite intriguing and eye-opening.
If you're interested in being a soul, R & B, or gospel singer, this is the Course. Their teaching style is second to none. And the teachers did a great job of explaining the various concepts in clear terms without using jargon.
This 10 part training serves both beginners and those with experience well. You'll master how to sing in a soulful style. You created the Course for gospel musicians; those in the R & B genre can also take it.
Some of the valuable lessons you'll get from this Course include;
Vocal exercises and how to breathe for better voice control, tone, and pitch.
Vocal scales, dynamics, arpeggios, and riffs.
How to improve your breath control and vocal range.
However, this Course is not only for gospel and soul artists: jazz singers and those interested in other genres can take this course and benefit from it.
HearAndPlay is super confident about the high quality of their courses that you'll get 365 days money-back guarantee (that's a whole year to try the training and still request a refund). It has got to be an outstanding course.
And when you buy this program, you'll be offered a free subscription to their monthly music mentor program for 3 months.
Pros
Comprehensive Online Course.
Taught in a very clear engaging manner.
Perfect for every skill level and every genre (especially gospel, R & B, and soul musicians).
Cons
HearAndPlay is a company that's tilting toward the gospel and jazz genre.
Quite expensive compared to the others.
Main vocal training has only audio lessons.
So if you'd love to improve your R & B or gospel singing skills, grab HearAndPlay's online classes now.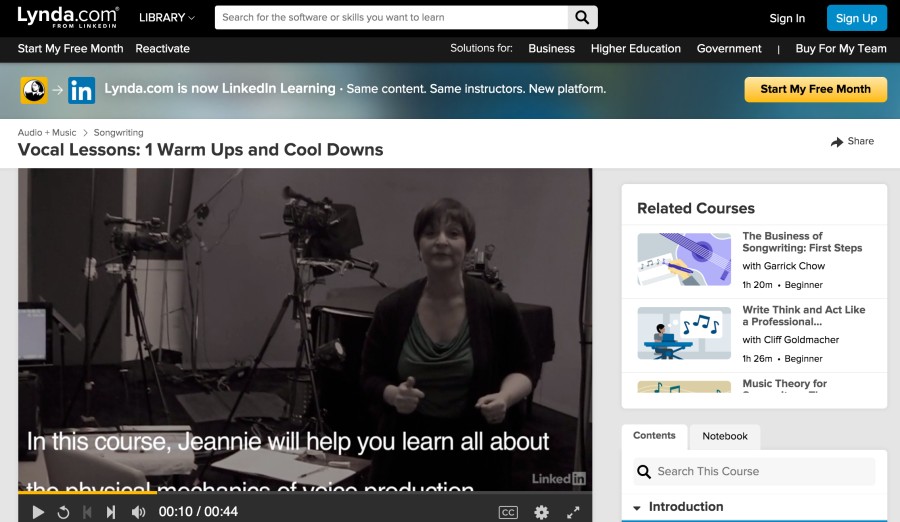 Price: Free
Just in case you haven't heard of Lynda, it's an e-learning platform with lots of amazing courses taught by thought leaders in various industries.
However, the online learning platform is now owned by LinkedIn and it's been renamed to the LinkedIn Learning you have today. And it may surprise you to know that LinkedIn Learning not only has business courses but also top-quality singing courses.
And one which stood out to me was the one taught by one of the world's top voice coaches–Jeannie Deva. She's the originator of 'The Deva Method' which has helped pivot the careers of several award-winning artistes
And she has boxed up her wealth of singing experience in these fun online lessons. Some of what you'll learn in this Course include;
Basic warm-ups and cool-down exercises to keep your voice in 'shape'.
Quick fix exercises to correct bad vocal habits, reduce vocal strain, and improve vocal range, tone, and resonance.
Melodic tongue stretch and seven-step massage.
When you take these lessons, you'll be learning what many Broadway actors and mainstream singers have gotten from Jeannie.
What's more, is that you can take this course and other related courses for free as Lynda is offering a month of free learning of any course of your choice. Isn't that interesting?
Some of the classes are instruction classes, while some others are coaching classes. So your needs will be paid special attention to.
Pros
Free Course taught by a seasoned tutor.
A good starting point for beginners.
Popular Course; taken by 148k+ people.
Lots of complementary courses can be taken for free.
Cons
Are you a beginner or an experienced vocalist? Click the link to activate your free month of LinkedIn Learning and upgrade your skill.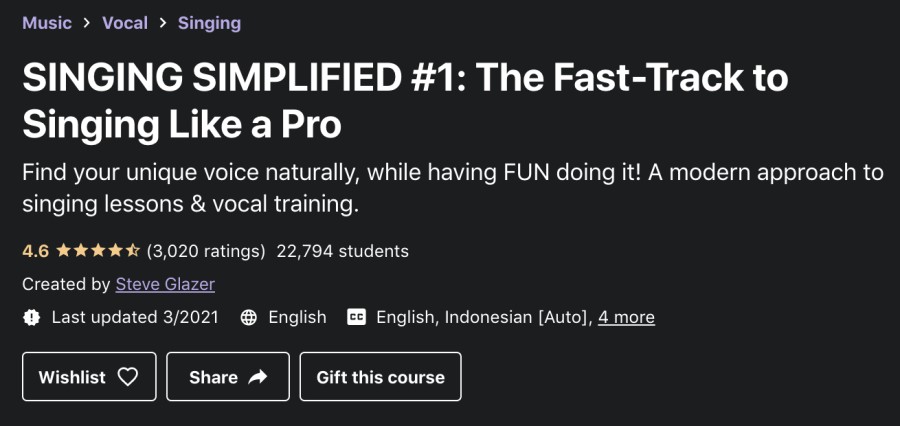 Price: $129.99
If you're looking for a fun and modern way to become a professional singer, here's what you've been waiting for.
What's more, is that you can start as a complete novice and still turn out great with this online vocal training. This course has been taught in a way that anyone that can say a word can become a singer.
In the 3 hours of video lessons, you'll learn to;
Sing with better control; more confidence and consistency; plus a much better tone.
Understand the muscles of the tongue and throat, and you'll be able to pitch as you like.
Immerse yourself in every song so you can sing with more emotion.
Sing in consonants – P, K, CH, T, S; vowel sound "I"; and words ending with R and L.
This is just the tip of the iceberg. Many more great techniques like singing in falsetto and mixed voice await you in the online classrooms.
And if you're the kind of person who loves instant feedback, you'll love this Steve Glazer's Course. One selling point of this program is that you can send a video of your singing and he'll assess your voice and give you constructive feedback to aid your progress.
What a way to learn!
Pros
Lots of downloadable resources.
Comprehensive Course that requires only 3 hours commitment.
Certificate of completion.
Free vocal assessment plus recommendation
Cons
The course is pricey (but worth it).
So what's holding you back? Get on the inside and start learning.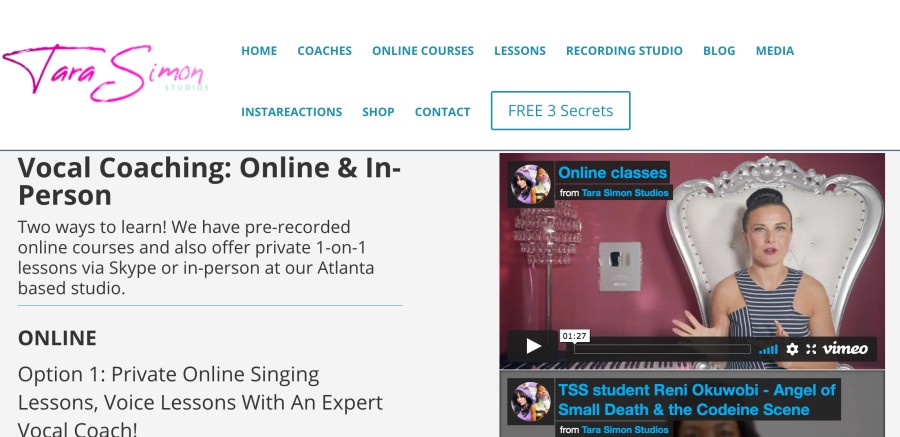 Price: N/A
If you're the kind of person that prefers that private and personal touch, then this is the Course for you.
Tara and her co-tutors have mapped out two online learning pathways to help her students become outstanding vocalists: You can either take the online private coaching plan or take her Course of pre-recorded lessons.
Her innovative and advanced methodology has helped artists land leading roles on Broadway. And no, her Course is not only for professional singers: hobbyists and beginners can take her lessons and become great artists, as well.
And if you also live in the Atlanta area, you can walk into her brick-and-mortar studio, albeit, you don't have to. You'll do just fine with the online lessons.
The 43-step program will help you expand your vocal range, improve your singing technique, and move between different vocal tones. And if you're interested in playing an instrument like guitar and piano, her coaches will be on hand to instruct you.
You'll also learn the skills you need to land big gigs and impress audiences with your talent and control
Pros
Extensive and well-researched lessons with tailored content
Private coaching (if you want)
Cons
Check Course on Tara Simon Studios
So students that want to hone their skills and land big roles, visit her website now.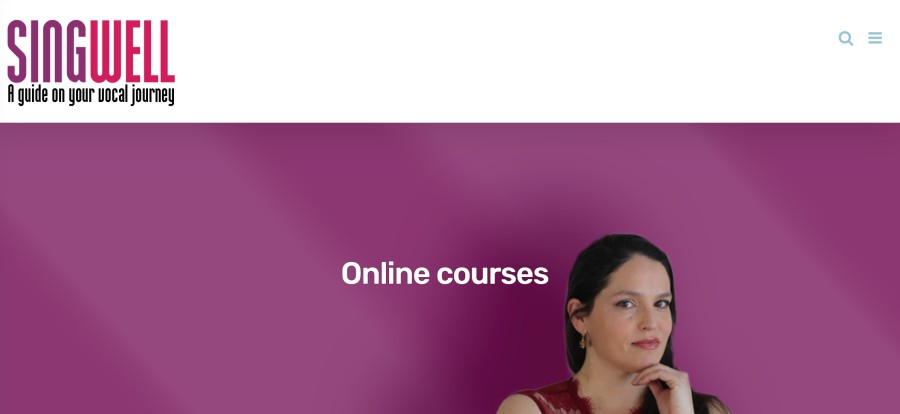 Price: Varies depending on your needs
Some classes only teach you how to sing. But a few others make you feel confident, stronger, and happier with yourself after each lesson. Linor Oren's singing lessons are some of such lessons.
Her courses are very much like Tara's in that they're tailored to their students' needs. Linor is an opera singer with 10+ years of singing experience and has coached students that have gone on to become opera singers and pop artists.
So if you plan on being an opera singer, this is the right course to take. Another interesting fact about Linor is that she struggled a lot in her learning process as she wasn't a natural talent. This means she knows all the pains and struggles you're probably going through right now.
Some of the things you'll learn from Linor's singing lessons include;
How to systematically hunt for vocal issues and overcome them.
How to shape and position your body to improve your singing skills.
The right mentality to become a successful singer
Even though the lessons are structured, they're flexible and you'll get instant feedback and corrections to speed up your learning process. You'll also learn yoga to ensure you're in shape.
Learning can't get better than this!
So whether you're a beginner who needs a tailored roadmap or an advanced singer who already has a goal or an audition coming up, SingWell is the vocal training for you.
Pros
Tailored content.
Best Course for aspiring opera singers
Learn the right mentality to become a successful singer
Cons
The Course is a bit expensive (but totally worth every penny)
Head to her website and explore her top singing courses.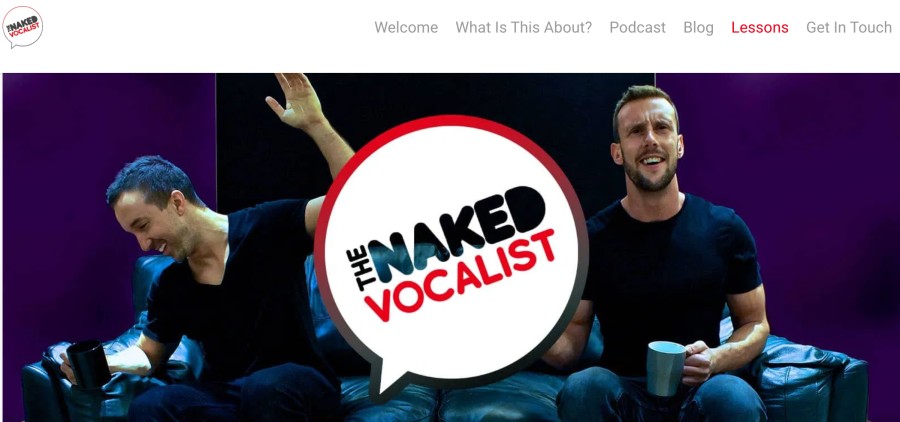 Price: N/A
Another top course for music enthusiasts having issues with their voices is this one from Chris Giles and Steve Johnson.
Their lessons will help you overcome those niggling challenges to;
Improve your vocal technique.
Improve your vocal artistry.
And become a better performer.
If there's anything you need to become a top-notch vocal performer, Chris and Steve can help you achieve it.
Together, they've developed tutorials with other specialist coaches, voice scientists, and doctors. They've helped several artists and songwriters to be the best versions of themselves.
Chris, trained as a vocal manual therapist, understands the role of voice exercises in developing and sustaining vocal range and will help you overcome those verbal roadblocks.
Pros
Top teachers that have traveled around the world teaching (aspiring) musicians and other voice coaches.
Tailored content to fast-track your learning process.
Cons
Check Course on The Naked Vocalist
Get this Course now.
So these are the best online singing courses and classes in 2023. Have fun on your new journey!
FAQs
Can singing be self-taught?
Yes, you can teach yourself to sing at home. You only need an engaging and comprehensive online course.
Are there any free singing apps?
Yes, there are free singing apps on Google Play and App Store. You can download Sing Sharp, Yousician, and Learn to Sing on your mobile devices.
However, they can't compare them to singing courses where you've got teachers that have created tailored content for you and are monitoring your progress.
Related: