Aspiring and professional nail technicians, according to Market Research Future, the global artificial nail market has been projected to reach $1.2 billion by 2024.
And who's going to fix those nails? A nail technician like you, of course! So there's no better time to acquire a nail art skill than now.
So whether you own a salon (or plan to), or you'd like to advance your nail art skills, or you'd love to turn professional instead of only fixing your nails and those of your friends, then you'll find this list of best free online nail technician courses very resourceful.
But first, who's a nail tech?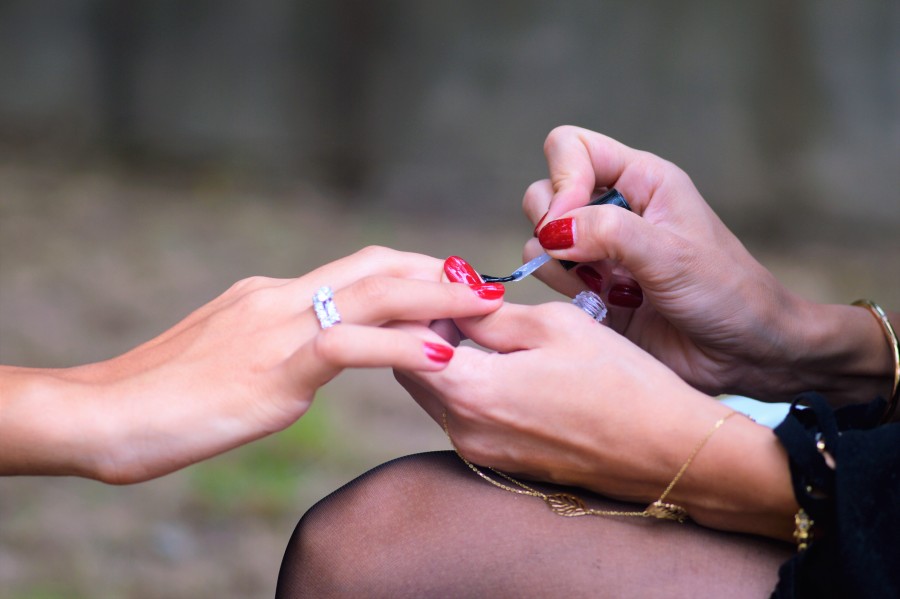 Who Is a Nail Technician, and What Do They Do?
A professional nail technician specializes in caring for and beautifying people's nails (both finger and toenails).
Nail care goes beyond keeping them clean and painting them. A nail technology training is needed to learn the different facets of the field.
Nail artists aren't only technicians; they're also business-conscious people. So to have a sustainable income, they apply various techniques and creativity to make sure their clients are satisfied and keep coming back.
All these you can learn from the online nail tech courses that will be in outline form here.
Furthermore, as a nail technician, you don't necessarily have to work in a salon. You could work in a spa or any place beauty services we provide. And if you're a stay-at-home mum, you can turn your home into a salon and offer your nail art services there.
Added to the various nail art techniques you'll learn, some other things these courses will teach you are;
How to make your spa or home look like a professional space by organizing it properly.
How to communicate with, treat, and pamper your clients so they'll have that home-away-from-home experience.
It'll also do you some good to know certain qualities of nail technicians.
What Are the Qualities of Nail Technicians?
As a professional nail tech, your clients or employer will expect you to exhibit all or some of these qualities:
First, you've got to be creative: The more creative you are as a nail technician, the better your chances of putting smiles on the faces of your clients. And you know that more satisfied customers = more referrals + more money.
Adventurous and independent: The nail industry is a dynamic and fast-paced one. So you've got to be willing to stay updated with the latest trends, learn new things, work independently, and experiment with unique patterns, designs, and colors.
Extroverted and enthusiastic: Even if you're an introvert, most of your clients will love to engage in discussion with you. Some of them might be experiencing a lot of stress at work or in their personal lives and would want a friend to care for them or distract them from their worries.
But you don't need to be overly extroverted. Just being comfortable and able to talk about usual daily happenings will suffice.
Thrifty: As a startup nail tech, you need to spend money wisely, look out for the best deals, and still deliver top-notch services. So if you live an extravagant lifestyle, you'll put stress on your finances, and soon you might have to seek employment elsewhere.
Now you know who a nail technician is and the qualities you need to be a professional nail tech, let's dive right into the best online nail technician courses.
Best Online Nail Technician Courses
Note that you don't have to take all these nail care courses. You can pick a few and run with them.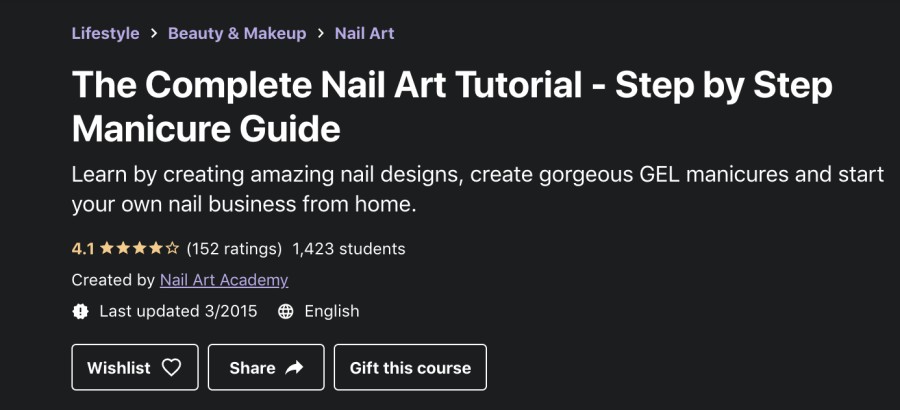 First on my list of best online nail technician courses is this fantastic course from Udemy (read this best free udemy courses).
If you're a beginner, this is the perfect place to start. And if you're an expert nail technician, you'll still gain some new skills from learning this course.
This nail technician training course you can offer in less than 3 hours features nail art classes in 18 practical step-by-step videos.
Some of the things this online course will teach you are;
How to create fabulous nail art designs.
Manicuring: perfectly creating a GEL nail manicure and how to remove them.
Creativity like experimenting with colors, matching complexions, and working with UV GEL.
Techniques to improve and speed up your nail art design process.
Some of the perks that make this nail training one of the best online nail technician courses is that you'll get a certificate of completion after taking the course. And you'll also have hands-on experience as you'll work with essential nail art tools like files, acetone, nail clippers, UV lamp.
And if you're fascinated with splashing colors, you'll also try your hands on some excellent polishes in your favorite colors. And finally, you'll get lifetime access to the course materials.
Why don't you head straight to Udemy and begin learning this excellent online nail technician course now?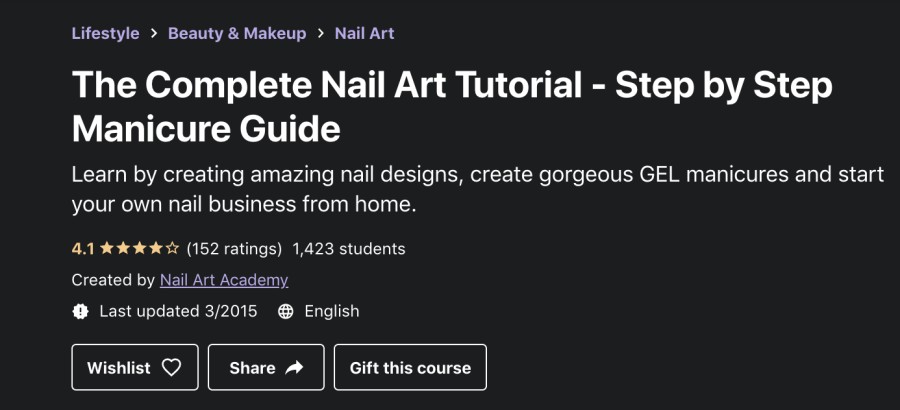 You are looking for an in-depth online nail art course that will teach you how to create stunning designs and market your spa, salon, or nail business?
Then you've got to try out this top-quality course from no other than Udemy. This course is basically for beginners that want to become expert nail technicians quickly.
However, if you're already an expert, revisiting this course and getting a fresh perspective of advanced nail designs will do you some good.
Some of the online classes you'll be taking to become a more experienced nail technician are;
I am learning about nail structures and good sculpting of oval, almond, and coffin nail shapes.
Advanced knowledge of color combination and composition.
Design theory and creating stunning designs like ombre, textured look, line arts, etc.
How to market your nail technician business and attract the right clients that'll pay you what you're worth, regardless of the high fee you command.
This nail art course is taught by pro nail technicians and can be completed in less than 7 hours in the comfort of your home or wherever you prefer.
And what's more, this is a nail artistry certification course: so you'll acquire some new skills, work with more advanced equipment, and become a certified nail technician.
Visit Udemy today and start learning to acquire all the new skills you need to become a nail technician and marketer.
Read this: If you'd love to take free certification courses that'll teach you how to market and grow your nail business.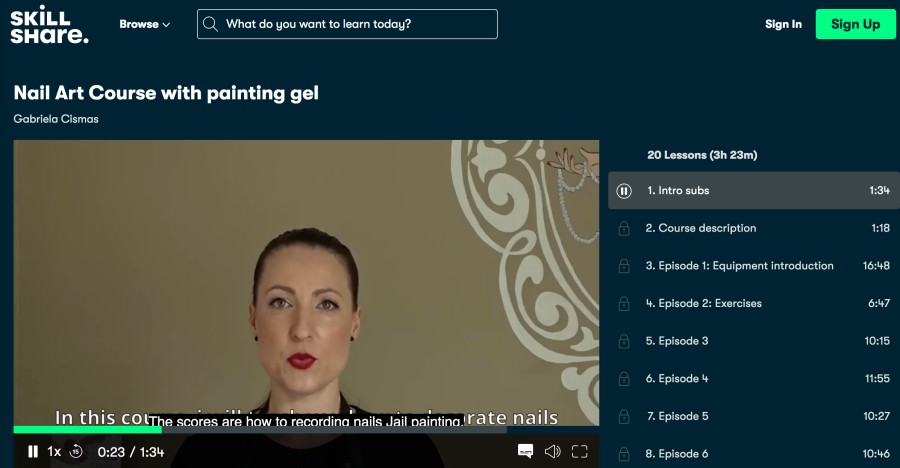 Up next on our best online nail technician courses is this 3-hour course with video classes put together by Skillshare.
This online nail tech course is originally for beginners. However, this course is taught by a seasoned nail technician whose nail art journey dates back to 2008, so if you're an experienced nail technician and would love to develop some new skills, you can't go wrong with this course.
Some of the things you'll learn include;
How to decorate gel nails with gel paint.
Gel colors that are suitable for your nail design.
You need to use the types of brushes for various techniques in models like butterflies, daisies, and other flowers.
And how you can achieve these models in speed time.
However, this isn't a nail technician certification course. But you'll learn from a 'veteran' in the nail technology business that has worked with dozens of clients and taught 100s of students.
Plus, she offers supplementary online nail technician courses (like working with acrylic paints, mixing designs, mixing art, and lace design) to enable you to become among the top nail artists in your region.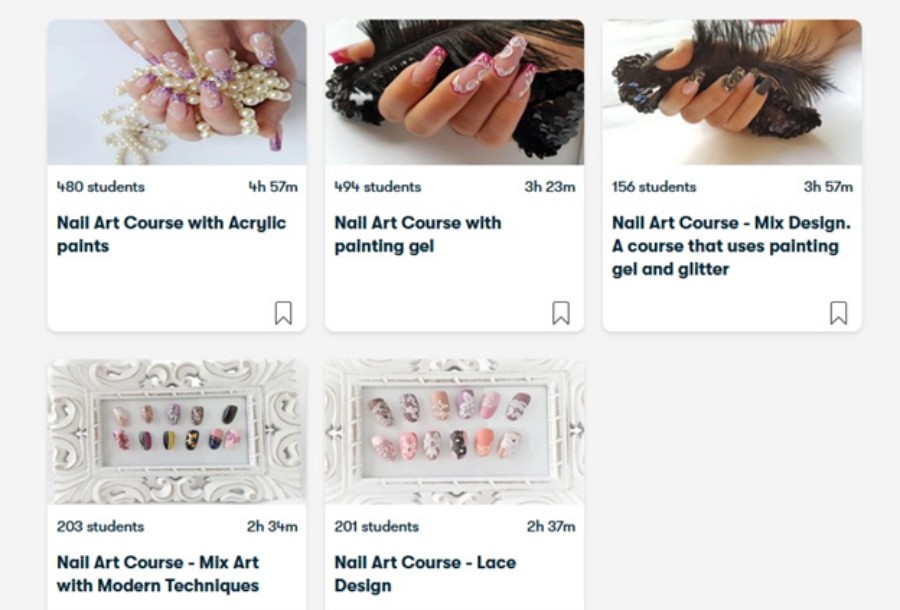 Since this course is among the best FREE online nail technician courses, I advise you to learn now.
NB: The online nail tech course can also be taken via Skillshare's mobile app.

CPBA stands for Candor Professional Beauty Academy and is one of the UK's most prestigious online course providers for beauticians.
So if you've been working with gel paints and would love to acquire new skills with painting acrylic, this is one of the best free online nail technician courses to get you started.
Although they offer a nail technician diploma course, this is a free short course you can take in 5 days within a space of 2 weeks.
The highlight of what you'll learn in this course is how to;
Create beautiful acrylic nails and fantastic nail extensions.
Use forms and tips to build strong acrylic nail structures.
Safely remove nail extensions without damaging the nails.
Run your nail technician business and build professional relationships with your clients.
Interestingly, this nailcare academy has been accredited to deliver its nail technician certification course. So you'll be getting an accredited printable certificate completely free. But you'll have to pay £30 if you want the physical certificate mailed to you.
The classes are practical and delivered in interactive live online sessions where you can ask the tutor any questions and have real-time experience.
So what are you waiting for? Click the link to start learning.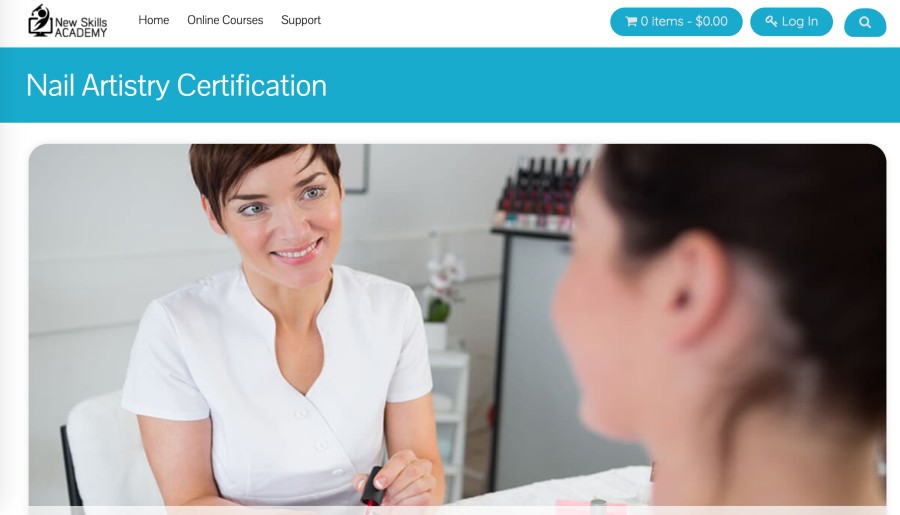 Are you just starting as a nail technician?
Or do you want to advance your career as an expert nail technician, or you're probably planning on setting up your nail salon? Whichever it is, this is the best nail technician training to take you to the next level.
In this 20-hour online nail technology course, you'll be taught 25 extensive modules. And some of the things you'll learn in this nail artistry certification are;
Nail anatomy, artistry, and the roles of different skin layers in nail technology.
They are developing personal relationships with your clients by consulting with them and offering them guidance and instructions on caring for their nails.
Performing manicure and pedicure, acrylic lengthening, and arm massage (as an add-on service).
The business side of being a professional nail technician: salon management, decoration tips to beautify your salon, pricing, marketing, staffing, and getting insights into customer relationship management.
All around, this nail training course will help you advance your career. And compared to the value you'll get, this course is super affordable.
You'll become a nail technician professional as this is one of the certification programs accredited by CPD (Continuing Professional Development).
Some more perks of this nail technician course are that you can undertake it from any internet-enabled device, has lots of instructional videos and how-to guides, and you get lifetime access.
So go here to study this nail artistry certification course.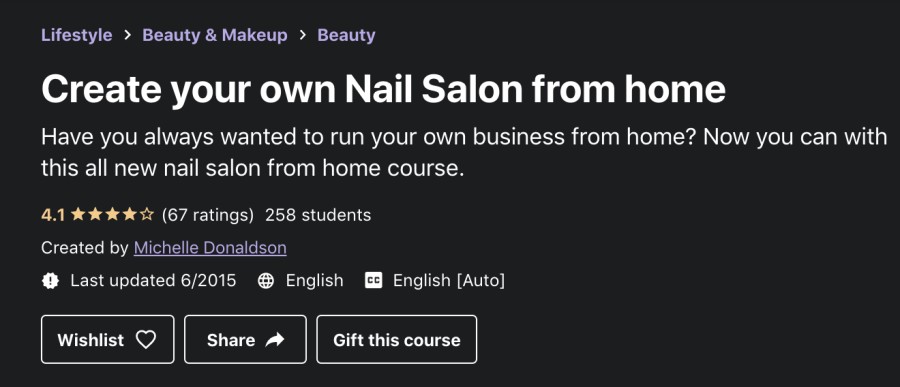 Hey bossy pants, do you grin from ear to ear at the thoughts of running your nail salon from the comfort of your home? Then this is the best online nail technician program for you.
This concise and engaging 36-minute online nail tech course with 18 classes will also award you a certificate of completion. This well-taught course covers topics such as;
How to perform manicures on your clients (or friends and family).
How to prepare and apply UV polish on nails and also remove them.
How to generate income from your newly acquired skills and set up a home salon with minimal costs.
So do you want an online nail technician course that fits your lifestyle, doesn't take forever to complete and shows you how to monetize your new skills? Here you have it: Create Your Nail Salon from Home.
So log in now and start learning.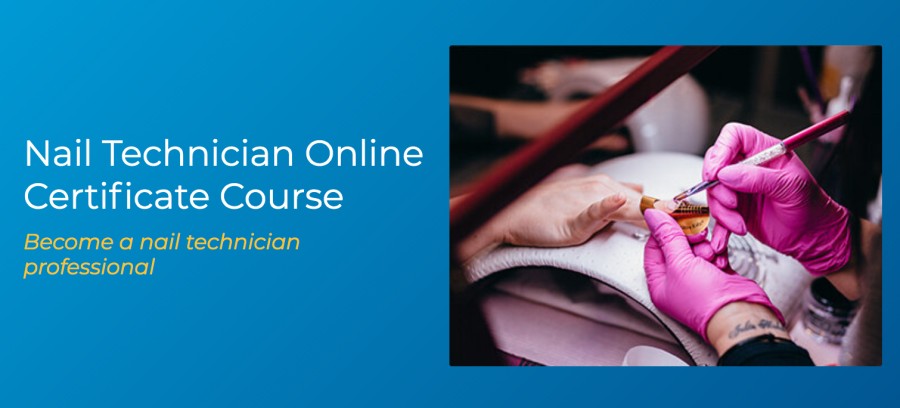 Becoming a professional nail technician requires you to learn the intricacies of the fingernail, and this is what this excellent nail technician diploma course brings you.
In an engaging 150-hour period, you'll be taught ten modules that will revolutionize the way you administer nail care for your clients. Once you buy the nail tech course, you'll have free access for the next 12 months.
Isn't that fantastic?
Here's some of the knowledge you can expect to acquire when you study this course;
The chemicals that trigger skin allergies and how to avoid them.
How to do paraffin wax treatment and pedicure like a professional.
How to work with acrylic paints, UV gel paints, and shellac.
How to apply nail wraps and also learn about various nail and skin conditions.
After undertaking this nail technician certification course, you'll be awarded two certificates;
CPD accreditation certificate shows you've got the standard and officially recognized skills to be a professional nail technician.
A certificate of completion.
Courses for Success is one of the very few beauty courses that do this.
So what are you waiting for? Begin learning this nail training and get certified, too.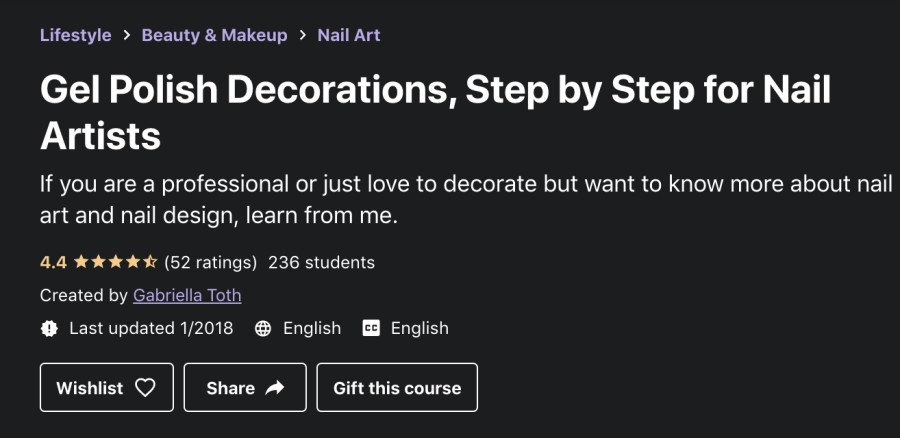 As the course's name implies, it's mainly for nail artists.  So sorry, newbies, you'll need to have undergone some nail training courses before taking this advanced nail technician program.
And if you're an expert nail tech looking to take your creativity to a whole new level, this is indeed one of the best nail technician certificate courses to help you.
Some of the things you'll learn from this 3-hour online course are;
You can use nail stamp tools and nail polishes for stamp technology.
Sugar effect decoration technique with some beautiful colors.
How to perform marble effect with 3D sculpture gel.
Special techniques like water drops and mirror powder rose decorations for nails.
These are all valuable and advanced practices that will surely give you an edge over other professional nail technicians.
If you'd love to advance your career and become one of the most sought-after nail artists, take this course. It also offers a certificate of completion.
Whether you're a pro or a beginner, this should be on your list of must-have nail certification programs. Go here to learn this course and become a top-quality nail technician.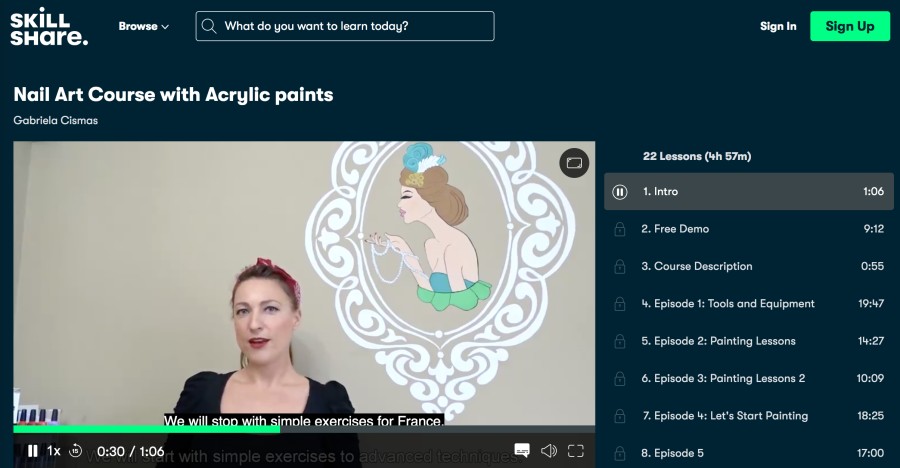 One of the best voices in the nail tech space is Gabriela Cismas. She's got several online nail technician courses where she cheerfully shares her knowledge with her students. And in this online course, she dishes everything you need to know to work with acrylic paints.
In this 5-hour advanced nail training with video lessons, you'll undertake several projects to perfect your skill.
So if you're starting painting nails with acrylic, this is the right course for you. Start learning today to become a skilled nail artist.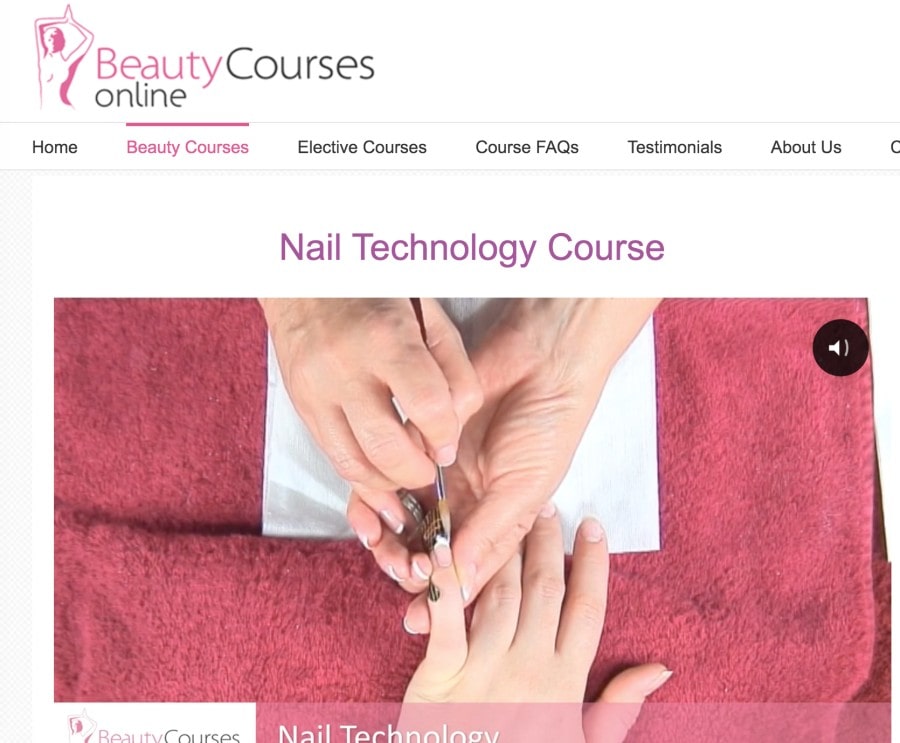 To succeed in the beautification industry as a reputable nail technician, part of your success will be tied to the health considerations and safety standards you maintain in your salon.
And this is basically what you'll learn in this nail technology course. In this 8-hour online nail course, you're going to learn about safety measures, best sanitation practices, and hygiene in the salon space.
Here's a sneak peek of the other stuff this 5-module online course will teach you;
Applying quick dip coating, refilling, and rebalancing sharp dip nails.
Applying acrylic coating and how to sculpt with acrylic.
Applying UV gel coating (permanent French and natural look).
And how to repair broken nails.
You can get this online nail technician course and access its nail training e-book at a very flexible price. And if at any point, you feel the nail technician course wasn't worth it, you can trigger your 30-day money-back refund.
So here you go, click the link to get this risk-free course.
Conclusion
Being a nail technician professional is an exciting career that I don't think will be automated soon. Even if it is ever automated, I believe most people will still prefer human contact.
So if you're looking to take your career to a new height, or you want to switch careers, the nail technician courses listed above are your best bet. You can quickly learn them at your own pace, at your home, and still, have time for your other projects.
And if you'd love to learn how to market your business and generate more sales for your salon, these best online nail technician courses with certification will equip you with all the business skills you need.
Related: