Online learning is one of the most effective ways to learn a new skill and acquire certificates to advance your career. And LinkedIn Learning offers courses to allow professionals to learn industry in-demand skills from experts. You'll also be awarded a reputable shareable certificate to boost your visibility.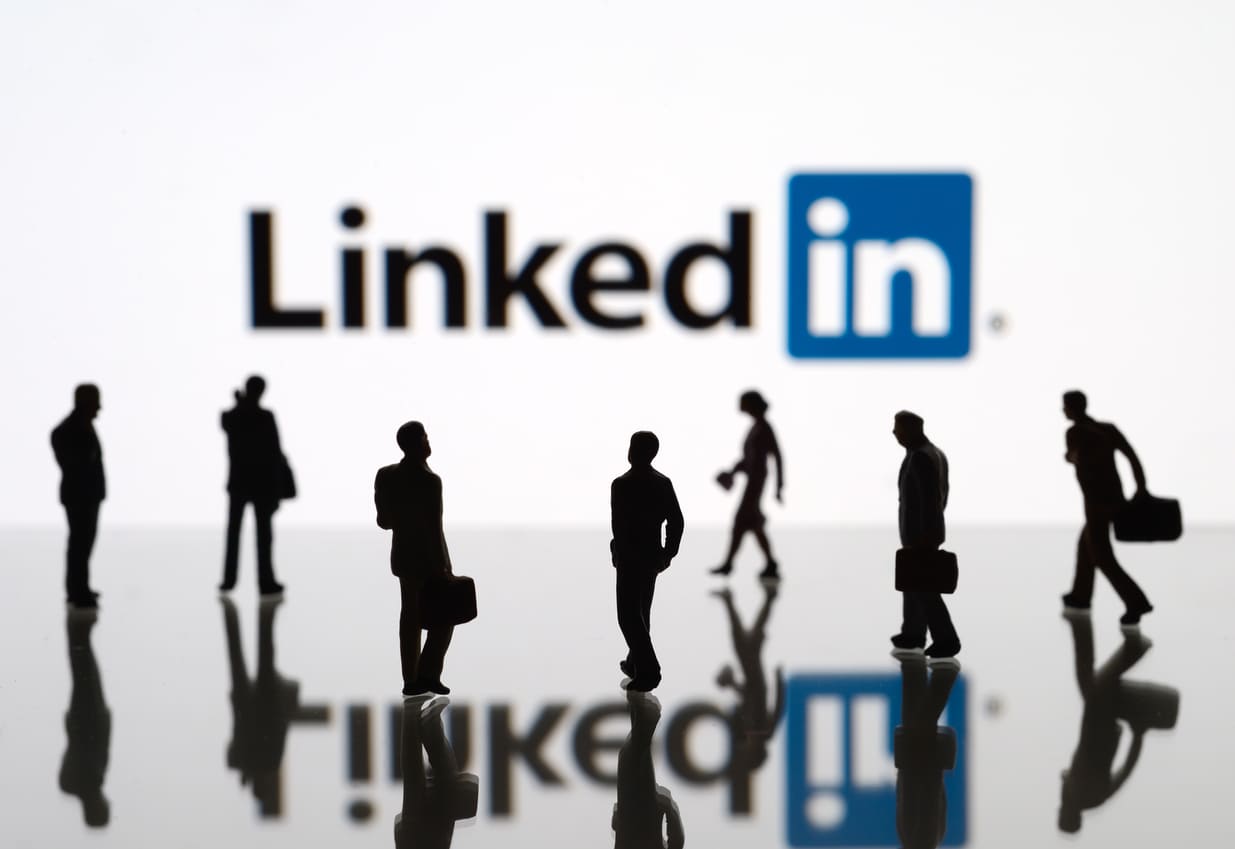 You can rest easy now if you're searching for LinkedIn Learning courses to acquire new skills and obtain professional certifications to grow your career in 2023. I've compiled a comprehensive list of the best LinkedIn learning courses across various fields.
Best LinkedIn Learning Courses & Certifications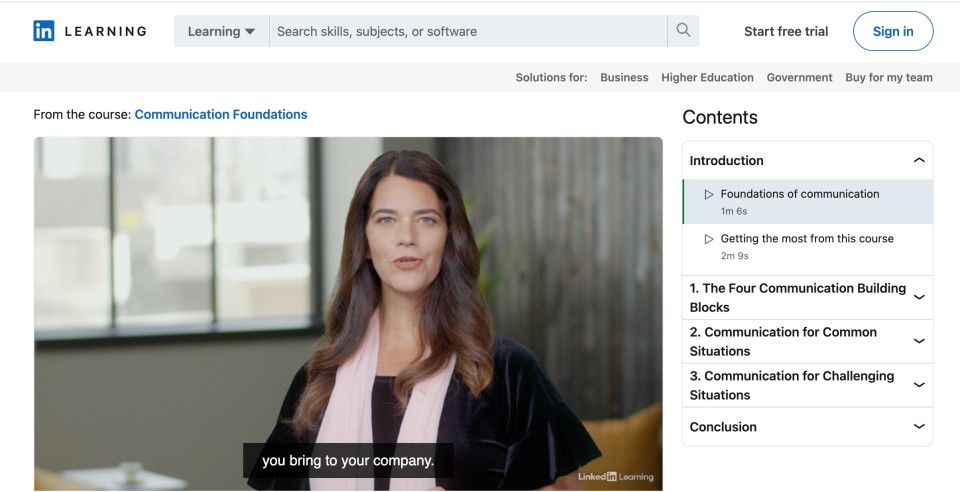 Top on our list of best LinkedIn Learning courses is Communication Foundations, created by Brenda Bailey-Hughes and Tatiana Kolorou to help business-oriented people develop effective oral communication and written communication skills.
Brenda is a professor at Kelley School of business and has a Master of Arts in organizational communication. Tatiana is also a senior lecturer of business communication at Kelley School of business. The 1-hour class is designed for beginners.  The topics include;
The building blocks of communication.
How to communicate in social settings, meetings, and emails.
Communicating during challenging situations like presentations and pitches.
There are practice files and assessment quizzes.
Pros
Self-paced learning
Free course.
100% online learning.
Cons
You can visit the course page here.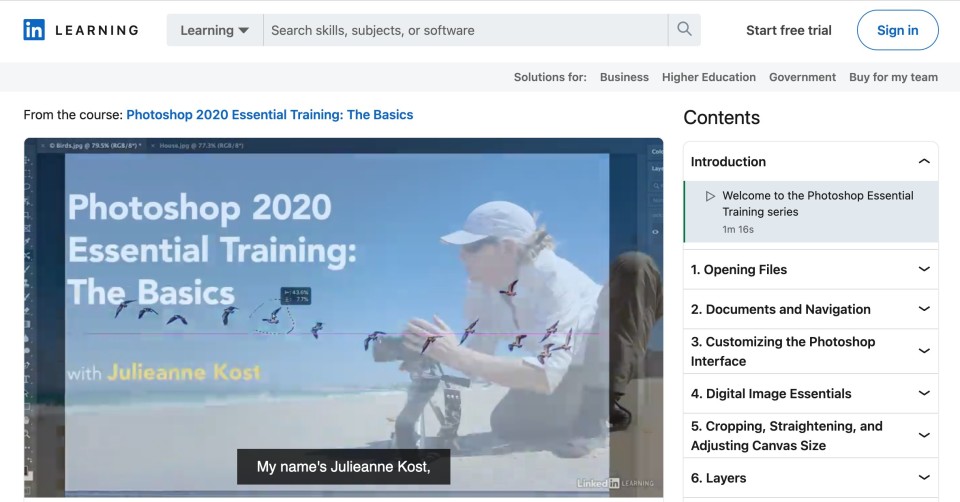 If you're a beginner in Photoshop and ready to expand your creative tentacles, this is one of the best LinkedIn learning courses for you.
Julieanne Kost created it. She's been named one of Fast company's 100 most creative people. She's also won the Gerhard Banker from PPA, the Honorary Educational Associate award, and the International Award from ASP.
The 6-hour class will teach you how to;
Navigate and customize the Photoshop interface.
Work with layer masks.
Scale, skew, and rotate layers with the free transform tool.
Apply filters to multiple layers and use shape tools to mask layers.
You'll also learn digital image essentials like color mode, bit depth, and color depth.
Pros
Expert taught.
Self-paced learning.
Certification is available.
Cons
Click here to learn more about this course.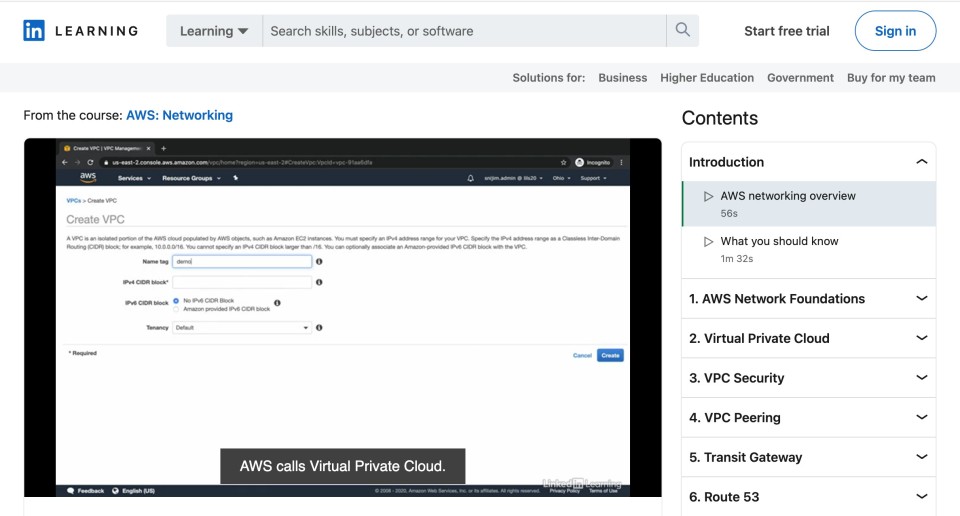 You'll love this course if you're interested in data center virtualization certifications.
Amazon Web Services is an affordable solution for building data centers with secure cloud networking technology. In this course, IT expert Sharif Nijim teaches information security professionals how to make the most of AWS.
He's a teaching professor specializing in IT, cloud computing, and analytics at the University of Notre Dame. The 4-hour 27-minute class includes practice exercises.
He teaches;
Virtual private cloud and establishing private connections.
Configuring VPC subnets, route tables, and internet gateways.
Understanding, verifying, and configuring security groups and validating transit gateway.
Exploring and configuring private DNS.
Pros
Self-paced learning.
Fully online.
Exercise files and quizzes are available.
Cons
You can learn more about AWS Networking here.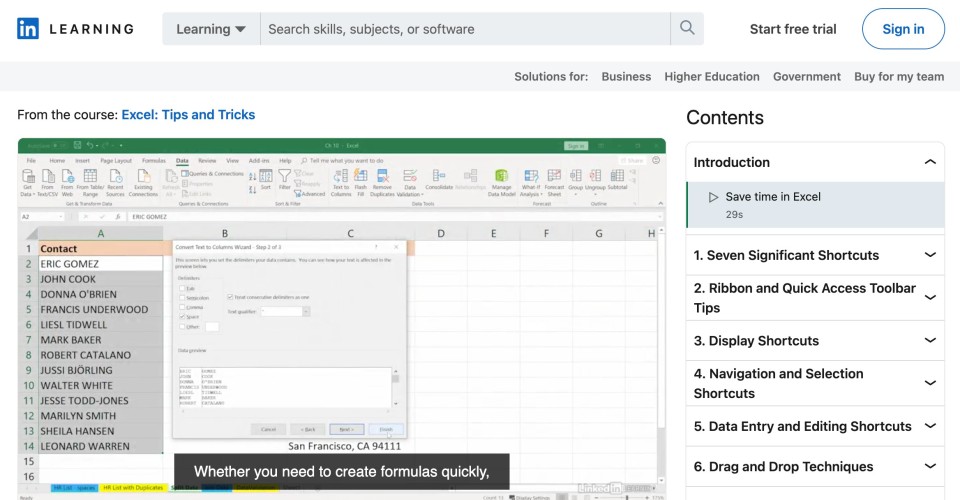 Microsoft Excel is the most popular spreadsheet program. So if you want to expand your Excel skills, this is one of the best free courses to help you.
Dennis Taylor is a veteran Excel trainer and Microsoft Office specialist with 60+ Microsoft Excel LinkedIn Learning online courses. He also provides in-person training in over 40 states in the USA and Canada.  This 4-hour course is designed for intermediate Excel users that want to learn shortcuts and tricks to save time.
You'll learn:
How to create split screens and frozen titles quickly.
How to navigate between workbooks and worksheets efficiently.
How to use custom lists for data entry and list-based sorting.
How to use conditional formatting to highlight formula cells.
You'll also learn to use keystrokes to open, close, save, and create new workbooks.
Pros
Free course.
Expert taught.
Video format lessons.
Practice files & quizzes.
Cons
Visit the course page here to sign up.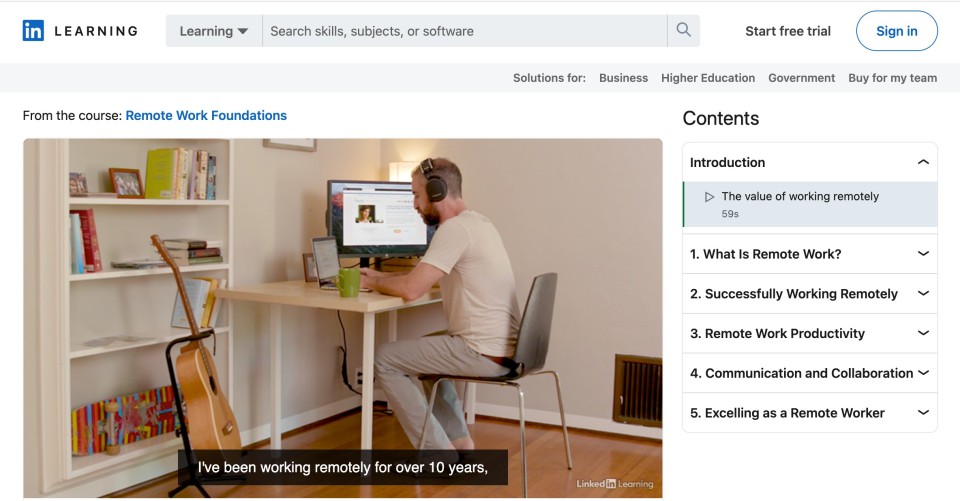 Work culture is changing worldwide, and remote work is growing in popularity. However, many people don't know how to strike a balance when working from home.
Mike Gutman is a remote work consultant and marketing strategist who created this free course to help professionals structure their work hours and create a productive work environment at home.
The 1-hour course will teach you how to;
Figure out your company culture, manage conflicts, and onboard remotely.
Communicate your ideas with other employees.
Use communication and collaboration tools for remote work.
Deliver successful virtual meetings.
Mike's passionate about creating a sustainable world for big and small-scale businesses.
Pros
Free course.
On-the-go learning.
Cons
Learn more about this course on the page here.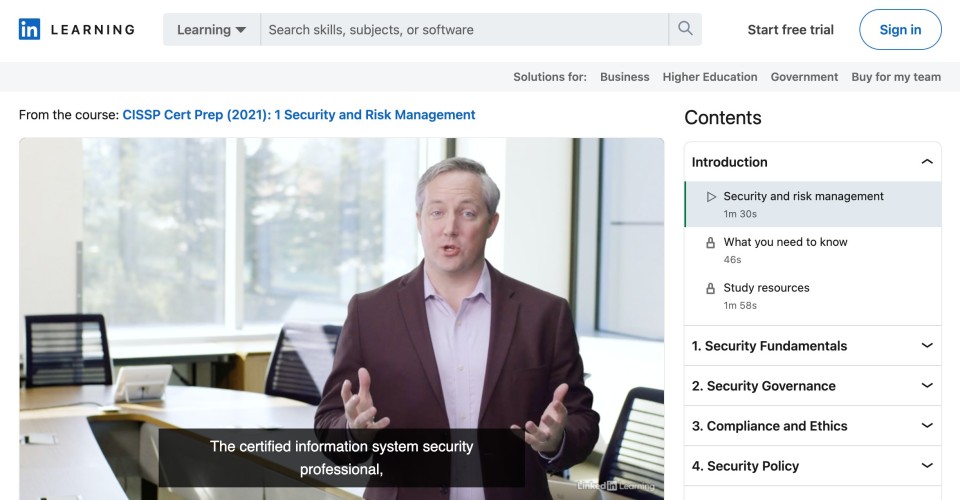 CISSP is one of the professional certification exams administered by the International Information System Security Certification Consortium. So if you want to be a chief information security officer or security consultant, this LinkedIn Learning course will help you pass the certification exam.
It's an advanced-level class created by Mike Chapple that runs for 3 hours. Mike Chapple is a cybersecurity expert and a teaching professor at the University of Notre Dame.
Here are some of the topics in this course;
The goal of information security and fundamentals like confidentiality, availability, and integrity.
How to align security with business and set up control frameworks.
Data privacy, computer crimes, software licensing, intellectual property rights, and all the information security ethics.
How to ensure personal security.
How to carry out risk assessment activities.
Threat intelligence, hunting, and modeling.
The class also includes 10 quizzes to help you get a feel for the certification exams.
Pros
Expert taught.
Self-paced learning.
Linkedin Learning certificate.
Cons
Prepare for your CISSP certification exams.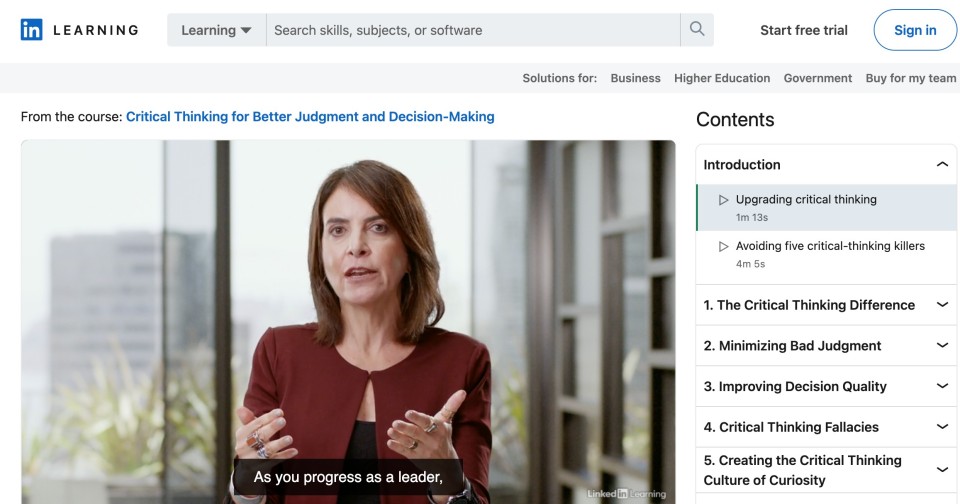 Critical thinking is a key skill needed at different stages of life and business. This course is about acquiring skills to help you make the right decisions for your company and business.
The instructor, Becki Saltzman, is the founder and chief curiosity seeker of Applied Curiosity Lab. She helps leaders and teams generally build a culture of curiosity and critical thinking for innovation and success. The class runs for 56 minutes, where you'll learn;
The difference between critical thinking and strategic thinking.
How to spot cognitive biases and minimize bad judgment.
How to use counterfactual thinking to overcome the dangers of loss aversion.
How to create a critical thinking culture of curiosity in your organization.
You'll also be taught critical thinking fallacies and ways to use them to your advantage.
Pros
On-the-go learning.
Free course.
Expert taught.
Cons
Click here to learn this course.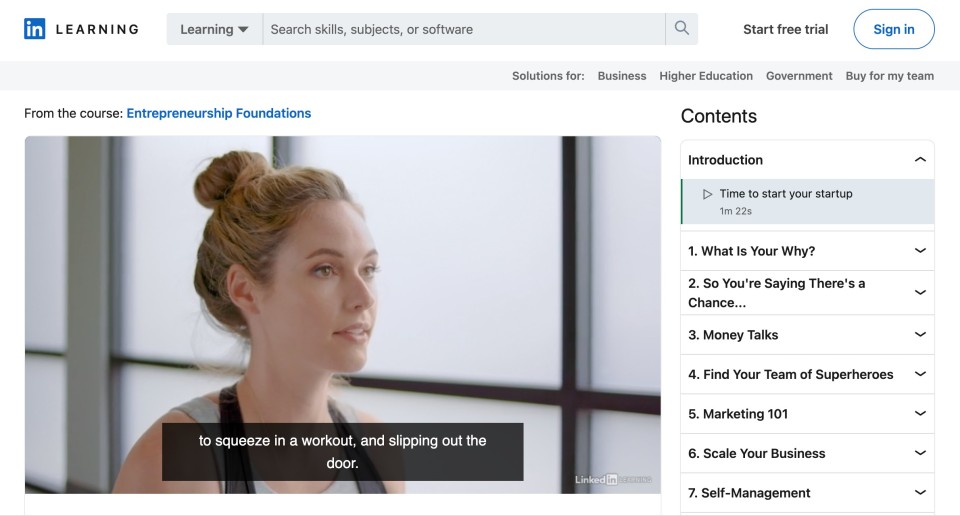 Even if you're a budding entrepreneur, this Kim Kaupe course will help you start small and succeed in the business world.
Kim Kaupe's a keynote speaker and entrepreneur working with the likes of Oprah, Paul McCartney, NY Mets, and Live Nation. She's a multi-award winner who enjoys sharing her entrepreneurial journey to help people take charge of their businesses.
This course lasts 1 hour and includes on-demand videos, practice files, and quizzes for easy learning.
Some of the things you'll learn are how to;
First starting a business as a side hustle.
Bootstrap and set up startup financial models.
Build your founding team.
Find your customer base and build a marketing strategy to scale.
At the end of this course, you'll learn how to achieve work/life balance.
Pros
Expert taught.
Certificate available.
Real-world examples.
Cons
Interested? Click here to learn more about the course.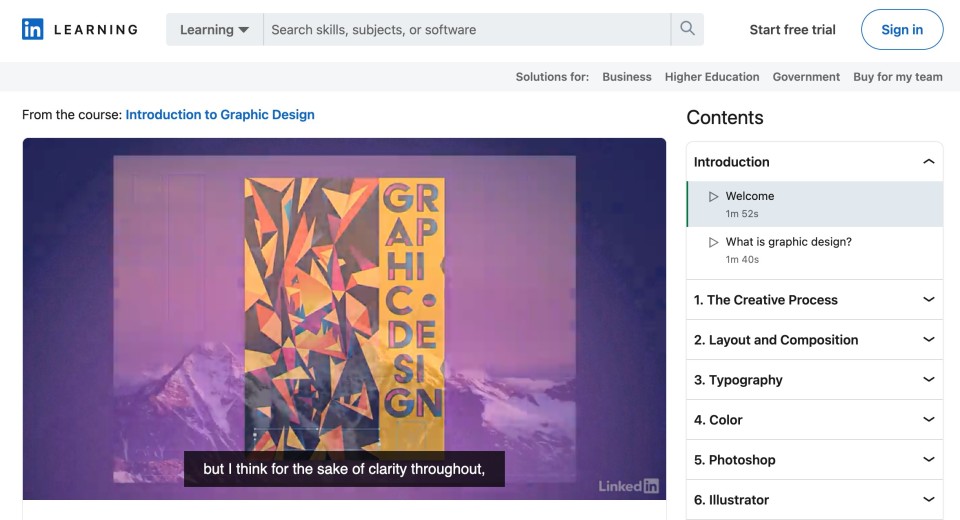 Tony Harmer is a communications artist and designer whose area of expertise includes print and online graphics, illustrations, communications, video, and digital content.
He created this 4-hour course to introduce the concepts and software that beginners need to know. So if you're interested in starting a graphic design career, take advantage of this opportunity.
You'll learn the following tutorials;
The creative process flow of graphic design from research to ideation and production.
The principles of layout, composition, and design space.
Understanding the language of type, classes of type, elements of type, and ligatures.
A tour of the Photoshop interface and how to use the software.
A tour of InDesign and how to work with master pages and import graphics and text.
This course also includes eight quizzes and exercise files for more practical learning.
Pros
On-the-go learning.
Free course.
Beginner friendly.
Expert taught.
Cons
Go here to learn more about this course.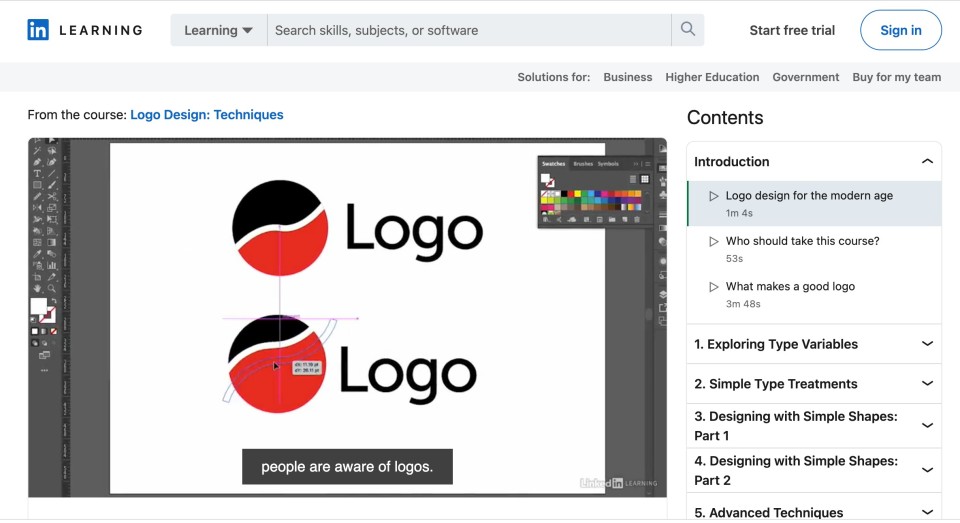 If you've been searching for an online logo design course, here's one of the best online courses on LinkedIn Learning to help you expand your skill set.
Nigel French, a freelance graphic designer and seasoned LinkedIn Learning instructor, created it. The course runs for 4 and a half hours and is perfect for intermediate-level logo designers.
It focuses on helping students combine theory and techniques for creating jaw-dropping logos.
Nigel covers the following in this course:
What makes a great logo.
Various variable types and how to choose the right typeface for every logo.
How to create logos with simple shapes like lines and arrows.
Advanced techniques like creating multi-line out brush and the Olympic spiral inspired by Munich '72.
How to add different effects to your design.
There are also lessons to teach you how to create simple type treatments like hand-drawn, monogram and stacked type, and circular logos with the type on a path
Pros
Expert taught.
Self-paced learning.
Practice-based learning.
Intermediate-level friendly.
Certification is available.
Cons
Go here to visit the course page and start learning.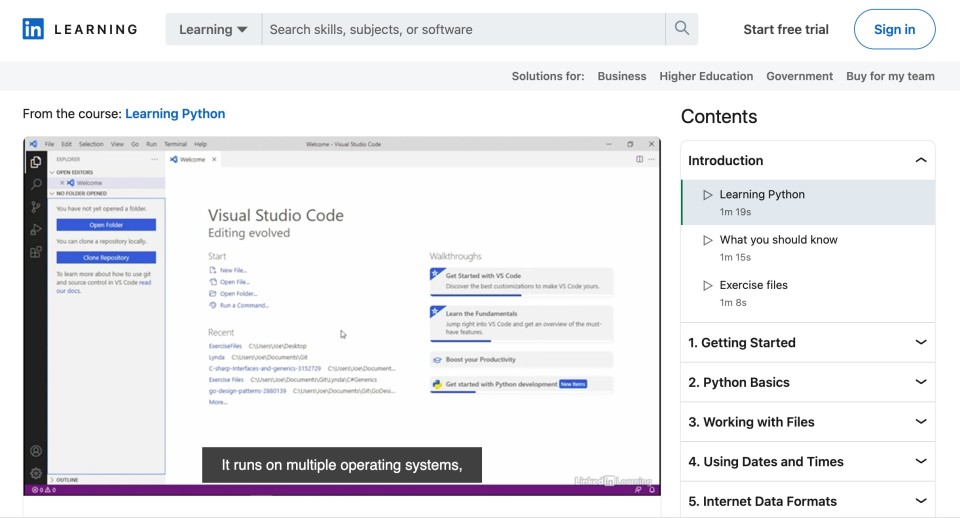 Next on best LinkedIn learning online courses is this again at level Python course from Joe Marini.
The class has over 6274 users signed up and runs for a total division of 3 hours and 10 minutes. Joe Marini is a veteran in the software space with three decades of experience. He has worked with top companies like Microsoft and Google and has over 50 courses on LinkedIn Learning.
Here are the things you'll learn from this course:
The fundamentals, versatility, and usage of Python.
How to use Python variables, expressions, functions, and conditional statements.
How to read and write files in Python.
How to work with JSON data.
How to use exceptions, loops, and classes.
Pros
On-the-go learning.
Free course.
Beginner friendly.
Expert taught.
Cons
Go here to learn more about this course.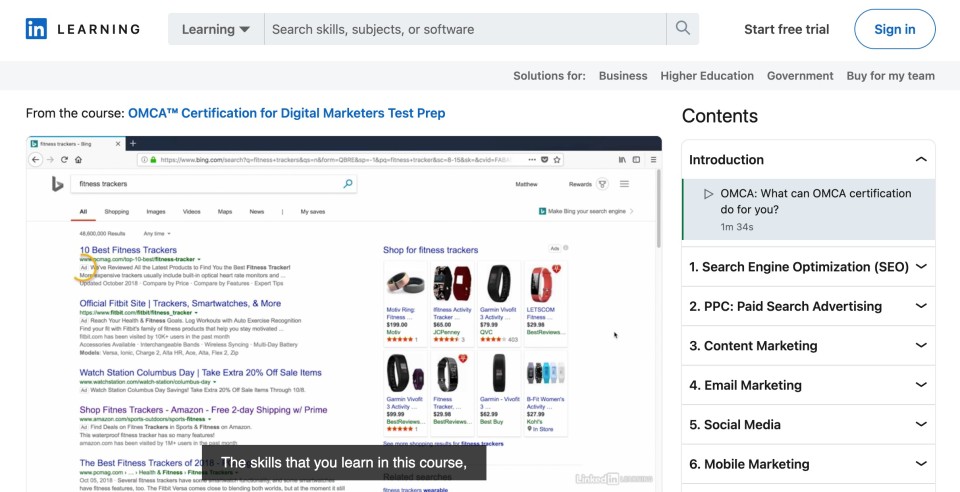 If you are an online marketing manager looking to write the online marketing certified associate examination, check out this course.
In today's competitive workplace, a targeted online marketing strategy is indispensable. Matt Bailey created this course to help marketers pass professional certifications and run successful campaigns.
Matt is an OMCA-certified trainer with 20 years of digital marketing experience. This beginner course runs for 5 hours where you'll learn;
The fundamentals of digital marketing and the right tools.
Using SEO works for business success.
Creating successful campaigns using paid search advertising.
Top tools for creating, curating, and collaborating on content.
The best tools and strategies for email marketing.
Pros
Self-paced learning.
Beginner-level friendly.
Certification is available.
Cons
To run your business effectively online, learn digital marketing here.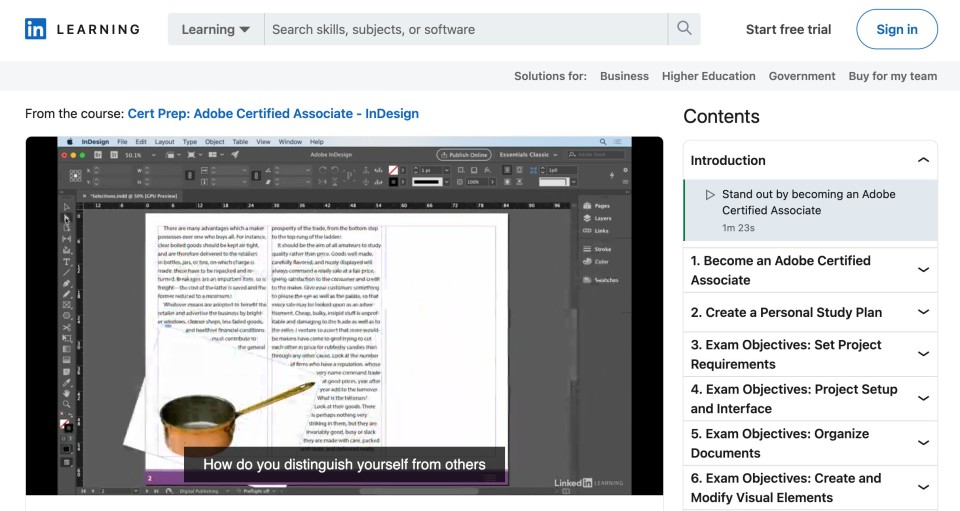 Here's one of the best InDesign certification courses on LinkedIn Learning for creative professionals. Sign up for this course to level up your graphic design career and win more clients with the ACA Certification.
It was created by Michael Rankin, the editor in chief of InDesignsecrets.com and creativepro.com He's also an Adobe Certified Associate in Print and Digital Media Publication using InDesign, Graphic Design, and Illustration using Illustrator, and Visual Communications using Photoshop.
The class is 4 hours long and benefits both beginners and intermediate learners.
Topics covered include;
Project management basic concepts and design principles and techniques.
Organizing and customizing your InDesign workspace.
Creating and editing swatches and swatch libraries.
Creating frames and adding images to a design.
You'll also learn to check for document errors and project specifications.
Pros
Self-paced learning.
Expert taught.
Beginner- and Intermediate-level friendly.
Certification is available.
Cons
Go here to learn more about this certification prep.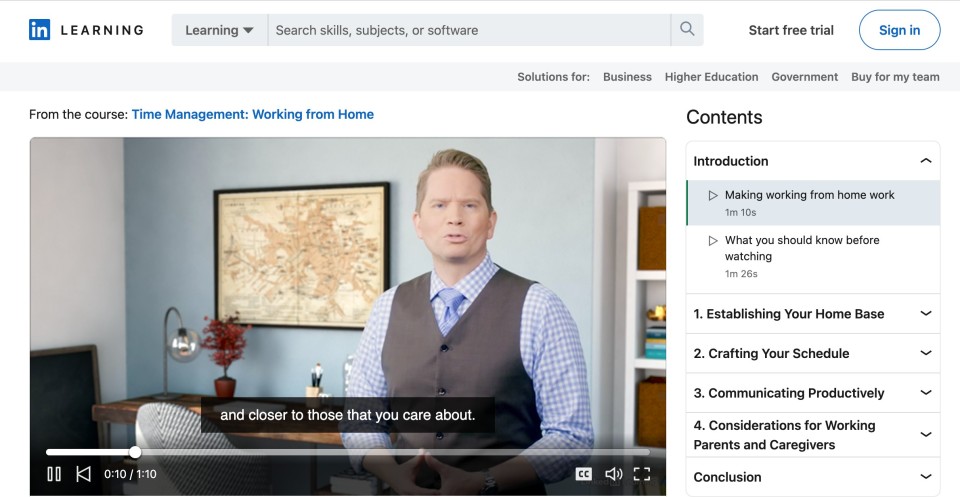 This course is for remote workers that want to improve their life/work balance and do more with their time.
Dave Crenshaw is a keynote speaker and author of the time management bestseller, The myth of Multitasking. He works with fortune 500 companies, universities, and organizations to develop productive leaders. He created the scores to help people working from home create a dedicated workspace for maximum productivity.
It's free and can be completed in 1 hour. You'll learn how to;
Create a productive workspace in your home and get rid of distractions.
Balance your work schedule with meaningful breaks.
Communicate well during meetings and foster coworker relationships.
Dave will also teach you to build boundaries and manage interruptions and emergencies from loved ones.
Pros
On-the-go learning.
Free course.
Expert taught
Cons
Go here to learn more.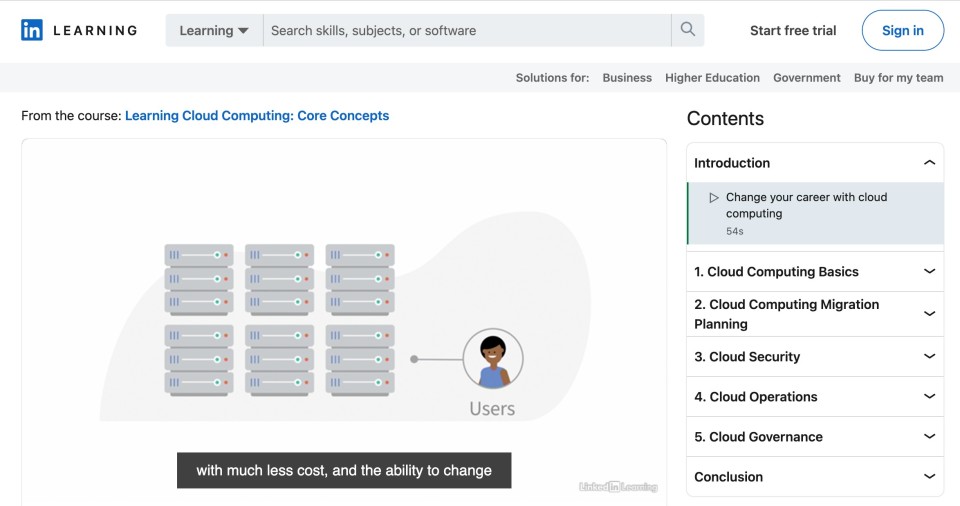 Interested in cloud computing? This is one of the most popular LinkedIn Learning courses on the subject.
David Linthicum is a top innovator and influencer in the field of cloud computing, edge computing, and security. He's also a bestselling author with over 15 books and 7,000 articles. This course is one of his 50+ courses on LinkedIn Learning. In 1 hour 32 minutes, you'll learn:
What public, private, and hybrid clouds are.
The applications and data to move during cloud computing migration.
Selecting a cloud provider and cloud security requirements, planning, and technology.
Cloud governance requirements, technology, and planning.
This course will benefit you if you want to become a certified ethical hacker or systems engineer.
Pros
Self-paced learning.
Expert taught.
Beginner-level friendly.
Certification is available.
Practice files and quizzes included.
Cons
To learn more, visit the course page here.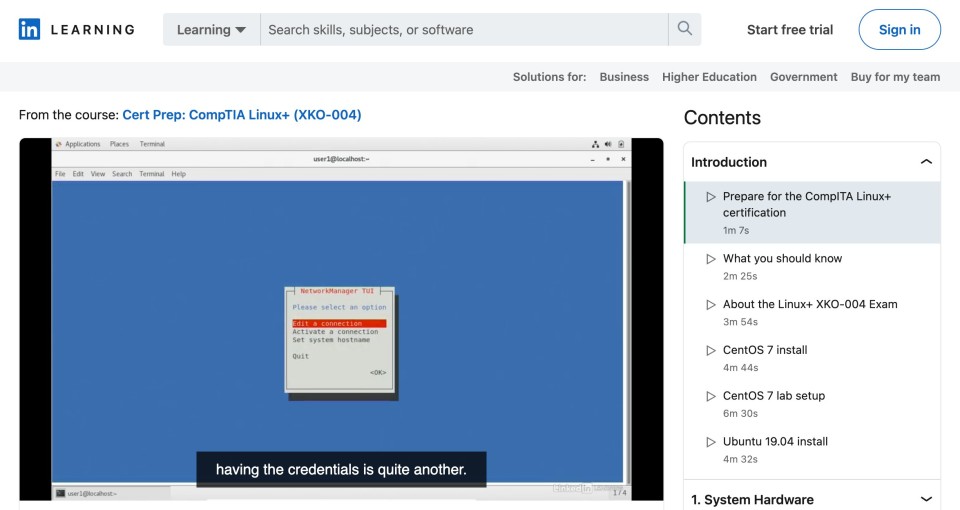 This Linux Professional Institute certification course in conjunction with the Computing Technology Industry Association – CompTIA Linux – is great for the early career information technology system administrator and network administrator.
Grant McWilliams created this course for intermediate-level learners, running for 9 hours. If you sign up, you'll be eligible for a 10% CompTIA exam discount.
The topics you'll cover include;
Overview of what the certification exam covers.
Configuring networks using files on enterprise Linux.
Listing, creating, and deleting partitions on MBR & GPT disks.
Working with Linux software management systems.
Managing a Linux environment package.
This is one of the best certification programs from Linux Professional Institute you'll learn on LinkedIn Learning.
Pros
Self-paced learning.
Intermediate level.
Linkedin Learning certificate available.
Practice files and quizzes included.
Cons
To become a network administrator, visit the course page here.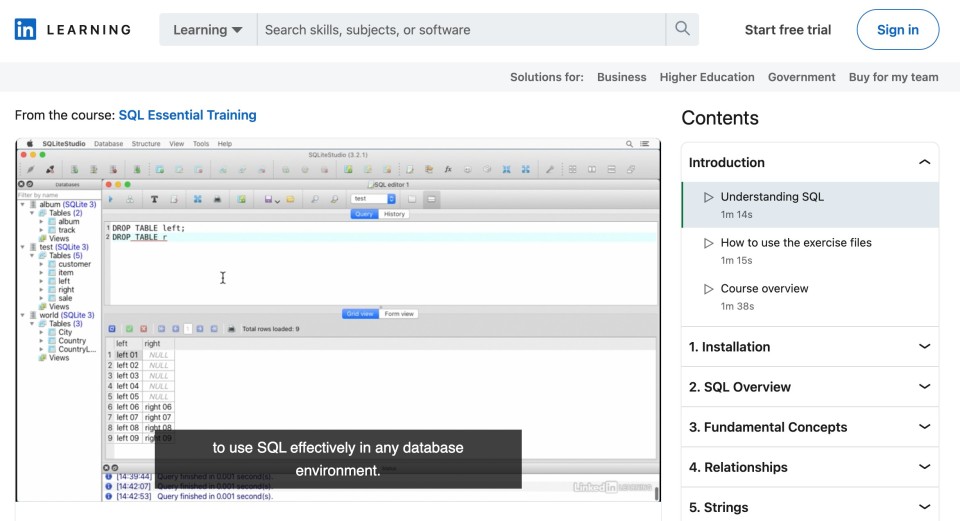 This is your stop if you want to learn how to manage relational databases and database-driven applications using the Structured Query Language.
Bill Weinman created SQL essential training – a software engineering consultant – to help learners use SQL for data wrangling and other applications. This 3-hour SQL course is practice-based and users will get the chance to build a simple real-world application using SQL.
You'll learn:
SQL fundamentals, installation, and strings.
Basic database organization actions like selection, counting, inserting, and deleting data.
Bill will also teach you how to create and delete tables and automate data with triggers.
Pros
Learning on the go.
Expert taught.
Beginner friendly.
Certification is available.
Practice files and quizzes are included.
Cons
Go here to start learning.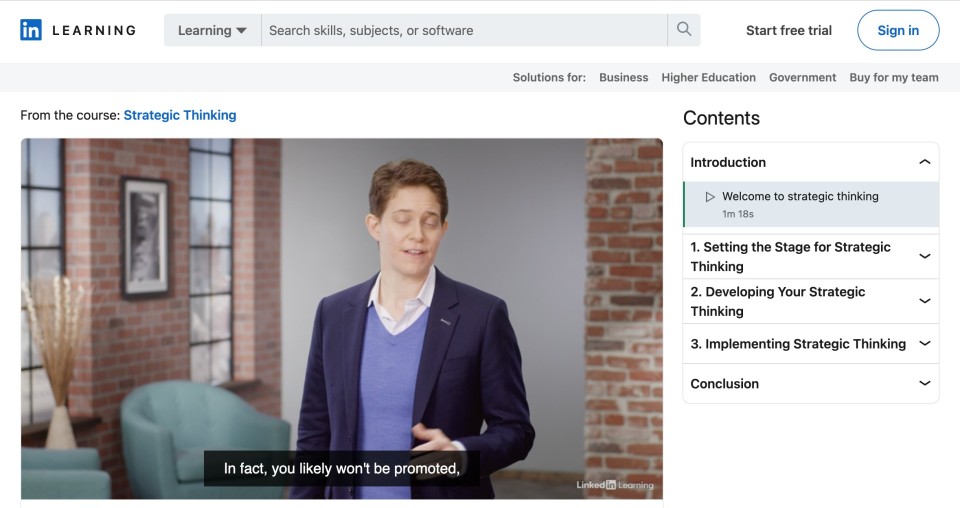 Strategic thinking is a valuable life and business skill necessary for anyone keen on achieving success in any sphere of life.
This is one of the courses to help managers and leaders who want to solve business problems using strategic thinking. It's a 36-minute squash course created by Dorie Clark. She's a professor at the Fuqua School of Business at Duke University and a strategy consultant with clients like Google, Microsoft, Yale University, and the World Bank.
The course includes:
Embracing the strategic mindset.
Creating an informed strategy.
Implementing strategies with your team.
Assessing the success of your strategy.
Pros
Self-paced learning.
Certification is available.
Practice files and quizzes.
Cons
Go here to learn more about this course.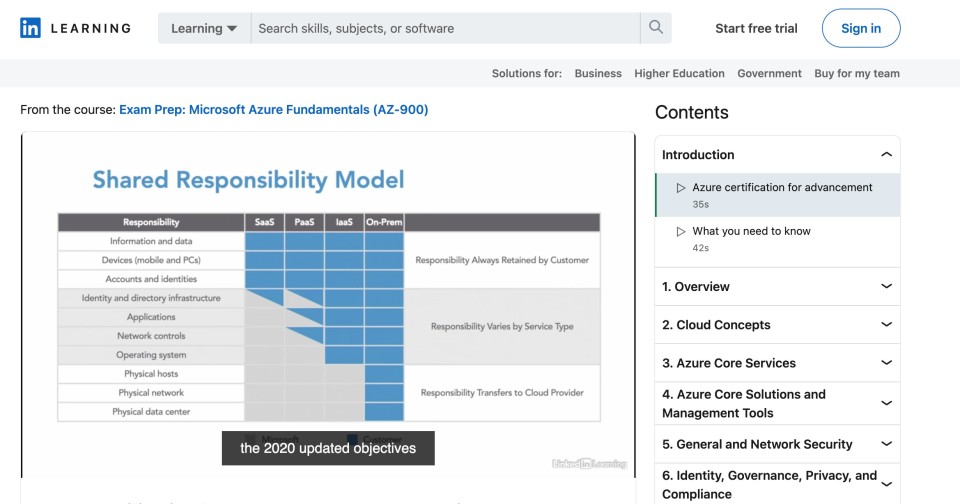 Microsoft technical certifications help you jumpstart your career and prove your efficiency in various fields.
This course was created for intending the cloud security professional and security systems engineer preparing for the AZ-900 Azure certification exam. The instructor, Sharon Bennett, is a certified Microsoft Cloud solutions architect and trainer.
The class is 1 hour 22 minutes long and teaches:
Azure fundamentals and cloud services benefits.
Microsoft Azure core architectural components and services.
Using the MS Azure network security features.
You'll also learn to choose the correct Azure management tool to address different kinds of technical needs and challenges.
Pros
Short time commitment.
Certificate available.
Expert taught.
Cons
Pre-recorded lessons.
Paid course.
To visit the course page, click here.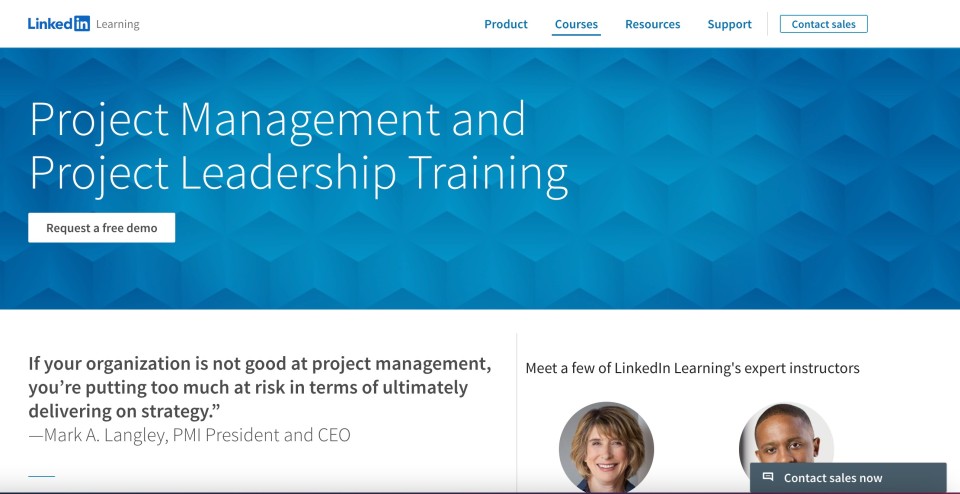 Linkedin Learning offers courses to help aspiring project managers learn strategies and techniques needed to become effective project managers.
This LinkedIn Learning project manager online learning path also includes the Project Management Institute and Six Sigma Green Belt exam certification prep courses.
The classes are handled by professionals like Bonnie Biafore, a certified PMP trainer, and Kelly O' Connel, an Agile trainer.
Here are some topics covered;
Managing a project on time, within budget, and solving common project problems.
Applying Agile business analysis techniques.
Effective communication with your team as a project manager.
Technical program manager roles and developing strategies for multiple projects.
Working with the quality assurance manager to find improvement points in a project.
Pros
Self-paced learning.
Shareable certificate.
Expert taught.
Practice files and quizzes.
Cons
Learn to become a better project and program manager here.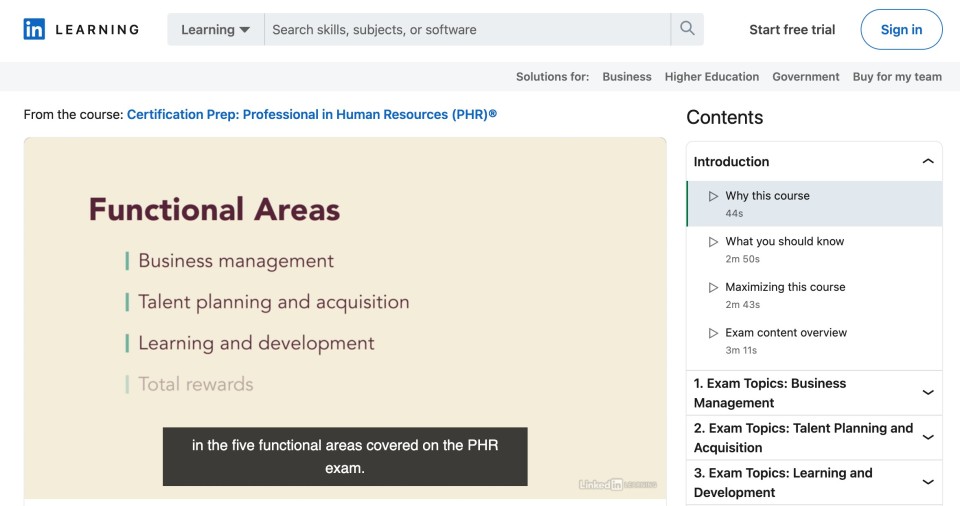 The Human Resource Certification Institute is a US-based HR certification institute. HR professionals' certifications are required to prove their human resource management skills.
This human resource management and certification course was created by Joanne Simon-Walters. She is an HR and leadership professional with 20 years of experience. This 3- hour course is suited for advanced learners.
You'll learn to pass the HR certification institute examination, set up concrete business structures and relationships, conduct job task analysis, and create an organizational culture that fosters employee engagement.
Pros
Advanced course.
Self-paced learning.
Certification is available.
Cons
Click here to learn more about this course.
Are LinkedIn Learning Courses Worth it?
Yes, LinkedIn Learning courses are worth it. LinkedIn Learning courses are some of the best you can learn to advance your career. There are thousands of top-quality courses that you can learn at your own pace and anywhere you like. Plus, their certificates are recognized globally.
Conclusion
LinkedIn Learning is the perfect platform to check out if you're looking for courses taught by some of the world's thought leaders and professionals in various fields. You'll be awarded a certificate to demonstrate your newly-acquired skills. And the experience you'll get will give your career a much-needed boost.
Feel free to explore some of the best free online Python programming courses and check out how you can learn Coursera courses for free.
Related: